Report Summary
The global hospital acquired infections therapeutic market was valued at USD 10.45 billion in 2020 and is expected to grow at a CAGR of 2.3% during the forecast period. The key factors responsible for the hospital acquired infections therapeutic market growth include the increasing prevalence of hospital acquired infections, approval of new drug therapies to contain such illnesses and surge in infectious diseases over the past decade.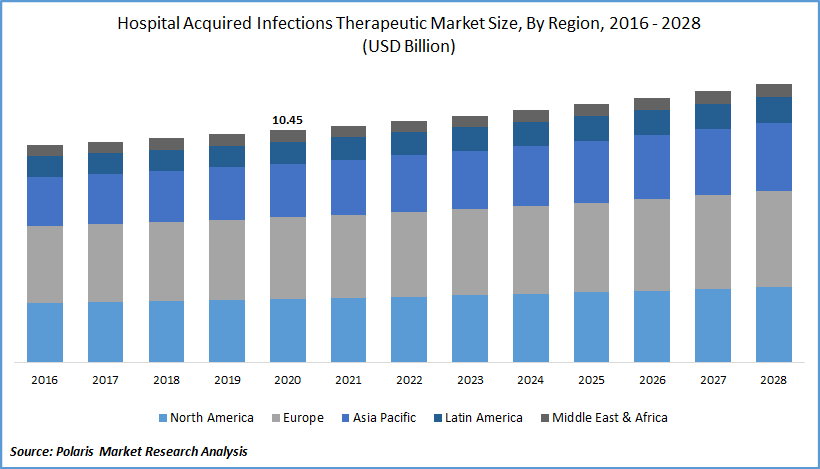 Know more about this report: request for sample pages
Nosocomial illnesses are also known as hospital acquired infections (HAI) are mostly caused by viral, fungal, and bacteria pathogens during surgeries or medical treatment in healthcare facilities. Most common infection includes surgical site, ventilator-associated, urinary tract, and bloodstream illnesses. Increasing prevalence and lack of justified data significantly pushing the demand for hospital acquired infections therapeutic market.
As per the study done by Organization for Economic Co-operation and Development (OECD), in 2018, there were around 3.8 million people in the European Union who have been diagnosed by hospital acquired illnesses in the acute care facilities. Moreover, OECD also estimated that each year approximately 90,000 people in Europe died by hospital acquired infections.
However, there is a gradual decline in the occurrence rate of hospital acquired infections in several lethal types, in emerging countries. According to the report published by CDC, in 2018, hospital acquired infections in the acute care hospital in the U.S. declined, it reported a 9% decline in bloodstream infections, 8% decline in urinary tract infections, and 12% decline in clostridium infections.
This decline is primarily due to dedicated concerted effort of strict regulatory norms and awareness among medical professionals. Developed countries like Germany, France, UK, and the U.S. have specialized medical facilities and can easily adhere to the strict policy regime. Thus, the decline in the demand for hospital acquired infections therapeutics in the developed economies with strict precautionary measures might hamper the therapeutic market growth.
Hospital Acquired Infections Therapeutic Market Report Scope
The market is primarily segmented on the basis of drug class, by infection type, and geographic region.
By Drug Class

By Infection Type

By Region

Antibacterial Drugs

Cell Wall Synthesis Inhibitors
Protein Synthesis Inhibitors
Others

Antiviral Drugs
Anti-fungal Drugs

Urinary Tract Infections
Ventilator-associated Pneumonia
Surgical Site
Bloodstream
Other Hospital

North America (U.S., Canada)
Europe (France, Germany, UK, Italy, Spain, Netherlands, Austria)
Asia Pacific (Japan, China, India, Malaysia, Indonesia, South Korea)
Latin America (Brazil, Mexico, Argentina)
Middle East & Africa (Saudi Arabia, UAE, Israel, South Africa)
Know more about this report: request for sample pages
Insight by Infection Type
The surgical site acquired illnesses market segment accounted for the largest revenue share of the therapeutic market in 2020. This high share is attributed to the rise in the number of surgeries, increasing hospital admissions, the subsequent onset of surgical site infections.
As per the statistics published by the CDC, about 27 million surgeries are performed in a year, out of which around 5% of hospitalized patients have developed surgical site infections. Each year around 300,000 patients in the country are affected by such infections. SSIs also increases the length of hospital stay from 7 to 11 days and are expected to cost around USD 3,000.
However, the urinary tract infections (UTIs) acquired in hospitals is projected to witness the highest growth rate over the assessment period. Growing patient awareness about the condition in emerging countries, and the rising cases of UTIs. UTIs are more common in women, around 40% of them experience a case of UTIs, at some time in their life. Moreover, the launch of new drugs to contain UTIs also favoring the segment's market growth prospects for therapeutic.
Insight by Drug Class
In 2020, the antibacterial drugs market segment accounted for the largest revenue share of the therapeutic market. Such dominance is attributed to the fact that majority of the hospital acquired infections were bacterial in origin and research and innovation in the sector. Hence, a large proportion of hospital acquired infections was treated with such antibacterial drugs.
Moreover, anti-bacterial therapeutics is regarded as the gold standard in treating hospital acquired infections. Multidrug-resistant micro-organisms should be treated with broad-spectrum antibiotics with minimal complications. Ideal anti-bacterial therapy should be short as 7 days, in comparison to 14 to 21 days.
Geographic Overview
Geographically, the global market for hospital acquired infections therapeutic is bifurcated into North America, Europe, Asia Pacific, Latin America, and Middle East & Africa (MEA). Europe market is the largest revenue contributor followed by North America and the Asia Pacific region.
In 2020, the Europe market accounted for over 30% of the global market for therapeutics. Regional factors responsible for such growth include the high prevalence of hospital acquired infections in the region, the strong pipeline of therapeutic drugs, and increased commercial activities in the industry. Moreover, the presence of industry giants in the region also supported the market growth.
Competitive Insight
The prominent players operating in the market for hospital acquired infections therapeutic are Merck, Abbott Laboratories, Pfizer Inc., GlaxoSmithKline Plc., Bayer AG, AbbVie Inc., F. Hoffmann-La Roche Ltd, Daiichi Sankyo Company, Limited and Allergan Plc. The companies in the market are adopting growth strategies by introducing new product in the market; through mergers & acquisitions and joints ventures; and by tapping into new geographical territories.