The global IBM Watson Services market was valued at USD 1,992.7 million in 2019 and is expected to grow at a CAGR of 30.6% from 2020-2027. The growing usage IBM Watson services in healthcare, advancements in artificial intelligence, machine learning, and cognitive computing are the pivotal factors influencing the market growth.
IBM Watson aggregates numerous cognitive techniques for aiding construction of software by crafting dialogues and defining intents for simulating conversion. These services are used for processing insights, relationships and patterns across, but not limited to, un-structured images, social media, and emails. Integrating IBM Watson services, one can generate valuable insights from latest trends in any of the industrial vertical.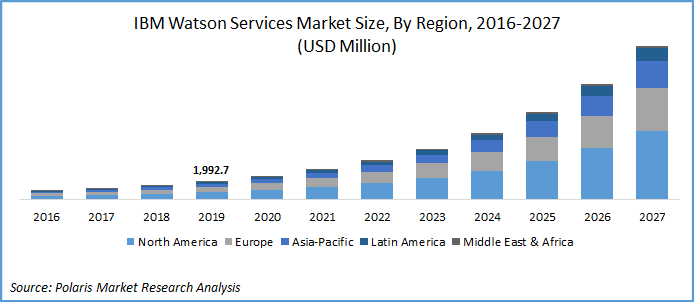 Know more about this report: request for sample pages
Industry Dynamics
Growth Drivers
Artificial intelligence or cognitive computing platform of IBM Watson has been reforming operations of healthcare sector over the past few years. Services propounded by IBM Watson makes tasks easier for healthcare personnel, by screening the patients' structured & unstructured data, and latest evidence-based quality standards, regulatory requirements, and medications. Constructed for churning through the ever-growing amount of research data, IBM Watson services promise fast marketing of new drug. IBM Watson services seek extensive adoption in the pharmaceutical companies, and medical device manufacturing plants for new drug target identification and drug repurposing. Lucrative opportunities exist in the healthcare sector for IBM Watson services, in light of AI's potential in improving consistency & overall quality of cancer care.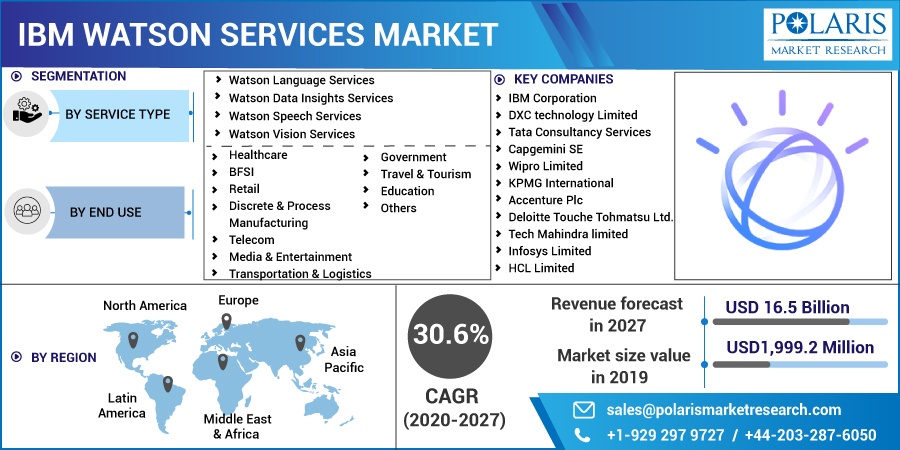 Know more about this report: request for sample pages
Supercomputers, for example, IBM Watson, effectively consume large healthcare data for offering doctors with the primary intelligence, and accessibility to actionable diagnostic information. Impending integration of the IBM Watson Genomics in TruSight Tumor 170 tool or Illumina, to speed up tailored drugs' recommendations for cancer patients, holds promise of providing a time-effective diagnostic process for various disease conditions. Immense potential is held by IBM Watson Genomics in fast scanning of patient data, for creating genetic sequencing alterations-based report by leveraging Illumina's tool. Such reports will also incorporate the medical literature as well as clinical trials appertaining to relevant medications for precise recommendation, thereby facilitating diagnostic procedures for patients and doctors alike.
Challenges
The global IBM Watson services market is curtailed with many challenges such as lack of trained professionals, data structuring technology, and the imperfections in AI methodologies. IBM Watson services comprise time-intensive laborious training, driven by the requirements for experts to feed large quantity of well-organized and structured data into platforms for drawing insightful conclusions. Another major drawback of IBM Watson services is their inability of making connections with different corpora, making extracting even basic insights a challenging task. Training IBM Watson on oncology has provided no insights on heart diseases, a limitation drastically confining its deployment in the clinical settings.
IBM Watson Services Market Report Scope
The market is primarily segmented on the basis of Service Type, By End Use, and geographic region.
By Service Type

By End Use

By Region

Watson Language Services
Watson Data Insights Services
Watson Speech Services
Watson Vision Services

Healthcare
BFSI
Retail
Discrete & Process Manufacturing
Telecom
Media & Entertainment
Transportation & Logistics
Government
Travel & Tourism
Education
Others

North America (U.S., Canada)
Europe (France, Germany, UK, Italy, Spain, Netherlands, Austria)
Asia Pacific (Japan, China, India, Malaysia, Indonesia. South Korea)
Latin America (Brazil, Mexico, Argentina)
MEA (Saudi Arabia, UAE, Israel, South Africa)
Know more about this report: request for sample pages
Insight by Service Type
Based upon product, global market is categorized into Watson Language, Watson Data Insights, Watson Speech, and Watson Vision Services. The language services segment accounted for the majority of the share and is expected to register highest over the study period. This language services segment consists of various cognitive services including natural language classifier, AlchemyLanguage, language document conversion, language conversion, language translator, language tone analyzer, language personality insights, and many others.
The major smartphone manufacturers are embedding these languages based artificial intelligence services with their products to capture high market share. This is one of the factors for the growth of this IBM Watson segment.
Insight by End Use
On the basis of end use, the global market is categorized into healthcare, BFSI, retail, discrete & process manufacturing, telecom, media & entertainment, transportation & logistics, government, travel & tourism, education, and others. Healthcare segment accounted for the largest share among all, and is expected to maintain its dominance over the study period. This performance is characterized by its large adoption in healthcare and manufacturing industries.
Watson health assists doctors in treating and diagnosing patients. It provides relevant insights through interpretation of electronic medical record data. These all high cognitive solutions in healthcare industry lead the market towards growth. IBM Watson services help in enterprise operation, and asset management and optimization. It provides cognitive solution to the manufacturing industry by deploying next generation production process across all manufacturing processes. It also helps telecom, and media & entertainment industry by providing unified customer marketing solutions across the globe. It delivers customer engagement, customer insights and omni channel engagement solution to varied industries.
Geographic Overview
Geographically, the global market is bifurcated into North America, Europe, Asia Pacific, Latin America, and Middle East & Africa (MEA). North America region is the largest revenue contributor followed by Europe and the Asia Pacific regions. In 2019, the North America region accounted for more than % of the global market.
IBM introduced its Watson development platform in North America for democratizing the strength of data, along with innovation. In order to tap opportunities from business in North America to reinvent their operations for digital economy and offer differentiated customer experiences, IBM has acquired a leading digital marketing & creative agency based in the U.S., Resource/Ammirati. IBM's goal of aiding its North American clients to create transformative brand experiences is a key focus that has driven its acquisition of digital marketing creative agency in the region. Companies in the region, such as Kilroy Blockchain, use IBM Watson APIs for providing interactive mobile experiences to consumers. These factors fuel demand for IBM Watson services in the region.
The demand of Watson services in U.S. and Canada for business has been growing, Watson services assists the regional industries to enhance the production capacity, as well as it helps in getting maximum outcome with minimum resources. IBM Watson services are highly adopted in the media & entertainment industry to deliver high customer experience.
Disruptive technologies such as blockchain and cognitive computing have been driving dramatic shifts in industrial sectors such as healthcare, finance, and tourism in several regions, emerging countries of Asia-Pacific are no exception. Japan, India, South Korea, and China are the top three revenue generators in this region. IBM has planned to help in commercialization and rapid prototyping of these clients' solutions that are based on blockchain and cognitive computing. IBM's new Asia's headquarter, based in Singapore, aims at bringing all types of organizations in the region together, for creating business solutions by leveraging Watson services' cognitive and design capabilities. The region is expected to endure as a remunerative region for IBM Watson services market in the forthcoming years.
Competitive Insight
The market comprises of pure market leaders, mid-level service offering players, and emerging companies trying to fit into niche offering, primarily software technology provides, getting foothold in the fruitful industry. Key players in the market are IBM Corporation, DXC technology Limited, Tata Consultancy Services, Capgemini SE, Wipro Limited, KPMG International, Accenture Plc, Deloitte Touche Tohmatsu Ltd., Tech Mahindra limited, Infosys Limited, HCL Limited, Datamato Technologies Private Ltd., and Mainline Information Systems, Inc.