The global immune health supplements market was valued at USD 55.29 billion in 2021 and is expected to grow at a CAGR of 11.4% during the forecast period. The increased awareness of clean label products infused with minimally processed and natural components is driving market expansion.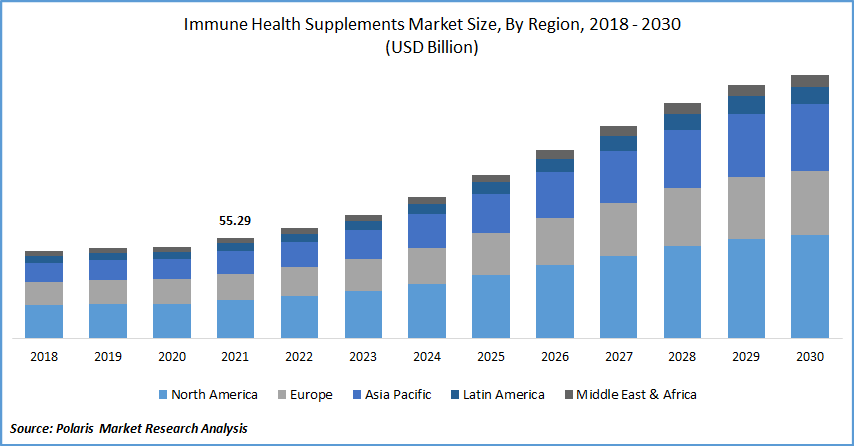 Know more about this report: request for sample pages
For example, in November 2021, Cargill, Inc. launched a completely soluble rice flour that can substitute maltodextrin in a variety of applications, including reduced sugar baked goods, dairy, powdered refreshments, processed food, sauces and condiments, snacks, cereals, and bars, seasoning mixes, and many others, and provide formulators with a clean label option.
Also, in April 2021, MaxVera Wellness has established a partnership with Nebo Manufacturing and Intermountain Nutrition, both of which specialize in CBD products. MaxVera's non-CBD-related formulae for vitamins, minerals, lotions, creams, and other immune health supplements are made by the collaboration. MaxVera is a private and white label nano supplements market leader, with products sold worldwide. Thus, the clean label products and minimally processed immune dietary products boost immune health supplements market growth during the forecast period.
Further, the tendency toward individualized nutrition is an important trend, particularly among people with minor metabolic abnormalities or gut-related health conditions that typically fall outside the generic treatment scope. Another significant element driving the demand for the immune health supplements market is the recent outbreak of the coronavirus infection, which highlighted the importance of a healthy immune system in preventing infection.
Consumer interest in immune care is growing due to changing lifestyles, hectic schedules, and rising health concerns. This is causing time-strapped customers, including those who eat a nutritious and balanced diet, to turn to health supplements to meet their nutritional needs.
However, side effects, the high cost of immune health supplement products, and a lack of information about nutritional diet in low- and middle-income nations are the key factors limiting the worldwide immune health supplement market's growth. In rural areas of low- and middle-income economies in Africa and the Asia Pacific region, there is a lack of understanding about nutritional goods and diseases related to nutritional inadequacies. This is projected to impede the adoption of medical, nutritional products in these areas, hampering market expansion.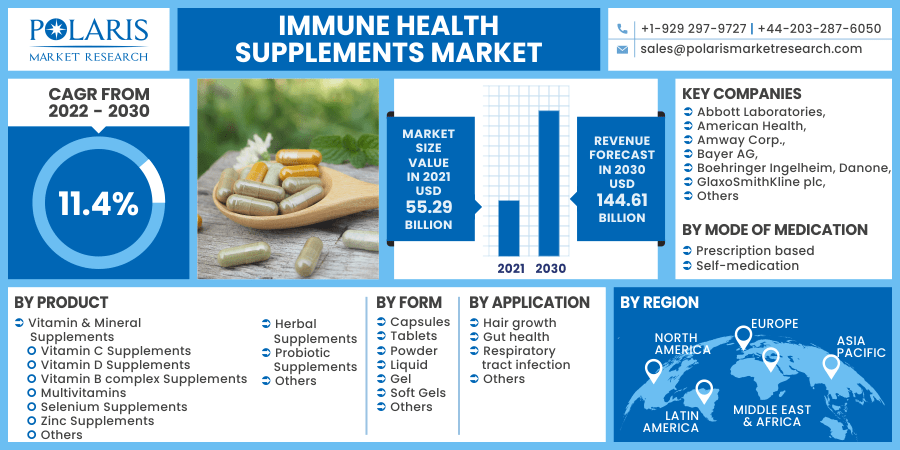 Know more about this report: request for sample pages
Industry Dynamics
Growth Drivers
The market has witnessed extensive developments in the last few decades, supported by factors such as the rising frequency of infectious diseases, diabetes, and various other conditions caused by a lack of immunity. Around the last few years, there has been a consistent upward trend in the use of health supplements to boost the body's immunity all over the world.
For example, according to the International Diabetes Federation, in 2019, diabetes affects around 463 million persons aged 20 to 79, with the number expected to grow to 700 million by 2045. In most nations, the number of patients with type 2 diabetes is rising. 79.0% of diabetic people lived in low- and middle-income nations. Type 1 diabetes affects more than 1.1 million children and adolescents. A total of 374 million people is at risk of having type 2 diabetes.
Besides, Allergies, asthma, and autoimmune illnesses might result from the immune system. Immunodeficiency disorders are among these issues. Other disorders can impact negatively on a person's immune system. HIV, for example, is a virus that creates pressure on the immune system by attacking white blood cells. AIDS (acquired immunodeficiency syndrome) can develop if HIV is not treated. AIDS patients' immune systems are severely compromised.
They are suffering from a growing number of serious ailments. Also, Severe combination immunodeficiency (SCID) is almost like an immunodeficiency that affects. An immune deficit that is apparent at birth is an example of this. Infections from bacteria, viruses, and fungi are a persistent threat to children. This condition is also known as "bubble boy illness." Important white blood cells are lacking in SCID children. Thus, the rising prevalence of infectious disease is the factor impacting the immune systems, which has led to an increase in the demand for the immune health supplements market.
Report Segmentation
The market is primarily segmented based on product, form, application, mode of medication, and region.
By Product

By Form

By Application

By Mode of Medication

By Region

Vitamin & Mineral Supplements

Vitamin C Supplements
Vitamin D Supplements
Vitamin B complex Supplements
Multivitamins
Selenium Supplements
Zinc Supplements
Others

Herbal Supplements
Probiotic Supplements
Others

Capsules
Tablets
Powder
Liquid
Gel
Soft Gels
Others

Hair growth
Gut health
Respiratory tract infection
Others

Prescription based
Self-medication

North America (U.S., Canada)
Europe (France, Germany, UK, Italy, Spain, Netherlands, Austria)
Asia Pacific (Japan, China, India, Malaysia, Indonesia, South Korea)
Latin America (Brazil, Mexico, Argentina)
Middle East & Africa (Saudi Arabia, UAE, Israel, South Africa)
Know more about this report: request for sample pages
Insight by Product
Based on the product market segment, the vitamin and mineral supplements segment is expected to be the most significant revenue contributor in the global market in 2020 and is expected to retain its dominance in the foreseen period. The segment is being driven by customers' increasing desire for supplements to increase their immunity all over the world.
Proven health advantages and widespread availability of vitamin C, D, B complex, multivitamins, and minerals such zinc and selenium in boosting the immune system are driving category expansion. After the worldwide COVID-19 outbreak, vitamin C sales appear to be on the rise. Individuals' growing knowledge of the importance of taking preventive steps is likely to propel sector growth in the global market during the forecast period.
Geographic Overview
In terms of geography, North America had the highest share in the global market in 2021. Due to people's growing knowledge of health and self-wellness, it is expected to remain at the forefront in the foreseeable future. Simultaneously, the rising prevalence of lifestyle disorders such as diabetes and obesity would spur regional development. For instance, according to the Centers for Disease Control and Prevention (CDC), around 34.2 million Americans have diabetes. Prediabetes affects 88 million adults in the U.S. or around one-third of the population.
Besides, according to the Centers for Disease Control and Prevention, the prevalence of overweight and obesity in adults was around 66 percent in adults in 2008 and estimated to have 86 percent in adults by 2030. Thus, the rising prevalence of lifestyle diseases in the region, such as diabetes and obesity, is the factor boosting the market growth in the region.
Moreover, Asia Pacific is expected to witness a high CAGR in the global market in 2021. This region is expanding as a result of fast urbanization, which is driving people to seek out immune health supplements at an increasing rate. For instance, according to the United Nations, in 2018, urbanization is home to 55% of the world's population, which is anticipated to rise to 68% by 2050. By 2050, with global population growth, an additional 2.5 billion people could live in cities, with Asia and Africa accounting for about 90% of this increase.
Between 2018 and 2050, India, China, and Nigeria will account for 35% of the anticipated expansion of the world's urban population. India is expected to have 416 million urban residents by 2050, China 255 million, and Nigeria 189 million. Despite having a lower level of urbanization than the rest of the world, Asia is home to 54% of the world's urban population. In addition, the market growth would be aided by rising lifestyle changes and increased health consciousness among the population. The COVID-19 epidemic has sparked a surge in market demand in this region for immune-boosting health supplements containing elderflower, copper, vitamin C, and D.
Competitive Insight
Some of the major players operating in the global market include Abbott Laboratories, American Health, Amway Corp., Bayer AG, Boehringer Ingelheim, Danone, GlaxoSmithKline plc, Herbalife Nutrition of America, Inc, Himalaya Global Holdings Ltd, Nestlè, Novartis, Pfizer Inc., Sanofi, Sun Pharmaceutical Industries Limited, Swisse Wellness Pty Ltd, The Nature's Bounty Co., and Unilever.
Immune Health Supplements Market Report Scope
| | |
| --- | --- |
| Report Attributes | Details |
| Market size value in 2021 | USD 55.29 billion |
| Revenue forecast in 2030 | USD 144.61 billion |
| CAGR | 11.4% from 2022 - 2030 |
| Base year | 2021 |
| Historical data | 2018 - 2020 |
| Forecast period | 2022 - 2030 |
| Quantitative units | Revenue in USD million/billion and CAGR from 2022 to 2030 |
| Segments covered | By Product, By Form, By Application, By Mode of Medication, By Region |
| Regional scope | North America, Europe, Asia Pacific, Latin America, Middle East & Africa |
| Key companies | Abbott Laboratories, American Health, Amway Corp., Bayer AG, Boehringer Ingelheim, Danone, GlaxoSmithKline plc, Herbalife Nutrition of America, Inc, Himalaya Global Holdings Ltd, Nestlè, Novartis, Pfizer Inc., Sanofi, Sun Pharmaceutical Industries Limited, Swisse Wellness Pty Ltd, The Nature's Bounty Co., and Unilever. |