The global interactive video wall market was valued at USD 4.91 billion in 2020 and is expected to grow at a CAGR of 10.0% during the forecast period. Factors that are contributing towards the market growth include higher demand by the physicians for the improvement in patients' overall experience, adoption of an interactive display in airport and railway station, and prevalence of flexibility in using the switch layout.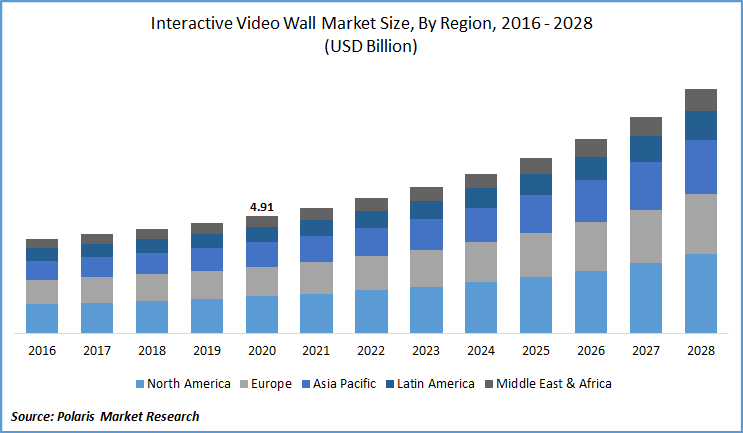 Know more about this report: request for sample pages
The significance of interactive video walls is covering the retail sector as well. Retail has great applications for interactive video walls such as kiosks, ATMs, Point of Sale (POS) systems, and digital signage. There is an emerging trend of laser phosphor display, direct-view LED, three-dimensional displays, and high-definition display, direct-view OLED, and other technologies which are also boosting the market growth. The substantial driving factor includes high-definition picture, real-time, gesture control engagement, etc.
Industry Dynamics
Growth Drivers
The global interactive video wall market is expected to witness significant growth due to the surging demand for digital classrooms and platforms like Skype, Zoom, and Google Meetings. This is all result of a sudden outbreak of the COVID-19 pandemic that bounded employees with social distancing.
Subsequently, this has become one of the key driving forces for the global market. Additional supporting factors for the market growth are the rising popularity of online games and other entertainment platforms like YouTube. With the establishment of the entertainment industry, the global market got at peak.
The sector which has a high deployment of the interactive video wall is retail as businesses strive for unique and creative ways of presenting the information which is achieved through this technology. This draws maximum potential customers through interactive video wall displays.
Moreover, the availability of the product has maximized due to the decreasing cost. This technology has a captivating presence along with the high flexibility that has widened its application in domains like BFSI, e-commerce, government, healthcare, transportation, etc. This has certainly hiked the graph of the global market for interactive video walls.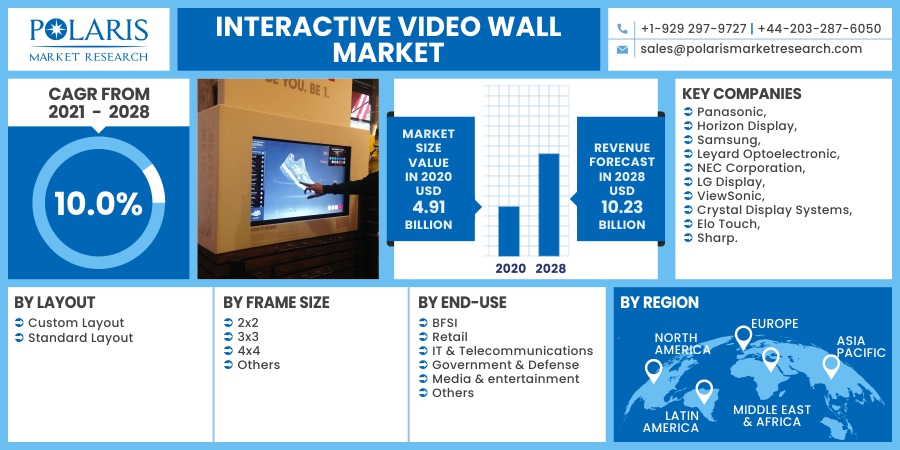 Know more about this report: request for sample pages
Interactive Video Wall Market
The market is primarily segmented on the basis of layout, frame size, end-use, and region.
By Layout

By Frame Size

By End-Use

By Region

Custom Layout
Standard Layout

BFSI
Retail
IT & Telecommunications
Government & Defense
Media & entertainment
Others

North America (U.S., Canada)
Europe (France, Germany, UK, Italy, Spain, Netherlands, Austria)
Asia Pacific (Japan, China, India, Malaysia, Indonesia, South Korea)
Latin America (Brazil, Mexico, Argentina)
Middle East & Africa (Saudi Arabia, UAE, Israel, South Africa)
Know more about this report: request for sample pages
Insight by Layout
In 2020, standard layout video walls had the highest share in the market and are likely to grow in the upcoming years. The standard layout is again divided into the landscape and portrait interactive video walls. These types of interactive video walls are present in the education and hospitality sectors, museums, trade shows & exhibitions, etc. The demand for landscape and portrait touch video walls is growing as the demand for high-resolution multi-touch displays grows, especially in conference rooms and retail spaces.
The benefits offered in terms of versatility, allowing users to move between layouts whenever needed, and offering robust preview options to ensure the required view of layout are expected to drive significant growth in the interactive video walls with custom layout market over the forecast period. These walls are commonly found in libraries, corporations, and healthcare facilities.
Insight by End-Use
BFSI market segment is predicted to have maximum expansion in the forthcoming period due to the higher deployment by banks and FinTechs for providing customers an engaging experience with the understanding of real-time comparisons, financial services, initiation of purchase procedures, and so on.
One of the key driving factors of the global interactive video wall market is the increasingly growing acceptance of interactive displays in the education field. The development of an immersive classroom has become easier thanks to technical advances in educational resources.
The interactive display technology enables the instructor to build lessons that include games, video clips, mixed media, and other engaging materials. Students are changing their preferences toward digital learning because it helps them to learn through highly applicable digital content. Furthermore, various countries' governments are undertaking programs to improve their educational systems.
Geographic Overview
Geographically, North America is anticipated to lead the market in the forthcoming times as there is high penetration of technology and an abundant number of e-learning platforms across the education sector. The other factors are higher demand for ultra-high-resolution display in public places. Additionally, the technologically developed corporate environment of this region has augmented the region's growth.
Europe is predicted to have a significant share and stable market growth for interactive video wall during the forecast period. This is attributed to the high penetration of wayfinding, kiosks, large-format mounting solutions, digital signage, outdoor displays which supports the market growth for interactive video walls.
Asia Pacific is observed to emerge as an opportunistic region for the global market. The market growth is a result of a shift of developing countries towards digitalization. Countries like India, China, and Australia have high acceptance for digital education which hikes the deployment of interactive touch-screen display solutions in education institutes.
Competitive Insight
Some of the major players operating in the global market for interactive video walls include Panasonic, Horizon Display, Samsung, Leyard Optoelectronic, NEC Corporation, LG Display, ViewSonic, Crystal Display Systems, Elo Touch, and Sharp.
For instance, in Sept 2020, Barco NV has launched its cloud-based remote monitoring and management solution named WallConnect Cloud for its video walls. This service permits distant monitoring and diagnosing of the important parameter of video walls to provide better operational efficiency, optimal wall uptime, enhanced experience, and faster problem-solving capability.