Global isolation beds market was valued at USD 2.82 billion in 2019 and is expected to grow at a CAGR of 8.1% from 2020-2027. The rapid surge in infectious diseases such as COVID 19 and the necessity to contain the spread of these viral infections among healthcare workers are the primary drivers responsible for the demand of isolation bed across the globe.
Other factors such as technological breakthroughs in creating smart beds, remote control systems, customized functions for extended comfort, monitoring sensors, futuristic systems for health tracking, and barriers to protect geriatrics from bed fall are also supplementing the growth of this market. In line with this, the U.S. based manufacturer Stryker Corporation in April 2020 introduced its New Emergency Relief Bed line-ups to cater the surge in demand for the isolation bed due to COVID-19 situation. The company intended to manufacture 10,000 units per week to cater to its high demand in the healthcare facilities.
Industry Insights
Growth Drivers
The unexpected COVID-19 epidemic is the main factor behind the unexpected demand of the global isolation beds market. The dramatic changes occurred due to the COVID-19 pandemic, as a consequence of which demand for isolation bed is significantly growing. World Health Organization (WHO) has encouraged all concerned manufacturers to urgently raise their output. According to a WHO estimate in March 2020, the number of patients suffering from corona virus reached 200,000 and expected to reach to 100,000 in about twelve days.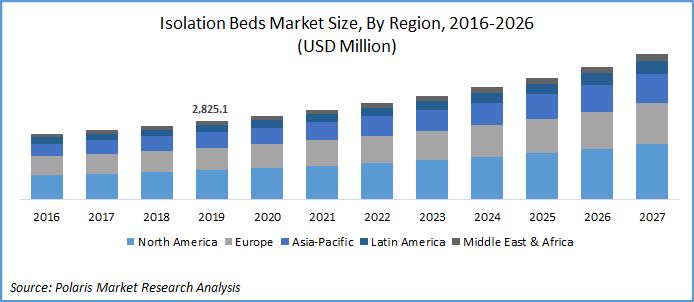 Know more about this report: request for sample pages
As COVID-19 is increasing on a larger scale, countries including China have reported that they are facing a lack of isolation beds because conventional bedding cannot fulfil the purpose. For instance, the Italian government has ordered in bulk of these beds for COVID-19 patients, as it was expected that by March 2020, more than 80 percent of the hospital beds would be acquired by the COVID-19 patients at Lombardy town of Italy.
COVID-19 patients, along with healthcare workers and people worldwide, are required to be provided as quickly as possible by personal protective equipment to deal with this global pandemic. In addition, the rapid production of isolation beds and protective equipment for healthcare workers is highly critical in order to overcome this condition, which leads significantly to the growth of the market.
Moreover, strong government actions also playing an important role in containing over-pricing of the COVID-19 treatment including isolation charges. In June 2020, the Government of India (GOI) has recommended to slash the cost by two-third in the private hospitals of Delhi. New applicable rates would be INR13,000 to 15,000/day and INR15,000 to 18,000/day for isolation bed without ventilator and with a ventilator respectively.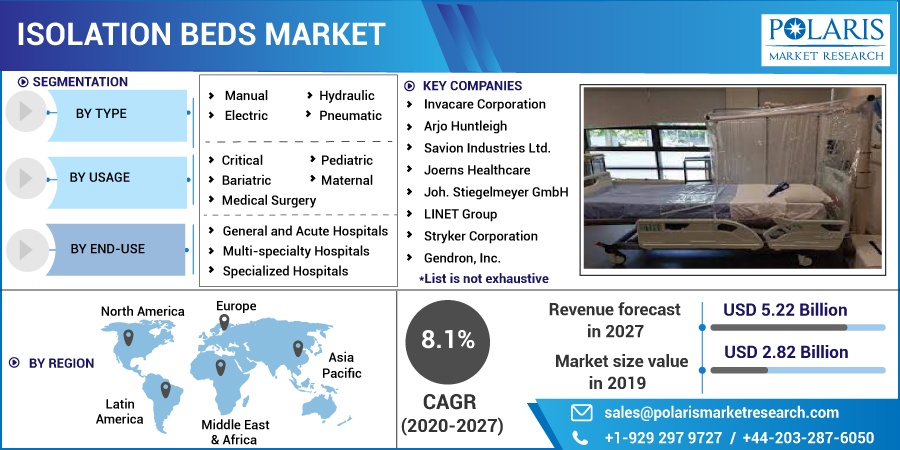 Know more about this report: request for sample pages
Challenges
However, owing to the emergency lockout situation of COVID-19 in several nations, the isolation beds production and supply chain have been seriously impacted. Procurement, storage and delivery of raw materials and labor shortages in developing and established nations have had a detrimental effect on the optimal flow of output. These supply chain constraints are hampering the growth of the market.
Isolation Beds Market Report Scope
The market is primarily segmented on the basis of Type, Usage, By End-Use, and geographic region.
By Type

By Usage

By End-Use

By Region

Manual
Electric
Hydraulic
Pneumatic

Critical
Bariatric
Medical Surgery
Pediatric
Maternal

General and Acute Hospitals
Multi-specialty Hospitals
Specialized Hospitals
Others

North America (U.S., Canada)
Europe (France, Germany, UK, Italy, Spain, Belgium, Austria)
Asia Pacific (Japan, China, India, Malaysia, South Korea, Australia)
Latin America (Brazil, Mexico, Colombia)
MEA (Saudi Arabia, UAE, Israel, South Africa)
Know more about this report: request for sample pages
Beds by Type Outlook
Based upon type, the global isolation beds market is bifurcated into hydraulic, manual, electric, and pneumatic. In 2019, the manual segment accounted for the largest share among all. The high share is attributed to maximum use of manual ones across different end users. The other factor is the low cost of manual bed as compared to others, which makes it affordable to all the healthcare settings.
The smart isolated bed is in immense demand. In this area, Australia-based Get to Sleep Simple, Hoana Medical Inc., the future medical start-up had developed an inexpensive price Smart Inclining Bedding solution, fitted with smart sensors mounted in the bedding to monitor patient activity and emergency warning.
Usage Outlook
Based on usage, the global market is bifurcated into bariatric, medical surgery, critical, pediatric, and maternal. Due to the global pandemic of COVID-19, there is a surge in hospital admissions across the globe, this has resulted in unexpected demand of the critical segment. The segment is anticipated to grow significantly over the study timeframe. Moreover, in 2025, the medical surgery segment is expected to account for the largest revenue. The growing need for intensive care units and expected government funding to fill the gap in existing healthcare infrastructure would supplement the segment's growth.
End Use Outlook
Based on end use, the market is bifurcated into general & acute care hospitals, specialized hospitals, multi-specialty hospitals, and others. In 2019, the general and acute hospital segment accounted for the largest market share and it is expected to retain this domination till 2027. The number of general and acute hospitals is more as compared to others, so the penetration of these beds is high, thereby contributing to its highest share.
Regional Outlook
Geographically, owing to the tremendous amount of COVID-19 patients in the area, North America is the largest contributor to sales in the global isolation beds market. The region's demand for these beddings is 10 times greater than what's accessible in stock. Countries like Germany, France, Spain, Italy and the UK anticipated to have the highest number of cases. Also because of the inaccessibility of protective equipment, doctors are threatening to quit jobs in Europe.
As a consequence, respective governments projected to invest more than USD 265 million on personal protective, including isolation beds. With the continuous rise in the COVID-19 cases in North America the demand for the isolation bed is projected to rise in the short term. The region registered more than 18,763 deaths as of the first week of April 2020.
Moreover, Asia-Pacific is expected to witness substantial growth over the forecast period. The COVID-19 epidemic spread from China, as a consequence of which there was a shortage of raw materials in the U.S. The pandemic outbreak tanked Chinese economy, although the country has started recovering and even initiated medical supplies to the and European Union. To limit the spread of community transmissions among the Chinese population, the government had introduced the establishment of Fangcang shelter hospitals at larger public places such as stadium, halls, and exhibition centres.
Government funds also play an important role in tackling the ongoing COVID-19 pandemic. In line with this, several countries such as France, the UK, Germany, and Spain have promised to allocate dedicated funds USD 50 billion, USD 14.8 billion, USD 808 billion, and USD 223 billion, respectively. This huge initiative undertaken by the individual government will enable several stakeholders to fight with the COVID-19 pandemic.
Competitive Landscape
The key players operating in the isolation beds market are Invacare Corporation, Arjo Huntleigh (part of Gentige AB), Savion Industries Ltd., Joerns Healthcare, Joh. Stiegelmeyer GmbH, LINET Group, Stryker Corporation, Span-America Medical Systems, Gendron, Inc., Paramount Bed Holdings, Hill Rom Inc., Medline Industries, and Malvestio S.P.A. among others.
These players focus their energies on strategic mergers and acquisitions to extend their R&D capabilities which might assist them in coming up with novel technologies and thereby gain a competitive edge. For instance, the U.S based company Asset Homes announced in March 2020 announced to provide these beds to the hospitals based in India.