The global k-beauty products market was valued at USD 92.16 billion in 2022 and is expected to grow at a CAGR of 9.4% during the forecast period.
K-beauty products known for their visually appealing and charming packaging designs. The meticulous attention to detail and overall aesthetic appeal of these products injects a sense of fun and playfulness into skincare routines. This aspect has strongly resonated with consumers, as the visually appealing packaging enhances the overall experience and makes using the products more enjoyable. A prime example of this is the Etude House, a well-known brand recognized for their princess-themed packaging & girly aesthetic. They often showcase pastel colors, adorable illustrations, & feminine designs that captivate the consumers. The incorporation of such visually appealing and cute elements further adds to the allure of K-beauty products, making them highly desirable and creating a delightful experience for users.

To Understand More About this Research: Request a Free Sample Report
Marketers benefit from celebrity influencers due to their wide global reach and ability to transcend cultural boundaries. One of the primary strategies employed by cosmetics brands is to collaborate with Korean celebrities, leveraging their influence and popularity. This includes engaging Korean celebrities as brand ambassadors, incorporating them into storytelling campaigns, and featuring them in streaming advertisements and video tutorials across various social media platforms.
Moreover, the endorsement of Korean beauty products by renowned celebrities from various regions enhances their cross-cultural appeal and encourages individuals from diverse backgrounds to embrace these products in their skincare regimens. An example of such success is the BB Cushion Cream, which has gained widespread recognition, particularly through the endorsement of Olympic gold medalist snowboarder Chloe Kim. Chloe Kim highly values the product's impressive SPF protection and exceptional moisturizing properties, even in extreme cold weather conditions. Such celebrity endorsements play a significant role in driving the commercial success and establishing a positive reputation for these products in the k-beauty products market.
K-beauty products have gained a reputation for their commitment to utilizing high-quality ingredients. Korean brands place great importance on incorporating safe, effective, and often natural ingredients in their formulations. COSRX, a well-known K-beauty brand, exemplifies this emphasis on effective & minimalistic skincare. It is renowned for its use of unique ingredients, including snail mucin, propolis, & Centella Asiatica. These key ingredients have garnered recognition for their hydrating, soothing, & healing properties. By incorporating such ingredients into their products, K-beauty brands like COSRX demonstrate their commitment to providing skincare solutions that offer tangible benefits to consumers.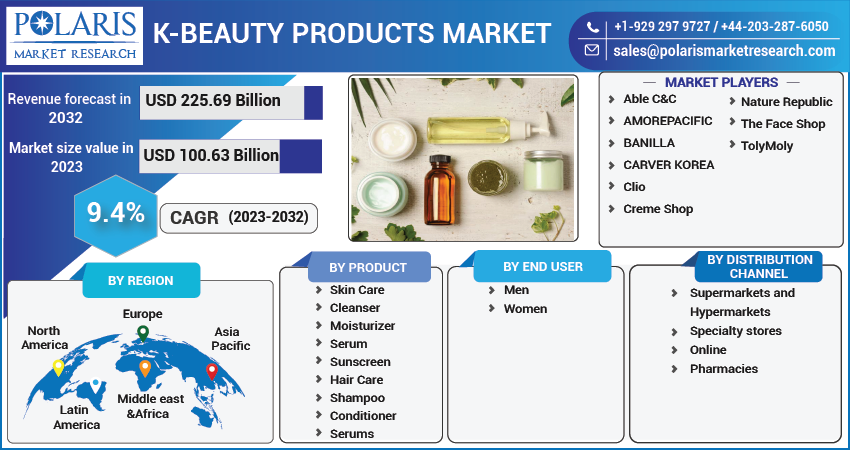 For Specific Research Requirements, Request for a Customized Research Report
Industry Dynamics
Growth Drivers
Global Popularity and Cultural Influence
Popularity of K-beauty products stems from their focus on high-quality ingredients. K-beauty brands prioritize the use of safe, effective, and often natural ingredients, which resonates with consumers and drives the adoption of these products. Despite the challenges posed by the COVID-19 pandemic, the Korean cosmetics industry experienced steady growth as consumers became more aware of the numerous benefits offered by K-beauty products. In response to the increasing demand, major K-beauty companies are actively taking initiatives such as research and development, launching new products, and engaging in mergers and acquisitions to maintain their market share and adapt to evolving consumer preferences. These companies are continuously introducing a wide range of items to meet the changing demands and stay competitive in the market.
Report Segmentation
The market is primarily segmented based on product, end use, distribution channel, and region.
By Product

By End User

By Distribution Channel

By Region

Skin Care

Cleanser

Moisturizer

Serum

Sunscreen

Others

Hair Care

Shampoo

Conditioner

Serums

Others

Supermarkets and Hypermarkets

Specialty stores

Online

Pharmacies

North America (U.S., Canada)

Europe (France, Germany, UK, Italy, Netherlands, Spain, Russia)

Asia Pacific (Japan, China, India, Malaysia, Indonesia. South Korea)

Latin America (Brazil, Mexico, Argentina)

Middle East & Africa (Saudi Arabia, UAE, Israel, South Africa)
To Understand the Scope of this Report: Speak to Analyst
By Product Analysis
Skin care segment accounted for the largest market share in 2022
K-beauty products are highly versatile and suitable for all skin types, ensuring minimal irritation. They are particularly sought after for their compatibility with sensitive skin and their ability to cater to diverse skin types. This has contributed to the growing popularity and demand for K-beauty skin care products among consumers. For instance, an article published on the UMMA website indicates that an estimated 44.6% of Americans & 38.4% of Europeans have sensitive skin as of 2023. In response to this trend, the K-Beauty industry has expanded its range of skin-friendly products specifically designed for individuals with sensitive or combination skin.
Hair segment is projected to grow at the fastest rate. K-beauty hair care products are known for their utilization of natural & herbal ingredients. These ingredients are believed to provide numerous benefits, including nourishment, hydration, & improved hair health.
By End Use Analysis
Women segment held the significant market share in 2022
Women segment held the maximum market share in terms of revenue in 2022. The consumption of beauty products by women has experienced a substantial increase, fueled by their active participation in social and economic activities. As income levels rise, there is a growing demand among women for trendy and luxurious beauty products. These factors, in combination, continue to be the primary catalysts driving the demand for K-beauty products among women.
Men segment is anticipated to grow at fastest growth rate. Men are increasingly becoming conscious of their skincare needs, including concerns related to aging, sensitivity, acne, dryness, & inflammatory conditions. This growing awareness and demand among men are driving the market for the such products. For instance, KEOJI offers the Snail Truecica Miracle Serum, that contains the mucus substance extracted from the black snail, a popular ingredient known for its therapeutic benefits in facial treatments.
By Distribution Channel Analysis
Online segment is projected to witness highest growth
Online segment is expected to grow at highest growth rate. This growth is primarily driven by the expanding e-commerce sector, particularly in emerging markets. Countries like China and India are experiencing a surge in online browsing and shopping for cosmetic products. The industry is poised for significant opportunities in the coming years, thanks to the growing collaborations between major e-commerce companies and cosmetic manufacturers in emerging economies.
Regional Insights
North America region dominated the global market in 2022
North America region dominated the global market. Increasing demand for skincare products, innovative product branding strategies, rising awareness about beauty routines, and effective advertising methods favoring the region's growth. Notably, popular K-beauty brands like AmorePacific are expanding their presence in the United States & Japan, further fueling the market growth. Moreover, the presence of numerous offline retail chains that offer a wide range of cosmetics products contributes to the market's success in the region.
APAC is projected to be the fastest emerging region. This growth can be attributed to several factors, including the expanding industrial growth and the increasing per capita income in emerging countries such as India and China. Furthermore, the personal care market in developing nations is projected to experience significant growth in the foreseeable future, creating substantial potential for the cosmetics market to thrive in the region. According to the Korean National Statistical Office, online sales of cosmetics in 2021 amounted to $9.6 billion, indicating a slight decrease of 1.6% compared to the previous year.
Key Market Players & Competitive Insights
Key players in the market are constantly upgrading their technologies to stay ahead of the competition and to ensure efficiency, integrity, and safety. These players focus on partnership, product upgrades, and collaboration to gain a competitive edge over their peers and capture a significant market share.
Some of the major players operating in the global market include:
Able C&C

AMOREPACIFIC

BANILLA

CARVER KOREA

Clio

Creme Shop

Nature Republic

The Face Shop

TolyMoly
Recent Developments
In July 2022, Saturday Skin has entered a strategic partnership with the Nykaa, to bolster its presence in the Indian sub-continent. As part of this collaboration, Saturday Skin will make its range of skin-care products available to the customers through their Nykaa website & mobile app.

In November 2022, L'Oreal has recently unveiled a new line of beauty products in collaboration with Shihyo, a renowned Korean brand. This innovative collection combines the beauty traditions of China (C-Beauty), Korea (K-Beauty), & Japan (J-Beauty). The products in this range incorporate 24 herbal ingredients and utilize fermented rice and other cutting-edge Asian techniques.
K-Beauty Products Market Report Scope
| | |
| --- | --- |
| Report Attributes | Details |
| Market size value in 2023 | USD 100.63 billion |
| Revenue forecast in 2032 | USD 225.69 billion |
| CAGR | 9.4% from 2023 – 2032 |
| Base year | 2022 |
| Historical data | 2019 – 2021 |
| Forecast period | 2023 – 2032 |
| Quantitative units | Revenue in USD billion and CAGR from 2023 to 2032 |
| Segments covered | By Product, By End Use, By Distribution Channel, By Region |
| Regional scope | North America, Europe, Asia Pacific, Latin America; Middle East & Africa |
| Customization | Report customization as per your requirements with respect to countries, region and segmentation |