The global kidney function tests market was valued at USD 779.4 million in 2020 and is expected to grow at a CAGR of 6.5% during the forecast period. Factors responsible for the market growth include rising prevalence of acute kidney disorders, surge in number of people suffering with diabetes and hypertension, increasing old age population, and innovations in the market for kidney function tests.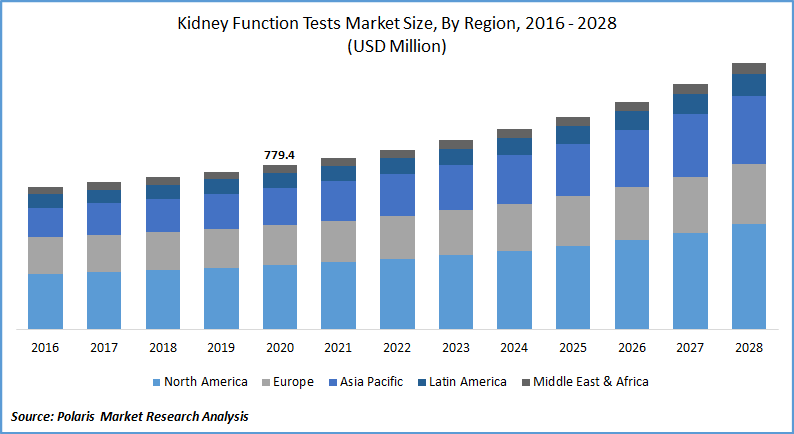 Know more about this report: request for sample pages
As per a National Kidney Foundation report, persons admitted due to COVID-19 have a high risk of developing AKI. AKI was twice as common in COVID-19 patients as it was in non-COVID-19 patients, as per the report. Patients with an AKI in COVID-19 should be screened regularly, according to health officials, since their risk of developing CKD is greater than that of others. In turn, it will drive the kidney function tests market forward.
Industry Dynamics
Growth Drivers
Chronic kidney disease has evolved into a major public health issue with a high financial and economic burden. The global prevalence of CKD, as per the National Institutes of Health (NIH), is about 14%. As a result, there is a strong demand for mandatory CKD screening tests among patients with hypertension and diabetes, resulting in high product demand. As per the International Diabetes Federation, there were around 463.0 million diabetic people worldwide, in 2019, and it is predicted to grow to 700 million, by 2045.
Increasing research activities for the development of novel products are likely to significantly provide vital growth for kidney function tests over the projected period. In January 2020, SphingoTec GmbH launched the IB10 sphingotest penKid.
With this biomarker, a standard blood test can be used to assess kidney function in real-time. Besides that, as investments in the field of kidney function research rise, the market is expected to grow. In January 2020, Elypta AB raised USD 7 million in a seed round to develop the very first urinalysis for kidney cancer.
Increased alcohol intake, hypertension, diabetes, and obesity, as well as a shift to a poor diet and increasing government measures for the detection and treatment of kidney failure, are all contributing factors in the demand for insulin sensitivity tests. Besides, many public-private partnerships are working to make kidney disease research more accessible in key areas.
The NKF and NCQA, for example, launched a new kidney health evaluation test for diabetic patients, in July 2020. The new guidelines recommend that diabetic patients be tested for kidney disease regularly. These policies are expected to create a favorable climate for business expansion.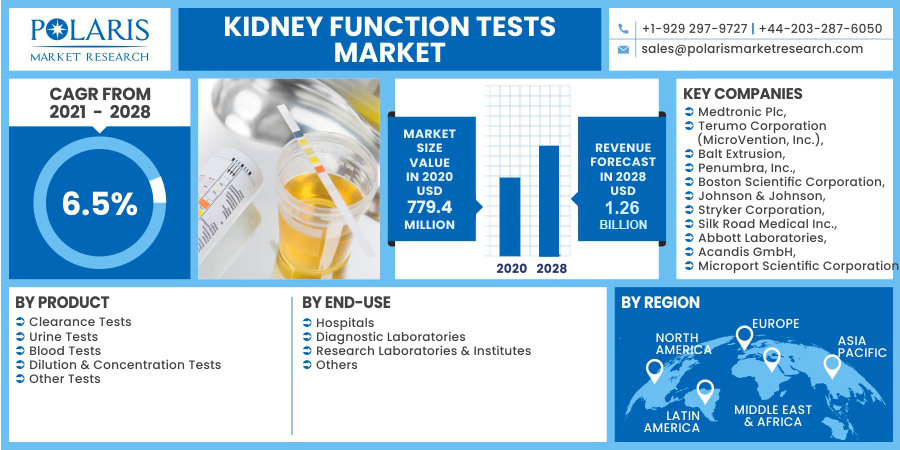 Know more about this report: request for sample pages
Kidney Function Tests Market Report Scope
The market is primarily segmented based on product, end-use, and region.
By Product

By End-Use

By Region

Clearance Tests
Urine Tests
Blood Tests
Dilution & Concentration Tests
Other Tests

Hospitals
Diagnostic Laboratories
Research Laboratories & Institutes
Others

North America (U.S., Canada)
Europe (France, Germany, UK, Italy, Spain, Netherlands, Austria)
Asia Pacific (Japan, China, India, Malaysia, Indonesia, South Korea)
Latin America (Brazil, Mexico, Argentina)
Middle East & Africa (Saudi Arabia, UAE, Israel, South Africa)
Know more about this report: request for sample pages
Insight by Product
The clearance tests category dominated the market in 2020 of the global kidney function tests industry and is expected to continue to do so during the study period. The gold standard for tracking and measuring glomerular filtration rate is clearance tests.
Creatinine and inulin tests are among these drugs, which are useful additions to conventional diagnostic tests for obtaining precise results. Furthermore, because of their high sensitivity and accuracy, these tests ensure that output varies minimally. Such products are becoming much more popular as a result of their cheap price and wide availability.
Insight by End-Use
In 2020, the hospital market segment had the largest market share for kidney function tests, and this is expected to continue over the forecast period. This high percentage can be attributed to an increase in hospital visits as people become more conscious of CKD and how to handle it. Furthermore, the segment's share will be boosted by the creation of sophisticated infrastructures across various regions that aid in the performance of efficient diagnostic procedures.
Geographic Overview
With the excellent healthcare system, high levels of understanding about CKD, and healthcare expenditure, and government policies, North America had the highest market share in 2020 of kidney function tests and is anticipated to continue during the study period. The U.S. had the highest regional market share in North America. The growth of key market players on the field and the simple accessibility of technically sophisticated goods are two key factors leading to its supremacy.
Asia Pacific kidney function tests industry is anticipated to be the fastest growing market over the assessment period, due to expanding healthcare facilities and investments by key market players. Also, the development of a large target group in developing markets such as China and India is anticipated to accelerate the regional market forward over the forthcoming years. According to data from the National Center for Biotechnology Information, the overall prevalence of CKD, in India is about 17.2%.
Competitive Insight
Key players in the kidney function tests market are concentrating their energies on strategic acquisitions to boost their research and development capabilities, which will help them provide creative solutions to users and gain a competitive edge.
Some of the major players operating in the global market for kidney function tests include F.Hoffmann-La Roche Ltd, Siemens Healthineers, C. R. Bard, Inc, Abbott Laboratories, Nova Biomedical, Baxter International Inc, Cook Medical, Boston Scientific Corporation, Danaher Corporation, and Sysmexare.