The global laptop accessories market was valued at USD 40.37 billion in 2022 and is expected to grow at a CAGR of 6.5% during the forecast period. The demand for laptop accessories is primarily driven by the growth of e-sports and the adoption of process automation across numerous sectors. The market's primary growth factors are rising internet usage, disposable incomes, a growing global population, and more consumer knowledge of novel developing technologies. Personal computer sales have just seen their first significant upswing against predictions that they would fall ten years ago. In 2021, PC shipments hit 297 million units, an increase of 11% from 2019. Three hundred two million shipments are anticipated for the year, up 13.1% from the previous year, according to IDC. Increasing laptop sales have increased the need for accessories.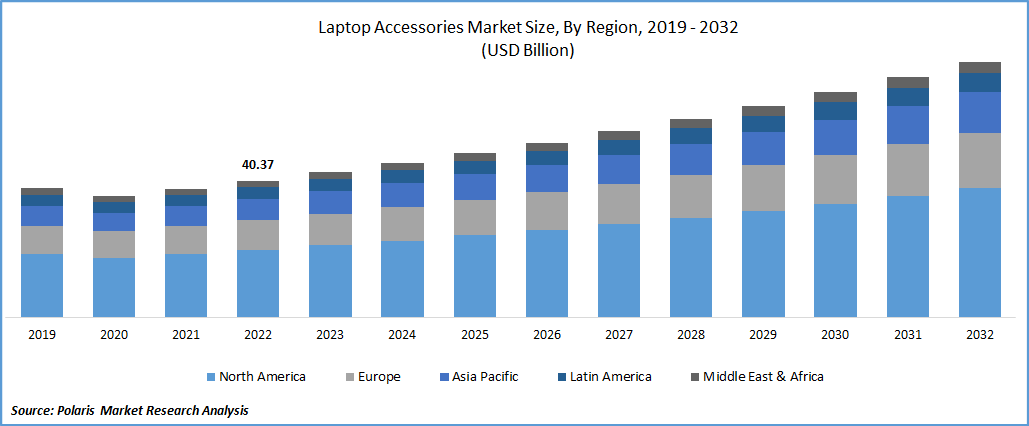 Know more about this report: Request for sample pages
Due to a high level of digital convergence and continued product innovation activities by top manufacturers, the device's sales are anticipated to increase dramatically throughout the projection period. The growth of e-commerce and the increasing popularity of gaming devices will contribute to the device's demand over the next years. Additionally, the fact that customers must replace laptop accessories on average every 3 to 5 years stimulates the increase in their volume. On the other hand, developing laptop accessories motivates customers to purchase the new product, significantly accelerating the market's growth.
Furthermore, the market for laptop accessories is expected to grow fast throughout the forecast period due to internal and external factors such as lower accessory weight and technical advancements in Wi-Fi, Bluetooth, and Infrared. The market is also expected to grow due to product innovation and accessibility.
The epidemic has had negative effects on almost every business in the world. The reason for this is that the numerous precautionary lockdowns and other limitations imposed by government agencies across the globe have substantially impeded each company's production and supply-chain activities. There are several international markets for laptop accessories. In addition, consumers are more concerned about cutting back on their discretionary spending because the pandemic has negatively impacted most people's budgets, decreasing consumer demand. These factors are expected to affect the growth trajectory of the worldwide laptop accessory market throughout the forecast period.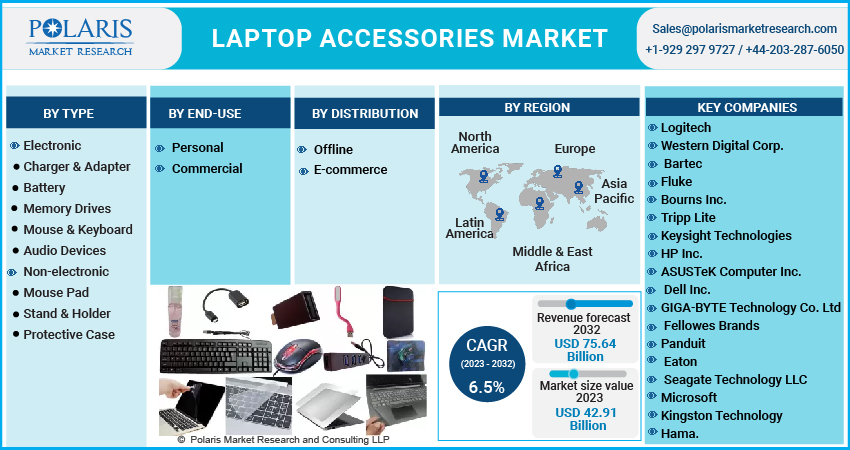 Know more about this report: Request for sample pages
Industry Dynamics
Growth Drivers
Rapid Urbanization escalates laptop accessories market growth. Living in an urban region is linked to better health, access to social services, social and cultural possibilities, and career and educational opportunities. For a better quality of life, people move to towns and cities. Globally, 4.46 billion people resided in urban areas as of 2021. A total of 6.68 billion people will live in the towns by the year 2050, an increase of 2.22 billion people from now. As a result, demand for laptops for various reasons and the market they serve will increase along with urbanization and overall quality of life.
Additionally, the market is expected to expand due to product innovation and affordability. Sales of laptops are being greatly boosted by the expansion of corporate offices worldwide, which also increases demand for accessories. To work comfortably and efficiently, consumers are choosing laptop accessories more frequently. Because laptops have non-portable capabilities and functions, businesses have increased the equipment in their office infrastructure. Additionally, the market for laptop accessories is driven by the increasing shipments of laptops, desktop computers, notebooks, and mobile workstations, further boosting demand for accessories like mice, keyboards, and chargers.
Report Segmentation
The market is primarily segmented based on type, end-use, distribution channel and region.
By Type

By End-use

By Distribution Channel

By Region

Electronic

Charger & Adapter

Battery

Memory Drives

Mouse & Keyboard

Audio Devices

Others (Adapters, readers, cooling fan, etc.)

Non-electronic

Mouse Pad

Stand & Holder

Protective Case

Others (Key guards, laminates & covers, anti-thefts, cleaning, etc.)

North America (U.S., Canada)

Europe (France, Germany, UK, Italy, Netherlands, Spain, Russia)

Asia Pacific (Japan, China, India, Malaysia, Indonesia. South Korea)

Latin America (Brazil, Mexico, Argentina)

Middle East & Africa (Saudi Arabia, UAE, Israel, South Africa)
Know more about this report: Request for sample pages
Electronic segment is expected to witness largest growth in 2022
In 2022, the Electronic segment was expected to witness the largest growth due to the rising desire for work-from-home opportunities and the drive for online education, and laptop demand has surged as lockdown regulations have been relaxed. On e-commerce sites, there have been more searches for new and refurbished gadgets. This rise in laptop sales drives demand for electronic accessories like wireless keyboards and mice. According to HP Inc., the usage of laptop accessories is already showing signs of growth in 2020. This includes everything from displays to headphones to entertainment and gaming equipment for better gameplay as customers get ready for greater, high-definition viewing.
Conversely, the non-electronic category is anticipated to post a sizable CAGR over the projected year. Mouse pads, stands, holders, key guards, protective cases, and other non-electronic laptop accessories are included in this sector. These items are considered crucial in enhancing the usefulness and durability of the product. This will improve the usage of laptop accessories and have a beneficial effect on the industry's expansion.
Personal segment accounted for the dominate the market in 2022
In 2022, the personal sector dominates the market. This is mostly due to the abrupt change from work-from-office to work-from-home, which occurred in the aftermath of the epidemic and ensuing lockdown. According to a 2020 poll performed by Harvard Business School, around 80% of major enterprises and 45% of small businesses in the United States have moved to at least some remote labor. Furthermore, according to the Census Bureau, 93% of American households with school-age children reported using some form of distant learning.
During the projected period, the commercial category is anticipated to grow at the fastest rate. The rising demand for business-related accessories such as cameras, speakers, and touchpads will likely boost the retail segment's development. Due to laptops' portable features and capabilities, businesses have increased the technology in their office infrastructure. The need for peripherals has therefore increased. The amount of shares invested has increased dramatically in both the business sector and the high-tier market. The industry has been generally stable in recent years, with global exports averaging 160 million units, thanks to the ongoing need for laptops for corporate usage. But because of the epidemic and work-from-home options, the sector has grown more rapidly than expected.
Offline sector is expected to hold the significant revenue share
In 2022, the offline sector holds a significant revenue share since many customers still favor purchasing electrical products in person. Therefore, a rise in retail outlets is expected to boost product sales through offline channels, especially in developing countries like Brazil, China, and India.
The growth of the online market may be linked to technical improvements and the increasing importance to consumers, particularly shopping for discounts placed on online retailers from which they can buy laptop accessories.
The demand in Asia Pacific is expected to witness significant growth in 2022
Asia Pacific led the global market with significant growth in 2022. With newly developed strategic business units, significant multinational companies have a strong presence in the developing APAC countries, which is projected to boost the market growth throughout the projection period. The expansion of consumer devices in the region is also being fueled by rapid industrialization. Businesses prioritize product innovation to keep up with growing consumer demand for products and establish trends.
The leading players can establish a presence in developing economies through strategic activities like collaboration, mergers, and acquisitions. Increasing production has led to growth in consumer electronics in the region. As per Amazon India, searches for headphones and earbuds have climbed by 1.7 times, laptops and tablets have doubled, stationery has increased by almost 1.2 times, mice and keyboards have increased by more than two times, printers have increased by 1.3 times, routers have increased by more than three times, and study tables have increased by 2.5 times.
The Middle East and Africa area are predicted to grow greatly due to the expansion of activities of prominent firms in countries like Saudi Arabia and the United Arab Emirates. It will be easy for these countries' connected industries to provide laptops, encouraging market growth. For example, Microsoft Corporation expanded its customer base in South Africa in July 2020 by introducing a range of products that included laptops and covers for the Surface Laptop 3 and Surface Pro 7. Consumers' growing awareness of the availability of numerous computer accessory items is also fueling the expansion of the local market.
Competitive Insight
Some of the major players operating in the global laptop accessories market include Logitech, Western Digital, Bartec, Fluke, Bourns, Tripp Lite, Keysight Technologies, HP Inc., ASUSTeK Computer, Dell, GIGA-BYTE Technology, Fellowes Brands, Panduit, Eaton, Seagate Technology, Microsoft, Kingston, and Hama.
Recent Developments
In December 2022, Microsoft collaborated with Liberty, a worldwide design firm in London, to develop the Surface Pro-Liberty Keyboard. The special edition Surface Pro 9 commemorates the tenth anniversary of Surface and has a bespoke pattern—an intense blue floral pattern—motivated by the Windows 11 Bloom. The elegant Liberty keyboard also features an expansive glass touchpad and illustrated keys.

In September 2022, the first Fortnite SanDisk microSDXC card for the Nintendo Switch was made available by Western Digital Corp. in collaboration with Epic Games and Nintendo.

Furthermore, In August 2022, the MD100 ASUS Marshmallow Mouse was introduced by ASUSTeK Computer Inc., expanding the line of constantly growing ASUS accessories by including the Portable Silent Wireless Mouse. The MD100 ASUS Marshmallow mouse will be offered offline and online at ASUS E-shop and Flipkart.
Laptop Accessories Market Report Scope
| | |
| --- | --- |
| Report Attributes | Details |
| Market size value in 2023 | USD 42.91 billion |
| Revenue forecast in 2032 | USD 75.64 billion |
| CAGR | 6.5% from 2023 – 2032 |
| Base year | 2022 |
| Historical data | 2019 – 2021 |
| Forecast period | 2023 - 2032 |
| Quantitative units | Revenue in USD billion and CAGR from 2023 to 2032 |
| Segments covered | By Type; By End-use; By Distribution Channel; By Region |
| Regional scope | North America, Europe, Asia Pacific, Latin America; Middle East & Africa |
| Key companies | Logitech, Western Digital Corp., Bartec, Fluke, Bourns Inc., Tripp Lite, Keysight Technologies, HP Inc., ASUSTeK Computer Inc., Dell Inc., GIGA-BYTE Technology Co. Ltd., Fellowes Brands, Panduit, Eaton, Seagate Technology LLC, Microsoft, Kingston Technology, Hama. |