The global linear LED strip fixture market was valued at USD 2.08 billion in 2022 and is expected to grow at a CAGR of 12.2% during the forecast period.
Demand for smart lighting solutions is expected to rise due to the rapid growth of the market, such as strip fixtures. An increase in new construction activities across residential, commercial, and industrial sectors primarily drives this growth. Furthermore, government restrictions on incandescent lighting and various incentive programs are projected to encourage the adoption of linear LED strip fixtures. These fixtures offer numerous advantages, including lower power consumption, longer lifespan, and the ability to incorporate a wide range of modern decorative lighting options. As a result, the utilization of linear LED strip fixtures is anticipated to witness significant growth.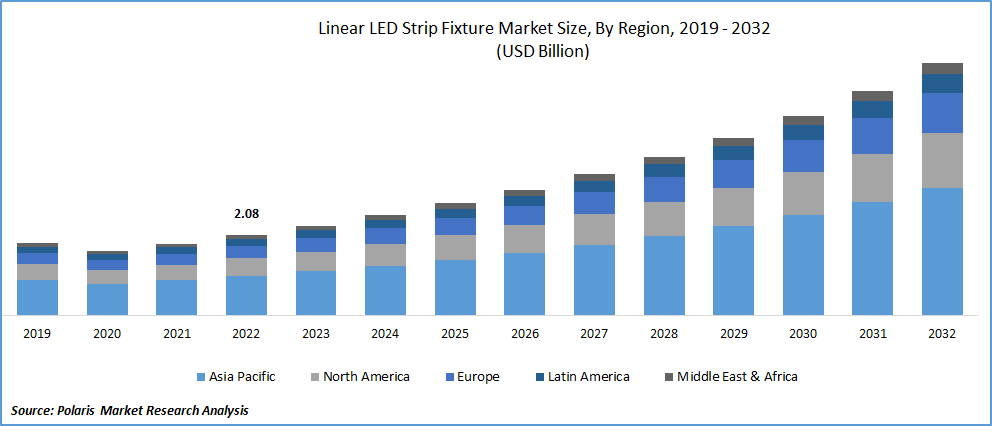 To Understand More About this Research: Request a Free Sample Report
LED technology offers significantly higher energy conversion efficiency compared to fluorescent lighting. At the same time, fluorescent lighting can convert only up to 10 percent of the energy supply into light, while LED technology converts up to 95 percent of the energy into light. This exceptional efficiency results in reduced power consumption while providing a higher amount of light output. In residential settings, there is a growing preference for stylish and luxurious lighting options.
The sector is experiencing an increasing demand for LED strips in comparison to other lighting options, such as fluorescent, halogen, and CFL lights. Governments are also actively promoting the adoption of LED lighting solutions as part of their energy conservation initiatives. This focus on reducing energy consumption is expected to drive the growth of the market. The rise in construction activities, particularly in commercial and industrial sectors, is one of the key factors contributing to the demand for linear LED strip fixture solutions. The construction of new buildings is projected to generate a substantial need for smart LED lighting solutions.
Furthermore, the implementation of government regulations banning incandescent lighting and the introduction of incentive programs are expected to create favorable market conditions for manufacturers of linear LED strip fixtures, leading to new growth opportunities. Despite the challenges posed by the COVID-19 pandemic, new home construction projects continue to progress in various countries, such as India, the United States, and the United Arab Emirates. In California, for instance, residential development has remained uninterrupted during the pandemic as the state government has classified construction, including residential construction, as an essential service. This decision was driven by the urgency to address the existing housing shortage, which was a pressing issue even before the onset of the pandemic.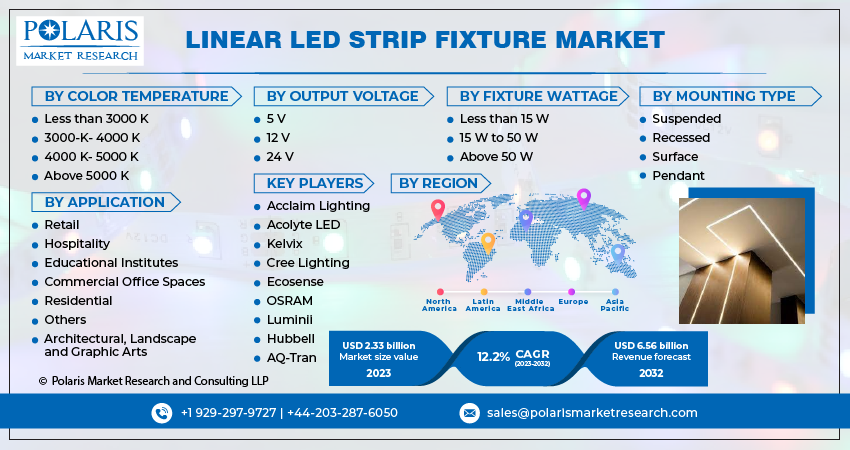 For Specific Research Requirements, Request for a Customized Report
Growth Drivers
Growing demand for energy-saving lighting solutions
The growing demand for energy-saving lighting solutions is a key driver in the Linear LED Strip Fixture Market. As environmental concerns continue to rise, businesses and consumers alike are increasingly seeking ways to reduce energy consumption and minimize their carbon footprint. Linear LED strip fixtures have emerged as a highly efficient lighting solution, offering significant energy savings compared to traditional lighting technologies such as fluorescent and incandescent lighting.
These fixtures are designed to maximize luminous output while minimizing power consumption, making them an attractive choice for various applications, including residential, commercial, and industrial settings. Their energy efficiency not only lowers electricity bills but also contributes to a reduction in greenhouse gas emissions, aligning with sustainability goals and environmental regulations.
Moreover, government initiatives and regulations promoting energy-efficient lighting further fuel the demand for Linear LED strip fixtures. Incentives and rebates for adopting energy-efficient lighting solutions encourage businesses and consumers to make the switch. As a result, the Linear LED Strip Fixture Market is expected to continue its growth trajectory, driven by the imperative to conserve energy and reduce environmental impact while enjoying cost savings in the long run.
Report Segmentation
The market is primarily segmented based on color temperature, output voltage, fixture wattage, mounting type, application, and region.
By Color Temperature

By Output Voltage

By Fixture Wattage

By Mounting Type

By Application

By Region

Less than 3000 K

3000-K- 4000 K

4000 K- 5000 K

Above 5000 K

Less than 15 W

15 W to 50 W

Above 50 W

Suspended

Recessed

Surface

Pendant

Retail

Hospitality

Architectural, Landscape and Graphic Arts

Educational Institutes

Commercial Office Spaces

Residential

Others

North America (U.S., Canada)

Europe (France, Germany, UK, Italy, Netherlands, Spain, Russia)

Asia Pacific (Japan, China, India, Malaysia, Indonesia. South Korea)

Latin America (Brazil, Mexico, Argentina)

Middle East & Africa (Saudi Arabia, UAE, Israel, South Africa)
To Understand the Scope of this Report: Speak to Analyst
By Color Temperature Analysis
3000-4000K segment accounted for the largest market share in 2022
3000-4000 K segment accounted for the largest share in 2022. LED technology offers notable advantages in terms of energy efficiency compared to traditional lighting sources such as incandescent bulbs or fluorescent tubes. LED linear fixtures with a color temperature range of 3000 K to 4000 K provide a balanced blend of warm and cool lighting, making them suitable for a wide range of indoor lighting applications. The 3000 K to 4000 K color temperature range is commonly chosen for general lighting purposes in residential, commercial, and hospitality environments.
The less than 300K segment is likely to exhibit the fastest growth rate. These low-color temperature fixtures emit a soft and comforting light that creates a warm and inviting ambiance in a space. They are commonly selected for residential settings such as living rooms, bedrooms, and dining areas, where a cozy and relaxed atmosphere is desired. Due to these reasons, LED linear lamps with a color temperature below 3000 K are preferred in various residential, commercial, and hospitality applications.
By Output Voltage Analysis
24V segment held a significant market share in 2022
24V segment held the largest share in 2022. It offers a distinct advantage over its 12V counterparts as it supports longer continuous runs. The higher voltage helps minimize voltage drop along the strip, allowing for extended installations without noticeable fluctuations in light output. This makes 24V LED linear fixtures well-suited for large-scale projects that require consistent and reliable lighting across long distances.
The 12V segment is projected to gain a substantial growth rate over the anticipated period. They are commonly employed in smaller-scale projects or areas with limited space. Their compact size allows for installation in challenging locations, including awkward angles, curved surfaces, and intricate patterns. In residential spaces such as bathrooms, bedrooms, home theaters, and kitchens, 12V LED linear lighting is frequently utilized. These fixtures are widely used to create ambient or mood lighting effects, accentuate specific areas, and provide under-cabinet illumination. Their low voltage and straightforward installation make them ideal for DIY projects.
By Application Analysis
The commercial offices segment is projected to witness the highest growth over the projected period.
Commercial offices segment is projected to grow at a healthy CAGR over the projected period. These are widely recognized for their exceptional energy efficiency compared to conventional fluorescent or incandescent lighting options. This attribute is particularly beneficial for commercial office buildings that operate for extended periods, as the energy savings provided by linear LED strip fixtures can significantly reduce electricity costs. These fixtures deliver consistent and uniform lighting throughout the office space, effectively eliminating glare and creating a pleasant working environment.
The residential segment led the industry market with a substantial market share. LED linear lighting, with its sleek and contemporary design, perfectly complements modern residential interiors. The linear form factor adds a touch of sophistication and simplicity to home spaces. LED linear fixtures are highly versatile, making them suitable for various household settings. They are commonly utilized in dining rooms, hallways, living rooms, and home offices. These fixtures provide both ambient lighting, creating an overall well-lit environment, and task lighting, enhancing visibility for daily activities and tasks.
Regional Insight
The Asia Pacific region dominated the global market in 2022
Asia Pacific region dominated the global market with a considerable share in 2022. The region's rapid urbanization and infrastructure development, evident in the construction of office buildings, retail stores, and residential complexes, are favoring the region's growth. In line with promoting sustainable lighting solutions, numerous countries in the region have implemented energy efficiency regulations and government initiatives.
Europe is likely to emerge as the fastest-growing region, with a significant growth rate over the study period. The region has been at the forefront of promoting energy efficiency programs and fostering environmentally friendly practices. LED linear fixtures, known for their energy efficiency, have gained significant popularity in Europe, driven by EU legislation and initiatives like the Eco-design Directive and Energy Performance of Buildings Directive. These measures have contributed to the increasing adoption of energy-efficient lighting solutions in Europe.
Competitive Insight
The linear-led strip fixture market is fragmented and is anticipated to witness competition due to several players' presence. Major service providers in the market are constantly upgrading their technologies to stay ahead of the competition and to ensure efficiency, integrity, and safety. These players focus on partnership, product upgrades, and collaboration to gain a competitive edge over their peers and capture a significant market share.
Some of the major players operating in the global market include:
Acclaim Lighting

Acolyte LED

Acuity Brands Lighting

American Lighting

Cree Lighting

Ecosense

Elemental LED

Haichang Optotech

Hubbell

Insight Lighting

Kelvix

Ledrise Limited

Luminii

Nova Flex LED

OSRAM

Q-Tran

Signify Holding
Recent Developments
In October 2021, with its modern and innovative design, the CPY500 Series by Cree Lighting offers a range of canopy lighting solutions that enhance curb appeal and provide visual comfort. This new series is poised to expand Cree Lighting's customer base and solidify its position as a leading player in the lighting industry.
Linear LED Strip Fixture Market Report Scope
| | |
| --- | --- |
| Report Attributes | Details |
| Market size value in 2023 | USD 2.33 billion |
| Revenue Forecast in 2032 | USD 6.56 billion |
| CAGR | 12.2% from 2023 – 2032 |
| Base year | 2022 |
| Historical data | 2019 – 2021 |
| Forecast period | 2023 – 2032 |
| Quantitative units | Revenue in USD billion and CAGR from 2023 to 2032 |
| Segments Covered | By Color Temperature, Output Voltage, Fixture Wattage, Mounting Type, Application, By Region |
| Regional scope | North America, Europe, Asia Pacific, Latin America; Middle East & Africa |
| Customization | Report customization as per your requirements with respect to countries, regions, and segmentation. |