The global medical terminology software market was valued at USD 0.86 billion in 2021 and is expected to grow at a CAGR of 19.37% during the forecast period.
The global need for medical terminology software to eliminate healthcare mistakes and enable effective patient treatment is increasing rapidly. It's frequently utilized in clinical trials, insurance claims and reimbursements, public health monitoring, and other sectors, making it easier for healthcare institutions to manage patient information.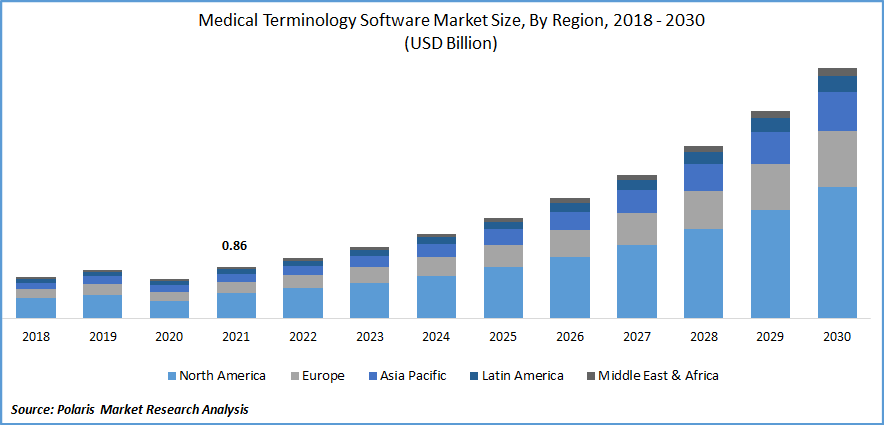 Know more about this report: Request for sample pages
Factors driving market expansion include the growing desire to reduce clinical mistakes, increased government measures to increase hospital IT usage, and disparities in clinical terminologies used by various healthcare organizations. Furthermore, the growing desire for interoperability among multiple medical departments drives the industry's expansion. One of the biggest causes of mortality globally is a medical mistake.
One of the leading reasons for medical mistakes is a lack of uniform terminology. The healthcare sector's and hospitals' rising emphasis on eliminating clinical mistakes while keeping standard patient information is expected to promote industry growth. The government has taken significant actions and initiatives in recent years to expedite the deployment of Health Information Technologies in healthcare settings. During the pandemic, the sector saw an initial pause in growth due to a decline in EHR subscriptions. The negative impact was largely offset by a rise in illnesses and the adoption of the new CPT codes and phrases linked to COVID-19, which raised the need for such terminologies.
Medical language refers to the knowledge or description of the human body, different structures, processes, and the concerned affecting situations. This software aids in delivering all such information in a comprehensible way and functioning as a connection to connect the dots in the field of medicine. It simplifies patient recording and clinical information. The goal of medical terminology software is to standardize patient data and manage the massive volumes of healthcare data that accrue over time. It also addresses the increased need to avoid medical mistakes.
Medical terminology software is used to manage a large amount of supplementary information in the medical field and to control the information of specific patients. This software is frequently used to reduce medical mistakes and provide patients with appropriate therapy. Factors such as increased specialization in eliminating medical mistakes, as well as the growing need to protect information integrity, are assisting in the market's rise. Various limitations, such as a reluctance to employ linguistic solutions over traditional techniques, limit industry expansion. Hospitals encounter challenges in preserving and retaining uniform patient data, which might have a negative influence on patients throughout the treatment time.
The sector was propelled by a considerable rise in the number of claims made during the epidemic. Following the pandemic, the sector is expected to develop gradually as further efforts toward interoperability and clinical terminology interface are taken. Revenue for businesses is also expected to increase significantly. For instance, product launches increased post-pandemic, and companies like Wolters Kluwer N.V. reported an increase of 7% in their clinical solutions segment, federal healthcare agencies such as Medicaid and Medicare reported an increase in incurred claims in 2020 by 8.7% and 8.8%, respectively.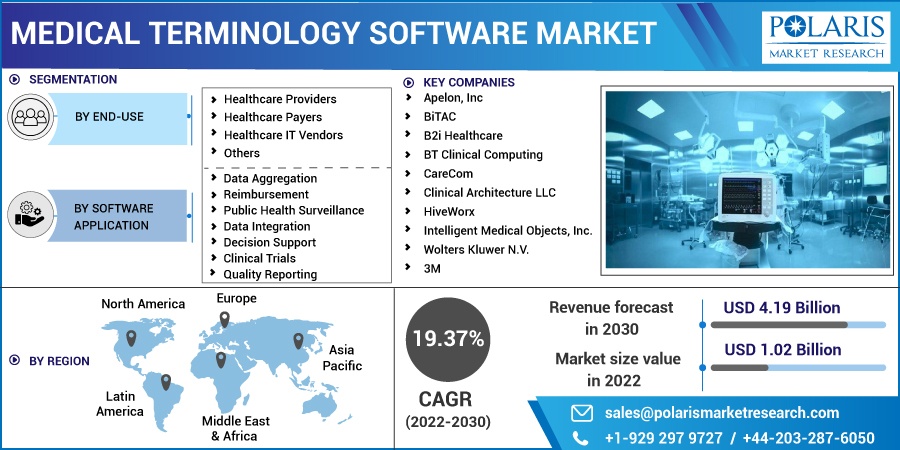 Know more about this report: Request for sample pages
Industry Dynamics
Growth Drivers
Healthcare ecosystems are now extremely fragmented in terms of content and infrastructure. A healthcare institution may oversee 40 or more independent IT systems, each with its own clinical terminology content and architecture. Because of these word silos, companies find it difficult to exploit isolated clinical data, which influences downstream operations. When a health system wants to exchange data. The lack of standard clinical language in many independent systems is a major challenge.
The growing emphasis of the medical industry and hospitals on eliminating medical mistakes while keeping uniform patient information is projected to boost market expansion. Growing government attempts to embrace information technology in healthcare to propel the medical terminology software market forward. Furthermore, the rising demand for advanced healthcare data software will likely provide the economic potential for the companies involved in implementing medical terminology software.
Report Segmentation
The market is primarily segmented based on end-use, software application, and region.
By End-Use

By Software Application

By Region

Healthcare Providers
Healthcare Payers
Healthcare IT Vendors
Others

Data Aggregation
Reimbursement
Public Health Surveillance
Data Integration
Decision Support
Clinical Trials
Quality Reporting
Others

North America (U.S., Canada)
Europe (France, Germany, UK, Italy, Netherlands, Spain, Russia)
Asia Pacific (Japan, China, India, Malaysia, Indonesia, South Korea)
Latin America (Brazil, Mexico, Argentina)
Middle East & Africa (Saudi Arabia, UAE, Israel, South Africa)
Know more about this report: Request for sample pages
Healthcare providers dominate the end-user segment in 2021
In 2021, this segment was led by the healthcare providers category in the global medical terminology software market. The category is expected to increase at a faster-than-average pace of more than 10%, maintaining its lead throughout the projected period. This expansion can be ascribed to the increased implementation of EHR and clinical decision support systems in hospitals, growing consumer safety issues, and the rising need for clinical interface terminology in the healthcare system. Furthermore, government-imposed adherence duties for quality standards are contributing to industry growth.
The terminology used in medicine in Factual errors caused by poor communication and paperwork is reduced by software, allowing clinicians to document patient histories, assessments, and treatments swiftly and properly, as well as identify possible health hazards. It also aids in the conversion of doctors' everyday language into a standardized way for easier understanding by other clinical professionals. The healthcare IT vendors market is also predicted to increase significantly throughout the predicted period because of collaborations amongst software suppliers. The trend toward decentralized clinical trials is increasing the use of terminology software by CROs and university research centers.
Quality reporting is the fastest-growing software application category
In 2021, the quality reporting sector led the industry, accounting for more than XX% of total revenue. This category is also expected to expand the quickest throughout the projection period. This might be attributable to the government's increased efforts to enhance healthcare quality outcomes and set quality assessment standards. During the projection period, the reimbursement sector is predicted to increase at a rapid pace.
The segment's growth is being fueled by an increase in hospitalizations and subsequent claim filings. Correct coding and smooth medical billing are critical to ensuring that healthcare professionals receive full compensation for their services. Incorrect data interpretation occurs from discrepancies in data obtained from diverse sources for patient health surveillance. As a result, clinical terminology solutions are frequently employed for uniformity. An increase in R&D spending, an increase in the number of clinical studies on innovative pharmaceuticals, and severe regulatory rules demanding sufficient documentation for evaluation and approvals are all boosting the clinical trials segment's expansion.
The demand in North America is expected to witness significant growth
North America will lead the worldwide industry in 2021, accounting for more than 40% of total sales. The region's expansion is linked to the introduction of beneficial government initiatives and assistance programs. The Centers for Medicare and Medicaid Services in the United States launched the Medicare Promoting Interoperability Program to encourage hospitals and professionals to use approved EHR systems. As a result, service providers are focusing on developing new software.
The Europe market is also expected to develop significantly throughout the projected period, owing to increased government funding for the use of digital platforms in hospitals. During the projection period, Asia Pacific is expected to grow at the quickest rate. This can be ascribed to providers' increased focus on expanding their presence in emerging economies, growing the number of institutions, and increased spending on public health monitoring.
Competitive Insight
Some of the major players operating in the global market include Apelon, Inc, BiTAC, B2i Healthcare, BT Clinical Computing, CareCom, Clinical Architecture, LLC, HiveWorx, Intelligent Medical Objects, Inc., Wolters Kluwer N.V., 3M.
Recent Developments
In 2022, Thomas H. Lee Partners, L.P. agreed to pay USD 1.5 billion for Intelligent Medical Objects in order to boost product development and grow commercial connections with hospitals and other healthcare providers.
In 2022, Clinical Architecture, LLC launched SeekDx, which offers intelligent, doctor-friendly solutions that map diagnoses to the appropriate SNOMED CT code and ICD-10 CM code.
In 2021, Wolters Kluwer collaborated with Henry Schein to integrate Henry Schein MicroMD, a practice management (EMR) system also known as electronic medical record, to efficiently map and standardize over a million medical acronyms, partial phrases, typos, and acronyms.
Medical Terminology Software Market Report Scope
| | |
| --- | --- |
| Report Attributes | Details |
| Market size value in 2022 | USD 1.02 billion |
| Revenue forecast in 2030 | USD 4.19 billion |
| CAGR | 19.37% from 2022 - 2030 |
| Base year | 2021 |
| Historical data | 2018 - 2020 |
| Forecast period | 2022 - 2030 |
| Quantitative units | Revenue in USD billion and CAGR from 2022 to 2030 |
| Segments covered | By Software Application, End-Use, By Region |
| Regional scope | North America, Europe, Asia Pacific, Latin America; Middle East & Africa |
| Key companies | Apelon, Inc, BiTAC, B2i Healthcare, BT Clinical Computing, CareCom, Clinical Architecture, LLC, HiveWorx, Intelligent Medical Objects, Inc., Wolters Kluwer N.V., 3M. |