The global metaverse market was valued at USD 59.61 billion in 2022 and is expected to grow at a CAGR of 40.5% during the forecast period.
The metaverse is a virtual digital ecosystem that uses blockchain, augmented reality (AR), and virtual reality (VR) for social interaction and communication.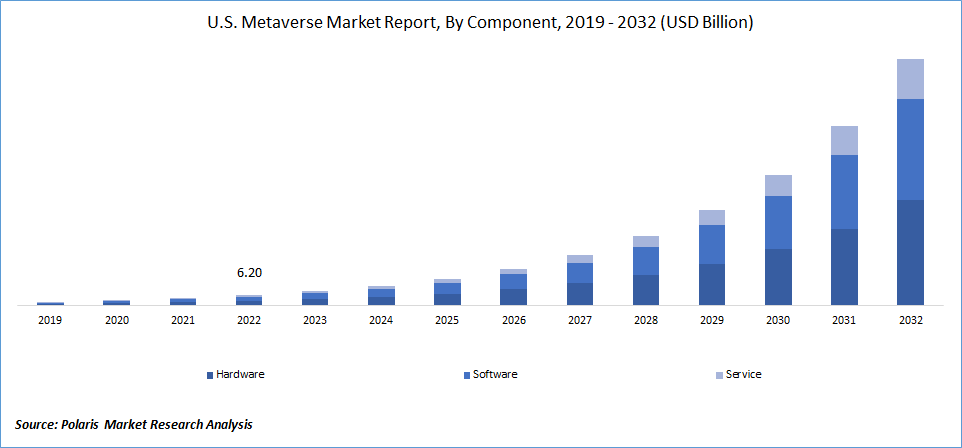 To Understand More About this Research: Request a Free Sample Report
It provides a unified network of 3D virtual worlds, which can be experienced through a virtual reality headset. It offers access and navigation through voice commands, feedback controllers, or eye movements. Several companies have announced developments related to the metaverse. Facebook announced its rebranding to Meta, which is a VR social platform. Roblox is developing platforms to provide user-generated video games.
The industry is expected to grow during the forecast period. These platforms can help provide its users and businesses with a more engaging and interactive social media experience. Moreover, such platforms can provide more intrusive user data, allowing companies to find customers and promote their products easily.
Moreover, during the pandemic, this sector remained mostly unaffected but witnessed a positive growth period. Although metaverse platforms are a relatively new sector in the gaming and social media industry, it is already experiencing certain issues. For instance, in December 2021, Meta Inc. discovered cybercriminals running phishing scams to deceive people into sharing their login credentials.
Similarly, in November 2021, scammers targeted users of the platform of Facebook (Meta) to attract users and make them invest in their fake cryptocurrency projects, such as "META coin," disguising it as the official currency for Facebook's platform. To counter such scams, Facebook later notified its users and declared that it would not have an exclusive cryptocurrency as its currency.
Industry Dynamics
Growth Drivers
The entertainment and gaming industry is experiencing a significant increase in demand, driven by the growing interest in immersive experiences and the emergence of the metaverse market. Consumers are seeking more engaging and interactive forms of entertainment, leading to a surge in the adoption of technologies like virtual reality (VR), augmented reality (AR), and mixed reality (MR). These advancements offer users more immersive and realistic experiences, contributing to the rising demand.
The market has garnered considerable attention and investment as it represents a convergence of various industries, including gaming, entertainment, social media, and e-commerce. It provides a platform for users to create, explore, and interact with digital content in a shared virtual space. This presents significant opportunities for businesses and individuals to engage with audiences and create unique experiences.
The metaverse offers a new level of gameplay and social interaction in the gaming industry. Players can immerse themselves in expansive virtual worlds, connect with other gamers in real time, and participate in collaborative experiences. This has led to virtual economies, where users can trade virtual goods and services, generating new revenue streams.
Outside of gaming, the metaverse transforms the entertainment industry by enabling artists, musicians, and performers to deliver interactive and personalized experiences to their audiences. Virtual concerts live streaming events, and virtual reality storytelling are examples of how the metaverse reshapes entertainment.
Moreover, businesses are exploring opportunities to establish a presence in the metaverse, offering virtual shopping experiences, immersive brand interactions, and novel marketing and advertising strategies. The market is expected to grow as technology evolves and user expectations expand, opening new avenues for immersive and interactive entertainment experiences.
Report Segmentation
The market is primarily segmented based on component, technology, application, industry vertical, and region.
By Component

By Technology

By Application

By Industry Vertical

By Region

Hardware

Software

Service

Blockchain

Virtual Reality and Augmented Reality

Mixed Reality

Others

Digital Marketing

Content Creation and Social Media

Gaming

Events and Conference

Online Shopping

Testing and Inspection

Others

Retail

Media & Entertainment

BFSI

Others

North America (U.S., Canada)

Europe (France, Germany, UK, Italy, Netherlands, Spain, Russia)

Asia Pacific (Japan, China, India, Malaysia, Indonesia, South Korea)

Latin America (Brazil, Mexico, Argentina)

Middle East & Africa (Saudi Arabia, UAE, Israel, South Africa)
To Understand the Scope of this Report: Speak to Analyst
The software segment is expected to grow fastest over the forecast period.
The software market is expected to grow during the forecast period. Metaverse software is an application used by various industries to increase speed, reduce latency, and improve the flexibility of the virtual world. In addition, the growth of the software segment is predicted to be driven by the appealing interface and intuitiveness of the software.
In addition, industrial metaverse software helps customers increase their productivity by providing them with enhanced simulators, which allows them to eliminate the time required to deploy the device, thus augmenting the industry's growth.
Furthermore, various game development companies are adopting metaverse software for developing games that have high quality and provide an enhanced experience to end users. In addition, simulator software is important as it majorly contributes to the user interface and increases the security of the gamers, which, in turn, provides lucrative opportunities for the market.
Virtual reality and augmented reality are anticipated to be the dominant market.
Virtual reality (VR) and augmented reality (AR) are anticipated to be the dominant segments in the metaverse industry. These technologies facilitate access to the metaverse, enabling peer-to-peer interactions within immersive environments. By merging real-world experiences with virtual and augmented elements, VR and AR provide users with deeply engaging and interactive experiences. As a result, VR and AR are expected to play a pivotal role in driving the growth and adoption of the metaverse market, offering users a gateway to explore and interact with the virtual shared space.
North America dominated the global market in 2022.
North American region is expected to account for a larger share of the metaverse market owing to its expanding investments in new technologies such as AI, AR/VR, and blockchain. The major factors that boost the industry's growth are expanding the presence of metaverse providers and increasing government support for compliance with regulations.
Furthermore, North America is expected to maintain its dominance during the forecast period, owing to growth in adopting metaverse solutions across end-user industries, such as BFSI, retail, and media & entertainment.
Asia Pacific is expected to achieve significant growth over the forecast period, driven by academic and research centers exploring the potential of the metaverse market. Steady economic development, increasing digitization in countries like India, China, and Japan, and the presence of tech giants, government departments, and startups contribute to the region's growth. The robust industrial environment, high commercial value, and technological revolution in social networking, entertainment, digitization, education, and gaming further fuel market expansion in the Asia Pacific.
Competitive Insight
Some of the major players operating in the global market include Alibaba Group Holding Limited, ByteDance Ltd, Facebook, Inc., Huawei Technologies Co. Ltd., Meta, Microsoft Corporation, Nextech AR Solutions Inc., NVIDIA Corporation, Roblox Corporation, Sandbox VR, Shenzhen Zqgame Co., Ltd, Tencent, Unity Technologies, VR Chat, and ZQGame.
Recent Developments
In May 2022, Nextech AR Solutions Corp launched 365 Marketplace with Restaurants Canada at the RC Show 2022. This new development to the event platform aims to provide a hybrid platform for the international marketplace and virtual event space. The latest product offers a center for e-commerce with a superior interaction level through ARitize 3D technology.
In March 2022, NVIDIA Corporation launched NVIDIA Omniverse, enabling developers to collaborate, share assets, sort asset libraries, and deploy AI to animate characters' facial expressions.
Metaverse Market Report Scope
| | |
| --- | --- |
| Report Attributes | Details |
| Market size value in 2023 | USD 83.56 billion |
| Revenue forecast in 2032 | USD 1,780.35 billion |
| CAGR | 40.5% from 2023 – 2032 |
| Base year | 2022 |
| Historical data | 2019 – 2021 |
| Forecast period | 2023 – 2032 |
| Quantitative units | Revenue in USD billion and CAGR from 2023 to 2032 |
| Segments Covered | By Component, By Technology, By Application, By Industry Vertical, By Region |
| Regional scope | North America, Europe, Asia Pacific, Latin America; Middle East & Africa |
| Key Companies | Alibaba Group Holding Limited, ByteDance Ltd, Facebook, Inc., Huawei Technologies Co. Ltd., Meta, Microsoft Corporation, Nextech AR Solutions Inc., NVIDIA Corporation, Roblox Corporation, Sandbox VR, Shenzhen Zqgame Co., Ltd, Tencent, Unity Technologies, VR Chat, and ZQGame. |