The global mobile threat defense market was valued at USD 2.29 billion in 2022 and is expected to grow at a CAGR of 25.4% during the forecast period. Rising prevalence of cyber threats, the growing reliance on mobile browsing, and the need for robust security measures are driving the demand for MTD solutions in the market. As technology continues to evolve, it is essential to stay vigilant and implement effective mobile threat defense strategies to safeguard mobile devices and the data they contain.

To Understand More About this Research: Request a Free Sample Report
Mobile threat defense (MTD) refers to a set of solutions and strategies aimed at protecting mobile devices, such as smartphones and tablets, from cyber threats and malware attacks. With the increasing reliance on mobile devices for various activities, including browsing the internet, accessing emails, and conducting financial transactions, the need for effective MTD solutions has become crucial.
The prevalence of data theft, hacking, and ransomware attacks has indeed been on the rise, targeting mobile applications and exploiting vulnerabilities in mobile operating systems. These attacks can lead to sensitive information being compromised, financial losses, and reputational damage for individuals and organizations. The demand for MTD solutions is driven by several factors. Firstly, the shift in user behavior towards mobile devices as the primary means of accessing the internet has increased the attack surface for cybercriminals. Mobile devices often contain valuable personal and corporate data, making them attractive targets.
Additionally, mobile applications often have security vulnerabilities that can be exploited by attackers. The diversity of mobile platforms, operating systems, and app ecosystems further complicates the security landscape. MTD solutions help mitigate these risks by providing real-time threat detection, protection against malware, secure network connectivity, and data encryption. Furthermore, the increasing adoption of bring-your-own-device (BYOD) policies in organizations introduces additional security challenges. MTD solutions enable companies to enforce security policies, monitor device usage, and protect corporate data on employee-owned devices.
Overall, the rising prevalence of cyber threats, the growing reliance on mobile browsing, and the need for robust security measures are driving the demand for MTD solutions in the market. As technology continues to evolve, it is essential to stay vigilant and implement effective mobile threat defense strategies to safeguard mobile devices and the data they contain.
MTD solutions aim to protect various components of a mobile device, including applications, network traffic, stored data, and other personal information linked with users' mobile devices. MTD provides a range of security features such as mobile malware protection, end-point security, data protection, & risk assessment. MTD solutions help prevent malware attacks and security breaches, and provide alert notifications to manage the impact & secure applications.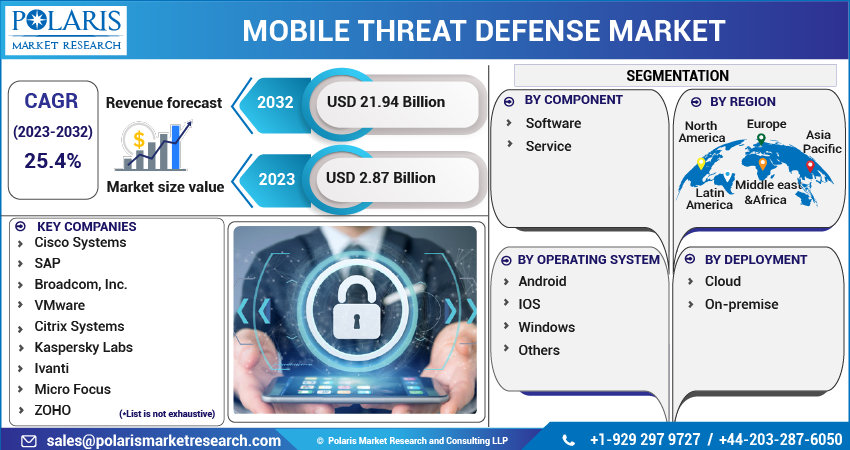 For Specific Research Requirements, Request for a customized e Report
Industry Dynamics
Growth Drivers
Rising use of mobile devices in the new era of hybrid work culture has indeed introduced additional security challenges for organizations. Employees often use their mobile devices to access corporate resources, exchange sensitive information, and perform work-related tasks. This increased reliance on mobile devices has made them attractive targets for cybercriminals, leading to privacy breaches, ransomware attacks, and device hacking. To address these challenges, key players in the cybersecurity industry are actively involved in providing industry-leading MTD solutions. These solutions are designed to protect mobile devices, applications, and data from various security threats and vulnerabilities. By implementing robust MTD solutions, organizations can enhance their security posture and mitigate the risks associated with mobile device usage.
One example of a strategic partnership in the mobile threat defense market is the collaboration between VMware, a provider of the multi-cloud services, & Lookout, a data-centric cloud security platform. In June 2022, these companies joined forces to launch the "Workspace ONE", a new MTD solution. Lookout can offer enhanced mobile threat defense solutions that seamlessly integrate & activate through the VMware's platform. This integration allows for a unified and comprehensive approach to mobile security, leveraging the strengths of both companies' technologies.
Report Segmentation
The market is primarily segmented based on component, operating system, deployment, enterprise size, vertical and region.
By Component

By Operating System

By Deployment

By Region

Android

IOS

Windows

Others

North America (U.S., Canada)

Europe (France, Germany, UK, Italy, Netherlands, Spain, Russia)

Asia Pacific (Japan, China, India, Malaysia, Indonesia. South Korea)

Latin America (Brazil, Mexico, Argentina)

Middle East & Africa (Saudi Arabia, UAE, Israel, South Africa)
To Understand the Scope of this Report: Speak to Analyst
Software segment accounted for the largest market share in 2022
Segment's growth is gaining significant momentum due to the advanced security features it offers for mobile devices. MTD software can track device performance, continuously update applications and software, share alert notifications for potential threats, and provide greater visibility into users' mobile devices. These capabilities are crucial for ensuring the security of mobile devices in today's threat landscape, where cyber-attacks are becoming increasingly sophisticated and difficult to detect. With MTD software, organizations can proactively monitor and protect their mobile devices against various threats, including malware, phishing, and data breaches.
Services segment recorded the highest growth rate over the study period. MTD services provide a holistic solution for securing mobile devices across various aspects such as applications, software, device performance, online browsing, and data security. These services are designed to ensure robust security features while maintaining the convenience and flexibility of using mobile devices. By leveraging MTD services, users can have confidence in the safety and security of their mobile devices. These services offer protection against malware attacks, phishing attempts, data breaches, and other security threats that can compromise the integrity and confidentiality of sensitive information stored on mobile devices.
Cloud segment expected to hold significant market share
Cloud segment is projected to hold significant market share in terms of revenue over the study period. servers, eliminating the need for installation on users' devices. Instead, users can access cloud-based MTD through specific login credentials via application. It offers several advantages, including flexibility, cost-effectiveness, scalability, & advanced security features.
On-premise segment recorded the highest growth rate over the study period. On-premise mobile threat defense (MTD) solutions provide users and organizations with complete control and customization options for advanced mobile security. These solutions are deployed within the organization's infrastructure, giving them greater control over the security measures implemented. The growing hybrid work culture, where employees work both remotely and in office environments, has increased the need for on-premise MTD solutions. With data being shared through various platforms, including unsecured ones, organizations require robust security measures to protect their sensitive information.
North America region dominated the global market in 2022
The North America region dominated the global market with considerable market share. Region has witnessed a significant surge in smartphone adoption, with a large portion of the population relying on mobile devices for various personal and professional activities. The widespread use of smartphones increases the potential threat landscape, leading to a higher demand for MTD solutions to protect these devices from security threats. Organizations in North America recognize the importance of protecting their sensitive information from unauthorized access, data breaches, and other security threats. MTD solutions play a crucial role in ensuring data security on mobile devices.
The Asia Pacific region is anticipated to be the fastest growing region with a healthy CAGR throughout the projected period. The combination of rapid mobile device adoption, 5G technology, government initiatives, and the popularity of digital platforms in the Asia Pacific region creates a fertile ground for MTD solutions. Organizations and individuals are increasingly recognizing the importance of mobile security and are seeking robust MTD solutions to safeguard their devices and data.
Competitive Insight
Market is highly competitive and to strengthen their product offerings and expand their market presence, these companies often employ various inorganic growth strategies, including partnerships, mergers, and acquisitions. These tactics allow them to leverage complementary technologies, expertise, and customer bases, enabling them to offer comprehensive MTD solutions to their clients.
Some of the major players operating in the global market include VMware, Sophos, Blackberry, Citrix Systems, Cisco Systems, SAP, Broadcom, ZOHO, SolarWinds, Zimperium, Matrix42, Kaspersky Labs, Ivanti, Micro Focus, and Esper.
Recent Developments
In January 2023, Ivanti, provider of the cyber-security services partnered with the Lookout, to provide customized cloud security solutions.

In June 2022. VMware signed partnership agreement with the Lookout. Both firms came together to introduce the "Workspace One," a comprehensive mobile threat detection service.
Mobile Threat Defense Market Report Scope
| | |
| --- | --- |
| Report Attributes | Details |
| Market size value in 2023 | USD 2.87 billion |
| Revenue forecast in 2032 | USD 21.94 billion |
| CAGR | 25.4% from 2023 – 2032 |
| Base year | 2022 |
| Historical data | 2021 – 2022 |
| Forecast period | 2023 – 2032 |
| Quantitative units | Revenue in USD million/billion and CAGR from 2023 to 2032 |
| Segments covered | By Component, By Operating System, Deployment, By Enterprise Size, By Vertical, By Region |
| Regional scope | North America, Europe, Asia Pacific, Latin America; Middle East & Africa |
| Key companies | Cisco Systems, SAP, Broadcom, Inc., VMware, Citrix Systems, Kaspersky Labs, Ivanti, Micro Focus, ZOHO, SolarWinds, Zimperium, Matrix42, Sophos, Blackberry, and Esper. |