The global muscle relaxant drugs market was valued at USD 3.68 billion in 2022 and is expected to grow at a CAGR of 4.4% during the forecast period. Growing prevalence of muscle pain and spasms, driven by factors such as sedentary lifestyles, aging populations, and high-stress levels, is a key driver of the market. Additionally, the increasing demand for effective treatment options for muscle pain and spasms is also fueling market growth. Market highly competitive, with several key players vying for market share. The market is primarily driven by factors such as the growing prevalence of muscle pain and spasms, increasing demand for effective treatment options, and rising strategic initiatives by key players.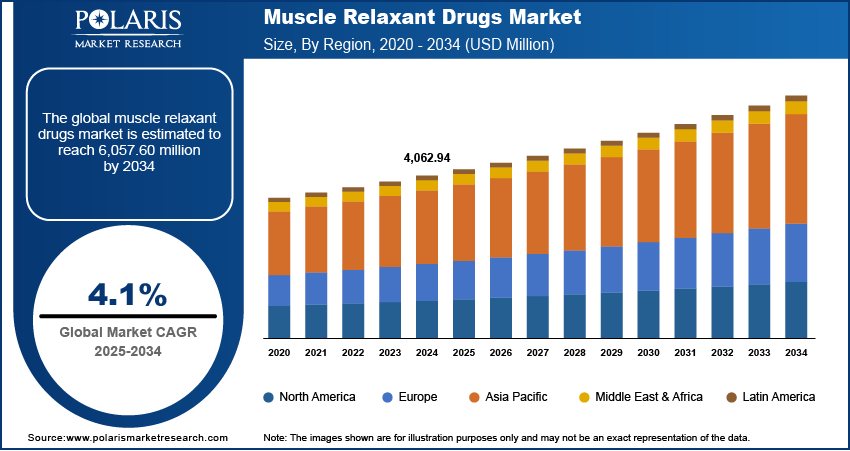 To Understand More About this Research: Request a Free Sample Report
Muscle relaxant drugs are often prescribed to reduce discomfort and soreness associated with sprains, strains, or other kinds of muscular injuries. These drugs work by reducing muscle spasms and stiffness, thereby easing pain and discomfort. They are typically prescribed for short-term use to manage acute pain associated with these types of injuries. Muscle relaxants can be classified into two main categories: anti-spasticity agents and antispasmodic agents. Anti-spasticity agents are typically used to treat conditions such as multiple sclerosis and cerebral palsy, while antispasmodic agents are more commonly used to treat acute musculoskeletal pain and spasm.
The demand for muscle relaxant drugs is increasing due to the growing number of elderly individuals who are susceptible to illnesses such as back pain, muscular tightness, and muscle spasms, particularly those related to spinal injuries. This rising demand for muscle relaxant drugs among the elderly is driving market growth. For example, it is projected that by 2030, 1 in 6 people worldwide will be aged 60 or older. Furthermore, the number of people aged 60 or above is expected to double to 2.1 billion by 2050, and the number of individuals aged 80 or older is projected to triple, reaching 426 million between 2020 and 2050. These statistics illustrate the increasing need for muscle relaxant drugs as the elderly population grows, contributing to the growth of the market for these drugs.
The high prevalence of musculoskeletal diseases, combined with their impact on quality of life and productivity, is a key driver of demand for muscle relaxant drugs and other treatments. As such, the market for muscle relaxant drugs is likely to continue growing in the coming years, driven by the need to manage the pain and disability associated with musculoskeletal conditions. According to a study of Global Burden of Disease (GBD) 2021 data, musculoskeletal diseases, such as osteoarthritis, rheumatoid arthritis, neck discomfort, low back pain, fractures, and other injuries, affect a significant portion of the global population.
The study estimated that 1.71 billion individuals worldwide suffer from musculoskeletal diseases. These conditions can affect people of all ages, but the prevalence varies depending on age and diagnosis. Musculoskeletal diseases are a leading cause of years lived with disability (YLDs), with over 149 million YLDs, or 17% of all YLDs worldwide. This underscores the impact of musculoskeletal diseases on individuals and societies, and the need for effective treatment options to manage the associated pain and disability.
COVID-19 pandemic has had an optimal impact on the market. On one hand, the overall market has seen a decline in adoption due to disruptions in healthcare systems, reduced elective surgeries, and changes in patient behavior. There has been an increase in the usage of certain muscle relaxant drugs for pain management in COVID-19 patients. The launch of Succinylcholine Chloride Injection, USP 20mg/mL by Hikma Pharmaceuticals, in July 2021 is an example of how the pandemic has affected the market. In addition to general anesthesia, it is recommended for tracheal intubation assistance and skeletal muscle relaxation during mechanical ventilation or surgery.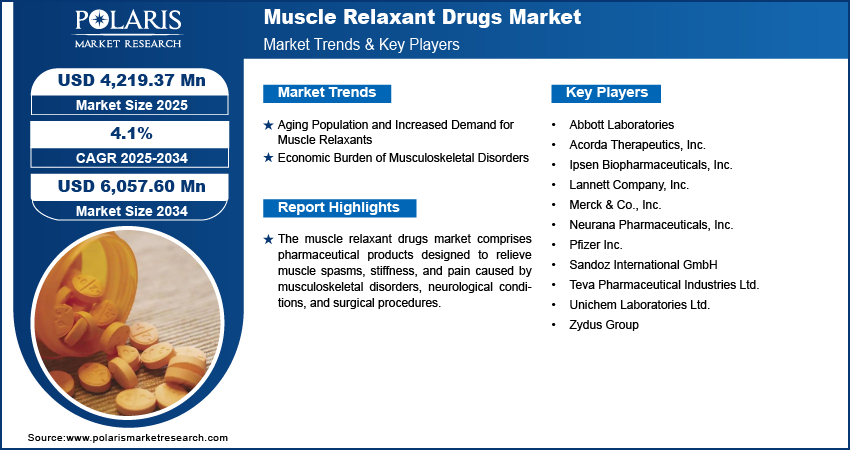 For Specific Research Requirements, Request for a Customized Report
Industry Dynamics
Growth Drivers
Strategic activities by key market players are expected to offer lucrative opportunities for the market over the forecast period. For example, the United States Food and Drug Administration (USFDA) granting final approval to Caplin Point Laboratories for its Abbreviated New Drug Route of Administration, Rocuronium Bromide Injection in May 2023 is expected to boost market growth. Rocuronium bromide injection is a neuromuscular blocking medication that is recommended as a supplement to general anesthesia to speed up routine and rapid sequence tracheal intubation and to relax the skeletal muscles during procedures like surgery or mechanical breathing.
In December 2021, Saol Therapeutics recieved U.S. FDA approval for LYVISPAH (baclofen) oral granules. Baclofen is a muscle relaxant that is commonly used to treat muscle spasms and stiffness in conditions such as multiple sclerosis and spinal cord injuries. The approval of this drug is expected to expand treatment options for patients and provide a boost to the muscle relaxant drugs market.
Report Segmentation
The market is primarily segmented based on drug type, route of administration, distribution channel, and region.
By Drug Type

By Route of Administration

By Distribution Channel

By Region

Skeletal Muscle Relaxant Drugs

Facial Muscle Relaxant Drugs

Neuromuscular Blocking Agents

Hospital Pharmacy

Retail Pharmacy

Online Pharmacy

Diagnostic Labs

North America (U.S., Canada)

Europe (France, Germany, UK, Italy, Netherlands, Spain, Russia)

Asia Pacific (Japan, China, India, Malaysia, Indonesia. South Korea)

Latin America (Brazil, Mexico, Argentina)

Middle East & Africa (Saudi Arabia, UAE, Israel, South Africa)
To Understand the Scope of this Report: Speak to Analyst
Skeletal muscle segment accounted for the largest market share in 2022
Skeletal muscle segment accounted for largest of global market share in 2022. Skeletal muscle relaxants were initially licensed for the short-term treatment of muscular spasms and back pain. However, they are now increasingly being used to treat chronic pain and other disorders without sufficient research. Pain is indeed one of the most common reasons for people to seek medical attention, and low back discomfort is among the top five causes of office visits to a primary care physician.
Neuromuscular agents' segment is anticipated to gain significant growth rate over the next coming years. The increasing number of surgeries is indeed driving the demand for neuromuscular blocking medications, leading to the expansion of this segment. For example, there are currently over 24,000 active orthopedic surgeons practicing in the United States. In 2021, there were approximately 1.0 million knee & hip arthroplasties performed, according to the Definitive Healthcare's PhysicianView, which tracks data on more than 2 Mn physicians. Neuromuscular blocking medications, such as rocuronium bromide injection, are often used as an adjunct to general anesthesia to facilitate routine and rapid sequence tracheal intubation and to relax skeletal muscles during surgical procedures. As the number of surgeries continues to rise, the demand for these medications is expected to increase as well.
Oral segment held the significant market revenue share in 2022
Oral segment held the maximum market share in terms of revenue, in 2022. Oral administration is the most common method of drug delivery, preferred by patients for its non-invasiveness, ease of use, and higher compliance rates. The introduction of new products with oral formulations, such as Fleqsuvy (baclofen oral suspension) by the Azurity Pharmaceuticals, helps to drive the growth of the market. Overall, the availability of oral formulations for muscle relaxant drugs provides a more convenient and patient-friendly option for treating muscle pain and spasms, and can help to drive the growth of the market in the coming years.
Injectable segment recorded the highest growth rate. This is primarily due to rise in development of novel drugs. Botox injections are commonly used to treat conditions such as chronic migraines, excessive sweating, & cervical dystonia. It is also used to treat muscle stiffness and spasm in the arms, hands, legs, and feet caused by conditions such as multiple sclerosis & cerebral palsy.
North America region dominated the global market in 2022
The North America region dominated the global market with considerable market share in 2022, and is expected to maintain its dominance throughout the projected period, The United States has a well-developed healthcare system and a large population that is aging, which increases the demand for muscle relaxants. Additionally, the region has a strong presence of key market players who are continuously investing in research and development to introduce new and innovative products.
The Asia Pacific region is expected to be the fastest growing region with a healthy CAGR over the study period. Growth is driven by increasing R&D investment by governments, rapid infrastructural development, and a rise in the prevalence of musculoskeletal disorders. Additionally, key market players are expanding their presence in the region through strategic activities, such as collaborations and partnerships, which further boost the market growth in the study period.
Competitive Insight
Some of the major players operating in the global market include Amneal Pharmaceuticals, Ipsen Biopharmaceuticals, Merz Pharmaceuticals, Par Pharmaceutical, Endo Pharmaceuticals, Vertical Pharmaceuticals, Mallinckrodt, SteriMax, Eisai Co., Metacel Pharmaceuticals, and Teva Pharmaceuticals.
Recent Developments
In June 2022, Amneal Pharmaceuticals introduced new baclofen oral granules "LYVISPAH". It is approved in the U.S. for the treatment of spasticity associated with the multiple sclerosis & spinal cord related disorders.
Muscle Relaxant Drugs Market Report Scope
| | |
| --- | --- |
| Report Attributes | Details |
| Market size value in 2023 | USD 3.84 billion |
| Revenue forecast in 2032 | USD 5.67 billion |
| CAGR | 4.4% from 2023 – 2032 |
| Base year | 2022 |
| Historical data | 2019 – 2021 |
| Forecast period | 2023 – 2032 |
| Quantitative units | Revenue in USD million/billion and CAGR from 2023 to 2032 |
| Segments covered | By Drug Type, By Route of Administration, By Distribution Channel, By Region |
| Regional scope | North America, Europe, Asia Pacific, Latin America; Middle East & Africa |
| Key companies | Amneal Pharmaceuticals, Ipsen Biopharmaceuticals, Merz Pharmaceuticals, Par Pharmaceutical, Endo Pharmaceuticals, Vertical Pharmaceuticals, Mallinckrodt, SteriMax, Eisai Co., Metacel Pharmaceuticals, and Teva Pharmaceuticals |