The global Nanosatellite and Microsatellite market was valued at USD 1,233.7 million in 2017 and is anticipated to grow at a CAGR of 19.7% during the forecast period. Microsatellites are artificial satellites with mass of 10 kg to 100 kg (including fuel mass). Micro satellites are developed through miniaturization of existing satellites through advanced technology in imaging devices, peripheral circuits, building material, algorithms, and other components. Nanosatellites are artificial satellites weighing between 1 kg to 10 kg, and measuring around 30-by-10-by-10 centimeters. The demand for nanosatellites has increased significantly over the last few years owing to its low cost, light weight, ease of building and development, and high capability of performing complex computational tasks. New and upcoming companies such as Planet Labs, and Skybox Imaging are launching constellations of small satellites to offer near real-time remote sensing data, which can be easily obtained through the internet.
The demand for low cost micro satellites has increased significantly as companies operating large satellites are looking for lighter and cost effective platforms. Increasing use of data provided by nanosatellites by the commercial and civil sector would provide growth opportunities in this market. The increasing involvement of commercial companies, startups, and educational institutes drives the nanosatellite market. Reducing prices of nanosatellites has increased its application areas, thereby supplementing the growth of this market. Growing interest of governments in nano satellites for earth observation and defense sector would also support the growth of this market. Low cost associated with the development and operation of micro satellites, along with lighter weight as compared to medium and heavy satellites would boost the growth of this market. Expansion of established companies into emerging economies would provide numerous growth opportunities in the market.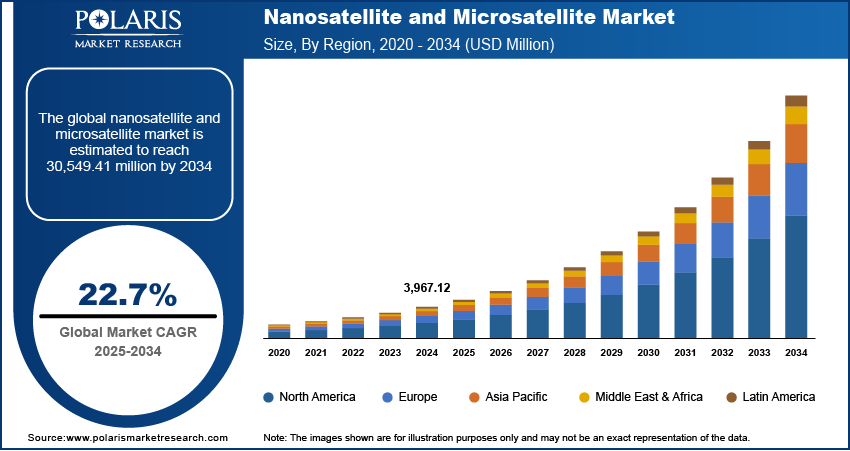 Segment Analysis
The global Nanosatellite and Microsatellite market is segmented on the basis of type, application, end-user, and geography. Based on the type, the market is segmented into nanosatellites, and microsatellites. The application segment is categorized into earth observation, communication, technology demonstration, biological experimentation, scientific research & academic training, and others. The end-user segment is bifurcated into defense, civil and construction, government, energy, commercial, and others.This report comprises a detailed geographic distribution of the market across North America, Europe, APAC and South America, and MEA. North America is further segmented into U.S., Canada, and Mexico. Europe is divided into Germany, UK, Italy, France, and Rest of Europe. Asia-Pacific is bifurcated into China, India, Japan, and Rest of Asia-Pacific. North America accounted for the largest share in the global Nanosatellite and Microsatellite in 2017.
Competitive Landscape
The leading players in the market include Lockheed Martin Corporation, Planet Labs, Inc., Sierra Nevada Corporation, Raytheon Company, Clyde Space, Inc., SpaceQuest Ltd., Surrey Satellite Technology Limited, Vector Space Systems, Tyvak Inc., The Boeing Company, GomSpace Group AB, Harris Corporation, and Thales Group among others. These vendors in the market are launching new products to meet the growing customer needs. In addition, the leaders in the market are acquiring and collaborating with top companies in the market to enhance their offerings in the market and expand their customer base.