The global neuralgia treatment market was valued at USD 1.78 billion in 2019 and is expected grow at a CAGR of 6.1% during the forecast period. Factors driving the neuralgia market growth include high incidence of the concerned problem in both adults and geriatrics, rising prevalence of diabetic population, the ongoing research on the neurodegenerative conditions, funding, and industry-academia collaboration. There are multiple neuro-degenerative conditions such as multiple sclerosis, in which individual's own immune system attacks itself causing formation of neuralgia.
According to the American Diabetes Association (ADA), approximately 34.1 million U.S. citizens were suffering from diabetes, representing 10% of the entire population. It is also being reported that over 1.6 million U.S. people suffered from Type-I diabetes, with prevalence being higher in old age population.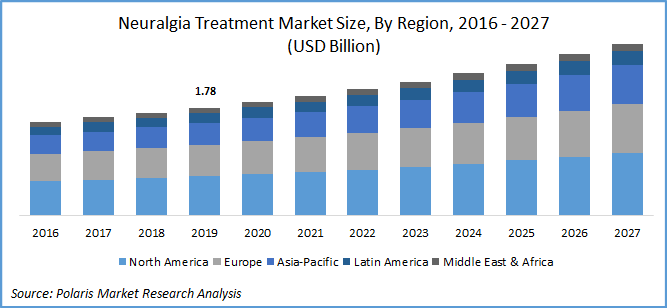 Know more about this report: request for sample pages
Industry Dynamics
Growth Drivers
The increasing geriatric population along with co-morbidities and irregular lifestyle is expected to drive treatment demand as this stratum of population is most prone to neurological disorders, including multiple sclerosis. Ageing population, in most of the mature economies with the presence of high disposable income, government sponsored social security measures, and surging insurance penetration is expected to drive the demand for trigeminal neuralgia and neuralgia treatment.
According to the estimates, of the National Institute of Neurological Disorders and Stroke (NINDS), each year approximately 12 per 100,000 new cases were recorded with the condition more prevalent in women as compared to men. Among adults, the cause of the disorder is mostly idiopathic, but in comparison to old age population, adults suffer with damage to the central nervous system, although the trigeminal neuralgia or neuralgia condition is rare in children.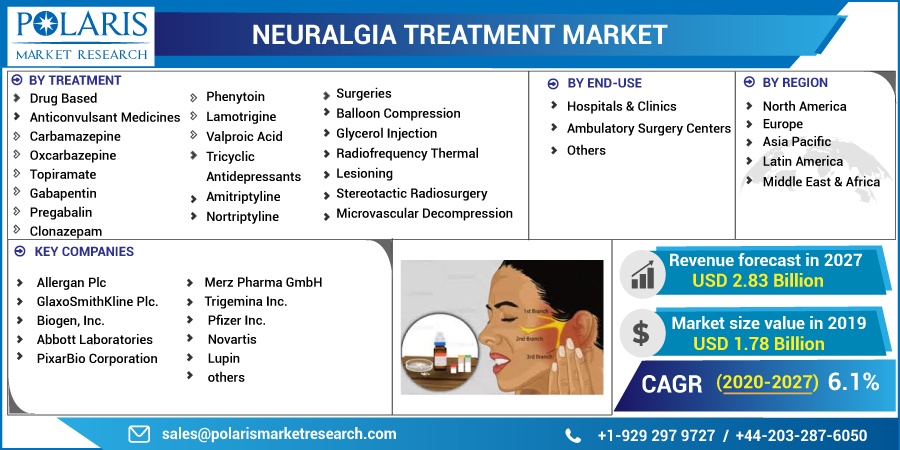 Know more about this report: request for sample pages
According to the estimates of Multiple Sclerosis Trust (MST), based in the U.K, in 2020, over 2.5 million people were suffering from multiple sclerosis (ML), across the globe. Moreover, according to the internal estimates of Public Health England (PHE), in 2018, the prevalence rate of ML across England (190), Scotland (290), Wales (179), and Northern Ireland (258) were recorded per ten thousand of population. It is also being reported that the prevalence of ML has risen over the past decade. Such new cases of ML are expected to boost the sale of neuralgia and trigeminal neuralgia treatment and drugs.
Neuralgia Treatment Market Report Scope
The market is primarily segmented on the basis of treatment, end-use, and region.
By Treatment

By End-Use

By Region

Drug Based

Anticonvulsant Medicines

Carbamazepine
Oxcarbazepine
Topiramate
Gabapentin
Pregabalin
Clonazepam
Phenytoin
Lamotrigine
Valproic Acid

Tricyclic Antidepressants

Amitriptyline
Nortriptyline

Surgeries

Balloon Compression
Glycerol Injection
Radiofrequency Thermal Lesioning
Stereotactic Radiosurgery
Microvascular Decompression

Hospitals & Clinics
Ambulatory Surgery Centers
Others

North America (U.S., Canada)
Europe (France, Germany, UK, Italy, Spain, Netherlands, Austria)
Asia Pacific (Japan, China, India, Malaysia, Indonesia. South Korea)
Latin America (Brazil, Mexico, Argentina)
Middle East & Africa (Saudi Arabia, UAE, Israel, South Africa)
Know more about this report: request for sample pages
Insight by Treatment
Based on treatment, the global market is categorized into drug based and surgeries. Drug based treatment further classified as anticonvulsant medicines and tricyclic anti-depressants. Anticonvulsant medicine further segmented into Carbamazepine, Oxcarbazepine, Topiramate, Gabapentin, Pregabalin, Clonazepam, Phenytoin, Lamotrigine, and Valproic Acid. Tricyclic Antidepressants sub-segmented as Amitriptyline, and Nortriptyline.
In 2019, the surgery segment accounted for highest revenue share and is likely to remain dominant over the projected period. This can be attributed to increase in awareness for the available treatment options and high cost of alternative surgeries which is expensive for majority of the population across the countries. As a result, the demand for neuralgia and trigeminal neuralgia is expected to witness growth.
Insight by End-Use
Based on end-use, the neuralgia treatment market is segmented into hospitals & clinics, ambulatory surgery centers, and others. Hospitals & clinics segment accounted for the highest revenue share. The increasing neuralgia and trigeminal neuralgia surgeries, availability of drugs, and strategic collaborations with the drug makers is likely to drive market growth.
Geographic Overview
Geographically, North America accounted for the largest revenue share in 2019. Increasing incidences of trigeminal neuralgia, presence of key players, and favourable reimbursement scenario in the U.S, and Canada is expected to drive the demand in North America. Moreover, the availability of treatment options coupled with excellent medical infrastructure and medical literacy is likely to complement neuralgia and trigeminal neuralgia treatment market.
According to the National Organization for Rare Disorders (NORD), each year in the U.S. on an average 135,000 new cases of trigeminal neuralgia were reported. Moreover, according to estimates of NCBI, the annual incidence of TN is around 12.4 per 100 thousand of population, and it increases for the old age people.
Competitive Insight
Key players operating the global market include Allergan Plc, GlaxoSmithKline Plc., Biogen, Inc., Abbott Laboratories, PixarBio Corporation, Merz Pharma GmbH, Trigemina Inc., Pfizer Inc., Novartis, Lupin, and others.
Companies in the market are focused on developing non-invasive treatment procedures to gain competitive advantage. For instance, in February 2019, Zydus received market approval for its Carbamazepine, prescribed for the treatment of the trigeminal neuralgia.