The global neuromodulation market was valued at USD 5.61 billion in 2021 and is expected to grow at a CAGR of 11.9% during the forecast period. Neuromodulation is a minimally invasive or non-invasive therapy used to treat patients with neurological problems, and neuromodulation devices are implanted medical devices used to modify a specific neuron with the use of electrical stimulations.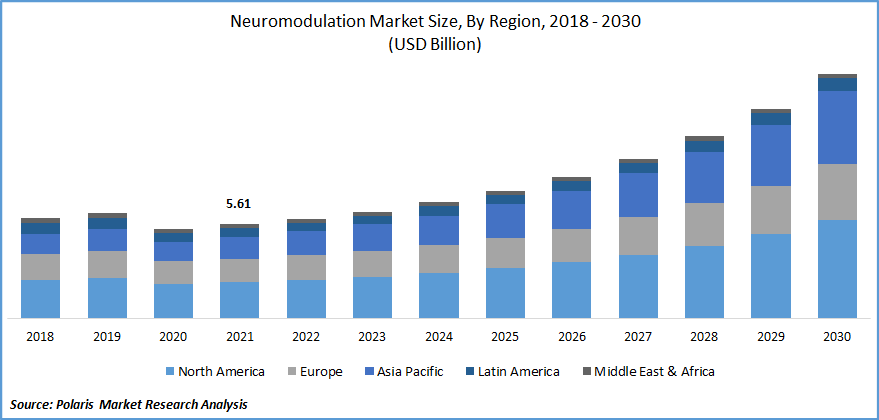 Know more about this report: Request for sample pages
Neuromodulation is a technology that directly influences nerves. It is the alteration of nerve activity caused by the application of electrical or pharmaceutical agents directly to a targeted area. Neuromodulation market employs cutting-edge equipment and treatments. They affect every system of the body and are efficient in treating practically all diseases and ailments, including migraines, tremors, spinal cord injuries, and incontinence.
Given its broad therapeutic spectrum and significant ongoing scientific developments, neuromodulation is likely to have significant growth over the next 10 years. Increases in the frequency of neurological illnesses, the ageing population, novel indications, and increased target applications are the main drivers of neuromodulation market expansion.
For instance, 771 million seniors will exist worldwide in 2022, which is three times as many as in 1980, according to estimates from World Population Prospects 2022. There will be 994 million elderly adults in the globe by 2030, and 1.6 billion by 2050. The proportion of people 65 and older in the world population is anticipated to rise from 10% in 2022 to 16% in 2050.
The outbreak of the COVID-19 pandemic has significantly impacted the growth of the neuromodulation market. The people were working from home as a result of the COVID-19 epidemic, travel restrictions, and lockdown. People's food and living habits changed as a result of this. Additionally, this led to a decline in physical activity. Weight gain and the prevalence of diabetes increased as a result throughout this time. Additionally, COVID problems are more likely to affect diabetics. As a result, COVID had a beneficial effect on the industry.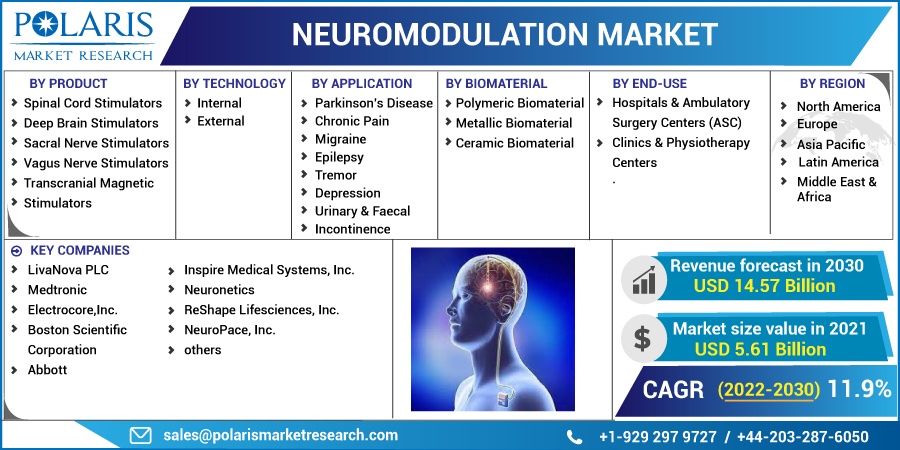 Know more about this report: Request for sample pages
Industry Dynamics
Growth Drivers
Due to the physical and functional capacities of the nerves in the spinal cord to modulate pain feeling, spinal cord stimulation is one of the most popular treatments for treating chronic back pain. The main use of vagus nerve stimulation is the treatment of neurological diseases like epilepsy.
Nevertheless, despite the fact that these neuromodulation devices have well-established treatment algorithms, several institutions and industry companies are undertaking clinical trials to determine the effectiveness of these neuromodulation devices for treating additional disorders.
For instance, Huashan Hospital in Shanghai, China is undertaking studies to see whether spinal cord stimulation may be used to treat disorder of consciousness (DOC). Inspire Medical Systems Inc.'s Inspire 3028, an upper airway stimulation device for the treatment of sleep apnea, was also given USFDA approval in 2017.
One of the key drivers of the neuromodulation market growth is the industry participants' ongoing commitment to R&D to establish clinical efficacy and broaden the clinical applications of these neuromodulation devices. This is expected to significantly boost industry growth during the forecast period, along with healthcare providers' growing demand for these neuromodulation devices.
A sizable patient base in need of treatment is being created by the rising prevalence of various illnesses, rising awareness levels, and rising diagnostic rates on a worldwide scale. This is fueling the need for neuromodulation devices internationally, together with the limited therapeutic results provided by pharmaceuticals and rising preference for neuromodulation treatments.
It is projected that industry participants would introduce enhanced neurostimulation devices, particularly non-invasive ones, to encourage their acceptance and increase demand for these procedures.
Report Segmentation
The market is primarily segmented based on product, technology, application, biomaterial, end-use, and region.
By Product

By Technology

By Application

By Biomaterial

By End-Use

By Region

Spinal Cord Stimulators
Deep Brain Stimulators
Sacral Nerve Stimulators
Vagus Nerve Stimulators
Transcranial Magnetic Stimulators

Parkinson's Disease
Chronic Pain
Migraine
Epilepsy
Tremor
Depression
Urinary & Faecal Incontinence

Polymeric Biomaterial
Metallic Biomaterial
Ceramic Biomaterial

Hospitals & Ambulatory Surgery Centers (ASC)
Clinics & Physiotherapy Centers

·

North America (U.S., Canada)
Europe (France, Germany, UK, Italy, Netherlands, Spain, Russia)
Asia Pacific (Japan, China, India, Malaysia, Indonesia, South Korea)
Latin America (Brazil, Mexico, Argentina)
Middle East & Africa (Saudi Arabia, UAE, Israel, South Africa)
Know more about this report: Request for sample pages
The spinal cord stimulators segment dominated the market in 2021
Due to the growing usage of spinal cord stimulators for the treatment of nerve pain and chronic pain, this segment dominated with a revenue share of over 40.0% in 2021. The deep brain stimulators, spinal cord stimulators, sacral nerve stimulators, transcranial magnetic stimulators, vagus nerve stimulators, and other product types are the market's main subgroups.
Internal neuromodulation segment accounted for the largest share
The market was led by internal neuromodulation technology in 2021 with a revenue share of about 55.0%, thanks to a growth in the number of patients with various headache conditions, depression, and heart-related illnesses. Due to their use of non-invasive or minimally invasive technology, neuromodulation devices are essential in the treatment of chronic pain.
The internal neuromodulation devices are designed to target the pain site specifically and change nerve activity by electrically stimulating a specific nerve, making it a more efficient means of treating the condition.
Parkinson's disease dominated the market in 2021
Due to the absence of effective treatments for the condition and the high product efficacy in treating epilepsy, Parkinson's disease held the majority of the market with a revenue share in 2021. Parkinson's disease is a long-lasting neurodegenerative brain condition that impairs mobility. Parkinson's disease was present in roughly 6.2 million persons in 2020, per the Global Burden Diseases (GBD) survey.
Metallic biomaterials segment dominated the market
Due to developments and expansion in R&D for neuromodulation solutions, the metallic biomaterials category led the market in 2021 with a revenue share of about 45.0%. Throughout the projected period, the category is also anticipated to hold its position. The market is divided into polymeric, metallic, and ceramic biomaterials based on the kind of biomaterial.
Hospitals and ASCs segment held the largest revenue
The segment of hospitals and ASCs had the highest revenue share in 2021, and it is anticipated that it would continue to dominate over the projected period. Additionally, it is anticipated to have the quickest CAGR during the projection period. The market is divided into hospitals and ambulatory surgical centres (ASCs), clinics and physiotherapy facilities, and others based on the end-use.
North America Captured the largest market share and expected to retain its dominance
In 2021, North America had the highest revenue share. The market expansion in North America is being fueled by an increase in patients with neurological illnesses, which is driving up demand for neuromodulation market, greater rivalry among industry participants, and considerable investment in research & development to provide new treatment options. The market for neuromodulation devices has been fueled by the continual increase in patients with neurological illnesses from different states in the U.S. and Canada.
Due to the increased prevalence of neurological illnesses, the region's booming healthcare infrastructure, growing government support, and an increasing number of startups, Asia Pacific is predicted to grow at the quickest pace, or 10.6%, throughout the projection period.
Competitive Insight
Some of the major players operating in the global market include LivaNova PLC, Medtronic, Electrocore,Inc., Boston Scientific Corporation, Abbott, Inspire Medical Systems, Inc., Neuronetics, ReShape Lifesciences, Inc., NeuroPace, Inc. and others
Recent Developments
For its InterStim X System, a cutting-edge individualised sacral nerve stimulation therapy for bladder and bowel control, Medtronic (Ireland) got FDA clearance in February 2022.
A memorandum of agreement for a strategic cooperation to create and market electronic treatments for neurological and neuropsychological illnesses, such as ADHD, depression, and epilepsy, was signed in June 2021 by NeuroSigma (US) and KT Corporation (South Korea).
In order to include depression measurement in its RECOVER clinical trial, LivaNova Plc (UK) and Verily (US), an Alphabet firm, struck a research partnership agreement in February 2020. The research assesses the efficacy of vagus nerve stimulation treatment for depression that is challenging to treat (DTD).
In January 2020, the privately owned US business Stimgenics, LLC was purchased by Medtronic Plc (Ireland). The portfolio of spinal cord stimulation products offered by Medtronic was strengthened by this purchase.
The non-invasive vagus nerve stimulation (nVNS) device known as "gammaCore" was approved by the US FDA in November 2018 by electroCore Inc., a commercial stage medical device firm. In the United States, the device has been authorised as an additional therapy for the treatment of cluster headaches.
In October 2017, the US FDA approved LivaNova PLC's SenTiva, a vagus nerve stimulation device, for the management of epilepsy. Patients with drug-resistant epilepsy who are four years of age or older may use the device.
Neuromodulation Market Report Scope
| | |
| --- | --- |
| Report Attributes | Details |
| Market size value in 2021 | USD 5.61 billion |
| Revenue forecast in 2030 | USD 14.57 billion |
| CAGR | 11.9% from 2022 - 2030 |
| Base year | 2021 |
| Historical data | 2019 - 2021 |
| Forecast period | 2022 - 2030 |
| Quantitative units | Revenue in USD million/billion and CAGR from 2022 to 2030 |
| Segments covered | By Product, By Technology, By Application, By Biomaterial, By End-Use, By Region. |
| Regional scope | North America, Europe, Asia Pacific, Latin America; Middle East & Africa |
| Key companies | LivaNova PLC, Medtronic, Electrocore,Inc., Boston Scientific Corporation, Abbott, Inspire Medical Systems, Inc., Neuronetics, ReShape Lifesciences, Inc., NeuroPace, Inc. and others |