The global night vision device market was valued at USD 6.37 billion in 2020 and is expected to grow at a CAGR of 8.3% during the forecast period. There is wide popularity of this device among wildlife researchers and nature enthusiasts which is boosting the demand in the market. Besides, these devices offer technical feasibility to soldiers in terms of originating color images with a reasonable cost which makes has hiked night vision device demand across the world.
Know more about this report: request for sample pages
Some factors that contribute to the growth of the global night vision device market include hiked demand for advanced and improved vision devices, growing military expenditure & modernization. The devices come with the capability to see in dark as well as low-intensity light.
There are various steps taken in the area of electronics & optics so that the images that can't be seen with bare eyes are intensified. Also, other trends came in this industry such as creating night vision equipment with the help of thermal imaging and lightweight devices.
Industry Dynamics
Growth Drivers
The global market growth for night vision equipment can be attributed to the factors such as growing terrorist activities, security, and safety concerns, and political tensions that have peaked the demand in the defense industry. This industry is using these gadgets in order to fulfill the growing demand for combat operations and night patrolling. Also, different countries' governments like India, Germany, the U.S., China, and others are widening the market size with a higher number of investments in these gadgets.
Furthermore, wildlife research activities mandated the usage of different gadgets during the night as part of surveillance and navigation. For this requirement, thermal imaging accomplishes the purpose as it has the power to amplify the light and enable high visibility for similar objects captured in the daytime. Its capability extends to spot the difference in body temperature which is useful in differentiating animals from humans. The most common thermal imaging gadgets used for hunting is thermal imaging rifle scopes and imaging monocular.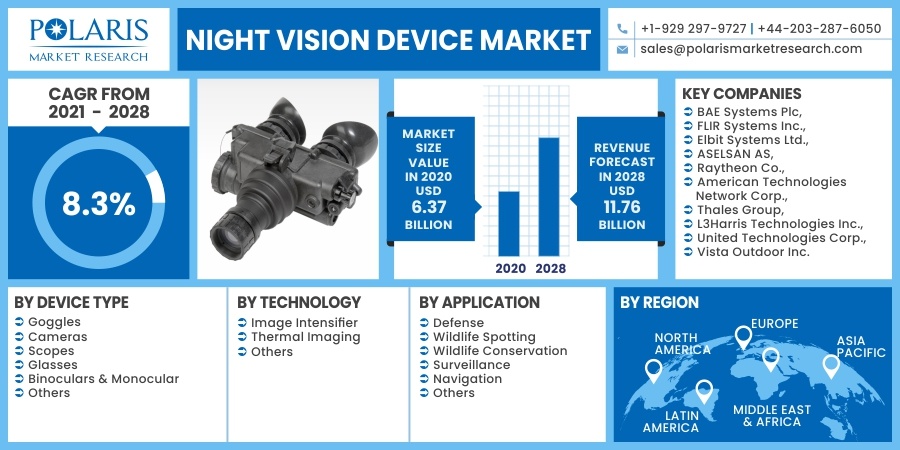 Know more about this report: request for sample pages
Night Vision Device Market Report Scope
The market is primarily segmented on the basis of device type, technology, application, and region.
By Device Type

By Technology

By Application

By Region

Goggles
Cameras
Scopes
Glasses
Binoculars & Monocular
Others

Image Intensifier
Thermal Imaging
Others

Defense
Wildlife Spotting
Wildlife Conservation
Surveillance
Navigation
Others

North America (U.S., Canada)
Europe (France, Germany, UK, Italy, Spain, Netherlands, Austria)
Asia Pacific (Japan, China, India, Malaysia, Indonesia, South Korea)
Latin America (Brazil, Mexico, Argentina)
Middle East & Africa (Saudi Arabia, UAE, Israel, South Africa)
Know more about this report: request for sample pages
Insight by Technology
Thermal imaging market segment held the highest value in 2020. The thermal imaging gadgets are further segmented into, uncooled and cryogenically cooled devices. Cryogenically cooled devices have high rates and extremely susceptible to damage as there is rough usage seen. Whereas uncooled devices are present in general for operation purposes and mostly operate at room temperature.
Whereas image intensifiers are a highly growing segment due to their popularity and significance of gadgets. The gadgets are bifurcated by a generation with significant changes in night vision technology which has created a new generation of gadgets. Currently, Generation 3 gadgets have wide acceptance in the U.S. military due to higher resolution and sensitivity. Also, devices like Generation 4 have stepped into the market and named filmless and gated as they function efficiently in low and high-light environments.
Insight by Device Type
Among all market segments, goggles accounted for the highest share in the market. There is a high demand for goggles as the demand for night vision goggles from the military and defense sector is rapidly increasing. Also, surged investments and research & development can be observed in the market in order to upgrade or advance the night vision gadgets which is boosting the demand in the global market.
Further, the market segment of glasses is projected to grow at a healthy rate. Factors that may majorly contribute to the market growth of this segment are low maintenance costs and ensure reduction glare by filtering and scattering harsh blue light.
Besides, the other segments like cameras, and binoculars & monocular are predicted to grow at considerable CAGR over the forecast period. These market segments have demand in applications such as medical security, border surveillance, and law enforcement which is propelling the market growth for night vision equipment.
Geographic Overview
North America night vision equipment is predicted to dominate the market during the forecast period owing to growing security breaches and higher dependency is propelling the demand for these kinds of solutions. Higher adoption of these devices can be observed in countries like U.S. and Canada for offering enhanced security measures across public applications.
The highest market growth is expected in the Asia Pacific night vision equipment market owing to an increase in border conflicts, a substantial increase in defense sector spending on arms and electronics, and a noticeable increase in demand from the commercial sector.
Additional factors such as demand for location-based devices across public transportation and government sectors are driving the demand across several industries. Constant technological advancements, as well as an increase in the use of military powers, are expected to fuel regional growth for night vision equipment over the forecast period.
Europe night vision device market accounted for a large portion of the market, and it is expected to continue to rise at a steady rate over the next six years. Countries like Germany, France, and the United Kingdom are gradually using the devices for city surveillance. The Middle East & Africa and Latin might have a gradual CAGR over the coming years. This owes to growing investment by local government to adopt improved versions of these devices.
Competitive Insight
Major players that are leading the global market for night vision equipment include BAE Systems Plc, FLIR Systems Inc., Elbit Systems Ltd., ASELSAN AS, Raytheon Co., American Technologies Network Corp., Thales Group, L3Harris Technologies Inc., United Technologies Corp., and Vista Outdoor Inc.
These companies are coming with unique and innovative products to be an established name in the market for night vision equipment. For instance, the Ring Spotlight Cam monitor homes permit its customer to hear, speak and see anyone in the property from a tablet, PC, or phone. Its unique features include 1020 HD video, built-in microphone and speakers, wide-angle camera lens, and infrared night vision sensors.
IBM recently won a patent for a technology used in Google Glass. Each eyeglass lens comes with a red-colored projector. The projectors automatically project red light when the Google Glass consumer enters a less vision environment. This pair of glasses offers higher contrast picture that gives them night vision.