The global oil well cementing market was valued at USD 503 million in 2017 and is forecasted to grow at a CAGR of 6.3 % from 2018 to 2026. Oil-well cements are used for cementing work in the oil well drilling where they are designed in a manner for cementing onshore and offshore wells under high temperature and high pressure. These products are usually made of pozzolanic or portland cement with distinct organic retarders that prevents the quick setting of cement. Portland cement are the ground powder formed, gray and produced by grinding and burning of limestone and shale or clay.
Industry participants have been focused on developing high sulfate resistant (HSR) cement grades owing to increasing demand for deep well cementing operations in offshore wells. Deep water gas well drilling has been increasing owing to rising offshore drilling operations has been driving deans for specific grade cements for gas well drilling. Portland cement consist of anhydrous calcium silicate and calcium aluminate compounds. This is the most commonly used cement in the Oil & Gas well cementing. Over 100 cement additives are available to alter cement performance, that allows customization of cement formulation for any particular well environment.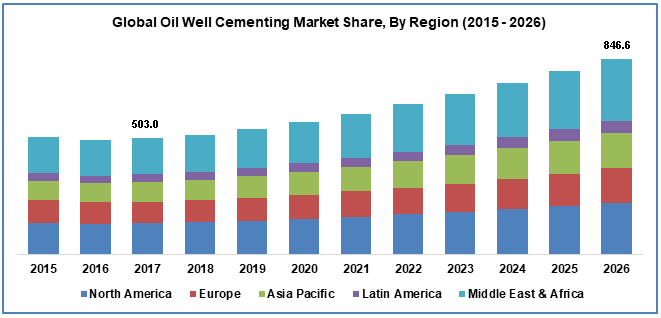 Know more about this report: request for sample pages
Increasing offshore drilling operations in the Mexican gulf and discovery of new reserves in the North Sea are some of the recent trends that are expected to drive demand for deep sea drilling operation cement types. Regulatory trend is highly related to the raising well cements services owing to the increasing stringent rules and regulations by the government to protect environment and damage in well operations.
The specification given by government to meet standard cements services will be a growing trend for driving the well cements service industry. Increasing oil & natural gas drilling activities is expected to drive the global oil well cement market over the forecast period. Increasing demand for energy has been driving E&P companies across the globe to increase their drilling activities in search for oil and gas. This is expected to fuel well cements market growth over the next few years.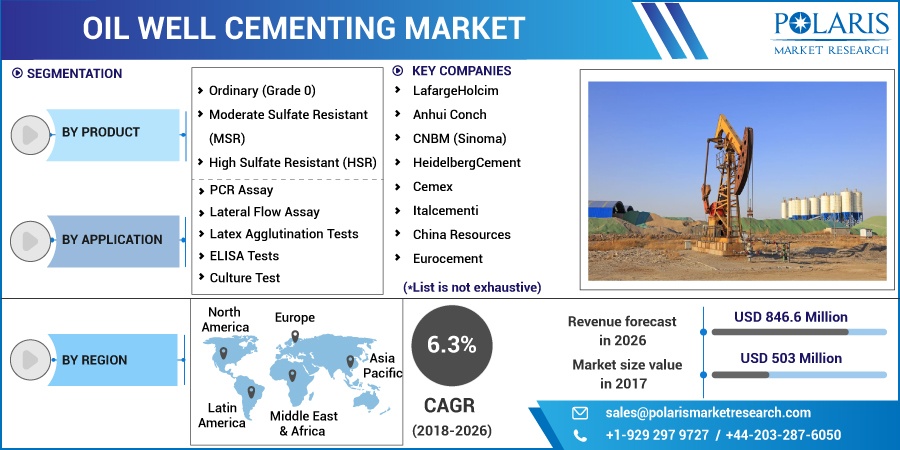 Know more about this report: request for sample pages
Segment Analysis
The global oil well cementing market is segmented on the basis of products, application and regional markets. Product segment is further segmented into Ordinary (Grade 0), Moderate Sulfate Resistant (MSR), and High Sulfate Resistant (HSR). The most commonly used cement in oil and gas well cementing is portland cement, it consists of hydrous calcium silicate and calcium aluminium compounds. The Portland cement demand will be increasing in the future market especially in Asia pacific region. To adjust cement performance there are over 100 cement additives present in the market and it allows engineers to customize a cement formulation for a particular well environment.
The complex cements problems like narrow annulus, long cemented section, HTHP, and narrow safety density window are solved by using deep well cements technology. To solve natural gas channeling problems during well cements, natural gas well cements are used. High sulfate resistant (HSR) cements are used in mature wells, which will increase the usage of cements services in rehabilitation wells. The increasing number of offshore wells is expected to be increasing the well cements services and hence will influence product demand over the forecast period.
Oil Well Cementing Market Scope
By Product

By Application

By Regions

Ordinary (Grade 0)
Moderate Sulfate Resistant (MSR)
High Sulfate Resistant (HSR)

PCR Assay
Lateral Flow Assay
Latex Agglutination Tests
ELISA Tests
Culture Test

North America (U.S., Canada)
Europe (Germany, UK, France, Italy, Spain, Belgium, Russia, Netherlands)
Asia-Pacific (China, Japan, India, Australia, Korea, Singapore, Malaysia, Indonesia, Thailand, Philippines)
Latin America (Brazil, Mexico, Argentina)
Middle East and Africa (UAE, Saudi Arabia, South Africa)
Know more about this report: request for sample pages
Regional Analysis
Middle East and Africa region accounted for the largest regional market in 2017 with a share of 31.10%. Growing number of ongoing investments in E&P activities by various companies including Abu Dhabi National Oil Co. (ADNOC) and National Drilling Co. are expected to further drive the region's existing largest oil & gas industry in the world in the near future. Ongoing investments by industry participants such as Seadrill, and ADNOC in exploration and production (E&P) are also expected to drive industry growth in the region.
Recent strategic progresses in offshore operations including increasing oil production and contract signature in several countries including Qatar and Iran is expected to boost offshore exploration and production operations in the Middle East region in the near future. Moreover, restoration of the abandoned wells in the Persian Gulf area and selling off ongoing rig activities are also anticipated to drive the demand for these products from offshore drilling operations.
Competitive Analysis
The global oil well cementing market is dominated by large multinational corporations such as LafargeHolcim, Anhui Conch, CNBM (Sinoma), HeidelbergCement, Cemex, Italcementi, China Resources, and Eurocement with significant presence across the value chain which provides the complete well oil cements from purchasing of cement and additives to well cementing service providers. In 2017, the leading 100 global cement manufacturers had a combined production capacity of 1.26 Bnt/y from a total of 1110 cement plants. The leading 10 cement manufacturers has a combined capacity of 1.19Bnt/y from a total of 599 cement plants.
LafargeHolcim was the leading cement manufacturer in 2017 with a maximum production capacity of over 286.66Mt/yr from a total of 164 cement plants. The company was established in 2015 by the merger of Lafarge and Holcim. LafargeHolcim was also the leading oil well cement manufacturer in 2017 with a share of approximately 16%. It offers different grades of oil well cements including high, moderate sulfate resistant cements.