The global open-source services market was valued at USD 26.42 billion in 2022 and is expected to grow at a CAGR of 16.4% during the forecast period.
The fundamental benefit of open-source software is that it enables programmers with diverse backgrounds and viewpoints to regularly update the code and increase its usefulness and adaptability. The management of corporate processes, data integration, the cloud, projects, and web content are all areas where open-source services are used.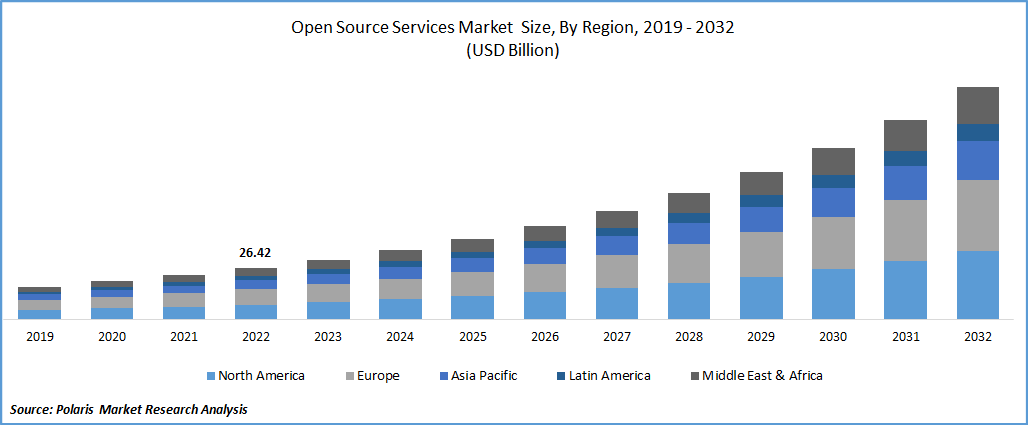 Know more about this report: Request for sample pages
Furthermore, with the increased acceptance of technology, businesses now use open-source services for application development, integration, and digital transformation. For instance, In June 2022, MongoDB announced the New Atlas CLI. The MongoDB Atlas CLI offers the easiest way to deploy across the entire application development lifecycle, automate ongoing tasks, and set up and maintain an Atlas database. Users may more easily onboard and maintain their cloud-based Atlas databases with the help of the Atlas CLI.
Open-source platforms, which are essentially community-driven and lack a centralized authority in charge of quality control and maintenance, frequently have complicated dependencies. Additionally, the dependence of the end-users is hampered, and the market's growth is constrained as a result of being exposed to attacks as a result of lax security procedures, attackers taking over project maintenance, and the introduction of malware. There is a rising demand for open-source service providers during COVID-19. Industry suppliers are using and extending open-source repositories to create new solutions to stop the illness from spreading by increasing awareness, including datasets, models, visualizations, online and mobile applications, and more.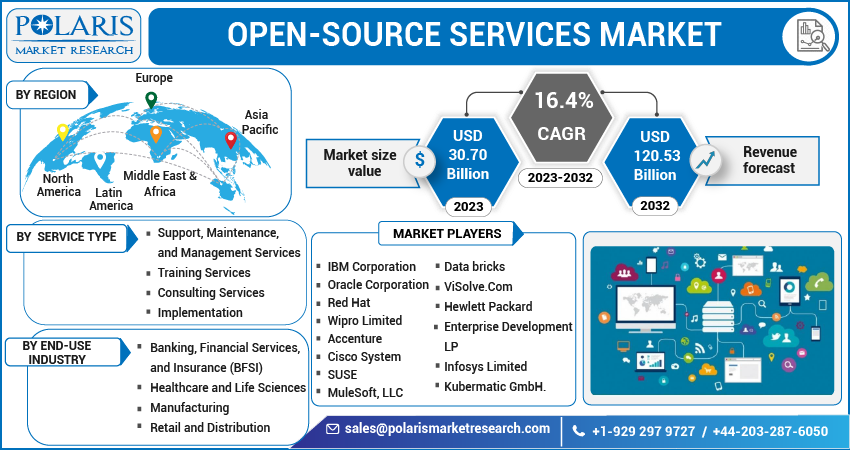 For Specific Research Requirements, Request for a Customized Report
Industry Dynamics
Growth Drivers
The premium software package can be replaced with an open-source alternative, which can lower costs overall and be particularly advantageous for businesses. Given that many open-source software programs may be downloaded for free, this helps explain why they are so widely used. Since it can be modified and expanded by any developer worldwide who is familiar with the source code, open-source software differs from closed-proprietary software.
In addition to enabling all debates about how a community develops features and fixes defects, open-source code offers complete visibility into the code base. Contrarily, secretly created proprietary code may result in unanticipated limitations, which encourages businesses to choose open-source services or solutions and, as a result, propels the growth of the open-source services market over the projection period. Employing open-source services enables businesses to safeguard themselves against lock-in concerns and boost solution dependability, which will accelerate the adoption of open-source services and solutions.
Report Segmentation
The market is primarily segmented based on service type, end-use industry, and region.
By Service Type

By End-Use Industry

By Region

Support, Maintenance, and Management Services
Training Services
Consulting Services
Implementation

Banking, Financial Services, and Insurance (BFSI)
Healthcare and Life Sciences
Manufacturing
Retail and Distribution
Others

North America (U.S., Canada)
Europe (France, Germany, UK, Italy, Netherlands, Spain, Russia)
Asia Pacific (Japan, China, India, Malaysia, Indonesia. South Korea)
Latin America (Brazil, Mexico, Argentina)
Middle East & Africa (Saudi Arabia, UAE, Israel, South Africa)
Know more about this report: Request for sample pages
Consulting services are expected to dominate the industry's market sector.
In 2022, consulting services is expected to dominate the market, accounting for significant sales. The key driver driving the market is the rising sophistication of organizations' initiatives to raise developers' awareness of Linux and other open-source software. Management consultants' data exploration is being transformed by artificial intelligence and automation. Open source is used by MuleSoft Data Integration Platform, Red Hat, WordPress by Automatic, and Ubuntu by Canonical. Client development costs, including those for procurement, deployment, support, and maintenance, can be significantly decreased by using open-source software. During the forecast period, these advancements are anticipated to fuel market expansion.
Moreover, the market's leading competitors are investing in strategic acquisitions to expand their worldwide reach and capability to provide solutions. The market's growth prospects are generally increased by such investments. For instance, Accenture purchased Alfa Consulting, a consulting firm that specializes in operations planning in capital-intensive industries, in March 2022. The purchase strengthens Accenture's ability to assist clients in Spain, Portugal, and Mexico with transforming their supply chains to make them more resilient, responsive, and sustainable.
Manufacturing industry will account for a higher share of the market.
The manufacturing sector dominated the market in 2022 with a considerable revenue share and is anticipated to hold this position throughout the forecast period. The manufacturing industry segment's dominance can be attributed to the widespread use of production scheduling, inventory planning, and sales forecasting. The greatest potential for promoting economic growth and job creation in this decade is in the manufacturing sector, which must be globally competitive. Due to factors including increased access to energy, long-term employment opportunities, and skill routes for millions of individuals, it has a significant possibility to compete in international markets.
Additionally, the recent deployment and extensive standardization of the Internet of Things have increased market standardization. The Internet of Things has normalized entry-level applications and execution of industrial market technologies globally. The information technology sector keeps itself on the cutting edge to address contemporary difficulties and needs by utilizing augmented reality, virtual reality, machine learning, artificial intelligence, and many more cutting-edge solutions. For instance, Qualcomm started implementing its cutting-edge 5G technology as a tool for smart manufacturing by releasing the power of IoT in July 2021.
The demand in North America is expected to witness significant growth
In 2022, North America accounted for significant revenue and was expected to dominate the market during the forecast period. The key reason propelling the industry is the region's rapid adoption of services as a result of technological improvements. The growth of open source is becoming more interdependent, and North American developers have long been crucial to this process. This shows that open source is now more widely used in the area, which has led to its acceptance by local vendors.
Additionally, these open-source services give businesses the benefit of cost-effectiveness and increased security and quality. Open-source software also reduced the costs associated with administration, multi-user fees, and upgrading. Open-source services are becoming more widely used because they help businesses save money by reducing operating expenses and budgets and because they enable the deployment of more resources to advantageous enterprise services associated with OSS, such as support, user training, and custom development. These reasons are expected to cause the market for open-source services to see increased demand over the course of the forecast period.
Furthermore, the market is growing as a result of the region's numerous end-user industries' increased embrace of open-source services. For instance, reduce complexity by using IBM servers as the foundation. With highly compatible enterprise-class servers as the core of any IT infrastructure strategy, customers can interface with the preferred cloud and deploy and migrate workloads anywhere, on-premises, or in the cloud.
Competitive Insight
Some of the major players operating in the global market include IBM Corporation, Oracle Corporation, Red Hat, Wipro Limited, Accenture, Cisco System, SUSE, MuleSoft, Data bricks, ViSolve.Com, Hewlett Packard Enterprise Development, Infosys Limited, and Kubermatic GmbH.
Recent Developments
In December 2022, the open-source Security Foundation (OpenSSF) added new members from top technology companies across a variety of industries, including software development, cybersecurity, data science, PaaS, finance, & academia.
In October 2022, the Sigstore community announced the broad availability of its free software signing service, providing open-source communities with production-grade reliable services for artifact signing and verification. In order to increase supply chain security, Sigstore offers a suite of technologies that make it simple to sign, validate, and examine the software that developers are creating and utilizing.
Open-Source Services Market Report Scope
| | |
| --- | --- |
| Report Attributes | Details |
| Market size value in 2023 | USD 30.70 billion |
| Revenue forecast in 2032 | USD 120.53 billion |
| CAGR | 16.4% from 2023 – 2032 |
| Base year | 2022 |
| Historical data | 2019 – 2021 |
| Forecast period | 2023 - 2032 |
| Quantitative units | Revenue in USD billion and CAGR from 2023 to 2032 |
| Segments covered | By Service Type, By End-Use Industry, By Region |
| Regional scope | North America, Europe, Asia Pacific, Latin America; Middle East & Africa |
| Key companies | IBM Corporation, Oracle Corporation, Red Hat, Wipro Limited, Accenture, Cisco System, SUSE, MuleSoft, LLC, Data bricks, ViSolve.Com, Hewlett Packard Enterprise Development LP, Infosys Limited, and Kubermatic GmbH. |