The global organic rankine cycle market was valued at USD 831.04 million in 2022 and is expected to grow at a CAGR of 3.4% during the forecast period.
The market is experiencing growth propelled by several key factors. One of the primary drivers is the increasing adoption of renewable energy sources. ORC systems, which utilize heat from renewable resources such as biomass, geothermal, and solar, offer an efficient and sustainable solution for power generation. Another factor contributing to the market growth is the longer life cycle of ORC systems. These systems are designed to operate reliably over an extended period, providing consistent power generation with minimal maintenance requirements. This durability makes them an attractive choice for power generation applications. The low operation and maintenance (O&M) costs associated with ORC systems make them economically viable. The efficient utilization of heat sources and organic working fluids contribute to lower operating expenses, making ORC systems a cost-effective option for power generation.
To Understand More About this Research: Request a Free Sample Report
ORMAT Technologies Inc. has emerged as a major player in the ORC market within the United States. The company not only offers ORC equipment but also provides Engineering, Procurement, and Construction (EPC) services for the development of geothermal ORC projects. This comprehensive approach positions ORMAT as a key provider in the geothermal energy sector. ORMAT's involvement in the U.S.
The increasing adoption of renewable energy sources in countries like the United States, China, Germany, and Canada has led to the implementation of supportive regulations and financial incentives. Governments worldwide are actively encouraging the deployment of renewable energy technologies by offering various incentives to attract investments in the sector. These incentives include feed-in tariffs, subsidies, tax benefits, and other financial support. These measures will play a crucial role in driving the growth of the organic rankine cycle (ORC) industry soon. Governments aim to accelerate the transition towards clean and sustainable energy sources by providing financial incentives and creating a favorable regulatory environment. This, in turn, creates opportunities for the ORC industry as ORC systems are well-suited for harnessing renewable energy, particularly from low-temperature heat sources.
The availability of financial incentives and supportive regulations encourages project developers, investors, and technology providers to participate in the renewable energy market actively. It stimulates investment and promotes the research, development, and deployment of ORC systems. With governments worldwide prioritizing the transition to renewable energy, the ORC industry is expected to experience significant growth in the coming years as it contributes to the overall renewable energy landscape.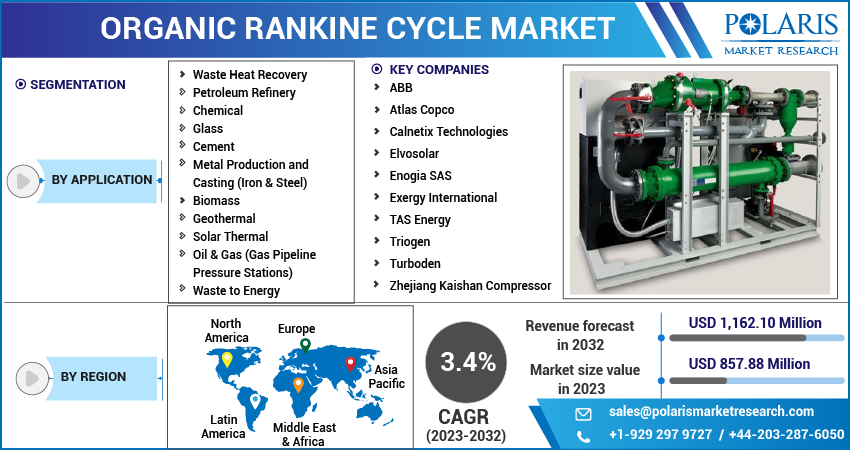 For Specific Research Requirements, Request for a Customized Report
Industry Dynamics
Growth Drivers
Increasing focus on renewable energy sources
The increasing global focus on renewable energy sources has been a significant driving factor for adopting ORC technology. ORC enables the utilization of low-grade heat sources, such as geothermal reservoirs, biomass, and solar thermal, to generate electricity efficiently. Its ability to harness waste heat from various industrial processes adds to its appeal as a sustainable energy solution.
ORC offers the potential to improve overall energy efficiency by capturing and converting heat that would otherwise be wasted. This leads to reduced greenhouse gas emissions and contributes to energy conservation and sustainable development.
One of the key applications of ORC is waste heat recovery from industrial processes. Many industries, such as steel, cement, and petrochemical, release substantial waste heat during their operations. ORC technology presents an opportunity to convert this waste heat into valuable electricity, leading to economic and environmental benefits.
Report Segmentation
The market is primarily segmented based on application, and region.
By Application

By Region

Waste Heat Recovery

Petroleum Refinery

Chemical

Glass

Cement

Metal Production and Casting (Iron & Steel)

Biomass

Geothermal

Solar Thermal

Oil & Gas (Gas Pipeline Pressure Stations)

Waste to Energy

North America (U.S., Canada)

Europe (France, Germany, UK, Italy, Netherlands, Spain, Russia)

Asia Pacific (Japan, China, India, Malaysia, Indonesia. South Korea)

Latin America (Brazil, Mexico, Argentina)

Middle East & Africa (Saudi Arabia, UAE, Israel, South Africa)
To Understand the Scope of this Report: Speak to Analyst
By Application
Geothermal energy segment held the significant market share in 2022
The geothermal energy segment held a significant market share. This dominance can be attributed to the substantial capacity of geothermal projects compared to other application segments like biomass, waste heat recovery, & solar thermal. Geothermal projects typically have large-scale power, often exceeding 10 MW, whereas ORC-based projects have abilities below 1 to 2 MW. The substantial capacity of geothermal projects allows for higher electricity generation and greater energy output than smaller-scale ORC projects in other segments.
The size and scale of geothermal projects make them attractive in terms of their energy production capabilities. They can tap into the vast underground heat resources and convert them into electricity using ORC technology. Due to their larger capacity, geothermal projects have the potential to generate a significant amount of renewable energy, contributing to the overall energy mix of a region or country. While biomass, waste heat recovery, and solar thermal segments also contribute to the ORC market, the geothermal segment holds a prominent position due to its higher capacity and the availability of suitable geothermal resources in certain regions. The larger scale of geothermal projects enables them to play a significant role in meeting the energy demands and decarbonization goals of the countries where they are deployed.
Regional Analysis
North America region dominated the global market in 2022
North America region dominated the global market with a substantial share. The United States stands out in the region as it has actively pursued the development of geothermal resources for power generation applications. The country's favorable geothermal potential has created opportunities for deploying the ORC technology to harness this renewable energy source. Leading companies like ORMAT have been instrumental in utilizing their ORC technology to tap into the geothermal potential of the United States. The efforts to increase the deployment of geothermal energy in the United States. The utilization of ORC technology in geothermal projects is expected to solidify further the United States' dominance in the market over the study period.
By leveraging its geothermal potential and adopting ORC technology, the United States has established itself as a key market for ORC applications in North America. The country's commitment to tapping into its geothermal resources aligns with the growing global trend towards renewable energy adoption, positioning the United States as a leading player in the ORC market in the region.
One notable example is Turboden's construction of an 11 MW ORC-based geothermal power project in France. This project is being developed for the Fonroche Geothermie and is anticipated to commence operations within the study period. Such initiatives are set to contribute to the growth of the geothermal application segment in the region. These upcoming projects reflect the increasing interest and investment in harnessing geothermal energy through ORC technology. As countries like Turkey and France focus on expanding their geothermal power capacity, the demand for ORC systems in the geothermal segment is expected to grow substantially in the forecast period.
Developing these new ORC-based geothermal power projects signifies a positive trend toward utilizing geothermal resources for sustainable energy generation. With a focus on renewable energy sources and the potential of geothermal power, the geothermal application segment in the region is poised for significant growth in the forecast period.
Competitive Insight
The Organic Rankine Cycle market is fragmented and is anticipated to witness competition due to several players' presence. Major service providers in the market are constantly upgrading their technologies to stay ahead of the competition and to ensure efficiency, integrity, and safety. These players focus on partnership, product upgrades, and collaboration to gain a competitive edge over their peers and capture a significant market share.
Some of the major players operating in the global market include:
ABB

Atlas Copco

Calnetix Technologies

Elvosolar

Enogia SAS

Exergy International

TAS Energy

Triogen

Turboden

Zhejiang Kaishan Compressor
Recent Developments
In February 2020, Turboden secured a contract with Meadow Lake Tribal Council (MLTC) in Canada. Under this agreement, it will supply an 8,000 kW ORC system for power generation. The system will utilize saw-mill residual woody bio-mass as its fuel source.
Organic Rankine Cycle Market Report Scope
| | |
| --- | --- |
| Report Attributes | Details |
| Market size value in 2023 | USD 857.88 million |
| Revenue forecast in 2032 | USD 1,162.10 million |
| CAGR | 3.4% from 2023 – 2032 |
| Base year | 2022 |
| Historical data | 2019 – 2021 |
| Forecast period | 2023 – 2032 |
| Quantitative units | Revenue in USD million and CAGR from 2023 to 2032 |
| Segments covered | By Application, By Region |
| Regional scope | North America, Europe, Asia Pacific, Latin America; Middle East & Africa |
| Customization | Report customization as per your requirements with respect to countries, region and segmentation. |