The global ostomy care market was valued at USD 3.32 billion in 2020 and is expected to grow at a CAGR of 5.0% during the forecast period. Stoma, also known as an ostomy is a surgical process to remove the diseased portions of the gastrointestinal system or urinary and the formation of an artificial opening in the abdomen or stomach to allow the exclusion of body wastes.
Bladder cancer, colorectal cancer, birth defects, Inflammatory Bowel Disease (IBD) such as ulcerative colitis, Crohn's disease, and other intestinal or urinary medical conditions are the major indications in which ostomy care is required. Ostomy care products are designed to enhance and improve the lifestyle of patients who had ostomy surgery.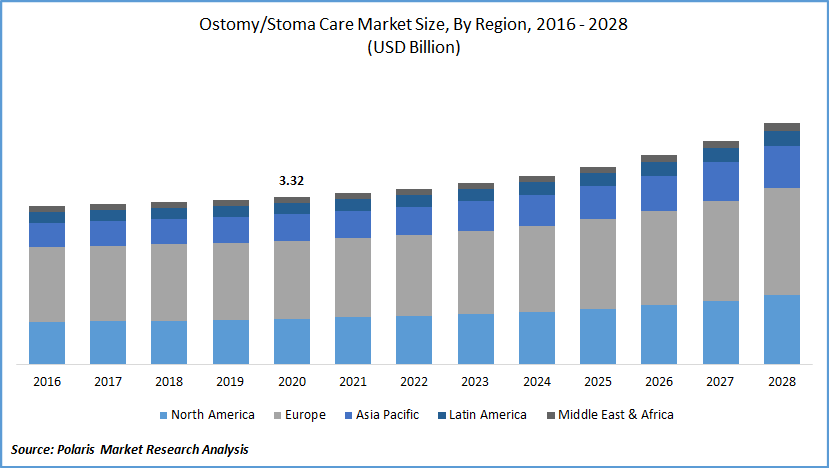 Know more about this report: request for sample pages
According to Center for Disease Control and Prevention (CDC) an estimated about 3 million (1.3%) of U.S. adults reported being diagnosed with IBD (Crohn's disease or ulcerative colitis). The global level rising prevalence of inflammatory bowel disease at is expected to fuel the growth of global Ostomy Care market. The ostomy care market is segmented by the product type which includes bags, and accessories. By product type, the bags segment is further categorized into surgery type, usability, and system type. On the basis of surgery type, the global ostomy care market is segmented into colostomy, urostomy, and ileostomy.
Among the surgery type, colostomy segment accounted major share in 2019 owing to increasing prevalence of a disease such as colon cancer. Moreover, on the basis of system type, the global ostomy care market is further segmented into one-piece and two-piece systems. By shape, the market is further categorized into flat shape and convex shape.
The usability segment is categorized into closed and drainable. The bags segment contributed the highest market share in 2019 and it is anticipated to dominate the market during the forecast period. The growth is due to its rising prevalence of diseases requiring ostomy care such as cancer and IBD. Moreover, the increasing geriatric population is also contributing to the growth of this segment in the global ostomy care market.
Ostomy/Stoma Care Market Scope
By Product

By End-Use

By Region

Bags

Surgery Type (Colostomy, Ileostomy, and Urostomy)
System (One- Piece, and Two-Piece)
Shape (Flat, Convex)
Usability (Closed & Drainable)

Accessories

Creams
Deodorants
Powders & Pastes
Cleansers
Belt
Tapes
Others

Hospitals
Specialty Clinics
Home Care Settings
Ambulatory Surgical Centers

North America (U.S., Canada)
Europe (Germany, UK, France, Italy, Spain, Austria, Netherlands)
Asia-Pacific (China, Japan, India, South Korea, Malaysia, Indonesia)
Latin America (Brazil, Mexico, Argentina)
Middle East & Africa (UAE, Saudi Arabia, South Africa, Israel)
Know more about this report: request for sample pages
Segment Analysis
Accessories persist a very important part in the product offering and are a rapidly growing segment of the ostomy care market. The accessories segment of the global ostomy care market is further segmented into creams, deodorants, powders & pastes, cleansers, belts, tapes, and others. By end-use, the global ostomy care market is categorized into home care settings, hospitals, specialty clinics, and ambulatory surgical centers. The hospital segment is estimated to account major share in 2019 for the global ostomy care market.
Regional Analysis
On the basis of geography, the global ostomy care market is segmented into five major regions including North America, Europe, Asia Pacific, Latin America, and Middle East & Africa. Among these, Europe is anticipated to have the largest market share for the ostomy care market. This is predominantly due to the high prevalence of IBD in the region.
In addition, increased patient awareness programs continue to drive penetration and market growth in Europe. Asia Pacific region is projected to grow at the highest CAGR during the forecast period due to adopting nature of advanced technologies in developing economies such as India and China, which turn into the reason for the enhancement of ostomy care products in Asia Pacific.
Competitive Landscape
Some of the major key players in the global ostomy care market are Coloplast, ConvaTec Inc., Hollister Incorporated, Alcare Co., Ltd., B. Braun Melsungen AG, BAO-Health, Welland Medical Limited, Marlen International, Nu-Hope Laboratories, Inc., and Flexicare Medical Limited among others.