The global patient-controlled analgesic (PCA) pumps market was valued at USD 292.7 million in 2020 and is expected to grow at a CAGR of 5.7% during the forecast period. The increase in the elderly population and surging demand for surgical procedures, combined with advancements in technology that allow procedures to be performed at home and in the office, are the key factors contributing to the growth. These pumps enable improved patient management and treatment, providing many advantages over traditional modules.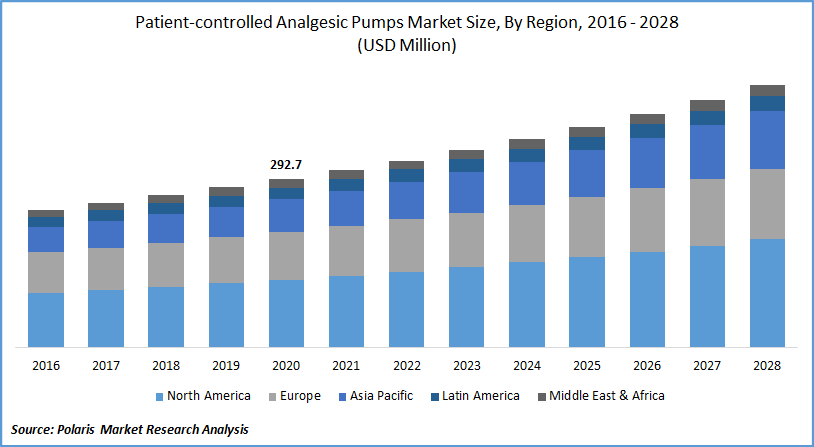 Know more about this report: request for sample pages
The increasing prevalence of chronic pain disorders such as cancer, rheumatoid arthritis, and fibromyalgia are major contributors to the market's expansion. According to a research study published by the MD Anderson Cancer Center, in January 2020, chronic non-malignant pain is widespread in cancer patients worldwide, necessitating successful pain management care. The growing need for the products could be attributed to recent advancements in technology that improved patient satisfaction with ease of use.
Furthermore, patient-controlled analgesic pumps are beneficial for patients who have difficulty taking oral medications. As a result, the market is anticipated to propel by the increasing usage of medical devices among patients who cannot take oral medications. Furthermore, the rising pattern of home healthcare during the COVID-19 pandemic is also projected to increase market demand in the near future.
Industry Dynamics
Growth Drivers
The global patient-controlled analgesic pumps market is driven by many factors, such as an increase in the number of cancers along with an increase in other disease conditions such as chronic pain, arthritis, and diabetes. The increased number of surgeries will also significantly boost the market as this device is helpful in pain management after surgery. In addition, technological advancements are also leading to the increased adoption of controlled analgesic pumps globally.
Chronic pain affects nearly 600 million people, which is 10% of the global population, and in the U.S. alone, chronic pain affects 50 million people, approximately 20% of the country's population. High impact chronic pain affects 20 million people in the U.S., and the adoption of controlled analgesic pumps in the treatment will greatly relieve people from pain.
There is also an increase in surgeries globally, with more than 330 million surgical procedures being conducted every year. In the U.S. alone, 129 million outpatient surgical procedures were conducted in 2018. Doctors are increasingly prescribing controlled analgesic pumps for post-surgical pain management. The controlled analgesic pump will contain pain killer drugs, and controlled analgesic pumps provide a more consistent method to relieve pain compared to periodic injections of pain medication.
Controlled analgesic pumps are helpful in pain management in cancer patients. According to IARC, in the U.S. alone, 1.8 million people were diagnosed with the concerned indication. It is estimated that by 2040, nearly 30 million people new cases of cancers will be detected every year.
The patient can control the pain using a controlled analgesic pump by self-administering intravenous opioid drugs such as hydromorphone and morphine. The increasing number of cancer patients will be the major factor driving the global market's growth during the forecast period.
Many new developments are taking place in the global market. Recently in March 2021, the ECRI evaluation report of CADD-Solis v4 with wireless communication Patient-Controlled Analgesia (PCA) was released by Smiths Medical. ECRI is a non-profit organization, and in the report, it has provided favorable safety ratings and purchasing recommendations for using this product.
COVID-19 is expected to have a negligible effect on the growth of the global market during the forecast period as controlled analgesic pumps are used in-home care setup which does not require any trained medical personnel, and the patients can themselves administer painkilling agents with the help of controlled analgesic pump.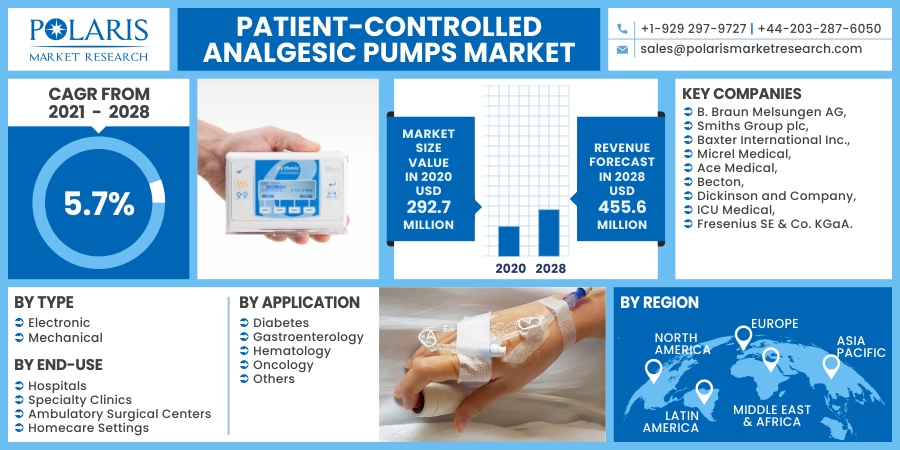 Know more about this report: request for sample pages
Patient-controlled Analgesic Pumps Market Research Scope
The market is primarily segmented on the basis of type, application, end-use, and region.
By Type

By Application

By End-Use

By Region

Diabetes
Gastroenterology
Hematology
Oncology
Others

Hospitals
Specialty Clinics
Ambulatory Surgical Centers
Homecare Settings

North America (U.S., Canada)
Europe (France, Germany, Italy, Spain, UK, Austria, Netherlands)
Asia Pacific (China, India, Indonesia, Japan, Malaysia, South Korea)
Latin America (Argentina, Brazil, Mexico)
Middle East & Africa (Israel, Saudi Arabia, South Africa, UAE)
Know more about this report: request for sample pages
Insight by Type
The electronic pumps dominated the market and generated the highest revenue in 2020. These systems employ a high-performance single-chip microcomputer and control circuit to monitor the infusion flow rate accurately. Electronic pumps are efficient and secure for Patient-Controlled Epidural Analgesia (PCEA) during delivery and postsurgical pain relief, increasing segment demand.
Furthermore, research has shown that these pumps are ideal for a broad population base since they can be controlled based on the patient's needs. However, there is a possibility of controlled analgesic treatment errors with these pumps. Human and equipment errors could occur during the dosing process, hampering the segmental growth over the forecast period.
The mechanical patient-controlled analgesic pumps market segment is expected to grow at the fastest rate during the forecast period. These pumps have several benefits, which are increasing their popularity among patients and health care providers. Compact scale, portability, low cost, and lack of programming errors are few advantages of these pumps.
Insight by End-Use
The hospitals segment dominates the market and is expected to maintain its position during the forecast period. This treatment is extensively used in hospitals. The emergence of the most advanced and smart patient-controlled analgesic pumps in hospitals and the rising need for innovative pumps in newly built hospitals, particularly in developing economies, is expected to drive market growth.
The home care segment is expected to grow at the fastest rate over the study period. Pain-associated hospitalization could be avoided by choosing homecare settings, supporting the market's growth. In the home care environment, such an analgesic with a Computerized Ambulatory Drug Delivery Device (CADD) should be used for pain reduction. Individuals suffering from mild to extreme cancer pain can use such pumps at home, contributing to the segment's growth.
Geographic Overview
North America patient-controlled analgesic pumps market is expected to be the major shareholder for the global market during the forecast period owing to an increased number of cancers, accidental injuries, and chronic pain patients. It is estimated that, by 2023, every year, approximately 144 million out-patient surgical procedures will be conducted in the U.S., and this will significantly boost the market growth in the region. US FDA has approved many controlled analgesic pump products in the last five years. The region's growth is also aided by the rising aging population base and the increasing advantages of controlled analgesic pumps.
The Asia Pacific is expected to be the fastest-growing market for market during the forecast period. China accounted for nearly a quarter of all cancer cases detected across the globe in 2020. This increasing case of chronic disease and improving healthcare, and the adoption of homecare devices in developing countries will fuel the growth of this market in the region. An increasingly aging population improved knowledge of pain management and upgraded healthcare services and infrastructure will further lead to market growth in this region.
Competitive Insight
Companies are focusing on developing new controlled analgesic pump products by investing in research & development. Companies are also entering into partnerships and collaborations to increase their foothold across the globe. Some of the major players operating in the market include B. Braun Melsungen AG, Smiths Group plc, Baxter International Inc., Micrel Medical, Ace Medical, Becton, Dickinson and Company, ICU Medical, and Fresenius SE & Co. KGaA.
Report Scope
| | |
| --- | --- |
| Report Attributes | Details |
| Market size value in 2020 | USD 292.7 million |
| Revenue forecast in 2028 | USD 455.6 million |
| CAGR | 5.7% from 2021 - 2028 |
| Base year | 2020 |
| Historical data | 2016 - 2019 |
| Forecast period | 2021 - 2028 |
| Quantitative units | Revenue in USD million/billion and CAGR from 2021 to 2028 |
| Segments covered | By Type, By Application, By End-Use, By Region |
| Regional scope | North America Europe Asia Pacific Latin America; Middle East & Africa |
| Key Companies | B. Braun Melsungen AG, Smiths Group plc, Baxter International Inc., Micrel Medical, Ace Medical, Becton, Dickinson and Company, ICU Medical, and Fresenius SE & Co. KGaA. |