The global patient temperature monitoring market was valued at USD 3,365.3 million in 2021 and is expected to grow at a CAGR of 6.6% during the forecast period.
The market for devices is expanding as a result of technological developments, new market entrants, rising investments, funds, and grants, as well as an increase in the prevalence of target diseases and surgical operations. As the prevalence of chronic illnesses rises globally, multiparameter patient monitors are essential for the precise monitoring of a patient's identity.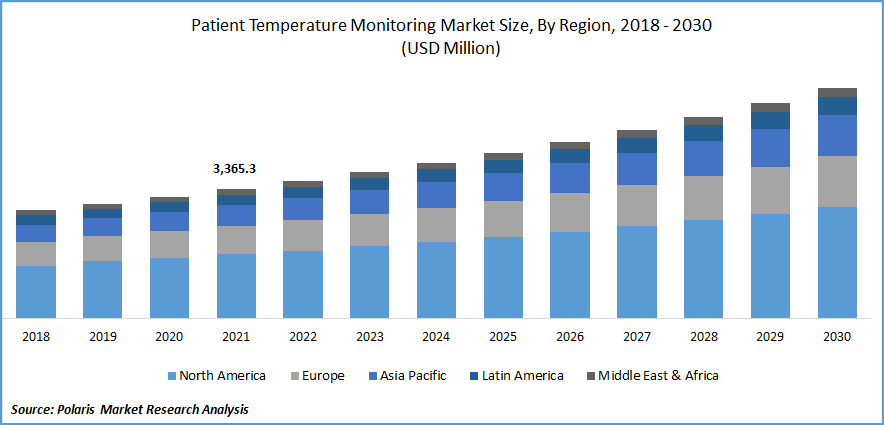 Know more about this report: Request for sample pages
Systems for monitoring patient temperatures are used in preparatory warming, operation and surgery rooms, postoperative warming, critical care and inpatient care, chemotherapy, and medical emergencies.
Poor diet, smoking, drinking too much alcohol, being inactive physically, and exposure to air pollution are some of the risk factors for cancer. According to the WHO, cancer will be responsible for about 10 million deaths in 2020, making it the leading cause of death globally. Skin, breast, lungs, colorectal, and abdomen cancers are the most common cancers globally. Thus, the prevalence of diseases like cancer is increasing, which would increase the demand for multiparameter patient monitors.
Since the COVID-19 virus epidemic, the illness has spread to more than 100 nations, and the World Health Organization proclaimed it to be a public health emergency. Three key ways in which COVID-19 has impacted the economy are through its direct effect on the manufacture and demand of pharmaceuticals and vaccines, and the disruption of distribution systems. Nevertheless, the COVID-19 pandemic had a favorable effect on the world market for patient temperature measurements, as a result of rising product releases and a rise in patient temperature monitoring equipment demand.
The major players are also involved in the innovation during the pandemic for monitoring temperature. Healthcare professionals can efficiently screen patients with high fever due to real-time data from the temperature sensors. Italy has received the solution to aid in its coronavirus (Covid-19) response initiatives. Thus, COVID-19 impacted positively the growth of the market.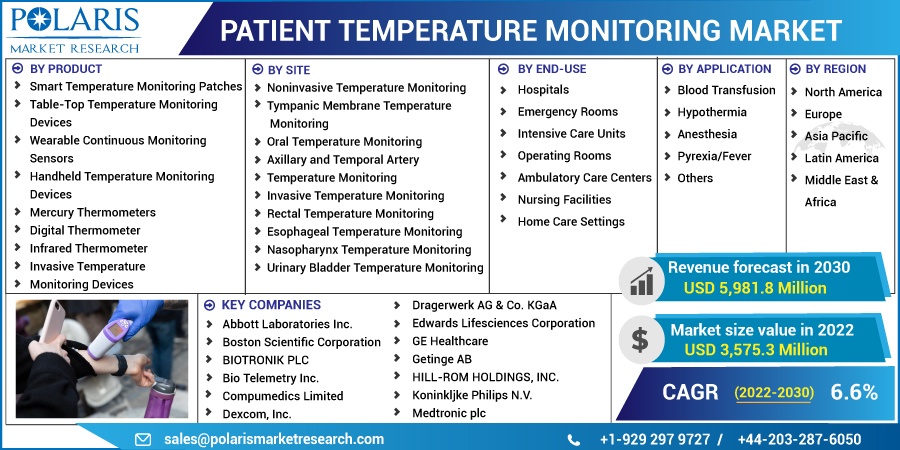 Know more about this report: Request for sample pages
Industry Dynamics
Growth Drivers
A major driver that is fostering growth is the increased accessibility of integrated monitoring technologies like smartphones and connected networks. As a result, distant monitoring systems, portable cardiac telemetry devices, portable personal digital assistant (PDA) systems, hospital outpatient wireless EEG recorders, and hospital outpatient event monitors have all been introduced. A rise in the number of patient temperature monitoring product launches by industry participants is anticipated to fuel the market's expansion. In October 2020, Masimo announced the release of the Radius T Continuous Thermometer for consumers, a linked sensor system that can continuously take a patient's temperature in place of a manual procedure. The device can communicate temperature measurements and spike warning warnings to an associated app. The alerts and notifications features are user-customizable.
In addition, in July 2020, PouchNATION introduced PouchPASS, a cutting-edge wristband sensor for ongoing body temperature monitoring. PouchPASS uses Bluetooth technologies to continually sync temperature measurements to a mobile application and/or dashboard for numerous users while recording body temperatures. PouchPASS features enable contact tracing and earlier temperature detection. Thus, these advanced product innovations for temperature monitoring are propelling the growth of the market.
Report Segmentation
The market is primarily segmented based on product, site, end-use, application, and region.
By Product

By Site

By End-Use

By Application

By Region

Smart Temperature Monitoring Patches
Table-Top Temperature Monitoring Devices
Wearable Continuous Monitoring Sensors
Handheld Temperature Monitoring Devices

Mercury Thermometers
Digital Thermometer
Infrared Thermometer

Invasive Temperature Monitoring Devices

Noninvasive Temperature Monitoring

Tympanic Membrane Temperature Monitoring
Oral Temperature Monitoring
Axillary and Temporal Artery Temperature Monitoring

Invasive Temperature Monitoring

Rectal Temperature Monitoring
Esophageal Temperature Monitoring
Nasopharynx Temperature Monitoring
Urinary Bladder Temperature Monitoring

Hospitals

Emergency Rooms
Intensive Care Units
Operating Rooms

Ambulatory Care Centers
Nursing Facilities
Home Care Settings

Blood Transfusion
Hypothermia
Anesthesia
Pyrexia/Fever
Others

North America (U.S., Canada)
Europe (France, Germany, UK, Italy, Netherlands, Spain, Russia)
Asia Pacific (Japan, China, India, Malaysia, Indonesia. South Korea)
Latin America (Brazil, Mexico, Argentina)
Middle East & Africa (Saudi Arabia, UAE, Israel, South Africa)
Know more about this report: Request for sample pages
The wearable continuous monitoring sensors segment is expected to witness the fastest growth
Applications for wearable patient monitoring systems, biosensors, and smart implants include glucose level monitoring, temperature monitoring, vitals, and oxygen saturation. Systems for telehealth and better patient monitoring will be easier to design as wireless data transmission systems get better and are more widely available. The Internet of Things is available on newer generations of wearable technologies. Wearable biosensors are used to measure vital indicators like electrocardiography (EC), sugar levels, and blood pressure, which are then sent to a centralized computer using mobile wireless networks.
Furthermore, the rapidly rising regulatory approvals for wearable monitoring devices are driving the market growth. For instance, in June 2022, GE Healthcare introduced a brand-new wireless patient monitoring system for capturing oxygen saturation., respiratory rate, and pulse rate for post-surgical patients constantly, allowing physicians to take action quickly. Also, in March 2022, the U.S. Food and Drug Administration (FDA) granted Biobeat's wearable remote patient monitoring equipment, allowing it to measure body temperature, respiration rate, blood oxygen levels, and heartbeat in addition to other vital signs. This is growing the segment share.
Pyrexia/fever segment industry accounted for the highest market share in 2021
The age of the population, as well as an increase in trauma and hemolysis, are the main factors contributing to this category's domination. Due to the rising number of people who experience pyrexia/fever each year and new products for patient temperature monitoring by market participants, this market segment is anticipated to keep its dominant position over the projected period. For instance, as per the CDC, typhoid fever impacts an estimated 11 to 21 million people worldwide each year, while paratyphoid fever impacts an estimated 5 million people. Fever also results in symptoms like exhaustion, dehydration, and heightened pain sensitivity.
Home care setting segment is expected to hold the significant revenue share
Governments all across the world are particularly concerned about the sustainability of the current healthcare system. The emphasis has turned toward alternate treatment modalities, such as home healthcare, in recent times due to rising healthcare costs, particularly in hospital settings. In addition, the introduction of remote and home monitoring equipment has significantly reduced the incidence of hospital readmissions. As a result, there is an increasing need for efficient home-use gadgets including fetal and neonatal monitors, ECG recorders, temperature monitors, diagnostic devices, and incident monitors.
The demand in North America is expected to witness significant growth
The high prevalence of lifestyle illnesses, the rising number of clinical trials certifying patient monitoring devices, and the rising number of patient monitoring approvals are all factors contributing to the growth of the targeted market in the region. In March 2021, CIRCA Scientific revealed that the S-CATH esophageal temperature probe is authorized for sale in the U.S. Improved healthcare spending and increased research and development spending will strengthen the market as a whole. Advanced patient monitoring solutions will be introduced.
Additionally, the presence of modern medical facilities in hospitals and ASCs as well as supportive government policies for the development of advanced monitoring technologies are projected to give the market a major boost. The presence of numerous manufacturers in the region of North America will also help to boost industry income.
Further, due to factors such as rising healthcare costs, the prevalence of infectious diseases, the growing geriatric population, and favorable governmental and private contributions to the overall healthcare infrastructure, the Asia Pacific market will expand at the greatest CAGR during the forecast period. In addition, the expansion of hospital infrastructure in the APAC region and the rise in ambulatory surgical centers are anticipated to drive the market for patient monitoring devices.
Competitive Insight
Key players in the market include Abbott Laboratories, Boston Scientific Corporation, BIOTRONIK, BioTelemetry, Compumedics Limited, Dexcom, Dragerwerk, Edwards Lifesciences, GE Healthcare, Getinge, HILL-ROM HOLDINGS, Koninklijke Philips, Medtronic, Masimo Corporation, Nihon Kohden, Nonin Corporation, Natus Medical, OMRON Corporation, and Shenzhen Mindray.
Recent Developments
In September 2022, Signant Health debuted its cloud-based Temperatures Excursion Management (TEM) solution within its range of clinical supply chain management solutions.
Patient Temperature Monitoring Market Report Scope
| | |
| --- | --- |
| Report Attributes | Details |
| Market size value in 2022 | USD 3,575.3 million |
| Revenue forecast in 2030 | USD 5,981.8 million |
| CAGR | 6.6% from 2022 - 2030 |
| Base year | 2021 |
| Historical data | 2018 - 2020 |
| Forecast period | 2022 - 2030 |
| Quantitative units | Revenue in USD million and CAGR from 2022 to 2030 |
| Segments Covered | By Product, By Site, By End-Use, By Application, By Region |
| Regional scope | North America, Europe, Asia Pacific, Latin America; Middle East & Africa |
| Key Companies | Abbott Laboratories Inc., Boston Scientific Corporation, BIOTRONIK PLC, Bio Telemetry Inc., Compumedics Limited, Dexcom, Inc., Dragerwerk AG & Co. KGaA, Edwards Lifesciences Corporation, GE Healthcare, Getinge AB, HILL-ROM HOLDINGS, INC., Koninkljke Philips N.V., Medtronic plc, Masimo Corporation, Nihon Kohden Corporation, Nonin Corporation, Natus Medical Corp., OMRON Corporation, and Shenzhen Mindray Bio-Medical Electronics Co., Ltd |