The global electronic health records market was valued at USD 28.76 billion in 2020 and is expected to grow at a CAGR of 5.1% during the forecast period. Favorable government initiatives to increase the adoption of IT in healthcare services and delivery for better patient outcomes is driving the market forward.
For instance, My Health Record, the South Korean government nationwide digital health platform to ensure medical records on the go. According to the claims of the agency, by 2022, medical providers in the country would be able to use medical data through this platform. Moreover, the emergence of innovative IT companies is providing varied specific services, contributing largely to the market growth.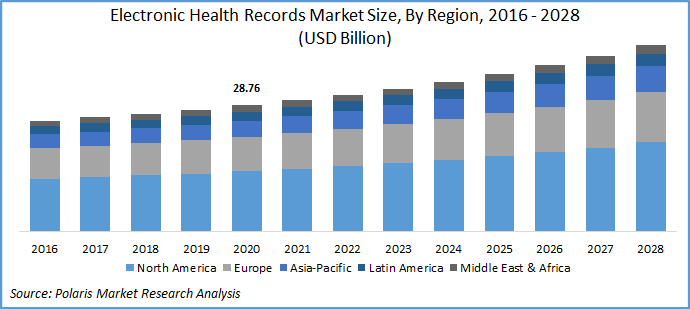 Know more about this report: request for sample pages
Industry Dynamics
Growth Drivers
Growing demand for centralization and streamlining of medical operations is projected to boost the adoption of electronic health records in the market. Centralization of the medical management is mostly driven by the value-based model, which largely focuses on streamlining hospital management processes, outsourcing of ancillary services, and improvement in quality care with better patient outcomes. Moreover, rising mergers & acquisitions activities expected to fuel market activity.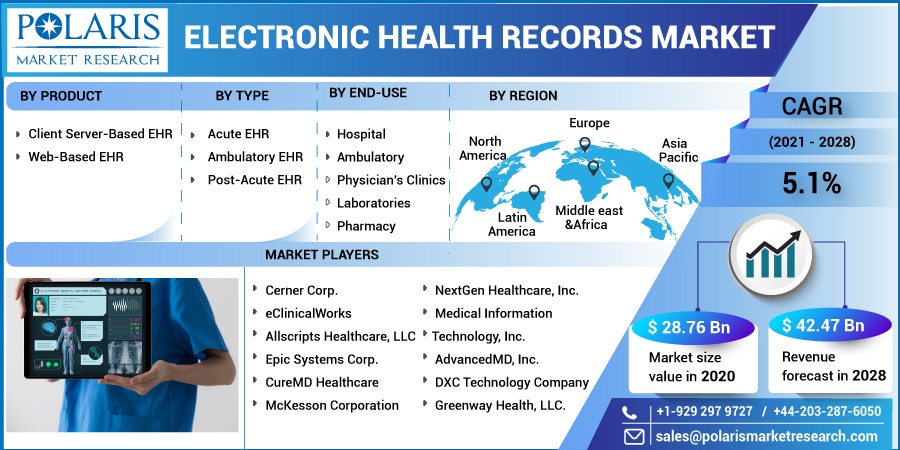 Know more about this report: request for sample pages
For instance, the U.S.-based Allscripts Healthcare LLC acquired medical analytics firm Pulse8, Inc. With this acquisition, Allscripts widened its portfolio of offerings by adopting Pulse8's intelligence software services. Electronic health records communities were able to install electronic health records systems without any value-added cost. The community was able to reciprocate its impact during pandemic. Moreover, significant rise in product demand in the market, with worldwide digitization initiatives, particularly in middle income countries, fueling the market prospects.
Electronic Health Records Market Report Scope
The market is primarily segmented on the basis of product, type, end-use, and region.
By Product

By Type

By End-Use

By Region

Client Server-Based EHR
Web-Based EHR

Acute EHR
Ambulatory EHR
Post-Acute EHR

Hospital
Ambulatory

Physician's Clinics
Laboratories
Pharmacy

North America (U.S., Canada)
Europe (France, Germany, UK, Italy, Spain, Netherlands, Austria)
Asia Pacific (Japan, China, India, Malaysia, Indonesia. South Korea)
Latin America (Brazil, Mexico, Argentina)
MEA (Saudi Arabia, UAE, Israel, South Africa)
Know more about this report:request for sample pages
Insight by Product
Based upon the product, the global electronic health records market is categorized into client server-based electronic health records and web-based electronic health records. Of all, the web-based segment held the largest share in the global electronic health records industry in 2020. Factors attributed to such market growth include the growing popularity of the web-based electronic health records system among medical providers and its easy installation, without any need for in-house servers with customized solutions, ensuring scalability.
The client-based electronic health records segment is projected to register the highest market growth rate over the study period. These solutions provide safe data storage, preventing any kind of data theft, could be customized according to customer's need, and is regarded as a favorable option among multi-physician medical facilities.
Insight by Type
On the basis of type, the acute electronic health records segment held a significant market share in 2020 and is projected to have a remarkable market growth rate over the study period. Such massive growth is attributed to favorable government initiatives to adopt small facilities. For instance, acute care facilities based in the U.S., which comes under the purview of the In-patient Prospective Payment System, are eligible in gaining benefits from medicare incentive programs.
Post-acute electronic health records are anticipated to register the highest market growth over the forecast period, owing to a rise in the spending capacity of acute care facilities. Such electronic health records are mostly used for rehabilitation services, where patients require longer hospital stays. Acute care hospitals comprise home wellbeing, rehabilitation centers, and long-term care hospitals.
Insight by End-Use
On the basis of end-use, hospital segment held a significant market share in 2020 and is projected to have a remarkable growth rate over the study period. Factors responsible for such high share include high hospital admissions, rapid flow of medical data, and low cost of installation in hospitals as compared to ambulatory centers. On contrary, the adoption of electronic health records in ambulatory centers is projected to register lucrative market growth. Rising establishments of ambulatory care centers projected to drive segment's growth.
Geographic Overview
Geographically, North America accounts for the largest revenue holder in the global electronic health records market, owing to favorable government policies, in support of the digitization of medical infrastructure. In line with this, the federal government has introduced Federal wellbeing IT strategic plan mandating the use of electronic health records by medical services providers.
A strategic plan is outcomes-driven, with a clear focus on meeting the needs of caregivers, payers and providers, developers, medical professionals, and innovators. As of 2017, more than 80 percent of the physician offices and around 96 percent of the acute care hospitals are using ONC certified medical IT and it is being seen that exchange of information among patients, public fitness, research organizations, and medical providers is rapidly increasing.
Policies promote the usage of standard APIs, including regulations established to implement the current Cures Act. This will encourage medical apps development to provide access to electronic health records data used to support patient-centered approach and empowerment. Additional federal activities include price disclose by payers and medical organizations, timely access to medical records at reasonable cost, and antitrust and consumer protection laws to promote, safeguard competition, and data privacy.
Competitive Insight
Some of the major market players operating the global electronic health records industry include Cerner Corp., eClinicalWorks, Allscripts Healthcare, LLC, Epic Systems Corp., CureMD Healthcare, McKesson Corporation, NextGen Healthcare, Inc., Medical Information Technology, Inc., AdvancedMD, Inc., DXC Technology Company, and Greenway Health, LLC.
Companies in the marketplace are introducing remote services for the patients in the COVID era, for instance, in March 2020, CureMD introduced practice continuity plan for the patients to work on virtual care plans.