The global peptide based cancer therapeutics market was valued at USD 8.58 billion in 2019 and is expected to grow at a CAGR of 9.1% during the forecast period. The factors responsible for the growth of the market include innovations in peptide based cancer treatment approaches, growing prevalence of different types of cancer, high efficacy peptide based drugs, and increased interest of pharmaceutical companies in research and development. Moreover, peptide based drugs are more cost effective, have higher efficacy rate and specificity, and lower toxicity.
The market's future growth is also favored by recent computing advancements in the field of genomics and bioinformatics which have enabled the discovery of new antigen derived personalized vaccine. Moreover, the combination therapies of peptide therapies with the check-point inhibitors is likely to improve the patient outcome.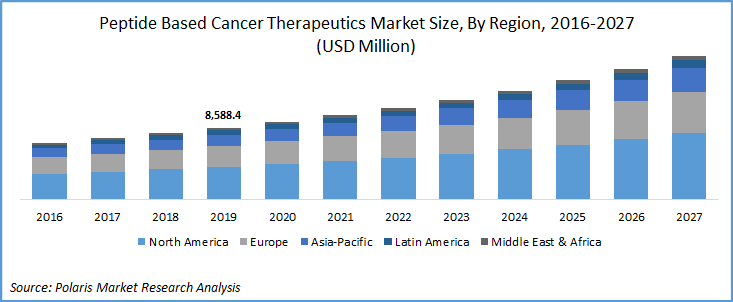 Know more about this report: request for sample pages
Industry Dynamics
Growth Drivers
The challenges associated with conventional cancer therapeutics are manifold. Lack of tumor selectivity, combined with risk of severe side effects has led to clamors for developing novel approaches. The efforts to find novel applications have also been intensified on account of growing drug resistance among patients. Peptide based cancer therapeutics have emerged as a feasible solution to conventional therapeutics, on account of their low toxicity and high target selectivity. Pharmaceutical companies are aware of the commercial potential of these peptides, and it is highly likely that research efforts will gain momentum during the assessment period.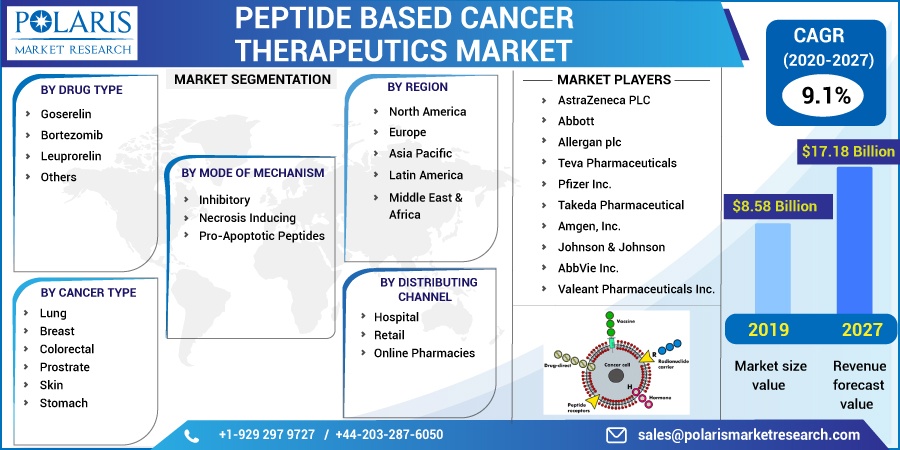 Know more about this report: request for sample pages
According to the research by the American Cancer Society (ASC), the disease burden in Latin America is shifting from infectious diseases to the chronic diseases such as cancer. The transition could easily be seen in highly populated Latin American countries, Argentina and Brazil, where more than 70 per cent of the cancers are diagnosed when the disease has reached its end stage. The reason behind this is the lack of basic planning tools such as cancer registries and treatment guidelines. According to the survey carried out by the Cancer Atlas, the lung cancer is leading death cause in the region, and accounted for more than 75,300 deaths each year and it is projected to reach to 2.6 million.
Challenges
The use of peptide therapeutics for cancer treatment has a promising future, however, their widespread adoption has been hindered by the unique challenges they present. Some of the key challenges associated with this therapeutics include high manufacturing cost, limited oral bioavailability, and low resistance to cleavage by serum proteases.
Peptide Based Cancer Therapeutics Market Report Scope
The market is primarily segmented on the basis of Drug Type, By Cancer Type, By Modee of Mechanism, By Distribution Channel and By Region.
By Drug Type

By Cancer Type

By Mode of Mechanism

By Distributing Channel

By Region

Goserelin
Bortezomib
Leuprorelin
Others

Lung
Breast
Colorectal
Prostrate
Skin
Stomach

Inhibitory
Necrosis Inducing
Pro-Apoptotic Peptides

Hospital
Retail
Online Pharmacies

North America (U.S., Canada)
Europe (France, Germany, UK, Italy, Spain, Netherlands, Austria)
Asia Pacific (Japan, China, India, Malaysia, Indonesia. South Korea)
Latin America (Brazil, Mexico, Argentina)
MEA (Saudi Arabia, UAE, Israel, South Africa)
Know more about this report: request for sample pages
Insight by Drug Type
Based upon drug type, the global market is categorized into Goserelin, Bortezomib, Leuprorelin, and others. In 2019, Bortezomib segment accounted for the largest share. The higher drug sales, its high efficacy, and low side effects are the factors favoring the segment growth. These are the class of medicine commonly known as proteasome inhibitors, and is indicated for multiple myeloma and cell lymphoma. This works via blocking the action of proteasomes inside the cells. Proteasomes breaks down proteins into both cancerous and healthy cells.
Insight by Cancer Type
On the basis of the cancer type, the global market is categorized into lung, breast, colorectal, prostrate, skin, and stomach cancer. In 2019, the lung cancer accounted for the majority of the share and is likely to maintain its share over the study period. The segment's high share is attributed to rising cases of lung cancers across all strata of population in both younger as well as old age people. The primary cause of this is air pollution, air pollutants through occupational diseases such as asbestos and silica, and smoking. According to statistics by the WHO, in 2018, the lung cancer across the globe accounted for 1.8 million deaths.
Geographic Overview
Geographically, the global peptide based cancer therapeutics market is bifurcated into North America, Europe, Asia Pacific, Latin America, and Middle East & Africa (MEA). North America region is the largest revenue contributor followed by Europe and the Asia Pacific regions. In 2019, the North America region accounted for more than % of the global market.
Research on cancer therapeutics is likely to witness a stark rise, given the increasing incidences of the disease among population of North American, especially the United States. Increasing cancer deaths in the United States have accelerated the demand for its treatment solutions, such as the peptide based cancer therapeutics with a view to obtain an efficient control on cancer statistics in the region. According to the ASC and National Center for Health Statistics (NCHS), in 2017 around 1,688,780 cancer cases were recorded. This has presented a crucial situation for cancer research institutes in North America, ultimately proliferating the demand for peptide based cancer therapeutics in the region.
Personalized medicine for curing malignancies has gained significant traction in Asia Pacific region, opening doors for research on personalized diagnostics and peptide therapeutics for cancer. Emerging economies in this region are expected to deliver a crucial impetus to the research on peptide based cancer therapeutics, given the increased prevalence of the disease across countries of China, Japan, South Korea and India. For instance, according to the statistics published by WHO, in 2017, in India, the death due to cancer was around 79 per millions of population, and the incidence rate was 4 times more in men than women. The number of women suffering with cancer was enumerated at 0.7 million, and it is expected to remain on higher side in the recent future.
Similarly, in China there was colossal rise in cancer cases and mortality rate. The two dominant types were lung and breast cancer. According to the statistics of the WHO, in 2015, there were 1.7 million cases of lung cancer out of total 8.9 million cancer cases. China, each year, records more than 4.3 million new cancer patients, out of which 0.7 are only of lung cancer patients. Additionally, conventional radiotherapies for cancer are significantly costlier, which has made it imperative for biotech giants to develop novel therapeutics to treat the disease. Peptide based cancer therapeutics, being precision based personalized medicine, are expected to witness high growth opportunities during the assessment period.
Competitive Insights
The global peptide based cancer therapeutics market is flooded with small and big players. Some of the key players operating in the market are AstraZeneca PLC, Abbott, Allergan plc, Teva Pharmaceuticals, Pfizer Inc., Takeda Pharmaceutical, Amgen, Inc., Johnson & Johnson, AbbVie Inc., and Valeant Pharmaceuticals Inc.