The global pharmaceutical processing seals market was valued at USD 2,315.1 million in 2022 and is expected to grow at a CAGR of 10.5% during the forecast period.
Pharmaceutical processing seals refer to specialized seals used in the pharmaceutical industry to maintain pharmaceutical products' integrity, purity, and safety during various processing stages. These seals are designed to prevent contamination, leakage, or ingress of foreign substances that could compromise the quality of pharmaceutical products.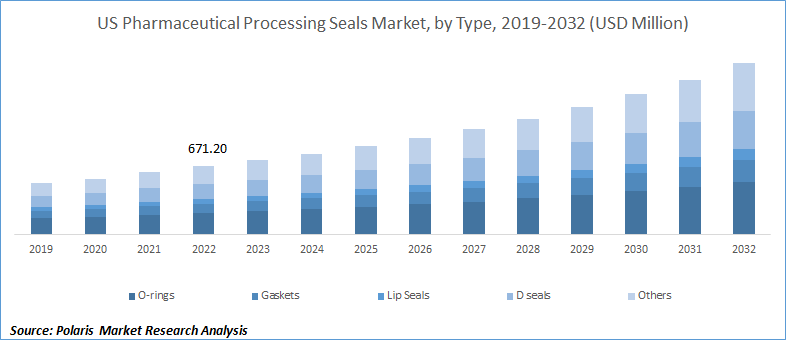 To Understand More About this Research: Request a Free Sample Report
Pharmaceutical processing seals play a critical role in ensuring the hygienic and aseptic conditions required for the production of pharmaceuticals. They are used in various equipment and systems involved in pharmaceutical processing, such as pumps, mixers, reactors, valves, and pipelines.
Factors such as rapid advancements in the healthcare industry, adoption of cutting-edge technology, the emergence of new diseases, improvements in healthcare facilities and infrastructure, and increasing investments in healthcare are driving the growth of the market during the forecast period. Additionally, the rising healthcare costs, growing per capita income in developing countries, and favorable reimbursement policies are also contributing to the expansion of the industry.
The pharmaceutical processing seals is further propelled by increased funding from both public and private sectors and higher investments in developing improved pharmaceutical products and devices. Moreover, the growing elderly population, attributed to increased life expectancy, improved healthcare awareness, and enhanced specialty care, is driving the expansion of the pharmaceutical industry.
According to the Department of Economic and Social Affairs, the global senior population is expected to triple by 2050, reaching 2.1 billion. Europe and North America currently have the largest number of aging people, but other regions are also projected to grow significantly. By 2050, Europe is estimated to have a senior population representing 35% of the total population, followed by 28% in North America, 25% in Latin America and the Caribbean, 24% in Asia, 23% in Oceania, and 9% in Africa. These are the opportunities for pharmaceutical processing seal manufacturers to expand their product lines and production facilities to cater to the needs of an aging population.
The increasing preference for refurbished equipment hinders the industry growth of pharmaceutical processing seals during the forecast period. The main reason for this preference is the significant cost savings of 40-45% compared to new machinery, reducing capital expenditure which offer challenges and obstacles to the progress of pharma processing seals. Additionally, many of these processing seals are consumed in the aftermarket, where their lifespan is shorter than the technology used. While the rising usage of used equipment is not expected to impact seal demand in the aftermarket significantly, the limited requirements from original equipment manufacturers (OEMs) may restrict the demand.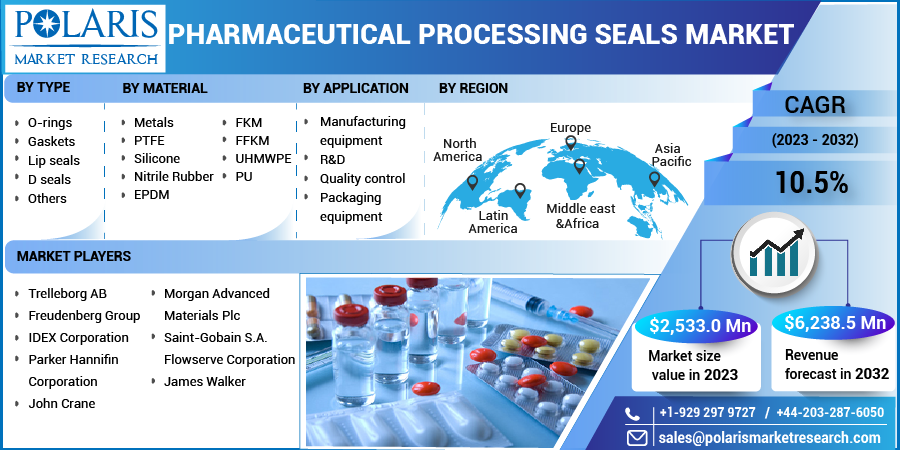 For Specific Research Requirements, Request for a Customized Report
Industry Dynamics
Growth Drivers
Increasing prevalence of chronic diseases and the growing market for pharmaceutical seals
The market of pharmaceutical processing seals has witnessed significant advancements in recent decades, driven by the increasing prevalence of chronic diseases and the growing market for pharmaceutical seals. The need for pharmaceutical processing seals is fueled by the expanding healthcare sector and rising consumption of pharmaceutical drugs.
The rise in chronic diseases can be attributed to various factors, including environmental concerns, unhealthy lifestyles, and poor dietary habits. Unhealthy lifestyles, characterized by poor nutrition, malnutrition, smoking, stress, drug addiction, alcohol consumption, and other factors, contribute to joint problems, metabolic disorders, obesity, hypertension, and cardiovascular diseases.
According to the World Health Organization (WHO), the global obese population has tripled since 1975. In 2016, approximately 1.8 billion adults over 18 were overweight, with around 650 million being obese. Obesity affects more people than underweight conditions in most regions globally. Furthermore, in 2020, 39 million children under five were overweight or obese. Unhealthy lifestyles are one of the key factors contributing to the rising prevalence of chronic health issues. Therefore, the increasing occurrence of chronic diseases is a significant driver of industry growth in the pharmaceutical processing seals market during the forecast period.
Report Segmentation
The market is primarily segmented based on type, material, application, and region.
By Type

By Material

By Application

By Region

O-rings

Gaskets

Lip seals

D seals

Others

Metals

PTFE

Silicone

Nitrile Rubber

EPDM

FKM

FFKM

UHMWPE

PU

Manufacturing equipment

R&D

Quality control

Packaging equipment

Others

North America (U.S., Canada)

Europe (France, Germany, UK, Italy, Netherlands, Spain, Russia)

Asia Pacific (Japan, China, India, Malaysia, Indonesia, South Korea)

Latin America (Brazil, Mexico, Argentina)

Middle East & Africa (Saudi Arabia, UAE, Israel, South Africa)
To Understand the Scope of this Report: Speak to Analyst
O-rings segment accounted for the highest revenue share in 2022
In 2022, the O-rings segment accounted for the highest revenue share in the pharmaceutical processing seal's market. It is extensively used in pharmaceutical manufacturing, particularly in producing pharmaceutical medications. The growth of the pharmaceutical production sector has increased demand for this market, driving the prominence of the O-rings segment.
O-rings find application in various areas within the pharmaceutical industry, including cryogenic processes, bioprocessing, and other critical operations. Due to their substantial consumption, equipment such as agitators and hydraulic cylinders rely heavily on O-rings. This significant usage is expected to fuel the market's overall growth as the demand for O-rings continues to rise in pharmaceutical manufacturing processes.
Manufacturing equipment segment held the largest market share in 2022
In 2022, the manufacturing equipment segment held the largest market share in the pharmaceutical processing seals industry due to the rising global demand for manufacturing equipment driven by the growth of the pharmaceutical manufacturing and healthcare industries. Manufacturing equipment plays a crucial role in the production of pharmaceutical compounds in the pharmaceutical industry.
Several factors contribute to the demand for manufacturing equipment, including expanding the healthcare industry, propelled by the increasing global population, rising incidences of chronic diseases, and growing healthcare expenditure. As a result, there is a growing need for pharmaceutical processing seals used in manufacturing equipment to ensure the efficiency and reliability of the pharmaceutical production process.
Considering these factors, the demand for pharmaceutical processing seals in the manufacturing equipment segment is expected to continue increasing, driven by the ongoing growth and advancements in the pharmaceutical and healthcare sectors.
North America held the highest market share in 2022
In 2022, North America held highest pharmaceutical processing seals market share due to its strong and developed healthcare sector. The region's significant production of medications has boosted the demand for pharma equipment and pharmaceutical processing seals. Factors such as the increasing demand for high healthcare spending, aging people, biosimilar and generic pharmaceuticals, and a rise in lifestyle disorders contribute to the region's high pharmaceutical output. The market is expected to thrive in North America, driven by the region's extensive production and consumption of pharmaceuticals.
Additionally, the Asia-Pacific region is projected to experience substantial growth in the global market. This expansion is attributed to the increased investment in expanding healthcare capacity and the favorable regulatory environment that promotes pharmaceutical equipment production. Moreover, a growing demand for enhanced pharmaceutical drugs to address critical medical issues due to an increased need for localized pharmaceutical manufacturing. Consequently, this surge in demand for pharmaceutical manufacturing equipment is anticipated to drive market growth in the region.
Competitive Insight
Some of the major players operating in the global market include Parker Hannifin Corporation, James Walker, Trelleborg AB, IDEX Corporation, Freudenberg Group, John Crane, Saint-Gobain S.A., Flowserve Corporation, Morgan Advanced Materials Plc, and others.
Recent Developments
In 2021, Trelleborg AB unveiled a new line of hygienic seals tailored for the pharmaceutical industry, signaling their commitment to this market segment. These seals are meticulously crafted from top-notch materials known for their resistance to harsh chemicals and ability to withstand extreme pressures and temperatures.

In 2020, Freudenberg Sealing Technologies made a significant announcement regarding acquiring Precision Polymer Engineering (PPE), a renowned manufacturer in the United States. This strategic move was intended to broaden Freudenberg's product portfolio within the pharmaceutical processing seals and enhance its market position in the United States.

In 2020, John Crane made a significant announcement by introducing a new series of seals tailored explicitly for the pharmaceutical and biotechnology sectors. These seals are meticulously crafted using top-of-the-line materials known for their resilience against harsh chemicals and ability to withstand high pressure and temperature conditions.

In 2020, EagleBurgmann announced the introduction of a new line of high-performance seals tailored specifically for the pharmaceutical industry. These seals are meticulously manufactured using premium materials known for their robustness against harsh chemicals and ability to withstand demanding high pressure and temperature conditions.
Pharmaceutical Processing Seals Market Report Scope
| | |
| --- | --- |
| Report Attributes | Details |
| Market size value in 2023 | USD 2,533.0 million |
| Revenue forecast in 2032 | USD 6,238.5 million |
| CAGR | 10.5% from 2023 – 2032 |
| Base year | 2022 |
| Historical data | 2019 – 2021 |
| Forecast period | 2023 – 2032 |
| Quantitative units | Revenue in USD million and CAGR from 2023 to 2032 |
| Segments Covered | By Type, By Material, By Application, By Region |
| Regional scope | North America, Europe, Asia Pacific, Latin America; Middle East & Africa |
| Key Companies | Some of the major players operating in the global market include Parker Hannifin Corporation, James Walker, Trelleborg AB, IDEX Corporation, Freudenberg Group, John Crane, Saint-Gobain S.A., Flowserve Corporation, Morgan Advanced Materials Plc, and others |