The global chronic obstructive pulmonary disease (COPD) market was valued at USD 20.54 billion in 2022 and is expected to grow at a CAGR of 4.3% during the forecast period. One of the key elements fueling the expansion of the COPD market is regular cigarette smoking. According to the American Lung Association (ALA), smoking cigarettes is the only known cause of 85% to 90% of all COPD cases in 2019. Rising illness prevalence is supporting the COPD market. There are around 16 million COPD sufferers in the United States. The COPD market is also growing due to exposure to dust, chemicals, and air pollution. The main barriers to COPD market expansion are the high costs associated with medication approval and the common public knowledge of the condition.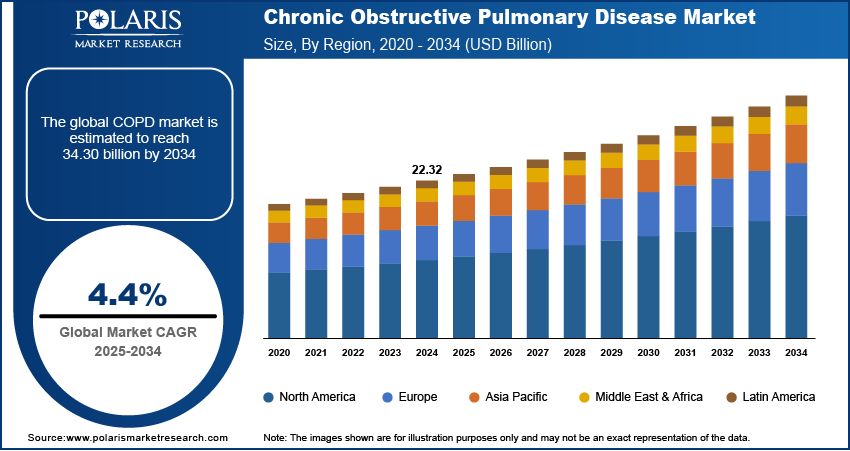 Know more about this report: Request for sample pages
The market is expanding due to rising awareness among individuals in emerging and underdeveloped nations. Increased government and pharmaceutical sector spending on R&D and the discovery of new medications are other factors driving the global market growth for chronic obstructive pulmonary disease.
A surge in COPD occurrences is also attributed to an increase in the frequency of genetic abnormalities. The lung condition known as COPD comprises refractory asthma, emphysema, and chronic bronchitis. Chronic obstructive pulmonary disease is mainly brought on by smoking, secondhand smoke, air pollution, an unusual form of COPD termed alpha-1 deficiency-related emphysema, and other reasons (COPD). The bronchial tubes, which transport air to and from the air sacs in the lungs, become inflamed in chronic bronchitis. Coughing doesn't stop, and mucus production is two of its symptoms.
Chronic obstructive pulmonary disease (COPD) is a widespread, preventable, and treatable illness marked by enduring respiratory symptoms and airflow restriction brought on by anomalies in the airways and alveoli, typically brought on by prolonged exposure to noxious particles or gases. Chronic obstructive pulmonary disease (COPD) has four stages, from mild to highly severe. A persistent cough, shortness of breath, and wheezing are a few signs that could be present. It can be avoided by eliminating risk factors like smoking and enhancing the air quality indoors and outside.
Due to the increased incidence of respiratory distress diseases, the Asia Pacific, Middle East, and Africa also show significant potential for expansion of the worldwide COPD medications market. According to data released by the World Health Organization (WHO), low- and middle-income nations account for more than 90% of COPD-related deaths. The World Health Organization (WHO) 2021 factsheet claims that COPD is the third-leading cause of mortality globally, accounting for 3.23 million fatalities in 2019. In low- and middle-income nations, more than 80% of these fatalities occurred.
Know more about this report: Request for sample pages
Industry Dynamics
Growth Drivers
Environmental pollution is rising, and the number of people with asthma is increasing, causing COPD cases to grow and making more treatments available, furthermore, a significant factor driving the growth of the COPD market is the increase in governmental and private organizations.
The main drivers of the COPD market are the increase in the elderly population, COPD incidence and prevalence, and the majority of asthma and COPD. In addition, leading market companies are projected to invest more in research and development to increase consumer awareness and introduce new products, which will fuel the expansion of the global chronic obstructive pulmonary disease treatment market.
Report Segmentation
The market is primarily segmented based on drug type, product type, and by region.
By Drug Type

By Product Type

By Region

Phosphodiesterase-4 Inhibitors

Bronchodilators

Long-Acting Bronchodilators

Short-Acting Bronchodilators

Methylxanthines

Corticosteroids

Inhalers

Dry Powders Inhalers

Metered-Dose Inhalers

Soft Mist Inhalers

Nebulizers

Ultrasonic Nebulizers

Jet Nebulizers

North America (U.S., Canada)

Europe (France, Germany, UK, Italy, Spain)

Asia Pacific (Japan, China, India, Malaysia, South Korea)

Latin America (Brazil, Mexico, Argentina)

Middle East & Africa (Saudi Arabia, UAE, South Africa)
Know more about this report: Request for sample pages
Bronchodilators is expected to grow significantly over the forecast period
The rising prevalence of COPD and asthma is projected to drive the bronchodilator segment. Furthermore, increased awareness among the general public and physicians embracing and prescribing these medications is likely to propel the bronchodilators market during the forecast period.
Bronchodilators are now thought to occupy the majority of the COPD medications market due to the enhanced efficacy of the drug class, which might lead to increased worldwide acceptance of the therapy.
Nebulizers are expected to grow at fastest rate over the forecast period
The Nebulizers segment is expected to increase growth in the market over the forecast period because market players are taking the initiative to invent new technologies which are easy to use and ease the handle will hike the market growth. For instance, In January 2021, Wellinks created the wireless nebulizer for persons with chronic obstructive pulmonary disease (COPD) was approved by a review body of the US Food and Drug Administration (FDA).
The demand in North America is expected to witness significant growth
The chronic obstructive pulmonary disease (COPD) market share by revenue is dominated by North America, due to growing air pollution levels, rapid industrialization, and the growth of sedentary lifestyles. It is also anticipated that an increase in smokers and a general lack of knowledge about COPD would increase the prevalence of the condition and, consequently, the need for COPD drugs. Furthermore, other factors expected to contribute to the North American market's growth include the need for cutting-edge therapeutics, the expansion of the healthcare system, and more government funding.
However, Asia-Pacific is the next significant market due to its high population density. The Asia-Pacific region includes nations like Indonesia, the Philippines, China, and even a portion of Thailand and India. In areas where fast urbanization has increased air pollution, which raises the risk of developing respiratory illnesses like COPD, there are attractive development possibilities for the COPD drug market.
Competitive Insight
Some of the major players operating in global market include AstraZeneca, GlaxoSmithKline (UK), Boehringer Ingelheim International GmbH, F. Hoffmann-La Roche Ltd., Pneuma Respiratory, Microlife Corporation, HELTMAN Medikal A.S., Promed Technology Co. Limited, Abbott Laboratories (US), Kyowa Hakko Kirin, Mylan NV, Novartis AG, Orion Corporation, Sanofi, Circassia Pharmaceuticals (UK) Teva Pharmaceutical Industries Ltd., LepuMedical Technology (Beijing)Co., and Verona Pharmaceuticals.
Recent Developments
In January 2022, Mylan (Viatris) and Theravance Biopharma were created to improve lung health in persons with COPD; in phase 4 of the trial compared, Yuperli (revefenacin) and Spiriva (tiotropium). And this combination is offered as a nebulizer-inhalable solution.

In November 2021, Tudorza, also known as Eklira abroad, and Duaklir distribution rights were sold by AstraZeneca for US$ 270 million to the Covis Pharma Group, a pharmaceutical business located in Switzerland. These medications are intended to treat chronic obstructive pulmonary disease (COPD).

In October 2019, A unique medication to treat chronic obstructive pulmonary disease (COPD), Stiolto Respimat, was approved by the US Food and Drug Administration (FDA). The medication, created by Boehringer Ingelheim, combines two already available COPD medicines with complementary advantages into a once-daily inhaler.
Chronic Obstructive Pulmonary Disease Market Report Scope
| | |
| --- | --- |
| Report Attributes | Details |
| Market size value in 2023 | USD 21.37 billion |
| Revenue forecast in 2032 | USD 31.29 billion |
| CAGR | 4.3% from 2023 - 2032 |
| Base year | 2022 |
| Historical data | 2019 - 2022 |
| Forecast period | 2023 - 2032 |
| Quantitative units | Revenue in USD billion and CAGR from 2023 to 2032 |
| Segments Covered | By Drug Type, By Product Type, By Geography. |
| Regional scope | North America, Europe, Asia Pacific, South America; Middle East & Africa |
| Key Companies | AstraZeneca, GlaxoSmithKline (UK), Boehringer Ingelheim International GmbH, F. Hoffmann-La Roche Ltd., Pneuma Respiratory, Microlife Corporation, HELTMAN Medikal A.S., Promed Technology Co. Limited, Abbott Laboratories (US), Kyowa Hakko Kirin, Mylan NV, Novartis AG, Orion Corporation, Sanofi, Circassia Pharmaceuticals (UK) Teva Pharmaceutical Industries Ltd., LepuMedical Technology (Beijing)Co., and Verona Pharmaceuticals. |