The global pharmacy automation devices market was valued at USD 4.82 billion in 2020 and is expected to grow at a CAGR of 9.4% during the forecast period. Global factors responsible for the market growth for pharmacy automation devices include the decentralization of pharmacies, the growing need to reduce medication errors, the emergence of automated dispensing machines with scanning technology, and the rising labor costs across the globe.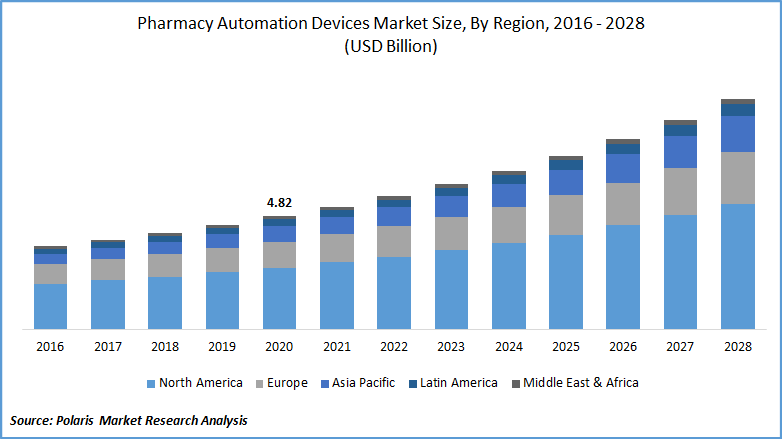 Know more about this report: request for sample pages
Automation devices provide certain advantages such as optimum medication prescription, categorized according to age, and gender helps in reducing dosage errors, unnecessary wastage of medics, and enables the proper supply of the drugs according to individual's requirements with enhanced patient safety.
Moreover, the emergence of RFID, scanning technology, smart dashboards, and seamless workflow technologies further boosted the market growth for pharmacy automation devices. Such devices also save pharmacists time and labor, thereby, enabling them to spend more time with the patients.
Moreover, rising mergers and acquisitions among key players in the marketplace, coupled with new product launches also positively impact the market growth for pharmacy automation devices. For instance, in November 2020, Omnicell Inc. announced the introduction of the latest innovations in medication management across, automating services to digitize and streamline workflows.
The innovations also included platform-enabled services to support regulatory compliances, and key intelligence to provide actionable insights to improve the supply chain with a better understanding of medications with improved efficiency and patient outcomes. Such advanced capabilities support healthcare facilities in achieving operational, financial, and clinical goals.
Know more about this report: request for sample pages
Pharmacy Automation Devices Market Report Scope
The market is primarily segmented on the basis of product, end-use, and geographic region.
By Product

By End-Use

By Region

Medication Dispensing Systems
Packaging and Labeling Systems
Storage and Retrieval Systems
Automated Medication Compounding Systems
Tabletop Counters

Hospital Pharmacy
Retail Pharmacy

North America (U.S., Canada)
Europe (France, Germany, UK, Italy, Spain, Netherlands, Austria)
Asia Pacific (Japan, China, India, Malaysia, Indonesia, South Korea)
Latin America (Brazil, Mexico, Argentina)
Middle East & Africa (Saudi Arabia, UAE, Israel, South Africa)
Know more about this report: request for sample pages
Insight by Product
In 2020, the medication dispensing systems market segment accounted for the largest share of the global pharmacy automation devices industry. Such a high share is due to the rise in morbidities due to medication dosing errors. Moreover, strict government policies are creating pressure among pharmacists and healthcare institutes to these dispensing systems to improve patient care services.
Furthermore, according to the survey done by the "Pharmacy Purchasing and Products" on automation of pharmacy services, the pharmacies in healthcare facilities are planning to adopt automated dispensing machines, which is expected to drive the market growth for pharmacy automation devices.
Automated compounding systems are expected to witness the fastest market growth over the pharmacy automation devices study period. The rising application of sterile compounding is the most important parameter driving the segment's fortunes. Moreover, automated robotic compounding conditions empower pharmacists with the concerned tools for improving dosage accuracy, while enabling compliance and reduction in costs.
Geographic Overview
In 2020, the North America pharmacy automation devices market accounted for over 50% of the global market. Factors contributing to the growth for pharmacy automation devices include technological advancements in workflow systems and reduction in the upfront costs of the automation systems, so it is affordable for small and mid-sized hospitals.
For instance, U.S.-based Duke University Hospital has already implemented Omnicell's XT series to automate dispensing systems in all their 5 hospitals. Automation has resulted in increased capacity and can accommodate around 30 percent more medications in the given time. Moreover, rising concerns over inadequate inventory management in high volume dispensing machines lead to a high-cost burden among system providers, which ultimately increases the cost of the machine.
Asia Pacific market for pharmacy automation devices is projected to achieve a lucrative growth rate over the assessment period. The growing need of reducing medication dosing errors, excessive pressure among the government to serve a huge set of needy populations, and rising affordability among healthcare facilities in the region are projected to stimulate the region's growth for pharmacy automation devices.
For instance, as per the study done by the Australian Commission on Safety and Quality in Healthcare, around 3% of admissions in the country were due to errors in medications. Moreover, improvements in medical infrastructure in developing countries are expected to prosper the region's market growth for pharmacy automation devices.
Competitive Insight
The prominent players operating in the pharmacy automation devices market are Amerisource Bergen Corporation, Omnicell, Inc., McKesson Corporation, Deenova S.R.L, Accu Chart Plus Healthcare Systems, Inc., Pearson Medical Technologies, LLC, Talyst, LLC, ScriptPro, LLC, Medacist Solutions Group, LLC, Kirby Lester, Cerner Corporation, ARxIUM, CareFusion (Becton Dickinson), Parata Systems, LLC, Swisslog Healthcare, TouchPoint Medical, and Yuyama Co. Ltd.