The plant extracts market was valued at USD 31.14 billion in 2021 and is expected to grow at a CAGR of 11.3% during the forecast period. Increasing demand for plant extract from end-use industries, primarily food & beverages, is a crucial factor accelerating the market's growth. Additionally, the market for plant extracts is anticipated to experience a rapid expansion due to efforts taken by food and beverage manufacturers to replace chemicals with natural alternatives.

Know more about this report: Request for sample pages
Plant extracts are substances or active substances with desired properties extracted from plant tissue and processed for a specific purpose. It is used in various fields, such as health foods, therapeutic drugs, cosmetics, processing aids, additives chemical substitutes.
The market's growth is driven by lifestyle changes, consumer awareness, increasing use of products based on natural ingredients, and biotechnology breakthroughs. Additionally, macroeconomic variables such as rising consumer disposable income, research and development, imports and exports, growth in the agriculture industry, population aging, and population growth have positively impacted the demand for plant extracts in recent years.
It is also becoming increasingly popular in cosmetics, perfumes, pharmaceuticals, and dietary supplements.
The outbreak of Covid-19 positively impacted the market as seeking natural and safer alternatives increased a healthy immune system. The pandemic has also expanded research into the application of herbal extracts in medicines and immune-boosting foods and beverages. For instance, The Department of Thai Traditional Medicine and Government Pharmaceutical Organization signed a memorandum of understanding (MoU) in February 2020 to conduct research on medicinal plant Andrographis paniculate extract to create a medication to inhibit COVID-19.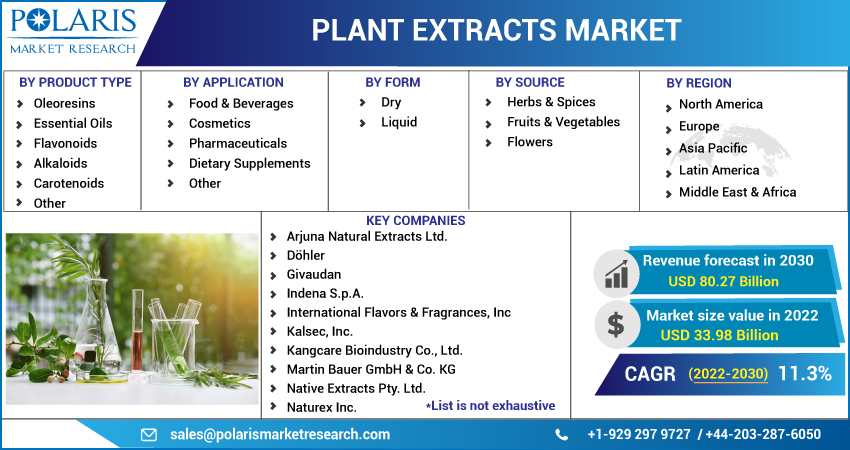 Know more about this report: Request for sample pages
Industry Dynamics
Growth Drivers
Plant extracts have driven the food industry due to their content of bioactive compounds such as polyphenols and carotenoids, which have antimicrobial and antioxidant activity, especially against low-density lipoprotein (LDL) and deoxyribonucleic acid (DNA).
Various technological advancements and upgrades in the herbal extraction process increased the production capabilities of the industries, helping them extract several components from the plant effectively with low cost and effort, which in turn is resulting in new entrants in the market and expansion of the product line.
For instance, there was an enhancement in the production method of cannabis extraction in 2019. The introduction of high-tech manufacturing equipment and chemical apparatus enabled the cannabis industry to break away from the extraction technique of the past and experiment with new approaches, which helped new types of cannabis extract, such as oral tinctures, vape oil, and wax concentrates, to enter the market.
Herbal and natural products are becoming more and more popular due to their recognized health benefits. Even consumers are willing to pay higher prices for products that do not contain synthetic ingredients.
Additionally, the growing preference for food and beverage products free of artificial flavors, colors, and other food additives has increased. Consumers' focus on holistic and conscious consumption, preference for products containing ethically sourced ingredients, and increasing demand for natural ingredients in the food and beverage industry are expected to influence the growth of the market during the forecast period.
Report Segmentation
The market is primarily segmented based on product type, application, form, source, and region.
By Product Type

By Application

By Form

By Source

By Region

Oleoresins
Essential Oils
Flavonoids
Alkaloids
Carotenoids
Other

Food & Beverages
Cosmetics
Pharmaceuticals
Dietary Supplements
Other

Herbs & Spices
Fruits & Vegetables
Flowers

North America (U.S., Canada)
Europe (France, Germany, UK, Italy, Netherlands, Spain, Russia)
Asia Pacific (Japan, China, India, Malaysia, Indonesia, South Korea)
Latin America (Brazil, Mexico, Argentina)
Middle East & Africa (Saudi Arabia, UAE, Israel, South Africa)
Know more about this report: Request for sample pages
Essential oil is expected for significant growth over the forecast period in 2021
Essential oils are the concentrated, volatile, aromatic compounds of the plant. The primary aromatic features of the plant (its leaves, flowers, and roots) are steam distilled to extract oil.
Essential oils have various medicinal applications and treat different diseases, including infectious diseases, depression, and anxiety. It acts as an antifungal, antimicrobial, anticancer, and wound healer. Additionally, they are also used in the cosmetics and perfume industries. These growing essential oil applications have resulted in significant growth in the segment.
Food & beverages is expected to hold the largest market share
The food & beverage segment is expected to hold the largest market share as it is often related to specific health properties, such as energizing, boosting the immune system, improving skin health, increasing focus, and providing relaxation.
Extracts acquired from different parts of the plants perform several functions in the food industry, such as antioxidants, antimicrobials, flavoring, coloring agents, enzymes, nutrient enhancers, and packaging additives resulting in the segment's growth.
In the food and beverages industry, plant extracts are used as colorants and flavorants to enhance the overall nutritional content. Growing demand for functional foods and beverages such as protein bars, dietary supplements, and flavored beverages is also expected to fuel the growth of the market.
Dry form is expected to hold significant revenue in 2021
Based on form, the market is segmented into dry and liquid forms. The dry form plant extracts are expected to hold significant revenue in 2021, owing its applications in various industries such as cosmetics, food & beverages, pharmaceuticals, and others. Moreover, it is easy to utilize and incorporate into different products, further contributing to the segment's growth.
Moreover, the liquid segment is expected to grow fastest over the forecast as the liquid extract is the majorly available plant extract, requiring less processing than other forms. Other advantages of liquid extract include fast absorption, flexible blending features, and longer shelf life, which is expected to boost its demand in the coming years.
Herbs & spices are expected to account largest market revenue
The herbs & spices segment is expected to account for the most significant market share and grow fastest during the forecast period. Plant extracts from herbs and spices are becoming more popular due to the growing health consciousness of consumers worldwide. Trending tastes and flavored beverages with health and sustainability drive the segment's market growth.
Beverage manufacturers make extensive use of spice extracts such as cloves and cinnamon due to their therapeutic properties such as antioxidant, anti-inflammatory, antidiabetic, antihypertensive, and antibacterial, increasing the demand for spice extracts in the healthier beverage industry is booming, boosting the growth of the herbs and spices segment during the forecast period.
Asia Pacific is projected to grow at the highest during the forecast period
The Asia Pacific is expected to witness considerable growth in the market due to the easy availability of raw products and a suitable environment for the growth of plants used for extraction. Rising demand for plant-derived products is supposed to drive the region's growth.
Additionally, rising awareness about better dietary choices and growing demand for herbal products, especially across countries including Japan, South Korea, and others, are anticipated for the market's growth in this region.
Competitive Insight
Some of the major players operating in the global market include Arjuna Natural Extracts Ltd., Döhler, Givaudan, Indena S.p.A., International Flavors & Fragrances, Inc, Kalsec, Inc., Kangcare Bioindustry Co., Ltd., Martin Bauer GmbH & Co. KG, Native Extracts Pty. Ltd., Naturex Inc., Network Nutrition, Organic Herb Inc., PT. Haldin Pacific Semesta, PT. Indesso Aroma, Sensient Technologies, Shaanxi Jiahe Phytochem Co.,Ltd, Symrise AG, Synthite Industries Private Ltd., Tokiwa Phytochemical Co., Ltd., V. Mane Fils SA, Vidya Herbs Private Limited.
Recent developments
In July 2022, Symrise established Maison Lautier 1795 (fragrance), a natural brand, and its first three product lines emphasize artisan, sustainably grown Mediterranean flowers and plants.
Plant Extracts Market Report Scope
| | |
| --- | --- |
| Report Attributes | Details |
| Market size value in 2022 | USD 33.98 billion |
| Revenue forecast in 2030 | USD 80.27 billion |
| CAGR | 11.3% from 2022 - 2030 |
| Base year | 2021 |
| Historical data | 2018 - 2020 |
| Forecast period | 2022 - 2030 |
| Quantitative units | Revenue in USD billion and CAGR from 2022 to 2030 |
| Segments Covered | By Product Type, By Application, By Form, By Source, By Region |
| Regional scope | North America, Europe, Asia Pacific, Latin America; Middle East & Africa |
| Key Companies | Arjuna Natural Extracts Ltd., Döhler, Givaudan, Indena S.p.A., International Flavors & Fragrances, Inc, Kalsec, Inc., Kangcare Bioindustry Co., Ltd., Martin Bauer GmbH & Co. KG, Native Extracts Pty. Ltd., Naturex Inc., Network Nutrition, Organic Herb Inc., PT. Haldin Pacific Semesta, PT. Indesso Aroma, Sensient Technologies, Shaanxi Jiahe Phytochem Co.,Ltd, Symrise AG, Synthite Industries Private Ltd., Tokiwa Phytochemical Co., Ltd., V. Mane Fils SA, Vidya Herbs Private Limited. |