The global Platinum (Pt) Based Cancer Drugs market was valued at USD 1,310.3 Million in 2018 and is expected to exhibit a CAGR of 4.1% over the forecast period. Drugs based on platinum contain coordinated platinum complexes. These are commonly used as chemotherapeutic agents in the therapy of cancer. For certain treatments, this functions as a cell-damaging agent. Approximately 10% to 20% of chemotherapy-treated patients receive medicines based on platinum. These medicines are either used alone or in conjunction with other medicines. An increase in cancer incidence is a significant driver of the worldwide drug industry based on it.
The number of new cases per year is anticipated to increase to 23.6 million by 2030, according to the National Cancer Institute. Nevertheless, the main limitations of the worldwide Platinum Based Cancer Drugs market are the side effects connected with drugs and the growth of drug resistance. Recent developments in this market include the creation of analog platinum drugs such as carrier molecule platinum complexes to boost targeted drug concentration in cancer tumor. The most efficient agents for this therapy are these Pt based drugs. The three Food and Drug Authorities (FDA) approved family of drugs are Carboplatin, Cisplatin and Oxaliplatin.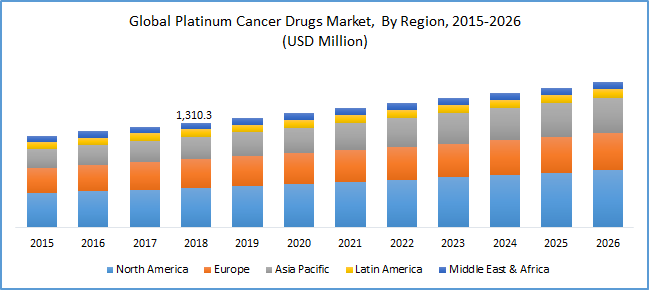 Know more about this report: Request for Sample Pages
Cisplatin has had a significant effect on the chemotherapeutic therapy of testicular and ovarian diseases since the discovery of its biological characteristics more than 40 years ago and is still frequently used today. The original driver for further growth of this market has been the discovery of the serious security problems posed with cisplatin, particularly nephrotoxicity. This led in the growth of carboplatin, which is similarly efficient for cisplatin, generally speaking, but with a more acceptable side-effect profile.
The second driver for the market growth is to circumvent resistance processes and thus broaden the clinical usefulness of this class of agents. These attempts led in oxaliplatin (active in patients with colorectal cancer), satraplatin (the first oral platinum medication showing promise in prostate cancer patients) and picoplatin. All these factors are expected to drive the growth of market over the forecast period.
For the past 40 years, platinum compounds (e.g. cisplatin, carboplatin, oxaliplatin) have been essential to oncology exercise. Covalently binding cisplatin and carboplatin to DNA causing adducts of DNA intrastrand and interstrand. This results in DNA replication limitation, transcription, arrest of cell cycle and cell death programming. While the main mechanism of action of carboplatin and cisplatin is mediated by induction of DNA damage, an impact on the inherent mitochondrial pathway and a component of endoplasmic reticulum pressure that can both lead to apoptosis also appears. Oxaliplatin has a comparable mechanism of action to cisplatin, but the crosslinks created some distinctions and, perhaps as a consequence, it has some activity in cisplatin-resistant cells.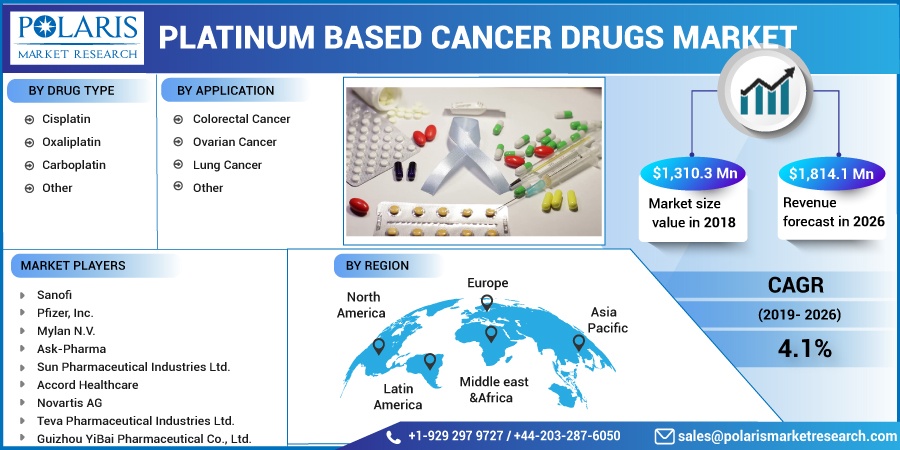 Know more about this report: Request for Sample Pages
Platinum Based Cancer Drugs Market Report Scope
By Drug Type

By Application

By Region Type

· Cisplatin

· Oxaliplatin

· Carboplatin

· Other

· Colorectal Cancer

· Ovarian Cancer

· Lung Cancer

· Other

· North America (U.S., Canada)

· Europe (UK, Germany, France, Italy, Russia)

· Asia Pacific (China, India, Japan, South Korea)

· Latin America (Brazil, Mexico, Colombia)

· MEA (Saudi Arabia, South Africa, Israel, UAE)
Know more about this report: Request for Sample Pages
The market is primarily segmented on the basis of Drug Type, application, and geographic region.
Drug Type Outlook
The global market for Platinum Based Cancer Drugs can be segmented depending on the type and application of the product. The market for platinum-based drugs can be categorized as cisplatin, carboplatin, oxaliplatin, and others in terms of Drug Type. Cisplatin is the platinum-based drug most commonly used to treat certain malignancies. It is especially efficient in testicular cancer and is intravenously administered. Carboplatin, a cisplatin derivative, is used to treat multiple cancers such as ovaries, lungs, brains, and others. Oxaliplatin is used in colorectal and is generally given in conjunction with other chemotherapy agents. It is mainly used for cisplatin-free cancers. The segment of Cisplatin retained the biggest market share in 2018 and is anticipated to maintain its dominant position over the forecast period. The worldwide Platinum Based Cancer Drugs market can be split into testicular, ovarian, colorectal, pulmonary, and other cancers based on implementation. Due to the elevated incidence of lung cancer among the worldwide population, this section dominated the market in 2018.
Platinum-based agents are significant cancer chemotherapy medicines or drug candidates. Traditional platinum medications including worldwide authorized cisplatin, carboplatin, and oxaliplatin are complexes of neutral platinum (II) with two amine ligands and two extra ligands that can be watered for further DNA binding. The adducts of platinum-DNA may impede cellular process and lead to apoptosis of the cell. Platinum drug tumor resistance has become a very difficult issue to be overcome. It is of excellent significance to individualize this treatment using distinct approaches to circumvent the resistance of platinum drugs in cancer patients. The main market strategies created to address existing chemotherapy issues with traditional platinum drug products are structural modification of traditional Pt drugs, combination therapy with plastic with other drugs and enhanced distribution of platinum into tumor locations.
Regional Outlook
Due to the elevated incidence of cancer in the region, advances in Pt based drugs and latest FDA approvals, North America dominated the worldwide market in 2018. An estimated 1,735,350 new cancer cases will be diagnosed in the United Kingdom, according to the National Cancer Institute. In 2018, 609,640 individuals will die of the disease. It is expected that the Asia Pacific market will grow at the greatest CAGR due to increased disease prevalence, increased awareness, increased per capita earnings, and improved health care infrastructure.
Competitive Landscape
Major players in the platinum cancer drug market include Sanofi, Pfizer, Inc., Mylan N.V., Ask-Pharma, Sun Pharmaceutical Industries Ltd., Accord Healthcare, Novartis AG, Teva Pharmaceutical Industries Ltd., Guizhou YiBai Pharmaceutical Co., Ltd., SK Chemicals, Qilu Pharmaceutical Co., Ltd., Dr. Reddy's Laboratories Ltd., Debiopharm Group, and Jiangsu Hengrui Pharmaceutical Co., Ltd.