The global polyolefin pipes market was valued at USD 18.78 billion in 2021 and is expected to grow at a CAGR of 5.1 during the forecast period. Factors such as being extremely adaptable due to higher polyolefins, increased demand for high-density polyethylene, and pipe replacement projects in the US are rising as government agencies focus on improving existing piping systems drive market growth during the forecast period.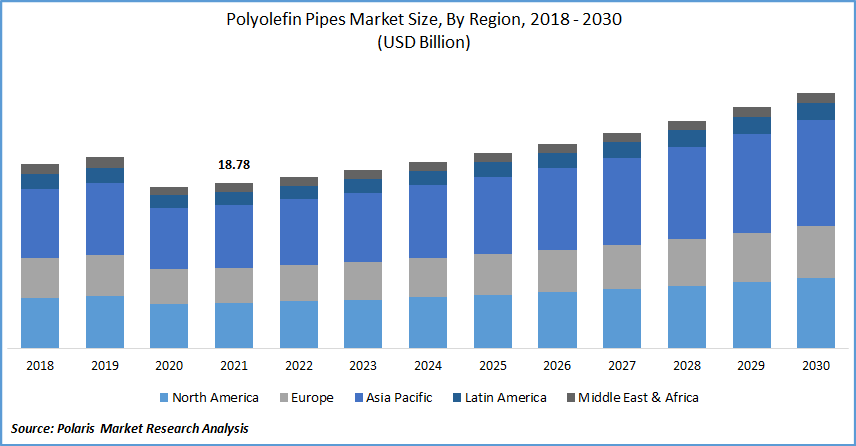 Know more about this report: Request for sample pages
Polyolefins seem to be water-resistant and durable, so they last longer when exposed to the weather than other polymers. They are excellent electrical insulators, and they can become electrostatically charged. It becomes almost transparent to smudge-proof and determines the thickness of the polyolefins. Low-density polyolefins are suitable for wrapping applications due to their clarity. Polyolefins, such as HDPE, can be recycled and reused, which is less expensive than creating a new product from new plastic. Its high heat resistance can be used in both high temperatures and low.
Further, High-density polyethylene is in high demand and used in polyethylene pipes and fittings worldwide. Mechanical and chemical characteristics of high-density polyethylene differ. It provides flexibility, excellent thermal resistance, and compression impact resistance at a reasonable price. In addition, HDPE pipes have a great aesthetic appeal and finish, making them a better option than metal pipes.
Also, According to American Water World Association (AWWA), pipe replacement operations in the United States have shifted gears. Even though obsolete water distribution platforms and devices are being removed with improved and upgraded piping systems, PE pipes and fittings are increasing. While developed and developing regions are prepared to offer a lot of opportunities.
Although the adaptation of PE pipes for water and gas determines whether the project is expected to remain high, it is anticipated to grow rapidly. During the forecast period, these factors are expected to drive the growth of the polyethylene pipes market. However, increasing concerns about plastic disposal are restraining market growth during the forecast period.
Industry Dynamics
Growth Drivers
The numerous applications of polyolefins in a wide range of industries such as packaging, consumer goods, and others drive the growth of the polyolefins pipes market during the forecast period. The most common commodity thermoplastic is polyethylene. HDPE is the elementary grade in volume, followed by LLDPE and LDPE. PE is mainly used to manufacture various consumer goods, such as containers, buckets, pipelines, toys, covers, lids, plastic bags, compression wraps, plastic wraps, plates, films, bottles, and injection molding coated paper cartons. Isotactic polypropylene is the second biggest polyolefin (i-PP).
In many ways, i-PP needs to compete with HDPE. It has a higher boiling point, better scratch resistance, a high-temperature diversion temperature, and, in many cases, higher tensile strength than HDPE. The stress crack obstruction of i-PP is advantageous. These are increasingly being used in fashion, sports, and toys due to their ability to withstand physical stresses, provide flexibility in packaging, and allow for easy product molding.
Polyolefins in agriculture are expanding due to increased market demand for drippers, microtubes, injectors, and emitting pipes in irrigated agriculture fields. Whereas a rise in the sales of hybrid and electric vehicles has increased demand for vehicle and automotive parts, contributing to market growth. According to the International Energy Agency, the global autonomous car stock reached 10 million in 2020, a 43% increase over 2019 and a 1% stock share.
China has the highest fleet, with 4.5 million electric vehicles, but Europe's biggest annual increase reached 3.2 million in 2020. In 2020, approximately 3 million new electric vehicles were registered. Europe led the way for the first time, with 1.4 million new registration numbers. China came in second with 1.2 million registrations, while the United States enrolled 295,000 new electric vehicles. As a result, a rise in the use of polyolefins in the automobiles, electrical and electronics, beverages, and consumer goods enterprises is driving the polyolefins market share over the forecast period.
Other main characteristics are hot and cold (drinking) water pressure pipelines and consumer and medical containers. Low molecular weight grade boundaries are being used to enhance tack and peel power in adhesives, sealants, paper composite materials, and tapes.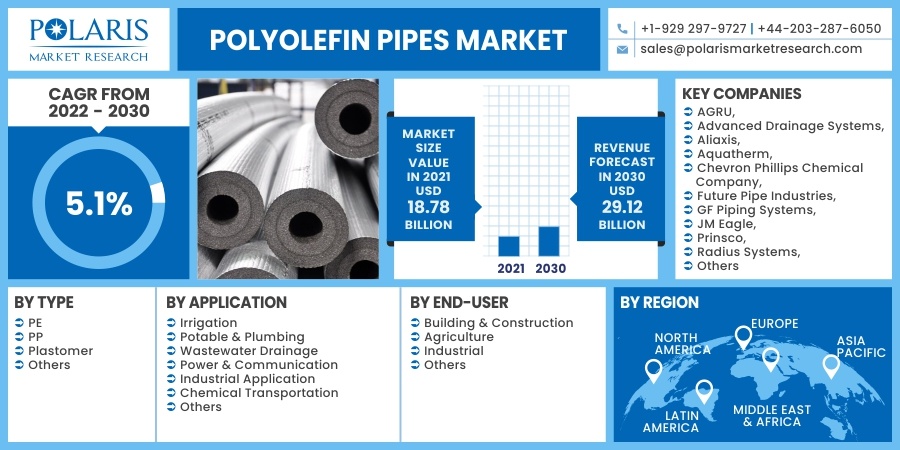 Know more about this report: Request for sample pages
Report Segmentation
The market is primarily segmented based on type, application, end-use, and region.
By Type

By Application

By End-Use

By Region

Irrigation
Potable & Plumbing
Wastewater Drainage
Power & Communication
Industrial Application
Chemical Transportation
Others

Building & Construction
Agriculture
Industrial
Others

North America (U.S., Canada)
Europe (France, Germany, UK, Italy, Spain, Netherlands, Russia)
Asia Pacific (Japan, China, India, Malaysia, Indonesia, South Korea)
Latin America (Brazil, Mexico, Argentina)
Middle East & Africa (Saudi Arabia, UAE, Israel, South Africa)
Know more about this report: Request for sample pages
Insight by Type
Based on the type segment, the PE segment is expected to be the most significant revenue contributor in the global market in 2020 and is expected to retain its dominance in the foreseen period. PE is in great supply from polyolefin pipe producers in various end-use industries. PE is a type of thermoplastic pipe that can be melted and restructured.
It is tough, flexible, and long-lasting. It has excellent chemical and environmental stress resistance to cracking, and these performance improvements of PE pipe drive the segment's growth. The growing demand for stronger polyolefin pipes market from end-use industries is driving the growth of the HDPE segment among the PE.
HDPE pipes are used in the industries mentioned above due to their non-corrosive, immense stress impact-resistant, and relatively lower cost when compared to traditional pipes. As a result, global demand for the polyolefin pipes market is expected to rise in the coming forecast year.
Geographic Overview
North America had the largest revenue share. Globally, the nation has been at the forefront of consumption and product innovation, resulting in a higher quality of pipes and innovations in the field in various end-use industries. The popularity of polyolefin pipes has increased in Canada and Mexico, and this trend is expected to continue during the forecast period.
Moreover, Asia Pacific is expected to witness a high CAGR in the global market. This expansion can be attributed to increased infrastructure construction activities in many developing countries throughout the region. Furthermore, countries with massive agricultural activities must increase irrigation pipes and systems demand.
As a result, the polyolefin pipes market is expanding. Aside from that, market participants are concentrating on growing their operations by launching business manufacturing facilities in these economic systems due to the easy availability of low-cost raw materials.
Competitive Insight
Some of the major players operating in the global market include AGRU, Advanced Drainage Systems, Aliaxis, Aquatherm, Chevron Phillips Chemical Company, Future Pipe Industries, GF Piping Systems, JM Eagle, Prinsco, Radius Systems, Thai-Asia P.E. Pipe Co., Ltd., United Poly Systems, and WL Plastics.
Polyolefin Pipes Market Report Scope
| | |
| --- | --- |
| Report Attributes | Details |
| Market size value in 2021 | USD 18.78 Billion |
| Revenue forecast in 2030 | USD 29.12 Billion |
| CAGR | 5.1% from 2022 - 2030 |
| Base year | 2021 |
| Historical data | 2018 - 2020 |
| Forecast period | 2022 - 2030 |
| Quantitative units | Revenue in USD Billion and CAGR from 2022 to 2030 |
| Segments covered | By Type, By Application, By End-Use, By Region |
| Regional scope | North America, Europe, Asia Pacific, Latin America, Middle East & Africa |
| Key companies | AGRU, Advanced Drainage Systems, Aliaxis, Aquatherm, Chevron Phillips Chemical Company, Future Pipe Industries, GF Piping Systems, JM Eagle, Prinsco, Radius Systems, Thai-Asia P.E. Pipe Co., Ltd., United Poly Systems, and WL Plastics |