Global powder coatings market has shown a significant increase from previous few years. This coating doesn't cause any waste throughout intake and production, thus making it an eco-friendly coating. There's very low content of volatile organic compounds (VOCs) found in powder coatings making it a favored preference across numerous industries. Powder coating is a ready to use product that doesn't require any mixing manner or thinner, which guidelines out any foremost facet-results to humans in touch with it. Rampant growth of numerous end-use industries including automotive, heavy industries and architecture among others has in turn fueled growth of the powder coatings marketplace. The growing technological improvements and stringent environmental regulations, in flip increasing call for VOC & solvent free merchandise are key increase drivers in the global powder coatings marketplace.
The global powder coatings market was valued at USD 9.18 billion in 2016 and is estimated to grow at a CAGR of 6.2% to reach USD 16.85 billion by the end of 2026.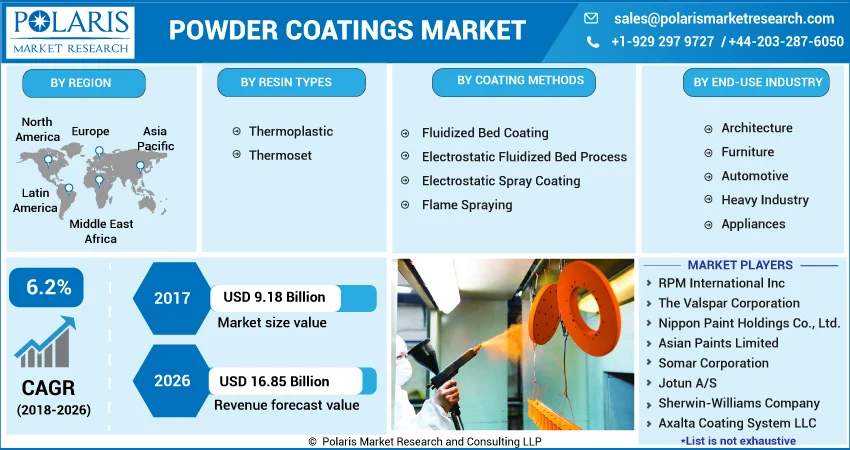 Segment Analysis
The global powder coatings market is segmented on the basis of resin types, coating methods and end-use industries. In case of coating methods, electrostatic spray coating held the largest market share of over 50% during 2016 and is expected to top the market over the forecast period. The electrostatic spray coatings have the advantage of overcoming the over spraying and uneven spraying which happens in case of conventional spray coating methods. In case of resin types, thermoset resins held the maximum market share of more than 90% in 2016 and is estimated to remain at the similar position over the forecast period.
Automotive is anticipated to be the fastest growing end-use industry segment for global powder coatings market. According to Polaris Market Research study, the global automotive market is expected to touch over 92 million units by the end of 2018, which in turn will drive the growth of the powder coatings market.
Regional Analysis
Asia Pacific accounted for the largest share in 2016 in terms of consumption in the powder coatings market. India and China will be the primary support for the region's increasing demand. These are also the fastest growing coatings market worldwide. Moreover, an improved outlook for product demand in Japan is yet another potential factor for the growth.
Competitive Analysis
Some of leading industry participants in the powder coatings market include RPM International Inc, The Valspar Corporation, Nippon Paint Holdings Co., Ltd., Asian Paints Limited, Somar Corporation, Jotun A/S, Sherwin-Williams Company, Axalta Coating System LLC, Akzonobel N.V. and PPG Industries among others.