The global rice bran derivatives market was valued at USD 7.33 billion in 2022 and is expected to grow at a CAGR of 6.7% during the forecast period. As healthier substitutes for conventional oils and fats, rice bran derivatives are being used more frequently in food and beverage applications, which is driving the market's expansion. The demand for the industry is further fueled by the alleged health advantages that rice bran oil offers. Rice-bran derivative use is being encouraged by growing worries about the risk of heart disease, diabetes, and brain stroke brought on by trans-fat consumption. One of the most widely used rice bran derivatives is rice bran oil, and because of all the health advantages it offers, demand for it has been continuously rising. As a healthier option to other vegetable oils, rice bran oil is full of anti-oxidants, vitamin E, and other necessary nutrients.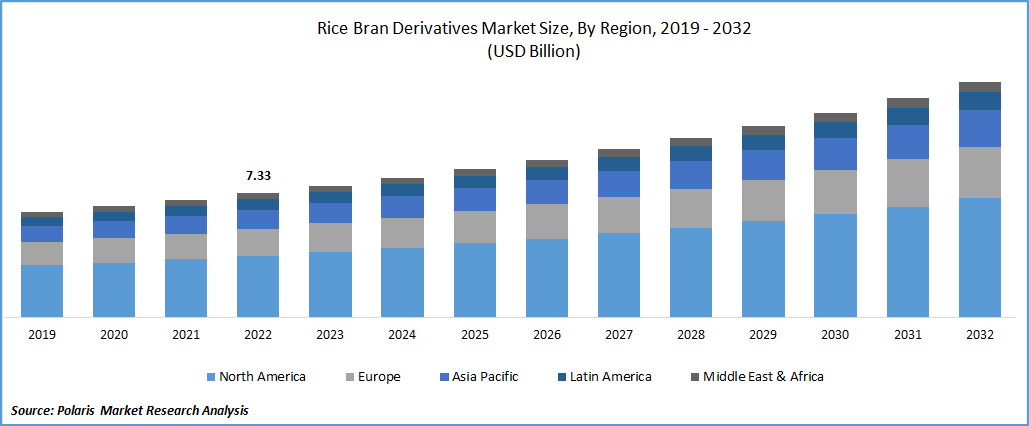 Know more about this report: Request for sample pages
The quality and productivity of the manufacturing of rice bran derivatives have also increased because to advancements in processing and extraction technology. For instance, using supercritical CO2 extraction has made it possible to produce high-quality rice bran oil with little solvent leftover. For instance, Minnesota-based RiceBran Technologies stated in May 2022 that the firm would be expanding its facilities there. To meet the rising demand for grain-based components like rice and other ancient grains, the company plans to quadruple the capacity of the pearling mill.
The variety of uses for rice bran products has also increased as a result of the creation of novel derivatives of the grain and enhanced processing techniques. For instance, rice bran wax is now a component of cosmetics, while rice bran protein is a component of animal feed and sports nutrition products.
Due to a growth in consumers choosing healthier options, the COVID-19 pandemic had a favourable effect on the market. Lockdowns and travel restrictions in many nations caused interruptions in the raw material supply, which had an impact on the manufacturing of rice bran derivatives. Also, the market for rice bran derivatives was impacted by the closure of cafés and restaurants, which decreased the demand for rice bran oil used in the food industry.
However, the pandemic has an increased demand for natural and healthy food ingredients, including rice bran derivatives. Consumers became more health-conscious and sought out natural ingredients with nutritional benefits, which could benefit the market in the long run.
The epidemic also emphasised the value of a nutritious diet, raising the demand for healthy oils. For instance, according to a poll conducted in 2021 by the TSUNO Group, a Japanese company that sells rice bran oil, the use of rice bran oil as a cooking oil increased during the pandemic as a result of consumer concerns about health in the area.
Industry Dynamics
Growth Drivers
With growing consumer awareness of the health benefits of natural and plant-based ingredients, the demand for rice bran derivatives as a natural and healthy alternative to synthetic ingredients is expected to increase. Rice bran oil is a healthy cooking oil that is low in saturated fat and high in antioxidants, making it an attractive option for health-conscious consumers. The demand for rice bran oil is expected to grow as consumers become more health-conscious and seek healthier alternatives to traditional cooking oils. The rice bran derivatives are widely used in the food and beverage industry for various applications, including cooking oils, snacks, baked goods, and beverages. As the demand for natural and healthy food and beverage products continues to rise, the demand for rice bran derivatives is expected to grow.
Rice bran wax is an eco-friendly and biodegradable substitute for synthetic waxes and is extensively utilized in personal care and cosmetic items. The escalating requirement for sustainable and natural personal care products is anticipated to propel the demand for rice bran wax. By employing rice bran derivatives, waste is minimized, and an environment-friendly substitute for synthetic components is provided, which is increasingly valued by consumers who prioritize environmental concerns. These factors likely bolster the expansion of the Rice Bran Derivatives market in the forthcoming years.
Report Segmentation
The market is primarily segmented based on product, application, end-use, and region.
By Product

By Application

By end-use

By Region

Rice Bran Oil

Rice Bran Meal

Rice bran wax

Rice bran protein

Rice bran fiber

Others

Food & Beverages

Animal Feed

Cosmetics & Personal Care

Biofuel

Pharmaceuticals & Nutraceuticals

Others

North America (U.S., Canada)

Europe (France, Germany, UK, Italy, Netherlands, Spain, Russia)

Asia Pacific (Japan, China, India, Malaysia, Indonesia. South Korea)

Latin America (Brazil, Mexico, Argentina)

Middle East & Africa (Saudi Arabia, UAE, Israel, South Africa)
Know more about this report: Request for sample pages
The rice bran oil segment is expected to witness the highest growth share in 2022
In 2022, rice bran oil segment is expected to witness the highest growth share. The increasing demand for fat-free foods and growing health awareness among consumers are propelling the demand for rice bran oil. This oil is extracted from the outer layer of the rice kernel and is renowned for its mild flavor, high smoke point, and health benefits. It is enriched with antioxidants, vitamins, and minerals that promote cardiovascular health, reduce cholesterol levels, and enhance skin and hair health.
The food & beverage segment is expected to witness the largest market share in 2022
In 2022, the food and beverage industry held the largest market share for rice bran derivatives. These derivatives' functional properties and nutritional benefits have led to their increased use in this sector. For instance, rice bran is a high-quality protein source from the protein-rich pinch of rice bran. It contains all necessary amino acids and is commonly used in sports protein bars, nourishment products, and other foods. RiceBran Ingredients, a U.S.-based company, offers a range of protein ingredients called Proryza, derived from rice bran, which can be used in beverage applications. Besides being an attractive ingredient in functionality and nutrition, rice bran derivatives are sustainable and environmentally friendly. They are derived from a byproduct of rice milling that would otherwise be discarded or used for low-value applications.
The demand in North America is expected to witness significant growth in 2022
In North America is expected to witness significant growth in 2022, the demand for rice bran derivatives has steadily increased due to the growing awareness of their nutritional benefits and functional properties in the food and beverage industry. Rice bran derivatives such as rice bran oil, protein, and honey are widely used in various applications, including bakery, confectionery, dairy, and sports nutrition products.
The United States is a major consumer of rice bran derivatives in North America, with increasing demand for rice bran oil as a healthier alternative to traditional cooking oils. Rice bran oil is rich in antioxidants and has a high smoke point, making it suitable for high-temperature cooking applications. Rice bran protein is also gaining popularity in North America as a plant-based protein source. It is a complete protein that contains all essential amino acids and is used in sports nutrition products, protein bars, and other functional foods.
Moreover, rice bran derivatives' sustainable and eco-friendly nature drives their demand in North America. As consumers become more environmentally conscious, using byproducts from the rice milling industry to create value-added products like rice bran derivatives is becoming increasingly attractive.
The Asia Pacific region experiences a high demand for rice bran-based products, attributed to the easy availability of raw materials. Japan, India, and China are the significant producers of rice bran in the region. The increasing number of health-conscious consumers and the health benefits offered by rice bran are the primary drivers of the market's demand. Government support initiatives in the region are also boosting market growth. For instance, in June 2021, India's government launched rice bran oil in the country, marketed by the National Agricultural Cooperative Marketing Federation of India Ltd (NAFED).
Competitive Insight
The major key players in the rice bran derivatives market include Wilmar International Ltd., Riceland Foods, Inc., BCL Industries & Infrastructure Ltd, Archer Daniels Midland Company, Agrotech International Ltd, A.P. Refinery Pvt. Ltd., RiceBran Technologies, Kaisuri Co., Ltd, Agro Tech Foods Ltd., Maharashtra Solvent Extraction (P) Ltd, Golden Grain Group Limited.
Recent Developments
In December 2022, A Japanese corporation has recently announced the launch of a meat alternative made from defatted rice bran. This innovative product presents a new opportunity for farmers in Japan to generate revenue.

In December 2022, A manufacturer of functional and nutritional ingredients obtained from rice and other grains, RiceBran Technologies, has declared the initiation of a project to expand the capacity of its SRB facility in Mermentau, Louisiana.
Rice Bran Derivatives Market Report Scope
| | |
| --- | --- |
| Report Attributes | Details |
| Market size value in 2023 | USD 7.77 billion |
| Revenue forecast in 2032 | USD 13.91 billion |
| CAGR | 6.7% from 2023 - 2032 |
| Base year | 2022 |
| Historical data | 2019 - 2021 |
| Forecast period | 2023 - 2032 |
| Quantitative units | Revenue in USD billion and CAGR from 2023 to 2032 |
| Segments covered | By Product, By Application, By End-Use, By Region |
| Regional scope | North America, Europe, Asia Pacific, Latin America; Middle East & Africa |
| Key companies | Wilmar International Ltd., Riceland Foods, Inc., BCL Industries & Infrastructure Ltd, Archer Daniels Midland Company, Agrotech International Ltd, A.P. Refinery Pvt. Ltd., RiceBran Technologies, Kaisuri Co., Ltd, Agro Tech Foods Ltd., Maharashtra Solvent Extraction (P) Ltd, Golden Grain Group Limited |