The global road reclaimer market was valued at USD 548.99 million in 2022 and is expected to grow at a CAGR of 3.6% during the forecast period. A road reclaimer is an important part of engineering machinery that stabilizes old roadways or creates a brand-new, reclaimed roadway by crushing the asphalt layer and combining it with the underlying base. The road reclaimer may additionally mix cement, foamed asphalt, or other substances as binding agents at the time of pulverization or during a separate mix run.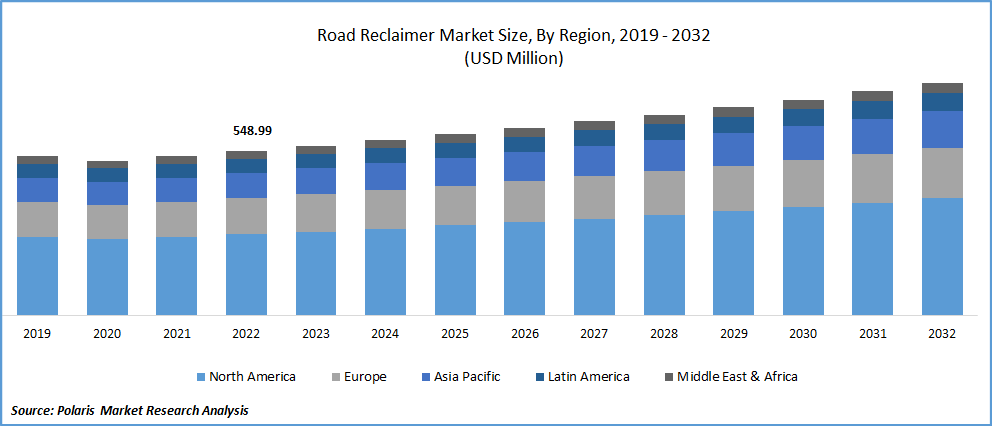 Know more about this report: Request for sample pages
One of the major factors influencing the growth of the market is the increase in demand for mechanized tools and equipment for the effective construction of roads, airports, stadiums, and huge buildings. It has an advantage over other materials management tools and machines in that it can move enormous amounts of material. This is one of the elements that favor the expansion of the market.
The rapidly rising popularity of smart city projects in the world is boosting the demand for road reclaimers to repair and maintain roads. The idea of "smart cities," which utilize the Internet of Things (IoT) and information and communication technologies, was motivated by the expanding need to manage key city resources including water, energy, traffic, and roads (ICT).
However, the increasing global expansion of road infrastructure poses a threat to the environment. To prevent significant unforeseen risks and costs, ongoing road projects around the globe have identified important locations that need to be restricted. The increasing awareness of the environmental risks associated with road-building projects in humid tropical areas will have an impact on road reclaimer sales in the upcoming years.
Due to the COVID-19 pandemic and the worldwide lockdown, the production of several items in the reclaimer business has been halted. This has slowed the market's growth in 2020 and is projected to pick up in 2021. Before the emergence of the coronavirus, the U.S., Germany, Italy, the United Kingdom, and India were among the nations with the highest demand for reclaimers. However, this need has since decreased.
To respond to crises and establish new ways of operating after COVID-19, reclaimer manufacturers are expected to concentrate on safeguarding their staff, operations, and supply networks. For instance, providing hand sanitizers, keeping social distancing, and ensuring that every employee in the company has had their vaccinations can help to promote the health and safety of the workforce.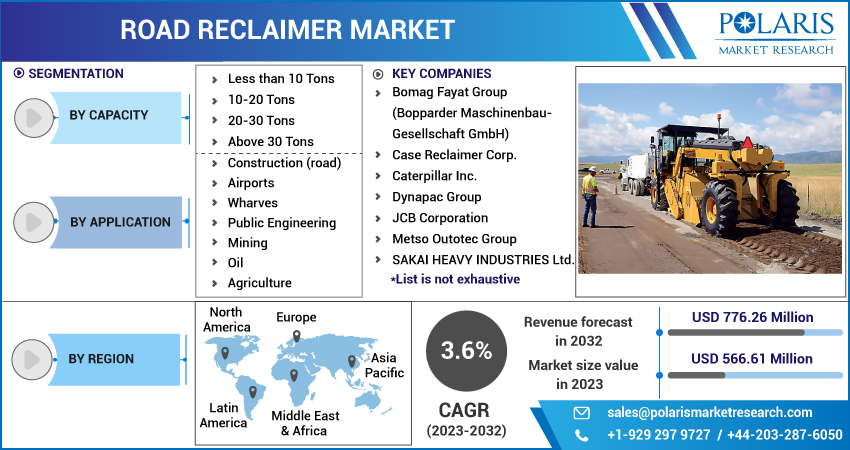 Know more about this report: Request for sample pages
Industry Dynamics
Growth Drivers
The market is expected to grow as a result of expanding application opportunities, particularly in the mining, oil, agricultural, and construction industries. A road reclaimer is one of the important pieces of engineering machinery used to stabilize aging roads or create a reclaimed, brand-new road surface by thinning the asphalt layer and thoroughly combining it with the underlying base. Road recycler equipment is made to be dependable and effective even in the worst site conditions. Rugged solutions have been created by key businesses in particular to simplify and speed up ground stabilization for roads, highways, runways, and other significant infrastructure projects.
These road recycler machines can be used as stone crushers, soil stabilizers, and asphalt grinders for building and maintaining roads. Binding agents, foamed asphalt, blending cement, or other components may be added during this procedure. For the installation of new pavement, road reclamation is often carried out when the soil base needs to be fortified or enhanced. Therefore, the rising adoption of road reclaimers for road construction and repairing of roads across various site conditions is driving the market growth over the forecast period.
Report Segmentation
The market is primarily segmented based on capacity, application, and region.
By Capacity

By Application

By Region

Less than 10 Tons

10-20 Tons

20-30 Tons

Above 30 Tons

Construction (road)

Airports

Wharves

Public Engineering

Mining

Oil

Agriculture

North America (U.S., Canada)

Europe (France, Germany, UK, Italy, Netherlands, Spain, Russia)

Asia Pacific (Japan, China, India, Malaysia, Indonesia. South Korea)

Latin America (Brazil, Mexico, Argentina)

Middle East & Africa (Saudi Arabia, UAE, Israel, South Africa)
Know more about this report: Request for sample pages
The construction segment is expected to witness the fastest growth
Rapid urbanization and an increase in road construction activities have led to a high demand for road reclamation in the construction sector. Increased application potential, particularly in the construction and agricultural industries, is predicted to foster the growth of the road reclaimer market. By 2030, the global construction market is expected to reach $8 trillion, owing to numerous unavoidable factors such as robust industrialization, rising population demand, and rising disposable income, which would provide possibilities for infrastructural upgrading.
With India and China accounting for more than half of global construction growth, the need for construction road reclaimers due to the damaged road is rising. Rapid urbanization and a rise in the number of new roads being built are significant drivers of the road reclaimer market. It is crucial to restore the surface material when roads get deteriorated and make travel hazardous since roads commonly get a poor rap. Demand for road reclamation is increasing as a result of growing government initiatives to repair damaged roads.
The 10-20 tons capacity segment industry accounted for the highest market share in 2022
Machines that employ a spinning drum to clear road debris range in size from 10 to 20 tonnes. This machine is utilized to clear up snow and ice storms. Its also employed in the cleanup of oil spills. Roads and other surfaces that have become contaminated by oil, gas, or other hazardous pollutants are cleaned up with less than 10-ton road reclaimers. Small-scale building and demolition tasks are handled by road reclaimers that weigh less than ten tonnes. They are frequently employed to clear debris off highways, airports, piers, and other locations. Such, the demand for less than 10 tons and 10-20 tons capacity machines segment is growing.
The demand in North America is expected to witness significant growth
North America currently leads the global market for road reclaimers because of its expanding building sector and infrastructure. Over the projection period, demand is anticipated to increase as end users become more knowledgeable about the advantages of using Road Reclaimers. The growth in infrastructure construction throughout the world is one important factor that is projected to drive the market during the forecast period.
Additionally, over the projection period, the increasing need for reclaimers from commercial areas, such as airports and sports stadiums, is anticipated to fuel product demand. The market expansion is projected to be driven by technological developments in road reclaimers that offer higher performance, efficiency, and durability.
Asia Pacific is anticipated to dominate the market followed by North America. The market expansion is predicted to be fueled by the growing acceptance of recycled asphalt pavement (RAP) as an environmentally beneficial substitute for conventional asphalt paving. A rise in public-private partnerships for the building of public infrastructure systems in countries like China and India as well as excessive government initiatives for infrastructure investment are driving the market for road reclaimers in this region.
Competitive Insight
Some of the major players operating in the global market include Bomag Fayat Group (Bopparder Maschinenbau-Gesellschaft GmbH), Case Reclaimer Corp., Caterpillar Inc., Dynapac Group, JCB Corporation, Metso Outotec Group, SAKAI HEAVY INDUSTRIES Ltd., Shantui Construction Machinery Co., Ltd., Volvo Group, WIRTGEN Group, Waste Products Reclaimer PVT LTD., and Xuzhou Construction Machinery Group Co., Ltd. (XCMG).
Recent Developments
In August 2022,

NLC India Ltd (NLCIL) projects have benefited from TAKRAF's capacity to provide technology and aftermarket knowledge. NLCIL is also one of the biggest miners and power generators in the nation. The handover of the 2 rail mounted bucket wheel reclaimers, is scheduled for 2023. Within the same project, TAKRAF India has earlier provided a stacker to NLCIL; this stacker has since been installed and is successfully operating.

In September 2017, With the new SX-8e, a soil stabilizer reclaimer with only an operational weight of 82,000 pounds, Roadtec introduced its largest soil stabilizer reclaimer to date. The device is intended for stabilizing soil, cold recycling, and road restoration. Up to 20 inches deep and 100 inches broad can be carved using it.
Road Reclaimer Market Report Scope
| | |
| --- | --- |
| Report Attributes | Details |
| Market size value in 2023 | USD 566.61 million |
| Revenue forecast in 2032 | USD 776.26 million |
| CAGR | 3.6% from 2023 - 2032 |
| Base year | 2022 |
| Historical data | 2019 – 2021 |
| Forecast period | 2023 - 2032 |
| Quantitative units | Revenue in USD million and CAGR from 2023 to 2032 |
| Segments Covered | By Capacity, By Application, By Region |
| Regional scope | North America, Europe, Asia Pacific, Latin America; Middle East & Africa |
| Key Companies | Bomag Fayat Group (Bopparder Maschinenbau-Gesellschaft GmbH), Case Reclaimer Corp., Caterpillar Inc., Dynapac Group, JCB Corporation, Metso Outotec Group, SAKAI HEAVY INDUSTRIES Ltd., Shantui Construction Machinery Co., Ltd., Volvo Group, WIRTGEN Group, Waste Products Reclaimer PVT LTD., and Xuzhou Construction Machinery Group Co., Ltd. (XCMG). |