The global rubber additives market was valued at USD 7.90 billion in 2021 and is expected to grow at a CAGR of 3.6% during the forecast period. They are added to rubber compounds to acquire superior properties. Integration of rubber additives such as antidegradants, accelerators, and plasticizers results in greater durability, longevity, elasticity, resilience, and tensile strength.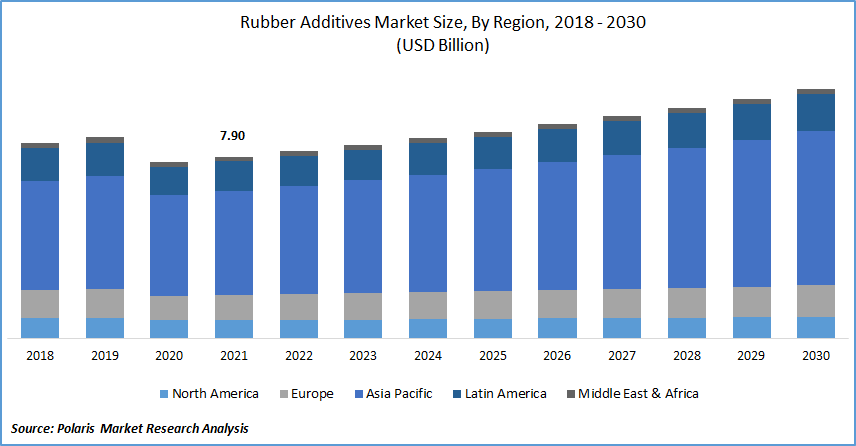 Know more about this report: Request for sample pages
They offer protection from damage and degradation from chemicals, ozone, variable temperatures, and weathering. It includes antidegradants, activators, plasticizers, vulcanization inhibitors, accelerators, and others. Accelerators are integrated into rubber compounds for an increased rate of vulcanization and superior efficiency.
The addition of an accelerator also enhances the aging properties of rubber additives products through reduced sulfur content required for vulcanization. Accelerators are further classified into ultra-accelerators, medium, and high activity accelerators on the basis of the temperature of critical effect and cure rate.
Plasticizers are used as rubber additives to enhance the properties of rubber products through improved flexibility and greater low-temperature resistance. They also assist in offering superior ductility, processability, mechanical flexibility, and toughness.
Plasticizers available in the market are based on oil or coal refining products such as fuel oil, bitumen, and resins; natural and organic products such as vegetable oil and pine resin; and synthetic compounds such as polyesters and oligoester acrylates. The demand for plasticizers has increased significantly in the construction, automotive, and wire & cable sectors over the years. Market players are increasingly turning toward natural and biodegradable plasticizers to offer low toxicity and good compatibility with rubber additives.
The COVID-19 outbreak has negatively impacted the market. The market has witnessed supply chain disruptions and restrictions in operations. The introduction of lockdown across the world caused transportation delays and hampered import-export activities. The manufacturing, automotive, construction, and electronics industry were severely impacted by the COVID outbreak, resulting in reduced demand for the product. The pandemic also resulted in declining manufacturing activities and a reduced workforce.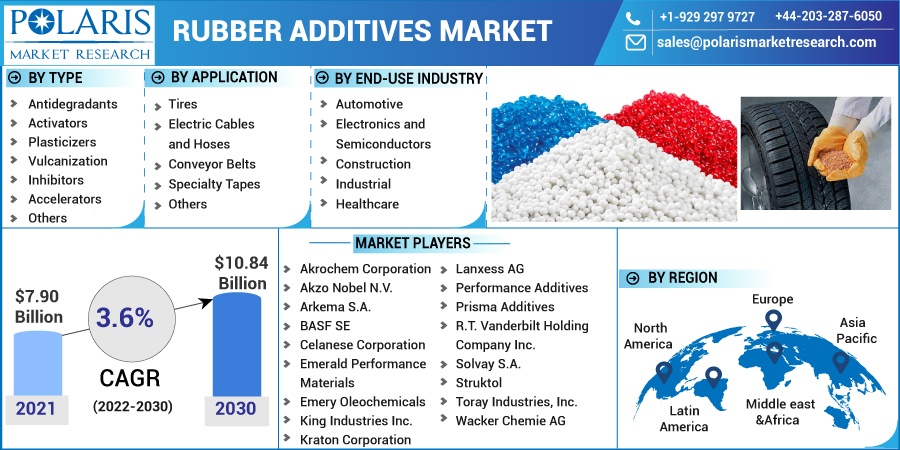 Know more about this report: Request for sample pages
Industry Dynamics
Growth Drivers
The growing industrialization and urbanization across the globe, especially in emerging economies, has increased the demand for the rubber additives market. An increase in demand for passenger vehicles and growth in the automotive, industrial, and construction sectors supports the growth of the rubber additives market.
The rise in disposable income of consumers, coupled with improving lifestyles, and advancements in the automotive industry, has resulted in greater demand for luxury and high-performing passenger vehicles. Vehicles are being modernized to integrate advanced technologies, boosting the growth of the market.
Increasing advancements in the construction industry, the rapid expansion of public infrastructure, and growth in demand from emerging economies boost the demand for the additives industry. The rising use of the product in the manufacturing of electric vehicles and stringent regulations regarding vehicular safety and emissions is expected to support the market growth. The introduction of advanced products by market players and greater adoption of green & sustainable products are factors expected to offer growth opportunities during the forecast period.
Report Segmentation
The market is primarily segmented based on type, application, end-use industry, and region.
By Type

By Application

By End-Use Industry

By Region

Antidegradants
Activators
Plasticizers
Vulcanization Inhibitors
Accelerators
Others

Tires
Electric Cables and Hoses
Conveyor Belts
Specialty Tapes
Others

Automotive
Electronics and Semiconductors
Construction
Industrial
Healthcare
Others.

North America (U.S., Canada)
Europe (France, Germany, UK, Italy, Netherlands, Spain, Russia)
Asia Pacific (Japan, China, India, Malaysia, Indonesia. South Korea)
Latin America (Brazil, Mexico, Argentina)
Middle East & Africa (Saudi Arabia, UAE, Israel, South Africa)
Know more about this report: Request for sample pages
Anti-degradants segment accounted for a significant share
Anti-degradants accounted for a major share in 2021. Anti-degradants offer protection to rubber products from degradation and effects of exposure to aging, oxygen, heat, weathering, and catalytic degradation, among others. They enhance the service life of rubber additives products. Combining anti-degradants with products enhances product properties and durability.
Accelerators are used in rubber compounds to escalate the vulcanization speed at reduced temperatures and offer higher efficiency. Primary accelerators, such as Thiazoles and Sulfenamides, provide scorch delay, medium to fast cure, efficient modulus development, broad vulcanization plateau, and high aging resistance. Secondary accelerators, such as Dithiocarbamate, Thiurams, and Guanidines, offer faster curing along with enhanced elasticity, durability, and tensile strength.
Tire segment is expected to witness the fastest growth
The tire segment accounted for a major share in 2021. They are added to tires to impart desired properties such as temperature resistance, strength, and durability. They enable efficient processing and mixing of rubber additives, improved incorporation of fillers, and enhanced dimensional stability.
They also act as compatibilizers while offering higher reversion stability. They reduce mixing times, decrease processing temperatures, and enhance the quality of the finished tires. Increasing demand for passenger vehicles, modernization of vehicles, and the need for greater tire performance boost the growth of the segment. The growing need to reduce weight in automobiles for increased performance, technological advancements, and rising investments in R&D further supplement the growth of this segment.
Automotive segment accounted for a major share
The automotive segment accounted for a major share of the global rubber additives market in 2021, owing to rising use in tire manufacturing. Greater penetration of passenger vehicles, especially from developing nations, supports the growth of the market. Governments across the globe have introduced stringent safety regulations, promoting the use of the product.
There has been greater adoption of electric and hybrid vehicles over the past few years. Governments across the globe are taking initiatives to promote the adoption of electric vehicles, supported by incentives and schemes, which drives the demand for the additives industry. A rise in disposable income of consumers, strengthening automotive production, and inclination toward high fuel efficiency of vehicles are factors expected to offer growth opportunities during the forecast period.
Asia-Pacific accounted for a significant share
The established automotive industry in the Asia-Pacific region, strengthening the economy in developing countries such as China, Japan, and Japan, and strengthening the manufacturing sector drives the growth of rubber additives in this region. Several global players are expanding their presence in this region to leverage the easy availability of raw materials and labor.
Growth in urbanization, greater demand for passenger vehicles, and rising penetration of electric vehicles also contribute to the high adoption of rubber additives in the region. Increasing application of the product in industrial, construction, and electronics sectors is expected to offer growth opportunities during the forecast period.
Competitive Insight
The major players in the rubber additives market are Akrochem Corporation, Akzo Nobel N.V., Arkema S.A., BASF SE, Celanese Corporation, Emerald Performance Materials, Emery Oleochemicals, King Industries Inc., Kraton Corporation, Lanxess AG, Performance Additives, Prisma Additives, R.T. Vanderbilt Holding Company Inc., Solvay S.A., Struktol, Toray Industries, Inc., and Wacker Chemie AG.
The leading market players are introducing new products and exploring novel technologies to enhance their offerings in the market. Expansion into developing regions enables these companies to cater to the growing consumer demand.
Recent Developments
In July 2022, Birch Chemicals established its new unit in India with the aim of catering to the growing demand from the Asian market. The company offers a wide range of products, cure activators and desiccants. Through this expansion, the company expects to tap the opportunities offered by the growing automotive sector in the country.
In June 2022, Evonik introduced POLYVEST eCO, a new range of sustainable liquid polybutadienes, which can be used as a liquid rubber additive in tire production. The product launch is aimed at catering to the growing needs of sustainable markets. New products exhibit physiochemical properties similar to the fossil-based products.
Rubber Additives Market Report Scope
| | |
| --- | --- |
| Report Attributes | Details |
| Market size value in 2021 | USD 7.90 billion |
| Revenue forecast in 2030 | USD 10.84 billion |
| CAGR | 3.6% from 2022 - 2030 |
| Base year | 2021 |
| Historical data | 2018 - 2020 |
| Forecast period | 2022 - 2030 |
| Quantitative units | Revenue in USD billion and CAGR from 2022 to 2030 |
| Segments covered | By Type, By Application, By End-Use Industry, By Region |
| Regional scope | North America, Europe, Asia Pacific, Latin America; Middle East & Africa |
| Key companies | Akrochem Corporation, Akzo Nobel N.V., Arkema S.A., BASF SE, Celanese Corporation, Emerald Performance Materials, Emery Oleochemicals, King Industries Inc., Kraton Corporation, Lanxess AG, Performance Additives, Prisma Additives, R.T. Vanderbilt Holding Company Inc., Solvay S.A., Struktol, Toray Industries, Inc., and Wacker Chemie AG |