The global special effect masterbatches market was valued at USD 3.07 billion in 2019 and is expected to grow at a CAGR of 5.5% during the forecast period. The growing demand for polymers across the globe, innovations in polymer technology, application in varied industries, and strong demand from emerging and low-income countries are the prominent factors favoring the market growth.
The growing demand for special effect masterbatches for homecare & household and consumer appliances is expected to drive market growth over the forecast period. These masterbatches are used to provide metallic, wood, fluorescence, and other effects to the products on account of which their demand for a wide range of product manufacturing is increasing across the globe, resulting in market growth. The demand for these masterbatches is growing for manufacturing of bottles, plastic furniture, and other home décor products are increasing owing to the high-performance characteristics of the masterbatches.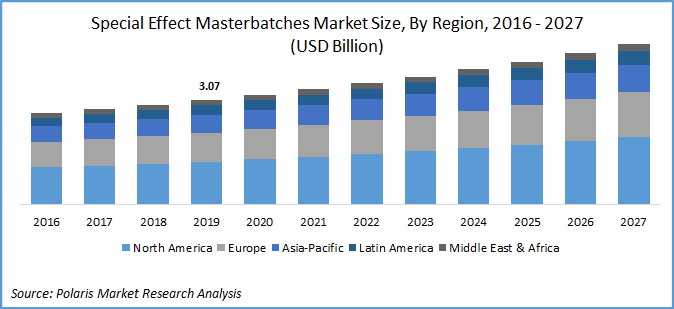 Know more about this report: request for sample pages
Industry Dynamics
Growth Drivers
The rising demand for specialty masterbatches in the plastic industry to manufacture several products such as hoses, belts, extruded profiles, and pipes is driving the masterbatches market growth in the emerging countries in Asia Pacific. Color masterbatches are utilized in distinct end-use industries such as textiles, medicine, electronic components, automotive, appliances, and others. Color masterbatches have a wide range of applications in rotational molding, blow molding, and film extrusion. Thus, the increase in the end-use application of color masterbatches has resulted in increasing the demand for special effect masterbatches across the globe.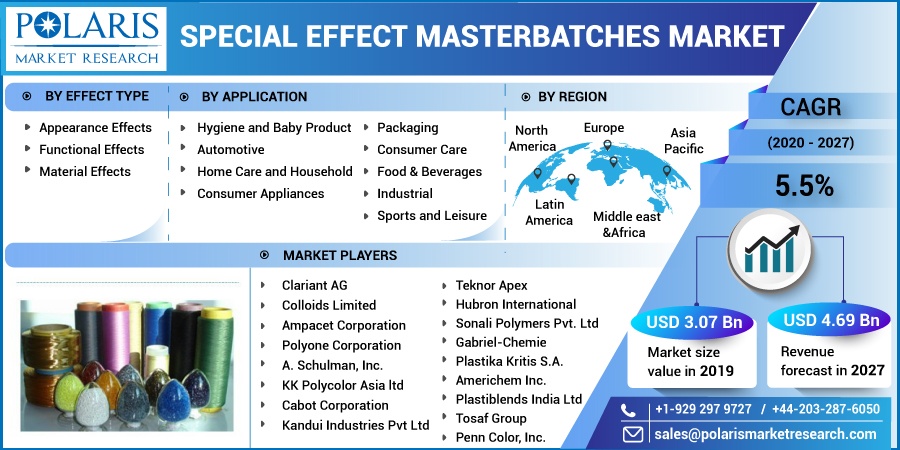 Know more about this report: request for sample pages
Special effect masterbatches are involved in the manufacturing and development of medical-grade devices owing to their flexibility, superior compatibility, ease of processing, lightweight, and non-ferrous properties. Specialty-grade masterbatches have become an integral component in the development of a wide range of medical devices such as diagnostic devices, surgical instruments, drug delivery systems, and medical implants.
Special Effect Masterbatches Market Report Scope
The special effect masterbatches market is primarily segmented on the basis of effect type, application, and region.
By Effect Type

By Application

By Region

Appearance Effects
Functional Effects
Material Effects

Hygiene and Baby Product
Automotive
Home Care and Household
Consumer Appliances
Packaging

Consumer Care
Food & Beverages
Industrial
Others

Sports and Leisure
Others

North America (U.S., Canada)
Europe (France, Germany, UK, Italy, Spain, Netherlands, Austria)
Asia Pacific (Japan, China, India, Malaysia, Indonesia. South Korea)
Latin America (Brazil, Mexico, Argentina)
Middle East & Africa (Saudi Arabia, UAE, Israel, South Africa)
Know more about this report: request for sample pages
Insight by Effect Type
Based upon effect type, the global market is bifurcated into appearance, functional, and material effects. The appearance effect segment accounted for the largest revenue share in 2019 owing to its high adoption rate in several end-use industries. Manufacturers of masterbatches are focusing on advanced appearance effects such as holographic, polychromatic, and rainbow effects. As these effects can be achieved through special effect masterbatches, the demand for the product is expected to witness growth.
Insight by Application
Based on application, the market is bifurcated into hygiene & baby products, automotive, home care & household, consumer appliances, packaging, sports & leisure, others. In 2019, the packaging segment accounted for the largest market share. This can be attributed to its high demand in the packaging of consumer care, personal care, electronics, and food & beverage products. The industry provides a plethora of opportunities in packaging to improve the attractiveness of the final product.
Geographic Overview
Europe is the largest revenue contributor in the global market. The factors responsible for its dominance is the presence of concerned companies in the region, increasing demand in several end-use industries such as consumer goods, packaging, construction, and automotive parts. The region was traditionally a hub for masterbatch production and strong export surplus. This growth is supplemented via rising opportunities in grass yarn, specialty packaging, and the growing usage of biodegradable recycled materials. The demand for special effect masterbatches is also driven by the color masterbatches in several end-use to make the product visually appealing. Moreover, changing consumer preferences, economic development, globalization, and per capita, disposable income led to the demand for plastics and ready-to-use masterbatches.
Asia Pacific region is the second-largest regional market and is expected to witness the fastest growth over the forecast period. The counties in the region such as China, Taiwan, Japan, India, and South Korea are witnessing strong demand for special effect masterbatches from the packaging industry. The rising middle-class population with increasing disposable income and purchasing power has led to an increase in premium plastic products driving the demand for special effect masterbatches.
Competitive Insight
The key players operating in the global market are Clariant AG, Colloids Limited, Ampacet Corporation, Polyone Corporation, A. Schulman, Inc., Dongguan Greentech Plastics Co., Ltd, KK Polycolor Asia ltd, Cabot Corporation, Kandui Industries Pvt Ltd, Teknor Apex, Hubron International, Sonali Polymers Pvt. Ltd, Gabriel-Chemie, Plastika Kritis S.A., Americhem Inc., Plastiblends India Ltd, Tosaf Group, and Penn Color, Inc.