The global sperm banks market was valued at USD 4.61 billion in 2020 and is expected to grow at a CAGR of 3.5% during the forecast period. The rising cases of infertility in both sexes due to faulty lifestyles, innovations in cryo-preservation techniques, declining cost of sperm banking services due to entry of new market players, and advancements in artificial insemination techniques are few pivotal factors boosting the market growth.
Moreover, increasing awareness about sperm donation and miscarriages among women also favoring the market growth. For instance, as per the statistics published by Tommy's, the organization involved in funding research dedicated towards stillbirths, miscarriage, and pre-mature births, in 2017 alone, UK witnessed, each day around 650 babies were miscarried. According to the studies published by CDC, in 2019, in the U.S. alone infertility affects over 10 percent of women aged between 15 to 44 years.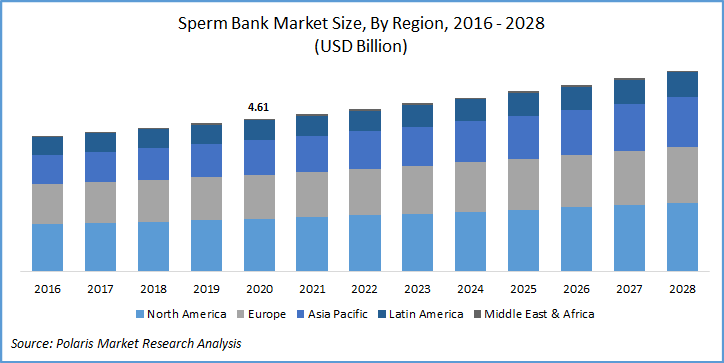 Know more about this report: request for sample pages
Industry Dynamics
Growth Drivers
The rising concerns of infertility among both sexes, cases like in-adequate sperm count, pre-ejaculation issues, and hereditary disorders are anticipated to spur market demand for sperm bank services. As per the American Association of Pregnancy, men's infertility accounts for 30 percent of all the cases.
The cause of male infertility, apart from genetic, could be due to frequent alcohol consumption, drug abuse, or exposure to toxic environmental pollutants. Such growing cases of infertility among males and females driving the adoption of infertility services, such as donor insemination and assisted reproductive procedures, thereby, boosting the market growth.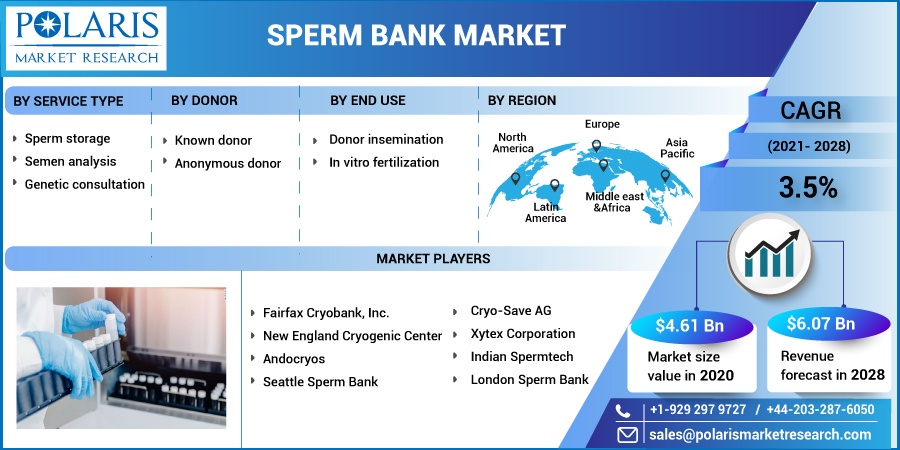 Know more about this report: request for sample pages
Moreover, supportive government policies across different nations are also projected to boost uptake of fertility treatments, thereby inducing market demand for sperm banking services. For instance, the Singapore government offers 75 percent of incentives in ART procedures, such as IVF, GIFT, and ICSI. Earlier, Ontario municipal government in Canada announced government support of USD 50 million in state-wide fertility programs. UK-based National Health Service (NHS) also co-funds infertility treatments across the UK.
Furthermore, sperm banking services witnessed significant market growth opportunities due to the legalization of same-sex and single-parent families. The growing acceptance of the gay, lesbian, and bisexual community in societies, driving sperm donations across the globe. Maltese government made IVF treatments for a single parent and lesbian couples accessible for its citizens, after amending Embryo Protection Act in the country.
Sperm Bank Market Report Scope
The market is primarily segmented on the basis of service type, donor, end-use, and region:
By Service Type

By Donor

By End Use

By Region

Sperm storage
Semen analysis
Genetic consultation

Known donor
Anonymous donor

Donor insemination
In vitro fertilization

North America (U.S., Canada)
Europe (France, Germany, UK, Italy, Spain, Netherlands, Austria)
Asia Pacific (Japan, China, India, Malaysia, Indonesia, South Korea)
Latin America (Brazil, Mexico, Argentina)
Middle East & Africa (Saudi Arabia, UAE, Israel, South Africa)
Know more about this report: request for sample pages
Insight by Service Type
Based on the service type, the global sperm bank market is bifurcated into sperm bank storage, semen analysis, and genetic consultation. In 2020, the semen analysis market segment accounted for the largest sperm bank industry share and it is likely to retain its dominance over the study period. This high market share is attributed to the increasing awareness among individuals about semen quality and advances in advanced reproductive technology procedures.
Moreover, fertility tourism in Spain and India has also propelled semen analysis services, owing to a supportive legal environment and cost-effectiveness. Spain represents more than 40 percent of the European fertility tourism.
The sperm bank storage segment of the bank is expected to show a significant market growth rate over the study period. Innovations in the preservation techniques, rising need to store quality sperm for future need, in case of individual death, and booming demand for IVF procedures. Such storage facilities are beneficial in case of medical treatment, and risk occupations such as defense services.
Insight by Donor
Based on the donor, the global sperm bank market is bifurcated into a known and anonymous donor. In 2020, the donor segment accounted for the largest share and is projected to register a lucrative growth rate over the forecast period. Declining birth rates in the developed world and changing regulatory landscape mandating the legal right to the offspring to know about its biological parent are few sperm bank industry segment market drivers inducing growth.
Moreover, according to the New Hampshire law, the usage of a known donor could be a reasonable choice for prospective couples, after all the legal formalities. It is being surveyed that known donors are lesser in number than anonymous ones, also the price of known donors is much higher, contributing significantly to the sperm bank industry segment.
Geographic Overview
North America sperm bank market accounted for the largest market share. Region's high market share is attributed to the surge in sexually infertile U.S. citizens, owing to faulty lifestyles comprising smoking, drinking, and lack of physical exercise, newly established infertility care centers, and rapidly increasing ancillary sperm banking services in the market such as storage, transportation, and preservation. The innovations in cryo-preservation techniques across the value chain and the rise in IVF centers in both U.S. and Canada also favored the region's growth.
Asia Pacific is anticipated to register a lucrative market growth rate over the study period. Huge male population suffering from infertility and low-cost treatment options coupled with rising sperm donors, despite social myths is boosting the region's market growth. Moreover, favorable government policies and supportive laws for single parents also driving the market demand in the region.
Competitive Insight
The prominent market players operating are Fairfax Cryobank, Inc.; New England Cryogenic Center; Andocryos; Seattle Sperm Bank; Cryo-Save AG; Xytex Corporation, Indian Spermtech; and London Sperm Bank. Market players collaborate with smaller regional players to foray into emerging countries.