The global starter cultures market was valued at USD 1.13 billion in 2021 and is expected to grow at a CAGR of 5.4% during the forecast period. These are microbial cultures used in food materials to provide improved preservation, greater nutritional value, and modified sensory qualities.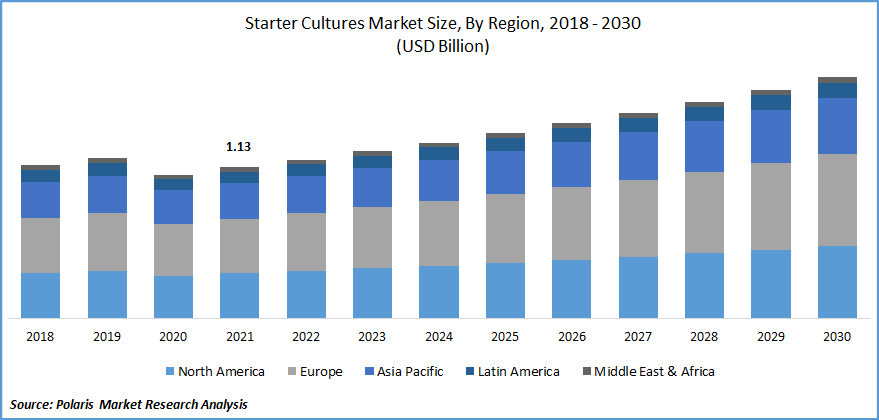 Know more about this report: Request for sample pages
They are used in the production of yogurt, cheese, alcohol, and baked goods, among others. Starter cultures such as yeasts, molds, lactic acid bacteria, and coagulase-negative staphylococci are also being used to promote the fermentation of meat products. They assist in increasing the safety of fermented meat products, standardizing product properties, and shortening ripening times. Their use offers greater control of the fermentation process to achieve desired product quality.
The starter cultures market has experienced growth over the years owing to factors such as increasing consumer awareness regarding preventive healthcare, consumption of functional food products to meet nutritional requirements, and maintenance of overall health & wellness. Some potential health benefits offered by food products produced through starter cultures include greater nutritional value, enhanced lactose digestion, reduced intestinal infections, and maintenance of cholesterol levels.
There has been an increase in demand for the industry during the pandemic owing to greater demand for convenience food products. However, supply and production have suffered a decline owing to disruptions in the supply chain, halting of manufacturing activities, and limited availability of raw materials. Closure of restaurants and food outlets owing to the worldwide lockdown, government regulations on movement and lockdowns, and lack of labor have affected the growth of the industry.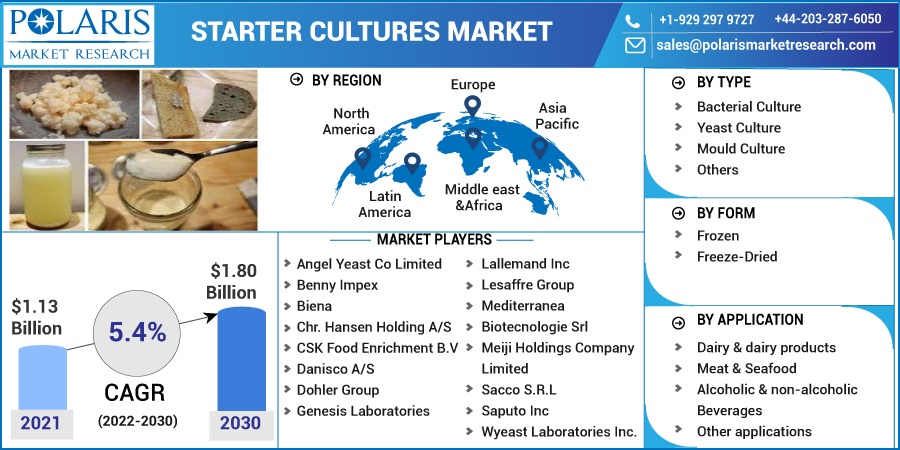 Know more about this report: Request for sample pages
Industry Dynamics
Growth Drivers
The increasing health awareness among consumers and greater demand for dairy-based products is expected to drive the industry. The growing use of the industry in manufacturing functional drinks further boosts the industry's growth. There has been a greater demand for health-promoting food products, which supplements the growth of this industry. Greater use in baked goods and confectionary has increased the demand for the industry across the globe. New product launches and acquisitions by leading players in the market, along with increasing demand from emerging economies, have increased the demand for the industry.
The significant rise in demand for meat and seafood across the globe is expected to fuel the growth of this industry. The rise in disposable income, along with increasing middle-class aspirational spending, has increased the demand for alcoholic and non-alcoholic beverages, especially in emerging economies, fueling the growth of the starter cultures market. The increasing population, sedentary lifestyle of consumers, and rising awareness regarding health and nutrition further drive the growth of the starter cultures market.
Report Segmentation
The market is primarily segmented based on type, form, application, and region.
By Type

By Form

By Application

By Region

Bacterial Culture
Yeast Culture
Mould Culture
Others

Dairy & dairy products
Meat & Seafood
Alcoholic & non-alcoholic Beverages
Other applications

North America (U.S., Canada)
Europe (France, Germany, UK, Italy, Netherlands, Spain, Russia)
Asia Pacific (Japan, China, India, Malaysia, Indonesia, South Korea)
Latin America (Brazil, Mexico, Argentina)
Middle East & Africa (Saudi Arabia, UAE, Israel, South Africa)
Know more about this report: Request for sample pages
Bacterial culture is expected to experience growth
The bacterial culture segment is expected to experience growth during the forecast period owing to the increasing consumption of dairy-based products across the globe. Starter cultures of lactic acid bacteria are used for the formation of cheese flavor. They produce acid during manufacture while also contributing to the ripening process.
Health benefits offered by bacterial starter cultures include enhanced immune function and improved digestion. Increasing incidences of health disorders have resulted in greater awareness regarding healthy eating habits and nutrition among consumers. Health and fitness consciousness has also increased in emerging economies such as China and India, thereby strengthening the growth of this segment.
The freeze-dried segment accounted for the largest market share in 2021
Freeze-drying is used to provide improved shelf-life to several products and avoid spoilage. Freeze-dried starter cultures are used in the production of cultured milk, buttermilk, cheese, sour cream, yogurt, sourdough bread, and probiotics, among others.
Freeze drying, also known as lyophilization, is popular owing to its high survival rate. The specimen is gently frozen, and water is extracted in the form of vapor using a high-pressure vacuum. Freeze drying ensures retention of the physical structure of the product to preserve it for storage. It is then rehydrated using water or used directly in its freeze-dried form.
Dairy and dairy products are expected to hold a significant market share
The dairy & dairy-based application segment is expected to account for the largest market share and is expected to grow during the forecast period. Consumers are increasingly turning toward dairy-based products such as cheese and yogurt owing to their nutritional benefits and health advantages, particularly digestive health.
Factors such as changing consumer behavior, hectic work lives, and increasing health awareness drive the growth of this segment. New product launches and acquisitions by leading players in the industry, coupled with increasing demand from emerging economies, have increased the demand for dairy-based products.
The demand for starter cultures from Asia-Pacific is expected to increase during the forecast period
There has been an increased awareness regarding weight loss and the benefits of eating healthy, which has resulted in an increased demand for dairy and dairy-based products in the region. The rising geriatric population, coupled with increasing initiatives by consumers to maintain their overall health, aids the industry's growth. A trend of increasing obesity has been observed in Asia-Pacific, which encourages industry players to develop starter cultures catering to the local tastes of consumers in the region.
Growing concerns regarding health and nutrition among consumers, increasing consumption of meat and seafood, and inclination towards the use of alcoholic and non-alcoholic beverages have boosted the sale of starter cultures. Growth in the occurrence of lifestyle diseases, increasing disposable income, and the introduction of public initiatives to promote nutrition and wellness have further accelerated the growth of the starter cultures market in Asia Pacific.
Competitive Insight
Some players operating in the global starter cultures market include Angel Yeast Co Limited, Benny Impex, Biena, Chr. Hansen Holding A/S, CSK Food Enrichment B.V, Danisco A/S, Dohler Group, Genesis Laboratories, Lallemand Inc, Lesaffre Group, Mediterranea Biotecnologie Srl, Meiji Holdings Company Limited, Sacco S.R.L, Saputo Inc, and Wyeast Laboratories Inc among others.
These players are expanding their presence across various geographies and entering new markets in developing regions to expand their customer base and strengthen presence in the market. The companies are also introducing new innovative products in the market to cater to the growing consumer demands.
Recent Developments
In July 2022, IFF announced investments in next generation starter culture development and technologies. IFF collaborated with the Technical University of Denmark (DTU) for development of advanced tools aimed at enhanced next generation starter cultures. The collaboration will provide tools and technologies for improved fitness of strains for plant-based materials.
Through this collaboration, IFF aims to expand its offerings of plant-based cultures in the market. IFF also plans to invest in improving its production capabilities for plant-based starter, which will assist the company in addressing the growing demand for plant-based starter cultures and strengthening its market presence.
In May 2021, Chr. Hansen introduced a new starter culture for plant-based yogurts. The product called VEGA Culture Kit has been developed for fermented plant bases.
The product is aimed at offering flexibility and customization in terms of taste, texture, health, and sustainability. This new product launch enabled the company to enhance its offerings in the market and strengthen its market position.
In May 2020, DuPont Nutrition & Biosciences introduced YO-MIX PRIME cultures series. The product is developed for yogurt manufacturers and offers mildness and premium texture. The development of the industry is aimed at saving formulation costs, reducing sugar content, and maintaining high product quality.
Starter Cultures Market Report Scope
| | |
| --- | --- |
| Report Attributes | Details |
| Market size value in 2021 | USD 1.13 billion |
| Revenue forecast in 2030 | USD 1.80 billion |
| CAGR | 5.4% from 2022 - 2030 |
| Base year | 2021 |
| Historical data | 2018 - 2020 |
| Forecast period | 2022 - 2030 |
| Quantitative units | Revenue in USD billion and CAGR from 2022 to 2030 |
| Segments covered | ByType, By Form, By Application, By Region |
| Regional scope | North America, Europe, Asia Pacific, Latin America; Middle East & Africa |
| Key companies | Angel Yeast Co Limited, Benny Impex, Biena, Chr. Hansen Holding A/S, CSK Food Enrichment B.V, Danisco A/S, Dohler Group, Genesis Laboratories, Lallemand Inc, Lesaffre Group, Mediterranea Biotecnologie Srl, Meiji Holdings Company Limited, Sacco S.R.L, Saputo Inc, and Wyeast Laboratories Inc. |