The global stirling engine market was valued at USD 808.64 million in 2022 and is expected to grow at a CAGR of 7.3% during the forecast period. The emerging need and demand for low emissions alternatives to IC engines and growing awareness regarding the environment and human health harmed by air pollution and carbon emissions because of traditional or conventional engines drive the market growth. Additionally, there has been a decent rise in the usage of these engines due to the rising demand for renewable energy sources like solar power energy generation across the globe and the growing focus among market players towards the expansion of their geographical presence and product portfolio, are also likely to create huge demand and growth opportunities.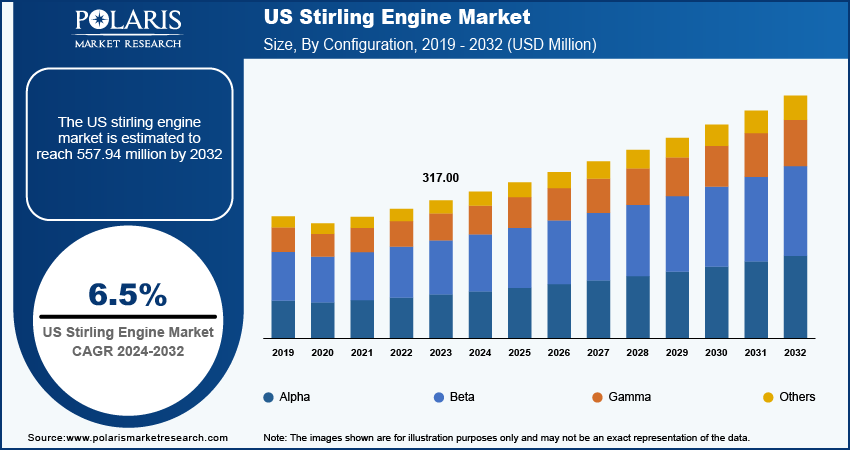 To Understand More About this Research: Request a Free Sample Report
For instance, in September 2022, Qnergy announced deploying its 1st landfill to create clean electrical energy & to generate voluntary carbon credits while working in partnership with Maryland Environmental Services & Maryland Energy Administration.
Moreover, the rapid development of several new manufacturing techniques, such as 3D printing and advanced machining, has made it possible to produce engines with greater precision and efficiency coupled with the growing prevalence of miniaturization while improving the overall performance and reducing costs in many applications such as portable power generation and various small-scale HVAC systems. However, the high cost associated with manufacturing these engines, lack of awareness among customers about the advantages of Stirling engines, and several regulatory barriers regarding their use in some industries are major factors hampering the global market growth.
The outbreak of the COVID-19 pandemic has significantly impacted the growth of the Stirling Engine market. The pandemic has disrupted supply chains worldwide, making it difficult for companies to obtain the components and materials required to manufacture these engines, leading to delays and reduced production capacity. It has also reduced the demand for Stirling Engines from numerous industries due to scaled-back operations and temporary shutdowns.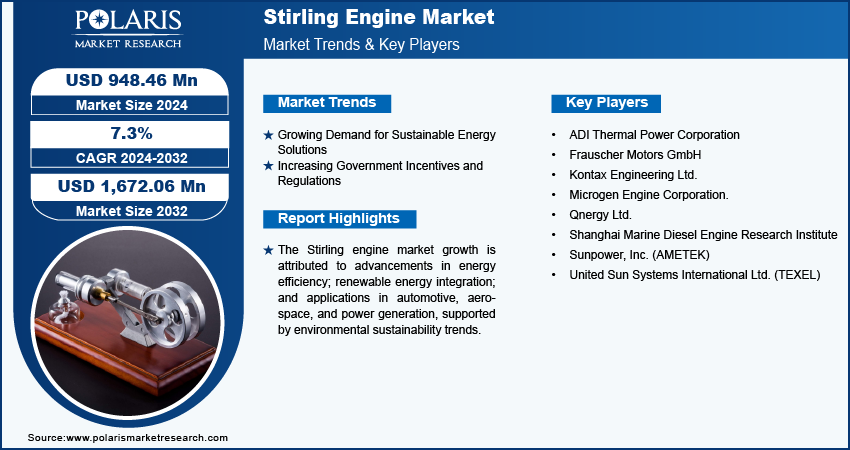 For Specific Research Requirements, Request for a Customized Report
Industry Dynamics
Growth Drivers
The ongoing advancements in materials science and engineering that have led to the development of more efficient and reliable Stirling Engines have also allowed for the development of new applications leading to increased demand. As companies and governments seek to reduce energy consumption and carbon emissions, these engines are becoming popular and preferred as an attractive solution for improving energy efficiency.
Furthermore, these engines consist a major advantage over the other comparative processes, as it minimizes the required level of purification for LFD compared to the other available utilization processes and can be effectively combined with CHP systems for providing improved and high thermal efficiencies, which also likely to boost the demand and growth of the global stirling engine market over the coming years.
Report Segmentation
The market is primarily segmented based on configuration, application, end-user, and region.
By Configuration

By Application

By End-User

By Region

Submarines

Solar Power Generation

Nuclear Power Plants

Others

Marine

Power & Energy

Others

North America (U.S., Canada)

Europe (France, Germany, UK, Italy, Netherlands, Spain, Russia)

Asia Pacific (Japan, China, India, Malaysia, Indonesia. South Korea)

Latin America (Brazil, Mexico, Argentina)

Middle East & Africa (Saudi Arabia, UAE, Israel, South Africa)
To Understand the Scope of this Report: Speak to Analyst
The beta configuration segment is expected to hold a significant share over the forecast period
The beta configuration segment is projected to hold significant market revenue share during the forecast period on account of its high efficiency compared to other types of engines available in the market and its capabilities to easily operate in a variety of heat sources, including solar, biomass, waste heat, and convert heat. Additionally, these types of engines produce low emissions because of their closed-loop operation, and they do not produce combustion gases as well, which fuels their adoption as an environmentally friendly alternative to traditional combustion engines.
The alpha segment led the industry market with considerable revenue share in 2022, which can be highly attributed to its growing usage in various applications such as power generation, cooling & heating, transportation, and refrigeration. The alpha-type Stirling Engines consist of very few moving parts compared to the traditional engines, resulting in a longer lifespan and less maintenance costs for these engines.
The solar power generation segment accounted for the largest market share in 2022
The solar power generation segment accounted for the largest market share in 2022 and is likely to retain its market position over the anticipated period. The rapid increase in the demand for renewable energy sources is due to growing concerns regarding climate change and the depletion of non-renewable resources. This has created immersed interest in solar power as a clean and sustainable source of energy, which is a key factor influencing the segment market growth.
The cost of solar power has been decreasing over the recent years all over the world, making it more cost-effective and affordable to consumers than traditional energy sources. Stirling Engines are particularly well-suited for solar power generation because they can operate at high temperatures and allow for more efficient conversion of solar energy into electricity, pushing the growth forward.
The heating and cooling segment is anticipated to exhibit a significant growth rate over the coming years, mainly due to the growing prevalence of energy-efficient heating and cooling solutions globally, along with the rising number of government regulations and incentives mainly aimed at reducing the carbon emissions and prompting the use of various clean energy technologies including Stirling Engines.
The power & energy segment is projected to witness the highest growth over the projected period
The power & energy segment is projected to grow at a healthy CAGR during the anticipated period, which can be largely accelerated by the growing popularity and adoption of CHP systems, which generate both heat and electricity from a single source, as they are more efficient than traditional power generation systems coupled with the ability of these engines to be effectively used for decentralized power generation and can be particularly beneficial in remote or off-grid locations.
North America dominated the global market in 2022
North America dominated the global market for Stirling Engine in 2022 and is projected to maintain its dominance over the anticipated period. The regional market growth can be highly attributable to the widespread adoption of Stirling Engines in various applications, including automotive, aerospace, and power generation, and continuous advancements in technology, such as the development of advanced materials and improved designs in countries like the US and Canada, which are enhancing the efficiency and performance of these engines.
The Asia Pacific region is expected to be the fastest emerging region with a growth rate throughout the projected period, owing to significant commercial and industrial expansion across the major developing economies like India, China, and Indonesia and increasing investments towards the development and innovations in these engines by both government and private organizations. For instance, in December 2021, China State Shipbuilding announced that the company had tested the country's 1st large bore engine with applications in submarine propulsion. This new prototype ran at a power of 320 KW with a power conversion efficiency of nearly 40%, making it the most powerful globally.
Competitive Insight
Some of the major players operating in the global market include United Sun Systems, Qnergy, Sunpower, Microgen Engine Corporation, Cool Energy, ADI Thermal Power, Genoastirling, Shanghai MicroPowers, AMETEK., Swedish Stirling Company, American Stirling Company, Whisper Tech, LTD Stirling Technologies, & LTD Kockums Industries.
Recent Developments
In July 2022, Sterling Generators partnered with the Moteurs Baudouin. The new partnership will leverage Baudouin's legacy and expertise in designing and manufacturing of highest quality gas and diesel engines and Sterling Generators.

In October 2021, Azelio introduced a new electro-thermal system for various commercial applications that works in 4 steps. This system helps generate usable heat with temperatures ranging from 55-65 C & utilized as per demand at all hours of the day.
Stirling Engine Market Report Scope
| | |
| --- | --- |
| Report Attributes | Details |
| Market size value in 2023 | USD 864.92 million |
| Revenue forecast in 2032 | USD 1,632.05 million |
| CAGR | 7.3% from 2023– 2032 |
| Base year | 2022 |
| Historical data | 2019– 2021 |
| Forecast period | 2023 – 2032 |
| Quantitative units | Revenue in USD million and CAGR from 2023 to 2032 |
| Segments covered | By Configuration, By Application, By End-User, By Region |
| Regional scope | North America, Europe, Asia Pacific, Latin America; Middle East & Africa |
| Key companies | United Sun Systems International Ltd., Qnergy, Sunpower Inc., Microgen Engine Corporation, Cool Energy Inc., ADI Thermal Power Corporation, Genoastirling S.r.l., Shanghai MicroPowers Ltd., AMETEK Inc., Swedish Stirling Company, American Stirling Company, Whisper Tech Limited, LTD Stirling Technologies, and LTD Kockums Industries. |