The global Sunglasses market size was valued at USD 16,845.5 million in 2019 and is anticipated to grow at a CAGR of 7.3% during the forecast period. Sunglasses are those that do not have Rx lenses in them; therefore, a medical practitioner does not prescribe them. In addition to being a fashionable accessory, sunglasses are used for protection of the eyes against UV rays which may otherwise prove to be very harmful. On account of high selling prices, particularly in the high-end segment, sunglasses market is expected and grow at a fast rate over the forecast period.
Sunglasses are designed in accordance with their end use. For example, sunglasses for usage in sports activities are manufactured using impact resistant materials for ensuring safety, and also have significant tint. Sunglasses that are designed for casual wear or fashion purposes are made using materials of lower resilience as they do not require the same degree of robustness.
The increasing demand can be largely attributed to the growing penetration of contact lenses. This trend is particularly evident in developed countries such as the U.S.; as a result, a large percentage of the population requires the product in order to prevent the contact lens from drying out, along with ensuring protection of the wearer's eyes.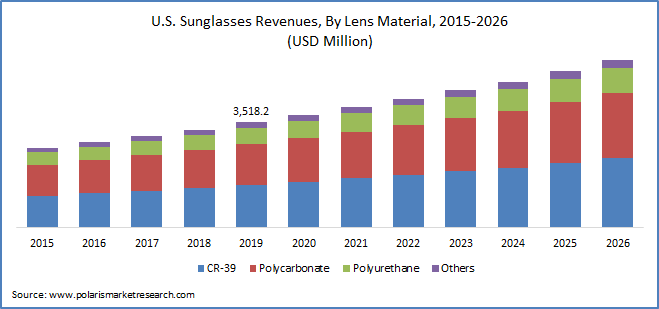 Know more about this report: request for sample pages
The raw material consists of polycarbonate, CR-39 orally diglycol carbonate (ADC), and silicone hydrogel, among others. These are manufactured by chemical companies such as SABIC and are subsequently given to manufacturers. These manufacturers are responsible for producing products with the required specifications such as anti-reflection (AR) coating, anti-scratch or scratch-resistant coating, etc.
Sunglasses manufacturers are providers for wholesale distributors as well as retail distributors, which include retail chains such as Walmart and Costco. Sunglasses can be given directly to end-users or consumers at the retail level, which provides the distributors a significant advantage in the form of customer preference knowledge and enhanced marketing capabilities.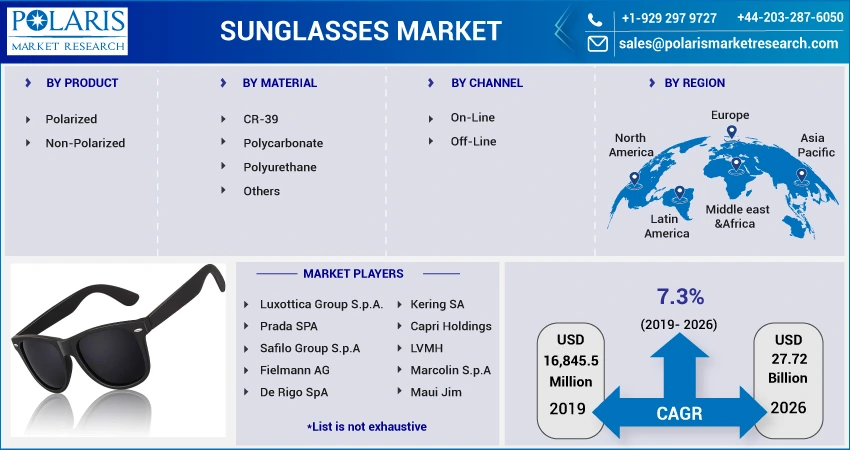 Know more about this report: request for sample pages
Sunglasses Market Report Scope
The market is primarily segmented on the basis of Product, By Material, By Channel, and geographic region.
By Product

By Material

By Channel

By Region

· Polarized

· Non-Polarized

· CR-39

· Polycarbonate

· Polyurethane

· Others

· On-Line

· Off-Line

· North America (U.S., Canada, Mexico)

· Europe (France, Germany, UK, Italy)

· Asia Pacific (Japan, China, India)

· Latin America (Brazil)

· Middle East & Africa
Know more about this report: request for sample pages
Application Outlook
Polarized segment is expected to grow at a estimated CAGR of 7.6% over the next six years. Polarized products support glare reduction, and are ideal for outdoor activities. They are equipped with vertically aligned filters, thus preventing horizontal polarized light to enter the eye, and increase visual acuity. These are different from regular ones, which only offer darkening of the view, without vision enhancement. Such sunglasses are more expensive, which can be attributed to the high cost associated with their manufacturing process.
Non-polarized type offer darkening of vision and shield the eyes from harmful UV rays, along with providing reprieve from harsh glare. However, polarized ones have been gaining popularity in the recent years. They offer benefits for water sports and fishing, and are witnessing increasing penetration in developed economies such as North America and Europe.
Despite this, non-polarized sunglasses occupied majority market share, and are expected maintain their market dominance due to their efficiency in varied environmental conditions. Consumers purchase sunglasses due to their fashion quotient, and polarization is only a relevant criterion for individuals that require targeted usage, such as for cycling.
Material Outlook
The CR-39 material segment constituted for a major share of the market. CR-39 is also known as allyl diglycol carbonate and is one of the most common materials used for lens production. Lenses made using this material are roughly half the weight of glass lenses and are highly shatter-resistant. These lenses are highly affordable to a large percentage of the population, and exhibit high penetration in developed as well as developing markets.
Polycarbonates are very similar to CR-39 materials; but have a different molecular structure. They provide superior performance in terms of UV absorption, and are lightweight and affordable. Polyurethane lenses are extremely robust and provide a high degree of optical performance. They are extremely lightweight as compared to materials such as glass, and are very difficult to break. However, sunglasses fitted with polyurethane lenses are expensive as compared to other types. Introduction of novel products by using these materials is resulting in significant market growth.
Channel Outlook
Vendors are increasingly adopting modern ways of distribution, such as online retailing through exclusive online stores and other e-commerce and aggregator websites. Companies are implementing omnichannel retailing and are selling their eyewear products via the internet as well as physical retail stores. Online retailing enables vendors to offer potentially unlimited product selection to their customers. Additionally, it allows vendors to instantly test distinct marketing strategies and check the response of consumers.
Independent retailers and stores are businesses under private ownerships. These are usually single-store operations and offer both high risks and high rewards for the store owner. Major eyewear vendors and brands give away franchising rights to individuals or enterprises willing to open up independent stores for a specific brand, retailer, or vendor for a certain royalty or franchise fee to be given to the manufacturer.
Regional Outlook
Sales in North American market are largely contributed by independent eye care professionals. End users have high degree of awareness, and products such as sunglasses have been experiencing steady demand. Prescription eyewear product adoption increases with age; product penetration is high among the elderly population.
Exposure of the eyes to harmful UV-A and UV-B rays can cause or accelerate the development of eye injuries such as retina damage and cataracts. Although high-end sunglasses are incorporated with lenses which provide protection to the human eye, not all sunglasses are equipped with these features. The increasing availability of eyewear which is functional as well as possesses aesthetic appeal, coupled with rising eye protection awareness is expected to drive the U.S. market
The high percentage of spectacle wearers, coupled with booming retail prices of frames in the European region is expected to drive this market. The increasing fashion quotient of sunglasses and the large number of players operating in this geography are also considerable factors propelling the sunglasses market in Europe. The European market is consolidated in nature, with a few leading players occupying sizable market share.
Competitive Landscape
Manufacturers have also made available prescription eyewear and sunglasses across several regions to grow their customer base. However, there lies a strong belief among consumers that such glasses sold at certain drugstores are not customized and not in accordance with the prescription, due to which they do not focus the images but rather make them appear larger, thus costing significantly lesser.
3D printing in the manufacturing of lenses is gaining momentum as players are looking to differentiate their product offerings. Moreover, as the technology reduces the development time, designers and engineers are increasingly adopting this technology. Companies such as Luxottica Group S.p.A., Prada SPA, Safilo Group S.p.A, Fielmann AG, De Rigo SpA, Kering SA, Capri Holdings, LVMH, Marcolin S.p.A, and Maui Jim are some of the key players operating in the industry.