The global surgical headlights market was valued at USD 665.9 million in 2021 and is expected to grow at a CAGR of 4.61% during the forecast period.
The growing medical facility lighting requirements, alongside the increasing number of surgeries requiring improved illumination among surgical theatres, are responsible for driving the demand for customized surgical lighthead. This, combined with introduction of novel surgical headlights catering to the need for durable, battery-efficient headlights with comfortable fixtures for surgeons to operate seamlessly during longer surgery hours, is anticipated to drive the growth of the market.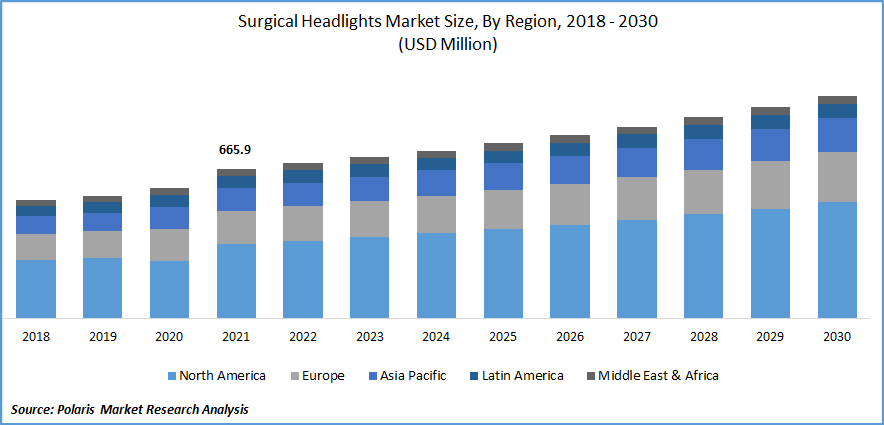 Know more about this report: Request for sample pages
For instance, an article published by McKinsey & Company in March 2022, suggested that patient volumes for surgical procedures grow back to 2019 levels of patient surgical admissions. Due to the delay of elective surgeries during and post-pandemic, owing to the resurgence of new coronavirus strains, patients have been either delayed or are delayed for surgeries by their healthcare providers. As a result, patient volumes undergoing surgeries are to surge further on, thereby increasing the demand for surgical durables. This, combined with market players offering affordable surgical headlights, is anticipated to foster the growth of the market.
Surgical headlights are portable illumination devices mounted on the head through a headgear. Traditionally they were powered by a cable that had to be plugged to a power source. Modern headlights come with a portable battery pack which reduces the risk of unplugging during surgery, offer multiple configurations and mounting designs owing to its portability, and have a lower cost of replacement than a traditional surgical headlight.
Moreover, surgical light heads are better suited for busy surgical theatre environments owing to lesser chances of mishaps and avoiding accidental casting of shadows during surgery. The market is fragmented, with market players launching cost-effective products in the surgical lighting headgear portfolio along with a focus on product diversification. They are mainly categorized as a light emitting diode (LED) and halogen, among other hybrid technologies, to cater to different needs for surgical procedures and surgeon preferences. An LED lamp runs cooler and for longer but is not as bright as a halogen bulb. Halogen bulb surgical headlights are rated on the basis of their Lux value and are more commonly used for better illumination in complex surgeries. LED, on the other hand, is preferred for surgical applications such as outpatient procedures, among other minor surgeries.
The outbreak of the COVID-19 pandemic has positively impacted the growth of the market. The increase in the number of surgical procedures combined with emergency authorizations for patient care owing to the rise in co-morbid surgical interventions improved the uptake of essential surgical durables and consumables such as surgical light heads.
The demand grew rapidly during the pandemic promoting new entrants to launch cost-effective products and subjecting the surgical headlight market to be price sensitive. This has affected the dynamics of the surgical headlight market post-pandemic, with a greater number of product options at a competitive price, fragmenting the market.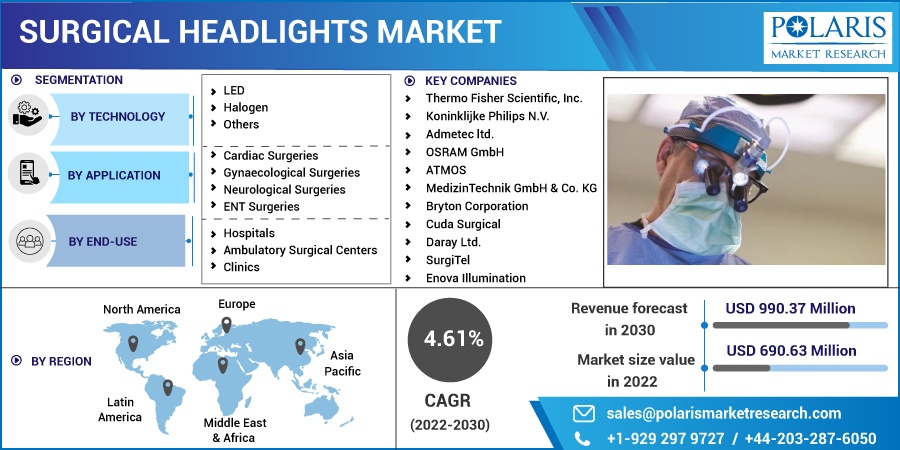 Know more about this report: Request for sample pages
Industry Dynamics
Growth Drivers
Surgical headlights are selected on basis of processes that a medical practitioner needs to perform. For instance, a surgeon may need a different setup for a surgical headlight from the one a dental practitioner might find effective. This creates an increasing demand for specialized surgical headlights in the current market.
All the more, these headlights are a surgical necessity for a practitioner in a surgical workspace. This and the rising number of surgical procedures globally are anticipated to drive the growth of the surgical headlight market.
Report Segmentation
The market is primarily segmented based on technology, application, end use and region
By Technology

By Application

By End Use

By Region

Cardiac Surgeries
Gynaecological Surgeries
Neurological Surgeries
ENT Surgeries
Others

Hospitals
Ambulatory Surgical Centers
Clinics

North America (U.S., Canada)
Europe (France, Germany, UK, Italy, Netherlands, Spain, Russia)
Asia Pacific (Japan, China, India, Malaysia, Indonesia, South Korea)
Latin America (Brazil, Mexico, Argentina)
Middle East & Africa (Saudi Arabia, UAE, Israel, South Africa)
Know more about this report: Request for sample pages
LED segment is expected to witness the fastest growth in 2021
The Light Emitting Diode (LED) segment is expected to grow the fastest during the forecast period due to its power efficiency, a preferential shift of surgical experts towards LED as a technology, and better availability of LED products, among others. Moreover, halogen bulbs are expected to hold a larger share of surgical headlight market owing to their traditional nature, a larger installed base, and a brighter lamp.
The halogen segment is expected to grow due to an established ecosystem of halogen-based surgical headlights along with convenient configurations better adopted by medical practitioners. This will support its replacements and will support its market share.
Cardiac surgeries accounted for the second-largest market share in 2021
Among applications, the cardiac surgeries segment is anticipated to grow through the forecast period owing to the rising prevalence of Cardio-Diabetic disorders globally and the development of minimally invasive surgical techniques such as angioplasty, which are expected to promote an upsurge in surgical tool utility. The increasing surgical tool usage in surgical theaters, coupled with key manufacturers developing cardiac-specific illumination devices among surgical headlights, is projected to drive the growth of the segment.
The ENT segment is expected to grow the fastest among applications owing to higher patient preference to avail specialized respiratory therapy from ENT specialists along with larger numbers of ENT surgeons establishing private practices, thereby increasing the demand of surgical lighthead at their facility.
Hospital sector is expected to hold the significant revenue share
The hospital segment will likely hold the largest revenue share owing to a larger footprint of surgical facilities and, primarily, patient footfall. Moreover, hospitals also have a larger volume of surgical tool replacements and require these devices on a larger scale. The high replacement volume of these devices, along with these surgical devices used at a higher frequency, is expected to support the growth of the segment.
The ambulatory surgical centers and clinics segments are expected to grow through the study period owing to an increasing number of establishments to cater to the rising demand of patients requiring surgeries and better accessibility of these segments for the same.
The demand in North America is expected to witness significant growth
North America is estimated to hold the largest share in the surgical headlight market owing to strategic presence of major market players with a regional dominance in terms of product range and distribution channel. Moreover, the increasing prevalence of chronic diseases requiring surgical interventions and rising awareness of surgical management among the patient population are some factors supporting the growth of the surgical headlight market in North America.
Furthermore, establishments of surgical specialty and ambulatory surgical centers are growing in the U.S., which provides surgical facilities. They are gaining popularity due to better patient access, lower out-of-pocket costs to patients, less likely to spread post-operative infections, and higher adoption of technological advancement in surgery. Due to this, patient volumes increase, thereby increasing the demand for surgical tools such as surgical headlights. The growth of such institutions to aid the growing surgery demand is a key trend observed and is expected to drive the market.
Asia Pacific is expected to be the fastest-growing global market over the forecast period. Increasing investments by key healthcare providers in collaboration with market players to establish innovative surgical ecosystems such as a hybrid theatre are anticipated to drive the uptake of surgical tools such as surgical lighthead.
For instance, in October 2022, St. Vincent's Hospital in Sydney, Australia, in collaboration with Payntor Dixon, announced establishment of RAPTOR (Resuscitation with Angiography, Percutaneous Techniques, and Operative Repair) as the latest hybrid technology in their surgical rooms to treat critical trauma patients. The successful integration of this technology is expected to provide advanced patient care and will attract a larger patient footfall increasing the number of surgeries conducted theirs in. Such initiatives by regional healthcare providers are expected to drive the uptake of surgical gear, such as surgical headlights, in the Asia Pacific market.
Competitive Insight
Some of the major players operating in the global market include Thermo Fisher, Koninklijke Philips, Admetec, OSRAM, ATMOS, MedizinTechnik, Bryton Corp., Cuda Surgical, Daray, SurgiTel, Enova Illumination, Excelitas Technologies., KLS Martin and Others.
Recent Developments
In October 2022, SurgiTel announced the launch of the Surgical Headband LED 2.0, equipped with a brighter and longer battery life. The product launch is focused on catering to the increasing demand for color-balanced LED surgical lights along with a traditional configuration for ease of application for dentists. The launch improves the market presence of the company while improving its brand image in the competitive surgical headlight market.
Furthermore, in February 2022, Ream Surgical Ltd. the launch of MedLED chrome MC6 portable surgical headlight to its existing product portfolio. The product offers key benefits such a long battery life at a significantly less charging time lasting up to 6 hours of surgery time and beltless fixtures for ease of fit amidst surgeries. The product launch improves the company's product presence in the market, along with providing a competitive advantage in the technology-driven surgical headlight market arena.
Surgical Headlights Market Report Scope
| | |
| --- | --- |
| Report Attributes | Details |
| Market size value in 2022 | USD 690.63 million |
| Revenue forecast in 2030 | USD 990.37 million |
| CAGR | 4.61% from 2022 - 2030 |
| Base year | 2021 |
| Historical data | 2018 - 2020 |
| Forecast period | 2022 - 2030 |
| Quantitative units | Revenue in USD million and CAGR from 2022 to 2030 |
| Segments Covered | By Technology, By Application, By End Use, By Region |
| Regional scope | North America, Europe, Asia Pacific, Latin America; Middle East & Africa |
| Key Companies | Thermo Fisher Scientific, Inc., Koninklijke Philips N.V., Admetec ltd., OSRAM GmbH, ATMOS, MedizinTechnik GmbH & Co. KG, Bryton Corporation, Cuda Surgical, Daray Ltd., SurgiTel, Enova Illumination, Excelitas Technologies Corp., Heinemann Medizintechnik GmbH, KLS Martin Group and Others. |