The global transplantation market was valued at USD 8.33 billion in 2020 and is expected to grow at a CAGR of 11.5% during 2021 - 2028. Increasing demand for organ transplantation surgeries, owing to rising cases of organ failures and availability of organ donors across the globe are the key factors responsible for the transplantation market growth. There are several reasons for organ failures such as sepsis, blood loss, trauma, poisoning, drug abuse, and other acute hereditary diseases.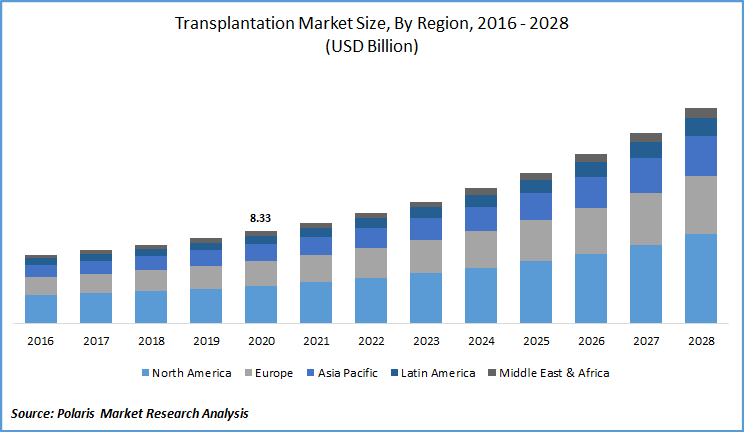 Know more about this report: Request for sample pages
For example, diabetes and heart-related ailments are the most prominent causes of end-stage renal disorders, in which dialysis or kidney transplant are the available treatment option for the patient. According to the U.S. Department of Health & Human Services, in 2019, there were approximately 122,913 patients in the country waiting to undergo organ transplant surgery. Alcohol consumption, faulty lifestyle, and sedentary working culture are few more leading causes of organ failures.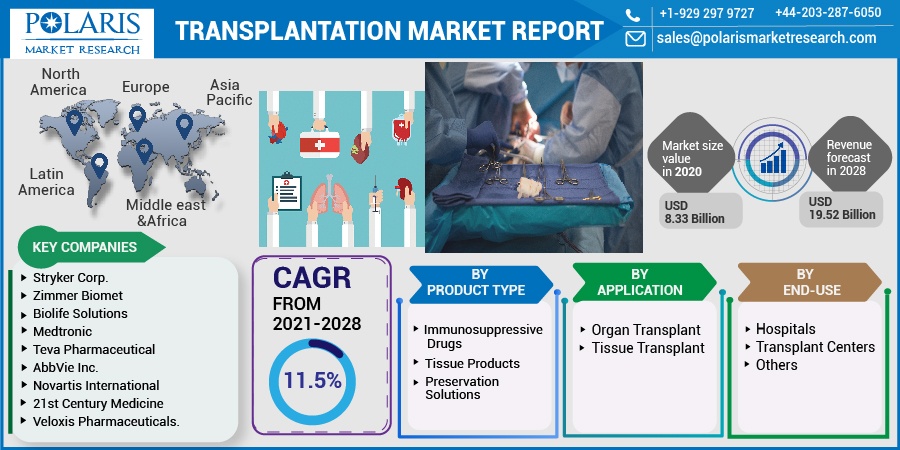 Know more about this report: Request for sample pages
Transplantation Market Report Scope
The market is primarily segmented on the basis of product type, by application, by end-use, and geographic region.
By Product Type

By Application

By End-Use

By Region

Tissue Products
Immunosuppressive Drugs
Preservation Solutions

Organ Transplant
Tissue Transplant

Hospitals
Transplant Centers
Others

North America (U.S., Canada)
Europe (France, Germany, UK, Italy, Spain, Netherlands, Austria)
Asia Pacific (Japan, China, India, Malaysia, Indonesia. South Korea)
Latin America (Brazil, Mexico, Argentina)
Middle East & Africa (Saudi Arabia, UAE, Israel, South Africa)
Know more about this report: request for sample pages
Insight by Product Type
In 2020, the tissue market segment in transplantation industry is estimated to hold the largest revenue share and likely to grow at a moderate rate over the study period. This high share is owing to the fact that the majority of transplants being used are tissue-based.
The rising demand for different organ transplant surgery such as heart valves, cochlear, soft tissues, and bone marrow and new product launches also favoring the segment market growth in the transplantation industry.
For instance, in September 2015, Arthrex introduced a new ortho-biological product "ArthroFlex Acellular Dermal Matrix". It is intended for capsular reconstruction and allows retaining its growth factors and natural scaffolds.
Manufacturers in the market for transplantation are focusing on product development, and mergers and acquisitions to strengthen their market position. In this direction, Stryker Corporation completed the acquisition of Instratek, the U.S.-based manufacturer of minimally invasive instruments for foot and ankle.
Insight by End-Use
In 2020, the hospital market segment of transplantation industry accounted for the largest share among all the segments. This high share is attributed to high penetration organ transplant surgeries in hospital facilities, as they are better equipped to carry out such operations. Moreover, such hospitals have better accessibility to organ donor providers, which aids in rapid medical attention, without any delay in treatment.
The transplant center market segment of transplantation industry is anticipated to exhibit a lucrative growth rate over the assessment period. Favorable government policies and rising demand for organ transplants have triggered the establishment of such advanced healthcare centers. For instance, Health Resources and Services Administration has sponsored funding to focus on rising organ donors and transplant surgeries.
Moreover, the presence of advanced treatment centers in the developed countries also boosted the demand for such products. For instance, as per the estimates of the National Kidney Center, in the U.S. alone, there were around 244 transplant centers. Increasing organ donors, the growing burden of chronic diseases, and improving medical infrastructure in emerging economies also propelled the region's growth.
Geographic Overview
Geographically, the global market is bifurcated into North America, Asia Pacific, Europe, Latin America, and Middle East & Africa. North America transplantation industry is the largest revenue contributor followed by Europe and the Asia Pacific region at the global level. In 2020, Asia Pacific accounted for a significant market share and is expected to witness substantial growth.
The presence of robust healthcare infrastructure and innovative companies such as Arthrex, Medtronic, Stryker, Zimmer Biomet, and Novartis in the region has also supported the region's transplantation industry growth. The supply and demand gap in organ availability for the heart, kidney, liver has increased to a larger extent in past few years.
Governments and government organizations in both U.S. and Canada also encouraged individuals to donate an organ. Moreover, transparent, and easier organ donation owing to favorable government guidelines also supported the region's market growth prospects for transplantation. In line with this, Human Resource & Services Administration, in April 2020, introduced the "Hospital Organ Donation Campaign" to increase organ donation.
Asia Pacific transplantation industry is projected to witness a lucrative market growth rate over the assessment period, owing to improving healthcare infrastructure, extensive research on stem cells in India, Indonesia, Thailand, and Malaysia. Moreover, the region has huge potential for organ transplantation, which is currently challenged by social myths regarding organ donation due to religious beliefs.
Competitive Insight
The prominent players operating in the market for transplantation include Stryker Corp., Zimmer Biomet, Biolife Solutions, Medtronic, Teva Pharmaceutical, AbbVie Inc., Novartis International, 21st Century Medicine, and Veloxis Pharmaceuticals.