The global video encoders market was valued at USD 2.22 billion in 2021 and is expected to grow at a CAGR of 7.9% during the forecast period.
The market's expansion can be largely due to the usage of efficient video coding standards for video encoding with the connected analog cameras employing video encoders with the help of cloud services. It is effective to transition an existing analog-based system to an IP-based system using video encoders.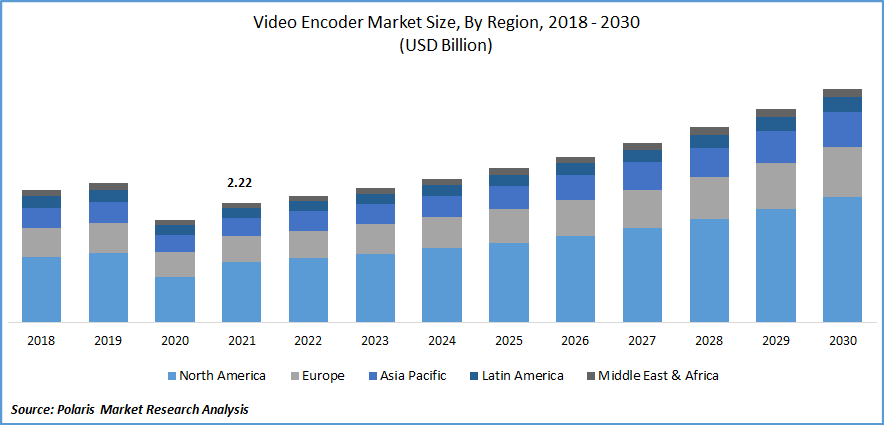 Know more about this report: Request for sample pages
To continuously innovate and enhance the effectiveness of video encoders, firms in the market make significant investments in R&D efforts. The market is experiencing enormous growth due to the spread of digitalization and video content delivery networks (CDN) among various industries.
A device that aids in transforming analog video into digital data is a video encoder. It can also be utilized for recording, encoding, and decoding purposes with improved quality as an input or output unit of the computing system or application. Broadcast, surveillance, and video conferencing are further used for video encoders. They are employed in creating many videos, including those for motion pictures and sporting events.
Video technology has advanced significantly during the previous few decades. This evolution has corresponded with the internet's explosive growth and development. When movies went digital, motion pictures—essentially massive collections of still photos—worked fine on VHS cassettes and even DVDs but created gigantic files.
The outbreak of COVID-19 had a significant influence on the global market, as the markets encountered widespread supply chain disruptions and issues. In addition, manufacturing slowed dramatically. Furthermore, demand for video encoders fell, resulting in a financial setback for the market. However, the market's demand rate remains consistent due to content creators' desires.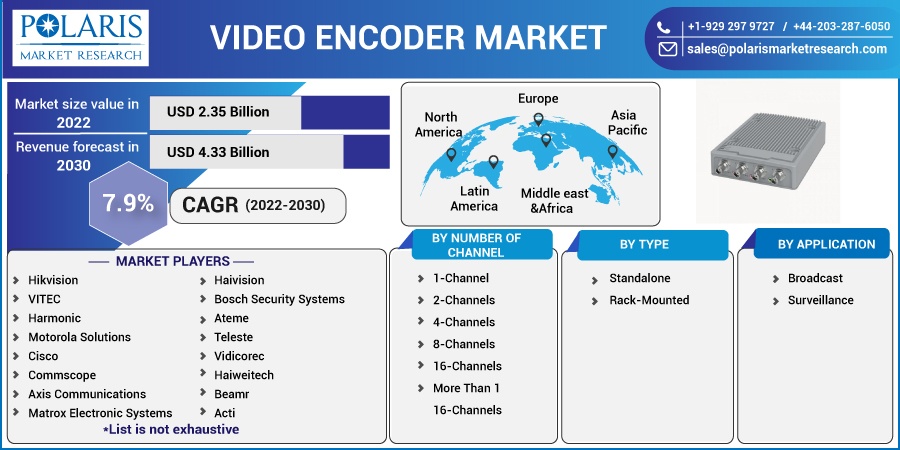 Know more about this report: Request for sample pages
Industry Dynamics
Growth Drivers
The widespread use of the internet is a significant market factor. Video consumption has increased as a result of the increasing use of the internet. The primary goal of video providers is to provide outstanding user experiences. These content producers employ video encoder technology to produce the best videos. Software-based video encoding solutions are one of the additional elements affecting overall demand. The video encoder industry will continue to advance due to these market drivers.
Factors including growing cameras and straightforward software applications would boost overall market expansion during the projected period. Adopting a video encoder in the military and defense industry is also anticipated to accelerate market expansion. The broad range of applications for video encoders will further accelerate the market's growth rate throughout the projected period.
A way to send data over the internet without requiring full downloads from the end user is through streaming. Another form of streaming is live streaming, in which the feed is transmitted over the internet immediately and without being initially recorded and stored. In recent years, video streaming companies have experienced enormous expansion, notably during the pandemic. Due to people's increased internet usage, the growth was considerably larger. For instance, in 2021, the International Telecommunication Union (ITU) estimates that COVID-19, the number of internet users climbed from 4.1 Bn in 2019 to 4.9 Bn.
The need for video encoders is anticipated to increase as the number of subscribers to video streaming platforms increases. In addition, given the expanding user base of video streaming platforms, suppliers in the video encoding market focus more on creating cutting-edge solutions to meet various demands from providers. For instance, Skywire Broadcast and Kiloview worked together to launch the P series professional high-end video encoder in June 2022. It is ideal for outside live streaming and broadcasting in situations like sporting events, concerts, and field broadcasts, among others.
Report Segmentation
The market is primarily segmented based on number of channel, type, application and region.
By Number of Channel

By Type

By Application

By Region

1-Channel
2-Channels
4-Channels
8-Channels
16-Channels
More Than 16-Channels

North America (U.S., Canada)
Europe (France, Germany, UK, Italy, Netherlands, Spain, Russia)
Asia Pacific (Japan, China, India, Malaysia, Indonesia, South Korea)
Latin America (Brazil, Mexico, Argentina)
Middle East & Africa (Saudi Arabia, UAE, Israel, South Africa)
Know more about this report: Request for sample pages
16-channel encoders segment is expected to witness the fastest growth
In 2021, a larger portion of the market for video encoders was occupied by the 1-channel video encoder category. 1-channel video encoders are highly sought after in the broadcast equipment sector, particularly for contribution applications. With the original video feed's resolution preserved, these encoders enable real-time content transmission to audiences worldwide. Simple and affordable options include single-channel video encoders. They are perfect for transitioning an analog security system to an IP-based one.
The 8-channel encoder category is anticipated to grow significantly over the forecast period. Bit rate and PID management settings can be independently set for each of the eight encoders. A high-level H.264 codec is used for encoding, and bit rates of up to 19 Mbps per channel are possible.
The category of 16-channel encoders is predicted to grow at a quicker CAGR during the forecast period. There are 16-channel video and audio inputs on 16-channel video encoders. The ease with which 16-channel video encoder systems can be deployed rather than migrating to more expensive IP-based systems is expected to promote demand for 16-channel video encoder systems. Another major factor driving this market's expansion is the increased installation of cameras in commercial and institutional segments.
Rack-mounted accounted for the largest market share in 2021
In 2021, rack-mounted segment had the largest market share. With an increasing number of product launches, the market for rack-mounted video encoders is seeing tremendous growth. For instance, in 2020, Haivision introduced the Makito X4 Encoder to be deployed as blades within the rack-mounted plates. Such video encoders are very helpful when large installations with analog cameras are needed.
The standalone sector is anticipated to post the highest CAGR. These video encoders can be helpful if large installations with analog cameras are necessary. Due to their low cost and usefulness in scenarios where only a few cameras need to be connected, standalone video encoder popularity has grown in recent years. Due to their ability to customize the settings to the needs of the customer, which allows for a decrease in installation costs and results in an improvement in image quality, the standalone segment would be expected to grow favorably.
Broadcast sector is expected to hold the significant revenue share
The broadcast segment is anticipated to develop fastest. Broadcasting, 4K recording/over IP, and camera support all require video encoders (such as monitoring live events). Most broadcasters use video encoders to deliver high-quality video content with less bandwidth. Broadcasters can deliver high-quality video at low bit rates by installing video encoders. Thus, there is now a higher need for broadcast encoders due to the necessity for service providers to deliver high-quality material and guarantee improved streaming.
The surveillance category is anticipated to grow significantly over the forecast period. By incorporating CCTV cameras into the IP-based system, they offer high-end surveillance while not requiring pricey infrastructure. There are many different verticals where surveillance applications are used, including institutional, transit, retail, commercial, residential, and military and defense. The need for video encoders has grown due to the adoption of security cameras in these industries.
The demand in North America is expected to witness significant growth
In 2021, North America accounted for a key share of the global market and was presumed to witness significant growth in the coming years. Collaborations between the government and network sectors, institutional alliances between video encoder manufacturers and research collaborations, and significant investments in cloud-based services are key growth factors for the global market in this region.
Among the key reasons propelling the global market in North America are the huge economy, robust high-tech and media sector, strong connections, and highly educated population. Additionally, the region's increased need for video encoders has been fueled by the rise in broadcast channels brought on by the region's increasing cultural variety.
Furthermore, in North America, particularly in the United States, the government has made steps to install surveillance systems in government buildings, public locations, and educational institutions. North America is often regarded as a pioneer in using video surveillance systems for public safety.
The Asia Pacific is expected to be the fastest-growing global market over the forecast period. The need for video encoders in Asia has increased due to the rising popularity of social networking sites and broadcasting services like live streaming. The need for surveillance cameras in Asia has been driven by increased terrorist activities, rising crime rates, data thefts, remote monitoring, and expanding public infrastructure, among other things. In the upcoming years, demand for and acceptance of video encoders are anticipated to increase across several Asia Pacific nations due to the growing use of video surveillance cameras.
Competitive Insight
Major players operating in the global market include Hikvision, VITEC, Motorola Solutions, CommScope, Axis Communications, Matrox Electronic Systems, Dahua Technology, Haivision, Bosch Security Systems, Ateme, HaiweiTech, Beamr, ACTi Corporation, Ericsson, Honeywell Security Group and LILIN.
Recent Developments
In March 2022, Monarch EDGE is a new 4K/Multi-HD H.264 webcasting & remote production encoder from Matrox. Up to 3840x2160 at 60 frames per second or four 1920x1080 at 60 frames per second broadcast-quality footage can be delivered.
In August 2020, Motorola Solutions, Inc. purchased Pelco, Inc. to become a major video surveillance player with a solid lineup of products and expanding geographic presence.
Video Encoders Market Report Scope
| | |
| --- | --- |
| Report Attributes | Details |
| Market size value in 2022 | USD 2.35 billion |
| Revenue forecast in 2030 | USD 4.33 billion |
| CAGR | 7.9% from 2022 - 2030 |
| Base year | 2021 |
| Historical data | 2018 - 2020 |
| Forecast period | 2022 - 2030 |
| Quantitative units | Revenue in USD billion and CAGR from 2022 to 2030 |
| Segments Covered | By Number of Channel, By Type, By Application, By Region |
| Regional scope | North America, Europe, Asia Pacific, Latin America; Middle East & Africa |
| Key Companies | Hikvision, VITEC, Harmonic, Motorola Solutions, Cisco, Commscope, Axis Communications, Matrox Electronic Systems, Dahua Technology, Haivision, Bosch Security Systems, Ateme, Teleste, Vidicorec, Haiweitech, Beamr, Acti, Ericsson, Honeywell Security Group and Lilin. |