The global water blocking tapes market was valued at USD 361.7 million in 2021 and is expected to grow at a CAGR of 5.4% during the forecast period. The main factor propelling the market's expansion is the expanding use of water blocking tapes in numerous cable designs, including power cables, data communications cables, and telecommunications cables. The distinctive qualities of this tape, such as its rapid swelling and superior swelling height, fuel the water blocking tape industry. As a result, it can effectively preserve the cable by blocking water and moisture between the elements.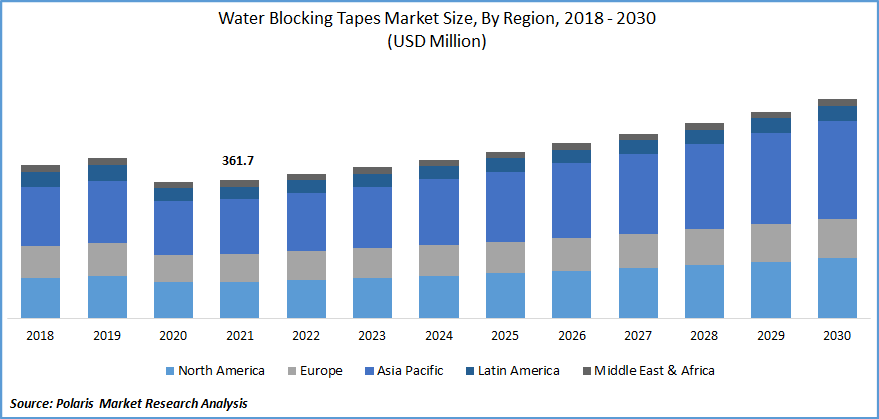 Know more about this report: Request for sample pages
Liquid poses a specific threat to fiber optic cable, leading to a long-term decrease in transmission security and complete failure. The adhesive instantly creates a waterproof gel when water contacts a cable, shielding it from further harm. Due to this cause, there was a rise in the need for the product in various homes, businesses, lodging facilities, and other similar locations. This was for multiple types of applications. This element powered the water blocking tapes market growth.
However, the implementation of strict regulatory rules, the fluctuation in demand caused by the price of raw materials, and the shift in end-user preference toward environmentally friendly products are the main factors impeding the growth of the global non-conducting water blocking tape market. However, there is profit potential for the leading companies in the Non-Conductive water blocking tapes Market to improve their capacities by altering the number of materials utilized and offering tapes for various applications.
Water-blocking tapes quickly collect liquid at the location of mechanical damage, swell, and prevent further entry. Water-blocking substances include absorbent polymers bonded to the underside of layers of cloth using ultrasonic waves. Barrier tapes are used in optical fiber, submarine, power, communication, and other cables.
A caustic-free, super-swelling polyester non-woven fabric is used to create non-conductive products. Because of its extraordinary swelling speed and height can effectively block water and mist to safeguard the cable. The absorbent powder in the the product creates an impermeable gel immediately when water enters a cable protected by the tapes, stopping further damage.
Globally, the COVID-19 pandemic affected the market for the product due to a drop in demand from cable manufacturers. This disrupted operations and worldwide supply chains in various sectors, resulting in a decline in demand and growth in the water-blocking tape market. Several governments implemented lockdowns in 2020 to prevent the virus from spreading further.
Companies are still attempting to cope with the pandemic's unexpected impact, and they have been impacted. They also have to enhance their supply chain and distribution network to meet future demand for the product and deal with market volatility. As a result of improving markets and end-use sectors, as well as increased building projects and investments in the cable industry globally, the market is picking up pace.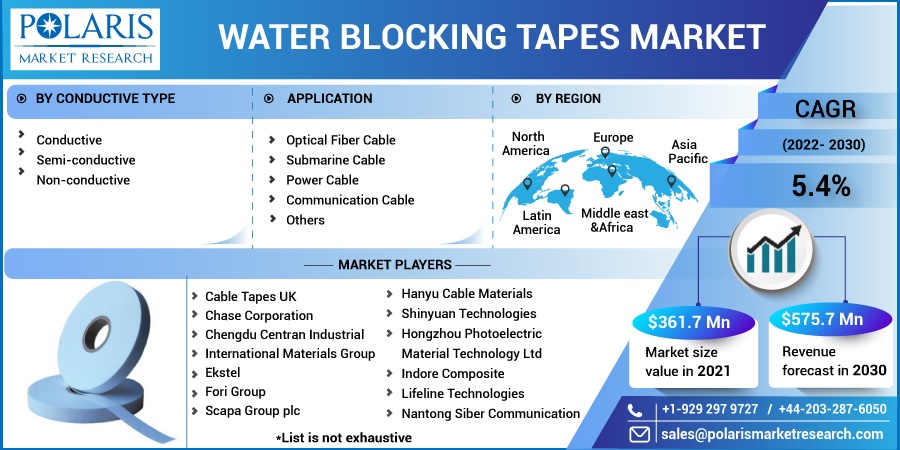 Know more about this report: Request for sample pages
Industry Dynamics
Growth Drivers
The product is used on submarine data cables to minimize the possibility of fiber optics being exposed to seawater, which could harm the cables. Offshore wind energy generation has witnessed a rise in use over the last several years with the developments and shift towards green energy generating and lowering carbon emissions. Submarine cables link these offshore wind farms to the land grid's systems.
In order to prevent water from penetrating the tapes, these cables are made with water-blocking tapes. Additionally, it keeps cables from short-circuiting and increases their lifespan. These operations increase the market's consumption of underwater cables, boosting demand for the product.
Report Segmentation
The market is primarily segmented based on conductive type, application, and region.
By Conductive Type

By Application

By Region

Conductive
Semi-conductive
Non-conductive

Optical Fiber Cable
Submarine Cable
Power Cable
Communication Cable
Others

North America (U.S., Canada)
Europe (France, Germany, UK, Italy, Netherlands, Spain, Russia)
Asia Pacific (Japan, China, India, Malaysia, Indonesia, South Korea)
Latin America (Brazil, Mexico, Argentina)
Middle East & Africa (Saudi Arabia, U.A.E., Israel, South Africa)
Know more about this report: Request for sample pages
The Non-conductive segment is expected to witness the fastest growth.
In 2021, non-conductive tapes dominated the market. These tapes are made of a polyester, non-woven fabric that is extremely absorbent. Due to their exceptional swelling height and speed, they can successfully block water and mist to safeguard the cable. These tapes immediately absorb moisture and swell to stop further penetration.
As a result, cable damage is reduced, kept wholly enclosed, and is simple to identify and fix. Non-conducting segment are widely used in the cable industry, particularly in the submarine, energy, and telecommunications markets, non-conducting water-blocking tapes are widely used. Seawater-blocking capacity, rapid swelling, appropriateness for direct fiber contact, high yield, quick processing, low electrical resistance, and adequate cushioning are some of the characteristics and benefits of non-conductive product.
Power cable accounted for the second-largest market share in 2021
It is expected that the power cable segment will grow with the highest CAGR due to the increasing use of non-conducting type to protect power cables due to its high tensile strength, fine finish, and excellent waterproofing properties. It also offers a variety of advantages.
Swellable tape and yarn solutions provide excellent swelling speeds and heights in conjunction with a choice of superabsorbent powder options. This establishes the industry benchmark for dependability and quality and is the most effective defense against longitudinal blockage. Moreover, these advantages described above will likely lead the power cable segment in the forecast period.
The demand in Asia Pacific water blocking tapes market is expected to witness significant growth
The global market is expanding at the fastest rate in the Asia Pacific. According to data published by the Asian Wind Energy Association, the nation is thought to possess 200 GW sea-based and 2,380 GW of land-based exploitable capacity. China also supports several regional power systems that promote the interchange of electricity across nations.
The Northeast Asia Power Grid Interconnection (NEAG), which aspires to connect the northeast Asian nations via a high-voltage power grid, is one such endeavor. This network comprises 12 EGV/UHV DC interconnections with 800 kV and 810 GW capacities and 200–300 km in length.
The grid connects multiple submarine cables to the Korean Peninsula, China, the Japanese islands, Sakhalin Island, and the mainland. Due to all these planned developments, the market for submarine power cables in China will inevitably increase. In terms of volume and value, the US dominated the market in 2021. Significant market contributions came from Canada and Mexico as well. The industrial industry's technological developments have boosted the demand in this area.
Competitive Insight
There are several players operating in the global water blocking tapes market, which includes Cable Tapes UK, Chase Corporation, Chengdu Centran Industrial, International Materials Group, Chhaperia International Company, Ekstel, Fori Group, Scapa Group plc, Geca Tapes, Gurfil, Hanyu Cable Materials, Shinyuan Technologies, Hongzhou Photoelectric Material Technology Ltd, Indore Composite, Lifeline Technologies, Nantong Siber Communication, Navank Consultants, Shenyang Tianrong Cable Materials Co Ltd, Sneham International, Star Materials, Suzhou Kaying Industrial Materials Co Ltd, Swabs Tapes India Private Limited, Unitape UK Ltd, Vitahco, and Weihai Hongda Cable Material.
Recent Developments
In January 2022, Tesa SE made an estimated USD 61.5 Mn investment to lay the groundwork for its new facility in the Vietnamese port city of Haiphong. Given that Asia is one of the regions with the highest growth, the company intends to increase its manufacturing capacity for the region. Around 40 Mn M2 of sticky tape will be produced annually in this new plant.
In April 2021, the acquisition of Scapa Group Ltd by the SWM International has been completed. The acquisition significantly increased the company's capabilities in research, innovation, and manufacturing.
Water Blocking Tapes Market Report Scope
| | |
| --- | --- |
| Report Attributes | Details |
| Market size value in 2022 | USD 378.0 million |
| Revenue forecast in 2030 | USD 575.7 million |
| CAGR | 5.4% from 2022 - 2030 |
| Base year | 2021 |
| Historical data | 2018 - 2020 |
| Forecast period | 2022 - 2030 |
| Quantitative units | Revenue in USD million and CAGR from 2022 to 2030 |
| Segments Covered | By Conductive type, By Application, and By Region |
| Regional scope | North America, Europe, Asia Pacific, Latin America; Middle East & Africa |
| Key Companies | Cable Tapes UK, Chase Corporation, Chengdu Centran Industrial, International Materials Group, Chhaperia International Company, Ekstel, Fori Group, Scapa Group plc, Geca Tapes, Gurfil, Hanyu Cable Materials, Shinyuan Technologies, Hongzhou Photoelectric Material Technology Ltd, Indore Composite, Lifeline Technologies, Nantong Siber Communication, Navank Consultants, Shenyang Tianrong Cable Materials Co Ltd, Sneham International, Star Materials, Suzhou Kaying Industrial Materials Co Ltd, Swabs Tapes India Private Limited, Unitape UK Ltd, Vitahco, and Weihai Hongda Cable Material. |