The global well cementing services market size was estimated to be worth USD 8,540.7 million in 2018 and is expected to grow at a CAGR of 6.1% from 2019 to 2026. The demand lies in energy distribution which is taken care of by oil and gas exploration towards erecting new oil rigs, deep strata, and building new oil wells that encumber various cementing problems. But the release of hydrocarbons has given cementing a new lease of life by including brine, salt gypsum formations, sour gas reservoirs under difficult operating and geological conditions.
Anti-channelling evaluation methods, close packaging method, cement ring failure evaluation and other complicated well cementing technologies such as leak well deep well, horizontal well, salt gypsum, glass storage cementing processes are the current technical trends in practise today. This has led to many industry participants joining hands amongst themselves and developing new and improved wells cement types which uncover significant operational advantages. An underestimated demand for hydrocarbon fuels for the expanding populace has been the sole source of energy driver that caters to everybody and brings the cementing services back at the forefront during forecast period.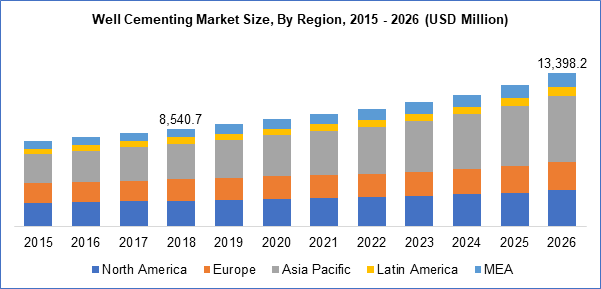 Know more about this report: request for sample pages
The increase in energy consumption is expected to be the major driver to product growth. This will simultaneously urge E& P companies to increase reserves in onshore and offshore oil and gas reserves. Increasing E&P for recovering unconventional hydrocarbon resources such as shale gas, tight gas and coal bed methane is expected to boost market in the forecast period.
A ceaseless demand for growing energy production from secondary sources such as oil wells has given rising stature to US as a leading oil and gas services player in global cementing services. These shifting trends in hydrocarbons production have gained reputation for being additional sources of energy in driving well cementing over forecast period.
Offshore segment is expected to drive market growth expectantly. Rising oil exploration operations and technological advancements in equipment and service have made oil and gas drilling operations very cost-effective adding to seamless growth.
Large untapped resources in vicinity of China, Russia and Brazil along with technological advancements in well cementing equipment and selective services provided by operators will boost growth.
Stringent regulations and policies for cementing materials will restrain product growth over the years. The well cementing growth is largely dependent on crude oil prices and oil and gas production.
The decision of OPEF to cut back upon drilling formations in 2018 will only ramp up operations in oil well exploration activities to come up to par with oil and gas exploration gains accrued in 2017. This in turn will add growth to well cementing services.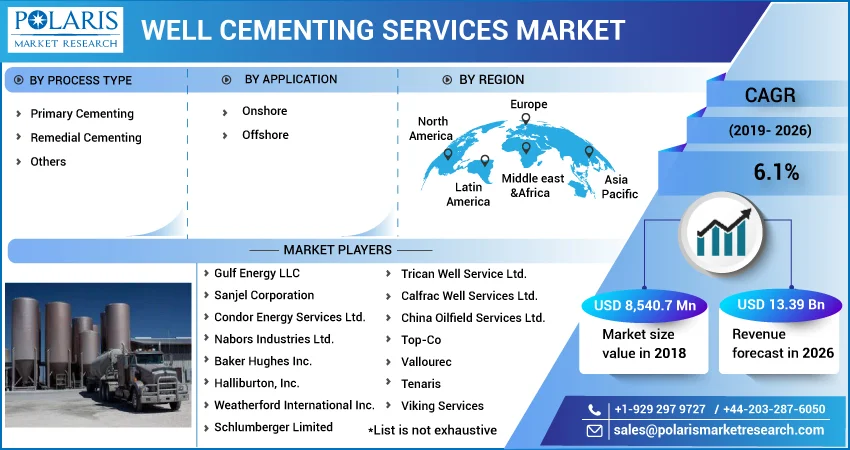 Know more about this report: request for sample pages
Well Cementing Services Market Report Scope
By Process Type

By Application

BY Region

Primary Cementing
Remedial Cementing
Others

North America (U.S., Canada)
Europe (UK, France, Germany)
Asia Pacific (India, China, Japan)
Latin America (Mexico, Brazil)
MEA
Know more about this report: request for sample pages
Process Type Analysis
The global market is segmented based on type of cement processes, application areas and regional growth. Types of cement processes are further subdivided into primary cementing, remedial cementing and others. Application area is segmented into onshore and offshore fields. Primary well cementing application prevailed in the past and stands by growing exploration for recovering hydrocarbons such as shale gas etc. that boosts growth. Remedial well cementing segment will witness fast growth over forecast period due to rehabilitation of oil wells particularly in Gulf of Mexico, North America, North Sea and Russia. This will produce strong growth in region over forecast period. Primary Cementing services occupied largest segment in 2017 in global market.
Application Analysis
Increased drilling activities for production of oil and gas from unconventional reserves include tight gas, shale gas and CBM reserves which will augment demand for well cementing services market over the forecast period. Onshore segment contributed endlessly to market by having maximum number of oil and gas wells globally compared to offshore wells. MEA has struck rich with proven onshore reserves in the region which is expected to drive investments of services in onshore wells.
Regional Analysis
The market is geographically classified into North America, Europe, Asia Pacific, Latin America and MEA. MEA has been nominated as the leading regional market in 2017 in the global well cementing services market. Consolidation had taken place on a large-scale last year. MEA has maximum number of oil and gas reserves in the world with major part of global exploration and production taking place in the region. As production increases in start of 2020, demand for well cementing services will foster simultaneous growth in the region.
Middle East was the biggest regional market in 2017 in the services market by virtue of largest hydrocarbon reserves and with leading production figures. North America's recent foray into shale exploration and production has been the major driving factor bosting services market.
Primary product applications dominated the market and especially in Saudi Arabia, U.S., China and Russia coupled with growing demand for oil and shale gas which is expected to have a positive impact on the market.
Significant oil and gas wells existing in deep and very deep waters especially in Gulf of Mexico, Persian Gulf and North Sea has impacted market very highly over the forecast period.
Of late, oil exploration in Africa has boosted market over the forecast period. The Middle East is expected to witness substantial growth over forecast period owing to large reserves which will commence production from next year.
Competitive Analysis
Some of the key players in the market include Gulf Energy LLC, Sanjel Corporation, Condor Energy Services Ltd., Nabors Industries Ltd., Baker Hughes Inc., Halliburton, Inc., Weatherford International Inc., Schlumberger Limited, Trican Well Service Ltd., Calfrac Well Services Ltd., China Oilfield Services Ltd., Top-Co, Vallourec, Tenaris, Viking Services, Consolidated Oil Well Services and Calfrac.