The global well intervention market size was worth USD 8.53 billion in 2017 and is estimated to grow at a CAGR of 4.1% from 2018 to 2026. The purpose of well intervention services is to help operators minimize formation damage, control subsurface pressures, control borehole erosion, and optimize drilling parameters including penetration rate and hole cleaning.
The growing offshore E&P industry, that is currently focused in the development of production wells in the Persian Gulf, is anticipated to drive the well intervention industry over the forecast period. However, adverse environmental effects of E&P activities coupled with strict government regulations are expected to hinder the market growth.
Maintaining wellbore stability, lubricating and cooling the drill bit, controlling formation pressures, removing cuttings from the wellbore, sealing permeable formations while drilling, and well control are some of the functions offered by well intervention services. The selection of well intervention services varies based on rig capabilities, wellbore requirements and environmental concerns.
Know more about this report: request for sample pages
Logging and bottom hole survey was the largest service segment in 2017 and is anticipated to maintain its lead over the forecast period. The service helps in analyzing the wellbore conditions and give feedback to the operators. Rising accidents on the offshore and onshore drilling sites have necessitated the employment of logging and bottom hole survey service. These factors are anticipated to boost market demand over the forecast period.
Well intervention service providers utilize several new strategies including novel product development, agreements, partnerships, collaborations, and also joint ventures to increase penetration of the market and cater to the changing technological requirements for different end-use applications. In May 2017, Baker Hughes, Inc. announced the launch of DEEPFRAC deep-water multistage fracturing service for offshore completion purposes. With the help of this service, the time required for completions is reduced, tool logistics is simplified, and rapid stimulation of multiple stages is possible at the same time.
In addition, companies are extensively involved in R&D to develop well intervention services that have a less impact on the surrounding environment. The growing environmental, health, and safety concerns regarding the disposal of mud discharge and cuttings are expected to restrain the market growth over the forecast period.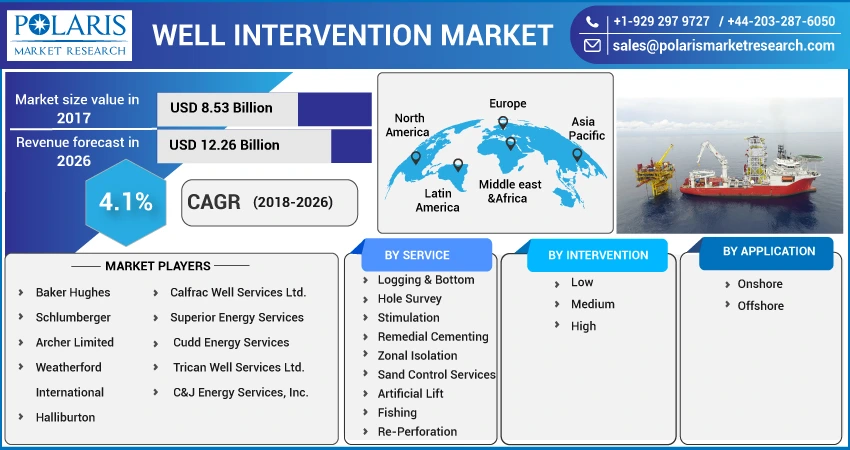 Know more about this report: request for sample pages
Segment Analysis
The well intervention market, on the basis of service, can be classified into packer/ tubing failure & repair, logging & bottom hole survey, stimulation, zonal isolation, remedial cementing, sand control services, artificial lift, fishing, re-perforation, and others. Well intervention market, on the basis of intervention can be classified into low, medium and high intervention and by application it can be classified into onshore and offshore.
Tubing/packer failure & repair is used to fix any discrepancies in the tubing or packer equipment caused on account of harsh wellbore conditions which thus subjects the tubing & packer to high pressures & temperatures. Tubing/packer failure & repair is anticipated to have a moderate growth rate and high market penetration over the forecast period.
Stimulation service is anticipated to be the fastest-growing segment over the forecast period. This service is utilized to increase the hydrocarbon flow rate into the reservoir from the drainage area, which helps in increasing the production of oil & gas resources. Stimulation service segment is anticipated to have moderate market penetration over the forecast period.
Wellbore conditions are often unstable or out of control, which causes the cementing on the sidewalls to come off. Remedial cementing is performed on an oil & gas well to fix primary cement job issues. This segment service segment is anticipated to register a high growth rate over the next eight years.
Well Intervention Market Report Scope
By Service

By Intervention

By Application

By Regions

North America (U.S., Canada)

Europe (Russia, UK, Norway, Netherlands, Poland, Germany)

Asia Pacific (China, Australia, India, Indonesia, Malaysia, Thailand, Vietnam)

Latin America (Brazil, Mexico, Argentina, Chile, Colombia)

Middle East & Africa (Oman, Saudi Arabia, UAE, Qatar, Iran, Kuwait, Turkey, South Africa, Algeria)
Know more about this report: request for sample pages
Regional Analysis
Rising concerns for the environmental impacts related to waste disposal generated during well intervention processes has urged the regulatory organizations of countries including UK, Norway, Australia, the U.S., Saudi Arabia, and Canada to issue stringent guidelines regarding the treatment and disposal of waste.
Oil Spill Prevention, Administration and Response (OSPAR) Commission has established protocols regarding the discharge of waste generated due to well intervention operations in the UK and Norway. The CAPP and NOAA regulatory norms for the disposal of waste chemicals in North America.
Although well intervention operations were banned in the UK and South Africa in the beginning, the ban was later lifted and regulations were implemented as an alternative to complete prohibition. In Germany, specific regulations are introduced to allow drilling for exploiting shale gas reserves with the exception of wetland areas. The European Union (EU) has framed regulations for high-volume well intervention activities, which require full disclosure of chemical additives being used for E&P activities. Stringent regulations and strict standards are expected to remain key challenges for market participants over the forecast period.
Competitive Analysis
Companies including Baker Hughes, Schlumberger, Archer Limited, Weatherford International, and Halliburton have achieved forward integration by establishing their presence in the manufacturing and service-providing sectors. Service providers such as Calfrac Well Services Ltd., Superior Energy Services, Cudd Energy Services, Trican Well Services Ltd., and C&J Energy Services, Inc. offer well intervention services for end-use applications.