The global women health market is valued at US $ 38.10 billion in 2021 and is projected to grow at a CAGR of 4.9% during the forecast period. As per the (IOF) International Osteoporosis Foundation statement, by 2050, 41% of females aged above 50+ years will suffer osteoporosis fractures because of a deficiency of phosphate and calcium in bones.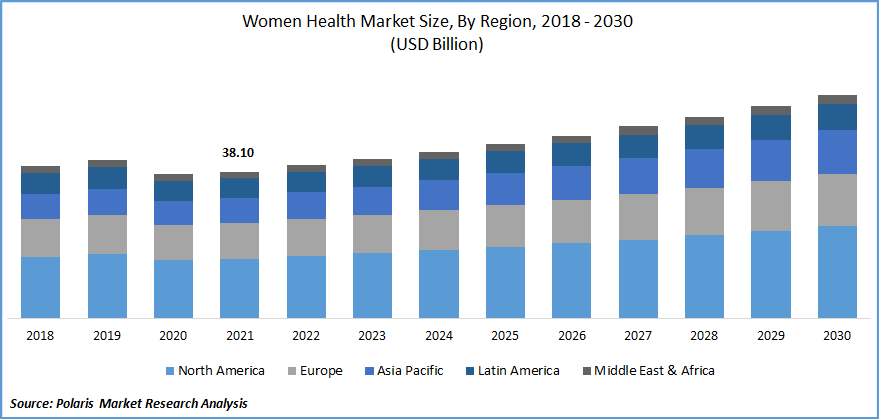 Know more about this report: Request for sample pages
Increasing disbursement on the establishment of well-equipped medical infrastructure relatively led to robust development in medical issues awareness among females, enhanced by counseling and awareness programs by hospitals, NGOs (Non-Governmental Organizations), & government bodies through television, newspaper, and social media podcasts.
Various campaigns are also driven by the administration bodies and industry players to create consciousness about female's health about, hygiene, nutritional insufficiency, and illness symptoms recognition; this led the players to promote their products and service as well, and these factors boost the women health market during the forecast period.
Strategic acquisitions, joint ventures, mergers, partnerships, and collaborations boost the gross development of the global women's health market. The increasing emphasis on healthy female life is associated with the strengthened disposable income of working-class females in rural areas, too, encouraging the growth of the women's health market across the world. Additionally, the high rate of spread of chronic diseases like cardiovascular diseases, breast cancer, and diabetes in females is enhancing the growth of the global women's health market during the study period.
Surge requirements for contraceptives, namely oral pregnancy avoidance pills, contraceptive implants (IUDs), intrauterine devices, protective caps, and injections to control unwanted births. In the latest survey by the National Association of Chronic Disease, government initiatives at various levels are initiated to propound on female reproductive medical issues and make them aware of contraception, specifically, females living in low-income regions and having illiteracy. Using sanitary pads during menopause is still challenging in many countries in the Asia Pacific region.
The impact of the COVID-19 pandemic has a pessimistic reaction on the business of women's health because of the lockdown and the firm restrictions brought into effect across the globe to control the outspread of coronavirus infection among the population.
This negative effect on the global female health market can be observed in the low-end execution of key players in the women's health market who notice a significant downturn in their profits from the pharmaceutical industry. For illustration, Bayer's pharmaceutical revenue decreased by 8.8%, unfavorably striking its commerce by cancellation or postponing low-priority surgeries and treatments in the course of the COVID-19 pandemic.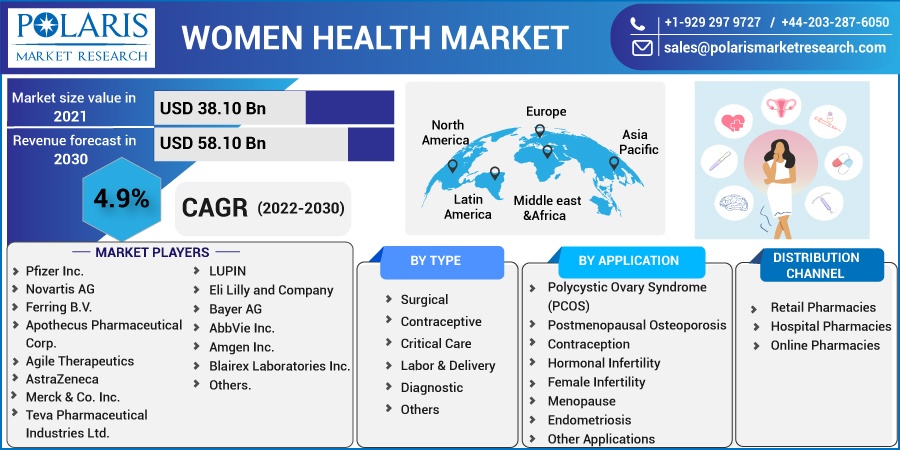 Know more about this report: Request for sample pages
Industry Dynamics
Growth Drivers
Recurring occurrences of disease breakout in female bodies, likely menopause, osteoporosis, anemia, and breast cancer, have tremendously boosted the need for medicine for the proper diagnosis of injuries in females. Rising cognizance of female-related diseases, their unhealthy consequence on internal organs, and the shift towards timely diagnosis and medications to avoid upcoming outbreaks are expected to propel the global women's health market broadening during the projection period.
For instance, according to the IOF, the worldwide prevalence of osteoporosis in women is anticipatory by 2050 to enlist 650 million. Furthermore, initiatives and strategic movements for stimulating awareness about injuries that distress females are fueling the acceptance of female's well-being, thus altogether driving the growth of the female health market globally.
Report Segmentation
The market is primarily segmented based on by type, application, distribution channel, and regions.
By Type

Application

Distribution Channel

By Region

Surgical
Contraceptive
Critical Care
Labor & Delivery
Diagnostic
Others

Polycystic Ovary Syndrome (PCOS)
Postmenopausal Osteoporosis
Contraception
Hormonal Infertility
Female Infertility
Menopause
Endometriosis
Other Applications

Retail Pharmacies
Hospital Pharmacies
Online Pharmacies

North America (U.S., Canada)
Europe (France, Germany, UK, Italy, Netherlands, Spain, Russia)
Asia Pacific (Japan, China, India, Malaysia, Indonesia. South Korea)
Latin America (Brazil, Mexico, Argentina)
Middle East & Africa (Saudi Arabia, UAE, Israel, South Africa)
Know more about this report: Request for sample pages
Contraceptives fragment hold the prime market share in 2021
The contraceptives section in the women's health market occupies a significant revenue share in 2021. Guttmacher Institute publicized their analysis, stats that from 2015 to 2019, there were approximately 121 million unplanned pregnancies in women aged between 15-49, in accord with a universal rate of 64 per 1,000, where 61% finished with abortion, which highly damages the reproductive system of females.
The growing prevalence of undesirable pregnancies and great options available in the industry for birth-control pills by key companies are the prominent aspects anticipated to boost segment-based industry growth.
The osteoporosis division held the second-top share in 2021. The rising dispersal of osteoporosis in females is a much higher rate as compared to men because of the deficiency of calcium and phosphate at a certain age, the surge in active consciousness and increased expenses on female medical, increased per capita income, and females with the job in private or government sector also provided with a health insurance policy are factors which boost the women health market during the forecast period.
Hospital Pharmacies Section dominated the market in 2021
The hospital pharmacies fragment is considered the mammoth share of the women's health market during the estimation period. The mastership of the category can be ascribed to the precision that the preponderance of the pharmaceuticals for multiple treatments can be advised after thorough checkups and tests by experienced doctors and surgeons at these centers. Additionally, initiatives are taken by key industry participants and government bodies regarding upgrading medical facilities in hospitals and well-equipped hospital pharmacies to achieve positive acceptance among females.
The online pharmacy store category is expected to expand at a rapid pace in the global women's health market attributed to the growing inclination of female patients for online buying of required medicines by virtue of convenience, hygiene, safety, comfort, cashless payment, ease return policy, and high percentage discounts on pricing provided by online pharmacies.
North America leads the global women health market in 2021
In the U.S. and Canada high acceptance rate of women's health-related products for the betterment of health in females, huge funding for the treatment of the female populace, and a jump in the prevalence of injuries in females are some of the aspects supporting the supremacy of the region. For instance, BreastCancer.org, States for 2022, about 287,850 presumptuous breast cancer are anticipatory to be treated in females in the U.S alone. Additionally, the presence of prominent players is much higher in North America, which is credible to develop the growth of the industry in the region.
Europe is expected to be the second-top region in reference to revenue in the global women's health market share, which is preferable to the rising awareness of women's illness and advancement in medical infrastructure in major countries of Europe. The APAC region is anticipated to witness a significant growth rate.
This is major because of the growing perception of female health and the surge in spending in developing nations such as Australia, South Korea, China, and India. Furthermore, the government approach in taking initiatives to develop understanding concerning female's illnesses, treatment, and diagnosis possibilities, and favorable schemes to benefit these services cost less.
Competitive Insight
Key players in the market include Pfizer, Novartis, Ferring, Apothecus Pharmaceutical, Agile Therapeutics, AstraZeneca, Merck & Co, Teva Pharmaceutical Industries, LUPIN, Eli Lilly, Bayer AG, AbbVie, Amgen, Blairex Laboratories, and Others.
Recent Developments
June 2021 - Organon emerged as women's health firm at stock exchange New York. The organization is devoted to convey the challenges in female health necessities, concentrating on reproductive system fitness and individual health situation.
May 2021 – Collaboration between Tervisetehnoloogiate Arenduskeskus and Probi put into effect an R&D consent to proliferate advanced products centered on probiotic lactobacilli strains and also attentive on vaginal hygiene.
In January 2021, Reckitt Benckiser acquired female's sexual wellness organization entitle Queen V concerned female's vaginal health.
Women's Health Report Scope
| | |
| --- | --- |
| Report Attributes | Details |
| Market size value in 2021 | USD 38.10 billion |
| Revenue forecast in 2030 | USD 58.10 billion |
| CAGR | 4.9% from 2022 - 2030 |
| Base year | 2021 |
| Historical data | 2018 - 2020 |
| Forecast period | 2022 - 2030 |
| Quantitative units | Revenue in USD billion and CAGR from 2022 to 2030 |
| Segments covered | By Type, By Application, By Distribution Channel, By Region |
| Regional scope | North America, Europe, Asia Pacific, Latin America; Middle East & Africa |
| Key companies | Pfizer Inc., Novartis AG, Ferring B.V., Apothecus Pharmaceutical Corp., Agile Therapeutics, AstraZeneca, Merck & Co. Inc., Teva Pharmaceutical Industries Ltd., LUPIN, Eli Lilly and Company, Bayer AG, AbbVie Inc., Amgen Inc., Blairex Laboratories Inc., and Others. |