The global cancer biomarkers market was valued at USD 13.71 billion in 2022 and is expected to grow at a CAGR of 14.6% during the forecast period.
Market is driven by rising cases of malignancies across the globe, and rising focus on development of targeted therapies. Growing prevalence of malignancies worldwide, with cancer being the second leading cause of mortality in the United States, following cardiovascular disorders. Particularly, breast, prostate, and lung malignancies have seen a steep increase in incidence rates, with over 1,600 people estimated to be affected by these cancers in the U.S. annually.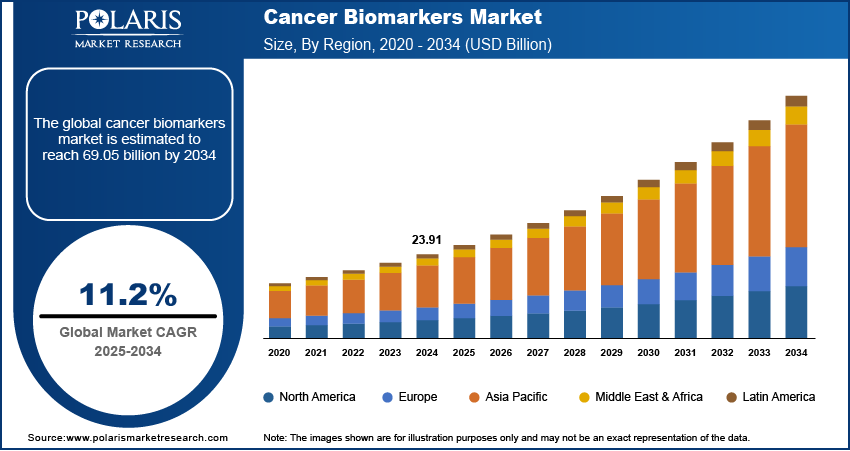 To Understand More About this Research: Request a Free Sample Report
Rising populations & increasing life expectancies with aging populations resulted in higher healthcare needs & pharmaceutical consumption, owing to increased prevalence of the chronic illnesses. According to the United Nations, the global number of people aged 65 -years & above is expected to double in 30 yrs, increasing to 1.6 Bn, by 2050, and is projected to constitute 16.5% of the total population in 2050. The impact of an aging population is higher in countries such as Japan and member states of the European Union (EU4), where the population aged above 65 accounts for approximately 30% of the total population.
Increasing focus on the development of targeted therapies to address the specific molecular and genetic characteristics of individual cancers. These targeted therapies aim to provide more effective and personalized treatment options for patients, reducing the potential side effects associated with conventional chemotherapy. The combination of a rising number of cancer cases and the advancements in targeted therapy development are driving positive growth in the market for oncology treatments. This trend is expected to continue as researchers and pharmaceutical companies work to develop even more innovative and precise therapies to combat various types of malignancies.
Industry Dynamics
Growth Drivers
Early cancer detection and personalized treatment strategies
Increasing awareness among patients and healthcare professionals about the importance of early diagnosis of malignancies. Early detection of cancer is crucial as it allows for timely intervention and treatment, which can significantly improve patient outcomes and increase the chances of successful recovery. Biomarkers play a critical role in early cancer detection as they can indicate the presence of cancer cells or specific genetic changes associated with cancer, even before clinical symptoms manifest.
Moreover, rising demand in rising demand for personalized medicine in cancer treatment also escalating market demand. Personalized medicine aims to tailor treatment plans based on an individual's unique genetic makeup, lifestyle, and other factors. Biomarkers serve as important tools in personalized medicine as they can help identify specific subtypes of cancer, predict the response to certain treatments, and monitor disease progression. By using biomarkers to customize treatment approaches, healthcare professionals can optimize therapeutic outcomes and minimize the risk of adverse effects.
Report Segmentation
The market is primarily segmented based on type, biomolecule, application, and region.
By Type

By Biomolecule

By Application

By Region

Breast cancer

Prostate cancer

Colorectal cancer

Cervical cancer

Liver cancer

Lung cancer

Others

Genetic Biomarkers

Epigenetic Biomarkers

Metabolic Biomarkers

Proteomic Biomarkers

Others

Drug discovery and Development

Diagnostics

Personalized medicine

Others

North America (U.S., Canada)

Europe (France, Germany, UK, Italy, Netherlands, Spain, Russia)

Asia Pacific (Japan, China, India, Malaysia, Indonesia. South Korea)

Latin America (Brazil, Mexico, Argentina)

Middle East & Africa (Saudi Arabia, UAE, Israel, South Africa)
To Understand the Scope of this Report: Speak to Analyst
By Type
Genetic biomarkers segment accounted for the largest market share in 2022
Genetic biomarkers segment held the largest share in 2022. Due to their widespread adoption, high level of reliability, and ease of analysis, genetic biomarkers have dominated a substantial portion of the market. These biomarkers have been instrumental in detecting over 85% of cancer cases, leveraging both genetic and proteomic approaches.
Epigenetics segment will grow at substantial pace. In the realm of cancer diagnostics, epigenetics has experienced widespread acceptance. Numerous entities are actively engaged in extensive research to explore significant epigenetic modifications associated with cancer. Their aim is to develop biomarkers for targeted drug development. The growing collaboration between pharmaceutical companies and research institutions focused on epigenetic biomarkers is projected to drive substantial growth in this sector.
By Biomolecule
Breast cancer held the largest share of the market in 2022
Breast cancer segment garnered the largest share in 2022. Segment's growth is primarily attributed increasing cases of breast cancer, and key drug launches. Breast cancer ranks among the leading types of cancer in the United States. According to a January 2022 update by breastcancer.org, approximately 1 in 8 women in the country (around 13%) are likely to develop breast cancer. In 2022, it is projected that there will be an estimated 287,850 new cases of breast cancer diagnosed in the women, also around 51,400 new cases of the in-situ breast cancer.
Furthermore, the same source indicates that about 2,710 new cases of the breast cancer are were diagnosed in the men in 2022, with a man's life-time risk of developing cancer being approximately 1 in 833. These statistics highlight the significant impact of breast cancer on both women & men in the U.S. and emphasize the importance of continued efforts in research, early detection, and treatment to reduce the burden of cancer.
Lung cancer will grow at rapid pace. This growth is attributed to the increasing adoption of diagnostic tests that specifically target EGFR and BRAF mutations, which serve as crucial biomarkers for identifying non-small cell lung cancer. As a result, this segment is expected to witness significant expansion.
By Application
Drug & discovery segment held the largest revenue share
Drug & discovery segment held the significant market share. Cancer biomolecules have diverse applications across multiple fields, including drug discovery, development, diagnostics, and personalized medicine. Among these applications, diagnostics played a pivotal role in generating revenue for the market. This can be attributed to the rising development of oncology tests based on biomarkers with high specificity and sensitivity, enhancing their effectiveness in accurately detecting and diagnosing cancer-related conditions.
Personalized medicine expected to grow at rapid pace. The field of personalized medicine is expected to experience robust growth due to its increasing demand and growing awareness among healthcare professionals. Additionally, the market is set to be positively influenced by the rising approval of companion diagnostic tests for cancer drugs, further validating its potential for substantial expansion.
Regional Insights
North America region dominated the global market in 2022
North America held the largest share in 2022. Region's dominance is due to high adoption of innovative technologies, the presence of major pharmaceutical companies, well-established research and development infrastructure focused on novel diagnostic products, and a growing demand for precise and early diagnostics. These factors have collectively contributed to the leading position.
Asia Pacific region is emerging as fastest growing region. This is primarily due to rising prevalence of cancer in the region, which drives the need for improved diagnostics and treatment options. Additionally, the region offers a beneficial environment for conducting clinical trials, and increasing government funding supports drug development programs.
Furthermore, the growing interest of pharmaceutical companies in the region and their focus on expanding their presence there contribute to the region's growth prospects. Moreover, the rising awareness and adoption of biomarker-based diagnosis in this region serve as high-impact drivers propelling the market's advancement. As a result, the region holds significant potential for the development and expansion of the cancer biomarkers market.
Key Market Players & Competitive Insights
The Cancer Biomarkers Market is characterized by intense competition among key players striving to offer innovative solutions for early cancer detection and personalized treatment. Leading companies are engaged in extensive research and development activities to discover novel biomarkers that can accurately identify various cancer types at their earliest stages. Additionally, advancements in genomic and proteomic technologies have spurred collaborations and partnerships between pharmaceutical and diagnostic companies, further intensifying the competition. As the demand for personalized medicine continues to rise, companies are vying to develop biomarker-based diagnostic tools and therapies that cater to individual patient profiles, thereby enhancing treatment efficacy and patient outcomes.
Some of the major players operating in the global market include:
Abbott Laboratories

Agilent Technologies

Affymetrix

Becton

Hologic

Illumina

Merck

QIAGEN

Roche

Sino Biological

Thermo Fisher Scientific
Recent Developments
In March 2023, Servier has recently partnered with QIAGEN to collaboratively develop a novel mIDH1 companion diagnostic test. This joint effort aims to support Servier's Hemato-Oncology Portfolio and represents a significant step forward in the quest for a diagnostic tool capable of identifying patients with acute myeloid leukemia (AML).

In January 2022, Illumina & SomaLogic have joined forces in a co-development partnership to enhance their positions as leading companies in the biomarker research field. They will combine their strengths to accelerate the advancement of clinical opportunities in the field.

In August 2022, The United States Food and Drug Administration (FDA) has granted approval for Enhertu, an IV infusion, to treat patients with metastatic HER2- breast cancer. This marks a significant milestone as it is among the initial therapies approved specifically for patients suffering with the HER2-low BC sub type.
Cancer Biomarkers Market Report Scope
| | |
| --- | --- |
| Report Attributes | Details |
| Market size value in 2023 | USD 15.68 billion |
| Revenue forecast in 2032 | USD 53.36 billion |
| CAGR | 14.6% from 2023 – 2032 |
| Base year | 2022 |
| Historical data | 2019 – 2021 |
| Forecast period | 2023 – 2032 |
| Quantitative units | Revenue in USD billion and CAGR from 2023 to 2032 |
| Segments covered | By Type, By Biomolecule, By Application, By Region |
| Regional scope | North America, Europe, Asia Pacific, Latin America; Middle East & Africa |
| Customization | Report customization as per your requirements with respect to countries, region and segmentation. |