The global next generation sequencing market was valued at USD 10.78 billion in 2020 and is expected to grow at a CAGR of 11.7% during the forecast period. Market factors responsible for the market growth include technical innovations, high-throughput screening, reduction in cost, and low error rate in the Next Generation Sequencing (NGS) platforms, government-sponsored population-based studies, research and innovations in molecular biology and clinical genetics, and the advancements in the analysis of molecular level (gene) data through computational (in-silico) tools.
Moreover, next generation sequencing-based precision medicine studies also favoring Next Generation Sequencing (NGS) market growth. In line with this, the National Institute of Health (NIH) has established genome research centers at the University of Washington, Baylor University, and the Broad Institute with an aim to enlist 1 million volunteers for the NGS-based precision medicine studies in the historically under-represented population and ethnic societies.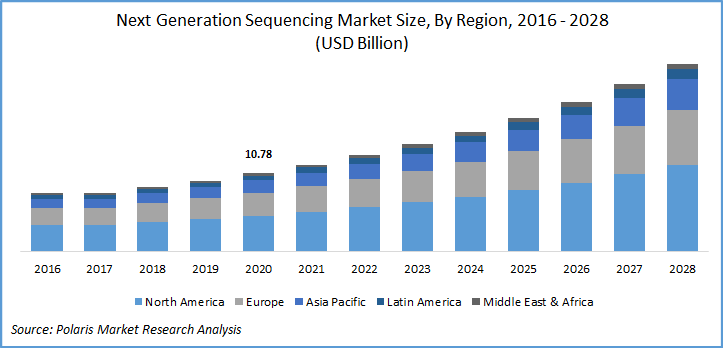 Know more about this report: request for sample pages
The UK's National Health Service (NHS) has created "Genomics England" along-with 13 associated genome centers with the help of Illumina-based Next Generation Sequencing (NGS) platforms in its proof-of-principle study to scale up diagnostic sequencing. France is also using Illumina's platform to sequence 18,000 genes, by 2021.
With efficient and productive sequencing platforms, nowadays, it is possible to sequence the whole genome in a week's time at an affordable cost of less than USD 1,000 (PromethION). Consequently, generated data requires both bioinformatics and computational skills to manage, analyze, and data interpretation. Therefore, developments in Next Generation Sequencing (NGS) bioinformatics need both hardware and software (algorithms and applications) capabilities for detailed data analysis and molecular variants interpretation.
Industry Dynamics
Growth Drivers
Automated miniaturized third-generation instruments and the introduction of palm-sized sequencers have shown keen interest by market players. The continuous evolution of next generation sequencing (NGS) based technologies in terms of cost and high throughput capability enabled its adoption in other notable applications such as agrigenomics and crop science.
Expanding the use of technology attracted several start-ups, leading innovation, for instance, Genapsys introduced a "genius" small-sized sequencing platform and Stratos Genomics announced the 4th generation sequencers based on sequencing by expansion technology. Such advancements are expected to aid in market revenue generation for next generation sequencing.
Moreover, the declining cost of sequencing also favoring the uptake of such services in the market. For instance, in March 2019, Illumina collaborated with Denmark-based, Lundbeck Foundation GeoGenetics Centre to establish an association between infectious and neurological diseases and to cut down the cost of its service to around USD 100.
Next Generation Sequencing Market Report Scope
The market is primarily segmented on the basis of application, technology, product, end-use and region:
By Application

By Technology

By Product

By End Use

By Region

Drug Discovery/Personalized Medicine
Genetic Screening
Diagnostics/Infectious Diseases
Agricultural & Animal Research
Others

Whole Genome Sequencing
Targeted Sequencing & Re-sequencing
Whole Exome Sequencing
RNA Sequencing
Chip Sequencing
De Novo Sequencing
Methyl Sequencing

Instruments
Reagents & Consumables
Services

Healthcare Institutions
Academics
Biotech & Pharma Firms
Others

North America (U.S., Canada)
Europe (France, Germany, UK, Italy, Spain, Netherlands, Austria)
Asia Pacific (Japan, China, India, Malaysia, Indonesia, South Korea)
Latin America (Brazil, Mexico, Argentina)
Middle East & Africa (Saudi Arabia, UAE, Israel, South Africa)
Know more about this report: request for sample pages
Insight by Application
In 2020, the diagnostics/ infectious diseases next generation sequencing market segment accounted for the majority of the share during the assessment period. This high share of the market segment is due to advances in liquid biopsies in cancer diagnosis and the recent surge in COVID-19 across the globe. next generation sequencing-based liquid biopsy uses circulating tumor DNA as a cancer biomarker for real time diagnosis.
In addition, next generation sequencing offers high sensitivity with a minimal error rate, during the diagnosis of low-level ctDNA in the bloodstream. In March 2020, the U.S.-based Fulgent Genetics, Inc., provider of next generation sequencing-based services, introduced next generation sequencing-based test for COVID-19. Fulgent and MedScan have collaborated to collect specimens from clinics, labs, and healthcare providers.
With recent FDA approvals of the home-based DNA tests, and the emergence of cost-effective testing companies in emerging countries such as India and China. Start-ups like MapMyGenome, XCode, DNA Labs India, and EasyDNA had offered competitive services at affordable market prices. Such low-cost services are expected to drive the next generation sequencing market segment in the foreseeable time.
Insight by Technology
In 2020, the targeted sequencing market segment accounted for the majority of the share, owing to its cost-effective approach as compared to WGS. The adoption rate of target-based sequencers in the market is high, as reduced target size increases detailed coverage with enhanced sensitivity to identify genetic variants, mostly in the cases of cancer, rare, and hereditary diseases.
In July 2019, Veritas Genetics announced to reduce the cost of its WGS services from USD 999 to USD 599, and it was expected to come down in market price range of USD 100–200 in a short period. The company's strategic goal is to achieve market share, while reducing the service cost by 40%, from 2016. It aims to compete in the rapidly transforming personal genetics industry, currently being dominated by niche offerors, such as 23andMe and AncestryDNA.
Geographic Overview
North America next generation sequencing market accounted for the largest share in the among all, in 2020. The region comprises a strong network of labs, academic institutions, and service offerors that uses next generation sequencing-platforms to perform genetic studies. The U.S.-based Quest Diagnostics performs sequencing services for the samples provided by the company, Ancestry. Quest diagnostics in August 2020, introduced an automated next generation sequencing engine for the samples obtained from AncestryHealth. It will enable accurate testing of genetic disorders including colon, lung, breast, and blood cancer.
Asia Pacific next generation sequencing industry is projected to show a lucrative market growth rate over the study period. Such projected market growth is due to the strong adoption of Next Generation Sequencing (NGS) platforms in government-sponsored research institutions involved in population-based studies and their increased usage in other market applications. Big players trying to foray into low and middle-income countries through collaborations and acquisitions. For instance, U.S. based company BGI acquired an Asian player, Complete Genomics, to offer DNA sequencing services for genetic studies.
Competitive Insight
The prominent next generation sequencing industry players operating in the market are QIAGEN; PierianDx; Eurofins GATC Biotech GmbH; Roche Ltd.; Oxford Nanopore Technologies; Perkin Elmer, Inc.; Thermo Fisher Scientific Inc.; Genomatix GmbH; DNASTAR, Inc.; BGI; and Bio-Rad Laboratories, Inc.