Global cancer/tumor profiling market was valued at USD 8.67 billion in 2019 and is expected to exhibit a CAGR of 7.15% over the forecast period. This profiling offers information regarding the cancer-causing genes which assists in gathering insights for cancer mechanism. The profiling capacity is not only restricted to prevalent cancers such as breast cancer and lymphoma, but however also used in prostate, lung, and acute leukemia molecular profiling. Cancer profiling has played a crucial role in molecular-level diagnosis, as better knowledge of tumors supports physicians make suitable therapeutic choices and prevent patients from being "over-treated." Additionally, the growing demand for cancer biomarkers in profiling and increasing the requirement of point-of-care diagnostics further substantiates the growth in the market.
According to the WHO, cancer is the second leading cause of death globally, and is responsible for an estimated 9.6 million deaths in 2018. Globally, about 1 in 6 deaths is due to it. As per ICMR, the most common cancers in males are of mouth/pharynx, prostate, stomach, lung/bronchi, and oesophagus. Additionally, the common ones in females are cervix, breast, mouth/oropharynx, and oesophagus. Moreover, carcinoma breast is more common in urban females. The annual incidence of carcinoma cervix is approximately 500,000 cases across the globe and India contributes more than 20% of the burden making it 100,000 cases annually. Moreover, the gynecologic cancers have increased in India as it is contributing about 30% of total among women in India. Due to this increase in the number of cases the requirement of tumor profiling kits will increase, thereby, propelling the growth of the tumor profiling market in the country.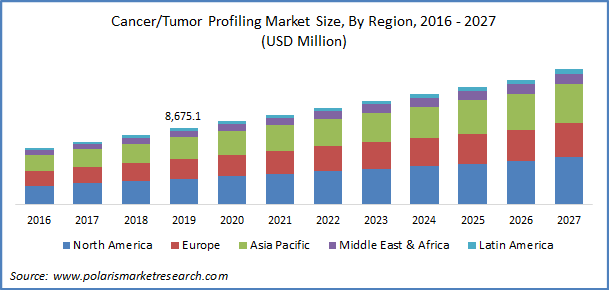 Know more about this report: request for sample pages
The emergence of high-end techniques has made it possible for processes at a molecular level to be analyzed in detail by cancer/tumor profiling, thus giving a clear image of tumor biology. These sciences helped to define clinically viable mutations and showed cancers and patterns of expression of genes and proteins. Cancer is known to reoccur in most instances because of ongoing changes in the genetic makeup. In re-occurrence instances, genomics plays a vital role in detecting these genetic differences. These genomic platforms have been shown to be advantageous as they result in cost savings, enhance screening time, and can help to identify a bigger size of the assessed genome. In the coming years, these events are likely to encourage the use of cancer/profiling.
Tumor profiling is performed to assess a tumor's metabolism, characteristics, and mutations that can help in finding efficient therapies. It is possible to discover and develop drugs that target these mutated kinases according to modifications in genes. The profiling of tumors is seen as a requirement to enhance the sensitivity of drugs targeting kinase because they rely on the genetic makeup of individual tumors. These mutated DNA tumor profiles, therefore, assist to develop particular anti-cancer therapies. Research support and financing for cancer research have risen as advanced methods have been discovered that can possibly decrease the time taken to detect and identify tumors or the phase of progress. In addition, large investments in the growth of new therapies and new drug design methods by biotechnology firms have been observed.
Furthermore, Next Generation Sequencing (NGS) is similar to Sanger sequencing in terms of sequencing DNA fragments. However, in NGS, it is extremely parallel and enables sequencing of millions of fragments in a single run. Whereas, Sanger sequencing only generates one forward and reverse read. The researchers have multiple choices while opting for sequencing technology to use in their clinical researches. For clinical research sequencing, Sanger sequencing with 99.9% accuracy is the gold standard. However, advanced NGS technologies are becoming common in clinical research laboratories coupled with lower costs per sample and high-throughput capabilities.
Cancer/Tumor Profiling Market Report Scope
The market is primarily segmented on the basis of technology, cancer type, biomarker type, application, and geographic region.
By Technology

By Cancer Type

By Biomarker Type

By Application

By Region Type

Immunoassay
NGS
PCR
In Situ Hybridization
Microarray
Mass Spectrometry
Others

Breast
Lung
Colorectal
Prostate
Melanoma
Others

Genomic Biomarkers
Protein Biomarkers
Others

Personalized Medicine
Diagnostics
Prognostics
Biomarker Discovery
Research

North America (U.S., Canada)
Europe (Germany, UK, France, Italy, Spain, Netherlands)
Asia Pacific (India, Japan, China, South Korea)
Latin America (Brazil, Mexico, Colombia
MEA (Saudi Arabia, south Africa, Israel, UAE)
Know more about this report: request for sample pages
Technology Outlook
Global Tumor profiling market is further segregated on the basis of technology including immunoassays, polymerase chain reaction (PCR, in-situ hybridization, next-generation sequencing (NGS), mass spectrometry, microarrays,), and other technologies. Due to its use as a gold standard for large-scale tumor profiling, the immunoassays category accounted for the largest market share in 2019. Immunoassays assist to evaluate the existence and concentration of analytes in a sample. In addition, the data obtained from these clinical settings trials helps to shorten hospital stays and reduce disease severity by detecting and evaluating disease progression, leading to enhanced therapeutic decisions.
Application Outlook
Based in application the cancer/tumor profiling market is further classified into diagnostic and prognostic. The diagnostic segment is projected to have the largest market share in 2019 and projected to grow at considerable growth during the forecast period. The growth of the segment mainly driven due to rising demand for point of care diagnostics across the globe. Moreover, the application of biomarkers in the diagnostic of tumors further contributes to market growth. The applications of biomarkers include detection of precancerous lesions, early detection of tumor lesions, and tumor profiling and selection of individualized therapies.
Regional Outlook
It is estimated that North America accounted for the largest share of income due to the existence of significant players and rapid technological advances. Additionally, high cancer incidence and enhanced oncology research to identify and explore new treatment therapy will benefit the development of the industry. Another important factor contributing to the big share of the regional market is the rapid adoption of sophisticated techniques by companies producing these diagnostic kits.
Cancer/tumor profiling market is anticipated to expand considerably in APAC due to growing public policies for cancer treatment, incidence, and increased expenditure on health care. The Indian Medical Research Council (ICMR) has indicated that more than 1.4 million instances of cancer have been recorded in India in 2016, and the figures are anticipated to reach 1.7 million by 2020. Because of this rise in the number of cancer instances, the amount of tumor profiling kits needed by health care suppliers is likely to boost. This is forecast to ultimately lead to fast development of the region's market.
Competitive Landscape
Competition in this industry is fierce due to the existence of many small and large businesses attempting to obtain a significant share by concentrating on automation tools and patented development of cancer profiling methods. The primary participants operating in the global market include Abott Molecular, Agendia, Boreal Genomics Inc, BD Biosciences, Caris Life Sciences, F. Hoffmann-La Roche Ltd, Foundation Medicine, Genscript Biotech Corporation, Guardant Health, Inc., Helomics Corporation, Histogene X, Hologic, Inc., HTG Molecular Diagnostics, Inc., Illumina, Inc., Nanostring Technologies, Inc., Neogenomics, Inc., Omniseq, Perthera, Qiagen N.V., Ribomed Biotechnologies, Inc., Roche Molecular Systems Inc., Sysmex Corporation and Tempus Labs. Continued research and technological advances are expected to push companies as an initiative to capture a larger market share to offer products at economic prices in emerging regions.